Are you looking for fire pit accessories for your backyard?
Firepit accessories are just as necessary as your fire pit itself.
They add to the overall aesthetic of the setting, creating a tie that brings the whole environment together. You already have the fire pit, so let's optimize it with the best accessories.
In this article, we will show you different additions to choose from when constructing the perfect backyard you aspire to have. Many of the following items are extremely beneficial, some are quite necessary, and others are just plain fun! Stick around for all the information you need on fire pit accessories.
Fire Tool Accessories
Let us start with some things that might be necessary to keep a fire going. You don't want to go through all this preparation just to be let down by a flame that will not hold.
Firepit tongs are a great accessory that can be used to grab even the hottest of logs. The steel-made tool is very heat resistant, and its length allows for great depth in case you need to move a log from the bottom of the pit.
The specific tongs we have provided a link for are inexpensive and reliable. Firepit tongs are a useful tool when you need to pick up a full log, whether in the fire yet or not.
Another available possession would be a fire poker. Fire pokers allow you to maneuver around a fire without getting too close to the flame. The SteelFreak fire poker provides 36 inches of solid steel that has proven itself among the top fire poker choices on amazon. 
Say you would like to move the logs around in your fire pit, but you do not want to have to pick up an individual log and risk toppling your whole pile over. A fire poker allows lightweight strength capable of pushing your logs around to find the correctly-angled fire you are looking for.
The last tool we recommend is a fire shovel. This tool, along with its brush, will allow you to easily clean the ash out of your fire pit after it has built up over time. You do not want to struggle with an indoor dustpan's flimsiness or the risk of staining a kitchen towel, so investing in a fire shovel might be a good idea.
Our Personal Favorites
Log Racks
A log rack is basically just what it sounds like it is: a rack that holds logs. However, it is important to find the type of log rack that fits both your needs and your style. Log racks come in all different sizes, so you need to consider how much firewood you will plan to keep on hand at a certain time. 
The bottom line is this: the bigger the log rack you need, the fewer possibilities to choose from. What we mean by this concerns design. If you are going to buy a large log rack, it is probably only going to come in a generally rectangular shape. The shape is what enables it to support such a large amount of firewood. 
However, as you can see by the size of an 8-foot log rack, you can store up to one hundred or more pieces of firewood in that thing.
Maybe you don't need that much firewood. Perhaps you already have a shed out back filled with logs. In this case, you might want a smaller log rack that can sit next to your fire pit or somewhere around the rest of your outdoor accessories, making your place look fancier.
Small log racks tend to have more architectural options, coming in neat shapes and designs to make even your firewood storage an exciting piece.
Lastly, perhaps you want an adjustable log rack. Whether your adjustable log rack is homemade or store-bought, adjustable log racks can be very easy to move around, with minimal work involved. 
Our Log Rack Picks
Fire Starters
The process of building a fire in your fire pit can be another grueling task. All the burned up newspaper pieces, wasted matches, and dead grass in the world may still not get the job done for you. 
Natural fire starters are a safe way to start a fire. The blocks are made from real hardwood and easily ignite to set your fire aflame. All you have to do is start it with a match or lighter, and your fire will be on its way.
One rather unknown fire starter is electric. This chemical-free lighter is a great way to start your fire. All it does is heat up the air inside of it to temperatures up to 1500 degrees, able to light even the most stubborn of wood or charcoal in minutes.
Our Fire Starter Picks
Fire Pit Tempered Glass Wind Guards
Even with a perfect fire pit, you will still face a fair share of problems. Fires frequently have a mind of their own. They might start to flow with the wind too far into one area, or maybe they will succumb to the wind altogether and be extinguished. 
A tempered glass wind guard is absolutely the way to go if this is a problem you struggle with. Obviously, the product dimensions found in our suggested links might not be the correct measurements for you, but merely typing "tempered glass wind guards for fire pits" into Google will yield many results to choose from.
A wind guard has a wide range of duties involving both inside and outside of its walls:
Inside
Helps encourage and maintain a steady, upright flame
In the process of that, prevents the flames from shooting out too far to one side and hurting someone or something
Keeps out wind to avoid an uncontrollable or extinguished fire
Outside
Protects those around it from coming too close to the fire
Prevents children or pets from getting objects – including themselves – in the fire
While resisting the wind, prevents smoke from straying too far to one direction, which could cause pain in the eyes and difficulty breathing
Wind guards could be useful when determining how efficient you want your fire pit to be.
Our Wind Guard Picks
Fire Pit Spark Screens
Spark screens, similar to wind guards, are for your protection. It is no secret that the coming and going of each spark crackling throughout a fire is one of its most attractive features. Many people like to sit by the fire and listen to the sounds of such an intense part of nature. However, the feeling of a spark is not as relaxing as the sounds of its pops.
Spark screens are another level of protection that will prevent you from getting hurt by your fire. Although they are often used for above-ground fire pits, if you find the right dimensions, a spark screen can work just as well for an in-ground pit. 
Spark screens consist of tiny pieces of steel woven together to allow breathability for a fire but prevent large chunks and sparks from shooting out of it. The small space and steel construction make for quite reliable results.
Great Spark Screens
Fire Pit Decor
This is one of our favorite parts involving the subject of fire pit accessories. As if fire pits do not look amazing enough as it is, yes, there are still more ways to improve your outdoor look, whether it be for yourself, your friends, or that boss you want to have over to discuss important business.
Fire Pit Material
Of course, the first layer of décor starts with the materials of the outside/main part of your fire pit. Some people like rugged rocks, some prefer aged brick, but still others like sleek concrete. While the material possibilities are endless, we suggest that your fire pit somewhat aligns with the look of your whole backyard area. 
Suppose you live in a rustic-style, wooden-plated house. Well, layered rocks might look perfectly blended with the old, woodsy look you currently have. Or maybe your home is red brick. There is nothing wrong with keeping it simple. 
Build your fire pit solely with red brick, fire brick of course. Heck, throw in red brick, and an outdoor fireplace while you are at it—the more, the merrier. Instead, let us say that your house is more modern: white plaster outside, black window panes, and the like. Adding a sleek concrete fire pit will make your backyard look all the more celestial.
The choice is up to you on whether or not you would like to mix and match, but make sure that whatever you choose, you love the look of it.
Fire Pit Shape
We love a nice unique touch. While circular or square fire pits are pretty common, you can build your fire pit in just about any form you would like to. An important thing to consider is your purpose for building a fire pit in the first place. 
Please note that all of these are our suggestions. The chances are that you already have a pretty good idea of what your fire pit will consist of, but we would like to give our input.
Circular or Square
You want to be able to sit around the fire with friends and family, sharing stories and having a good time. Your idea involves engagement, closeness, and connection. Circular or square fire pits are traditional, appealing, and popular.
Rectangular
You are having many people over, or you may have extended family coming in town. Regardless, you want to provide the most space possible. You want everyone to be able to fit around the fire pit. If anything, the length of the rectangular shape is out of the ordinary. It catches the eye, making itself a centerpiece of your backyard.
Hexagonal/Any Other Odd Shape
An unusually-shaped fire pit could be constructed out of your raw curiosity, the desire to intrigue people with your creativity, or a simple interest you have had in mind for a while. Oddly-shaped fire pits offer a possible story, a reason for why they are built the way they are built. They make themselves a conversation piece.
Inner Decor
The inside of the fire pit can be as intriguing if not more so than the outside materials. You can add a more pleasing aesthetic underneath your flame, creating a beautiful reflective color to shoot out from your fire.
Fire Glass
First up, one of our personal favorites. Fire glass is broken, tempered pieces of glass able to withstand the heat of a flame. Their ability to resist this heat makes them an impressive asset. 
Coming in a multitude of colors including sky blue, sleek gray, or caramel golden-brown, fire glass is quite the sight to behold. 
When your fire pit is aflame, the light from the fire reflects off of the fire glass. Each piece of fire glass will look likes it's on fire.
Stones
Different types of stones and rocks can also be quite appealing to the eye. You might be interested in lava rocks, and an attractive looking, rugged-style addition will resemble the burning sight of an old mountain.
Maybe you would like a bit more of a calming effect; fire pebbles might be the right choice for you. Whatever you choose will absolutely add to the effect of your magnificent fire pit. For more information on whether you should use fire glass or lava rock, we go into more detail in a separate article.
Lids
Firepit lids are both affordable and beneficial. The protection it provides your fire pit will definitely outweigh the small cost. A fire pit lid is a top – usually made of steel – that you put over the opening of your fire pit when it is not being used. 
The lid further protects your fire pit from weather like heavy rain, extreme winds, or blizzard-like snow. It seals off the inside of your pit from the outside world, preventing any internal damage or unnecessary movement (if you have things like lava rocks or fire glass).
The Celestial Fire Glass Fire Pit Lid is one of the best lids on the market, according to fire pit fans, and comes in many sizes to fit your needs.
Covers
A fire pit cover has a similar duty as a lid when it comes to protecting your fire pit. However, as a lid is meant strictly for the inner part of your fire pit for maximum protection, a fire pit cover generally goes around the entire surface area of your fire pit.
The polyester or similar fabric acts the same way as a grill cover does. It is not steel, but it is heavy-duty. It protects against things like wind, rain, and snow, providing a more long-lasting effect for your fire pit. Try the Porch Shield Fire Pit Cover which has a variety of sizes.
Miscellaneous Outdoor Additions
This section is not necessarily fired pit-specific, but it suggests possible additions to your fire pit landscaping ideas.
Outdoor Chairs
Obviously, chairs are a must if you are planning on spending quality time around your fire pit. You can position them any way you want around the pit, taking the number of people, distance from the fire, and other factors into consideration. 
These plywood chairs will last a long time without worry about rotting like wood chairs or cracking like plastic chairs. The Adirondack style is very comfortable for many hours around your fire pit.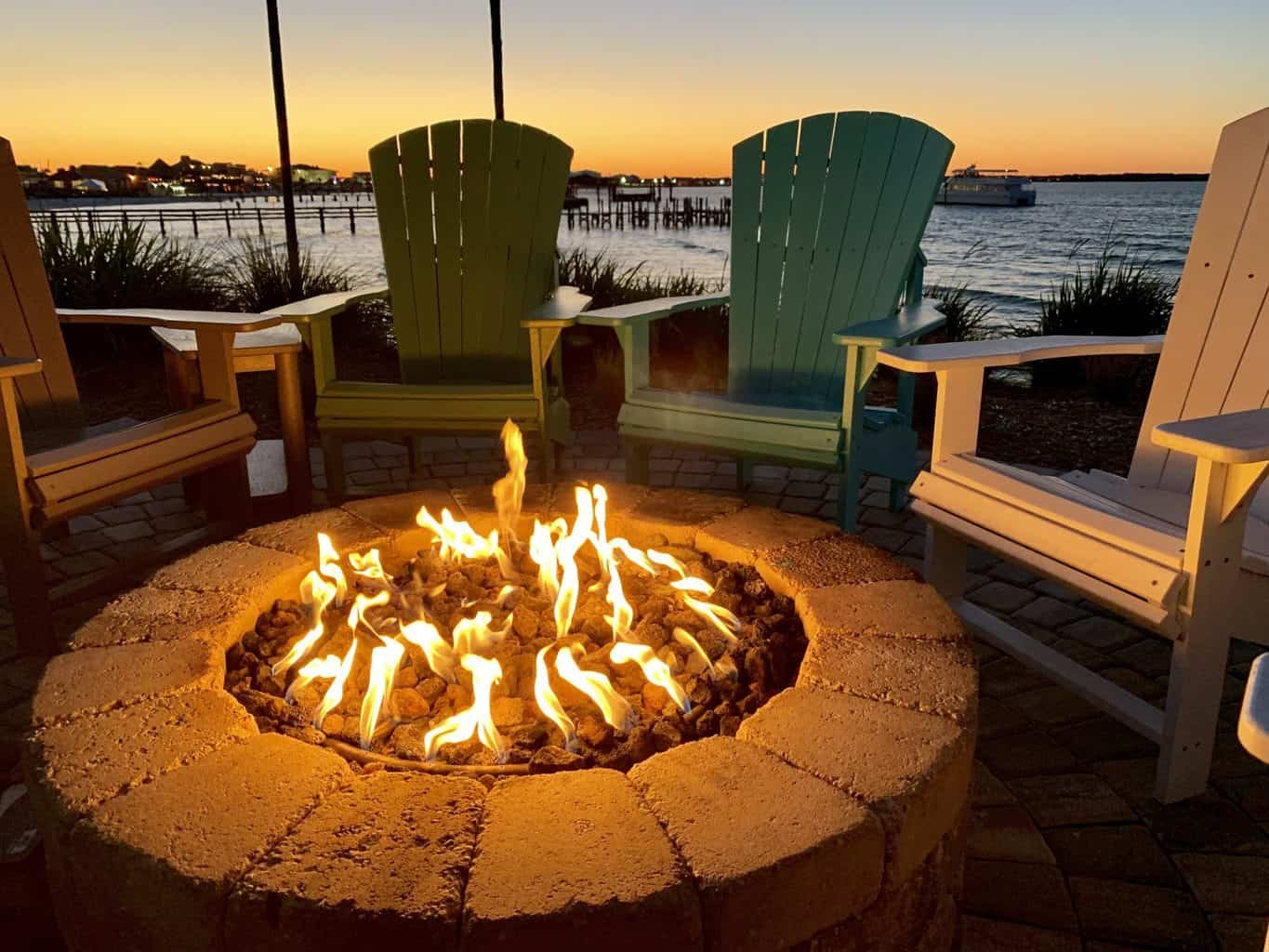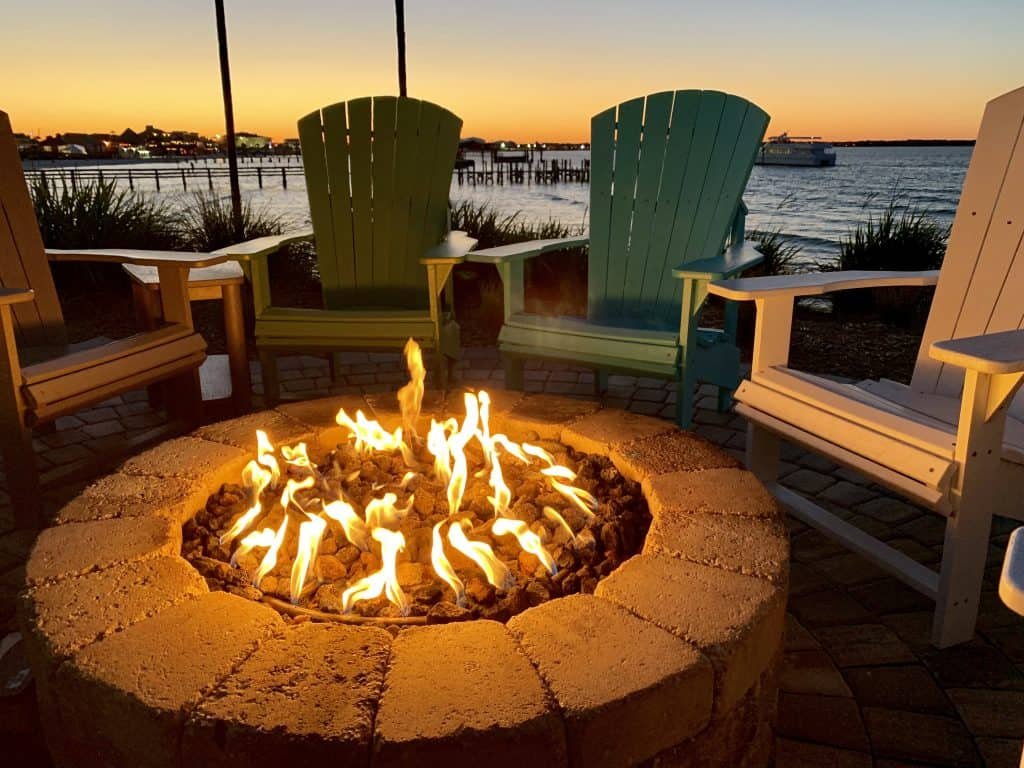 You are going to want to pick out some comfortable chairs. After all, if you do everything correctly, your fire pit is not going to be a place people are ready to abandon so quickly.
Outdoor Lighting
Next, you might want to consider getting some lighting around your fire pit. The video above showcases putting up lights without any trees.
Although you will have a fire in the middle of the action, extra lighting can benefit both better sight and aesthetics. Great for seeing where you're going when you're away from the fire.
Here are some budget ideas for backyard lighting.
S'more Sticks
Lastly, one of the best accessories to bring your family, friends, and fire pit together is ingredients for the perfect s'mores. These sticks are great at getting your marshmallows to the perfect consistency for ooey gooey s'mores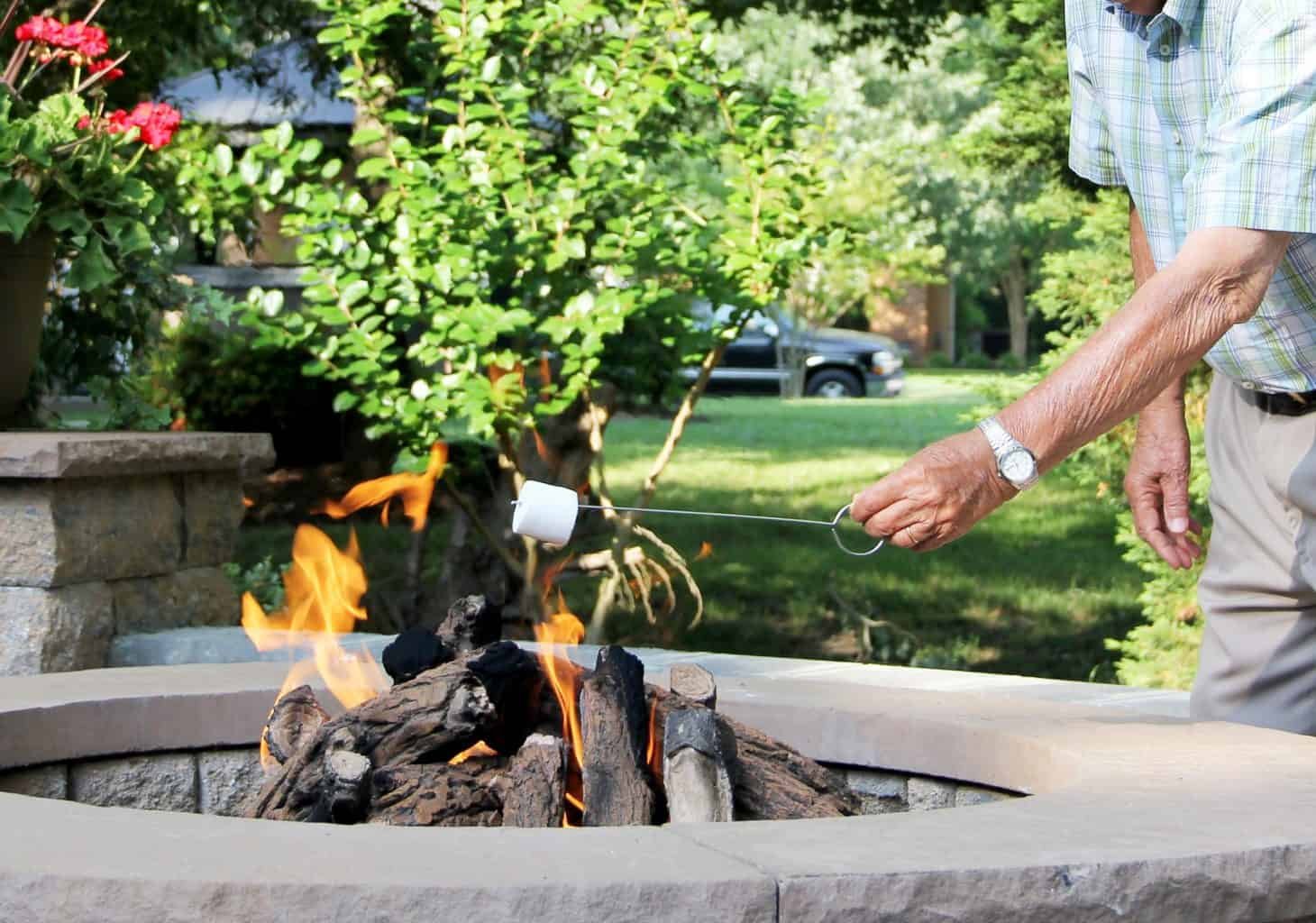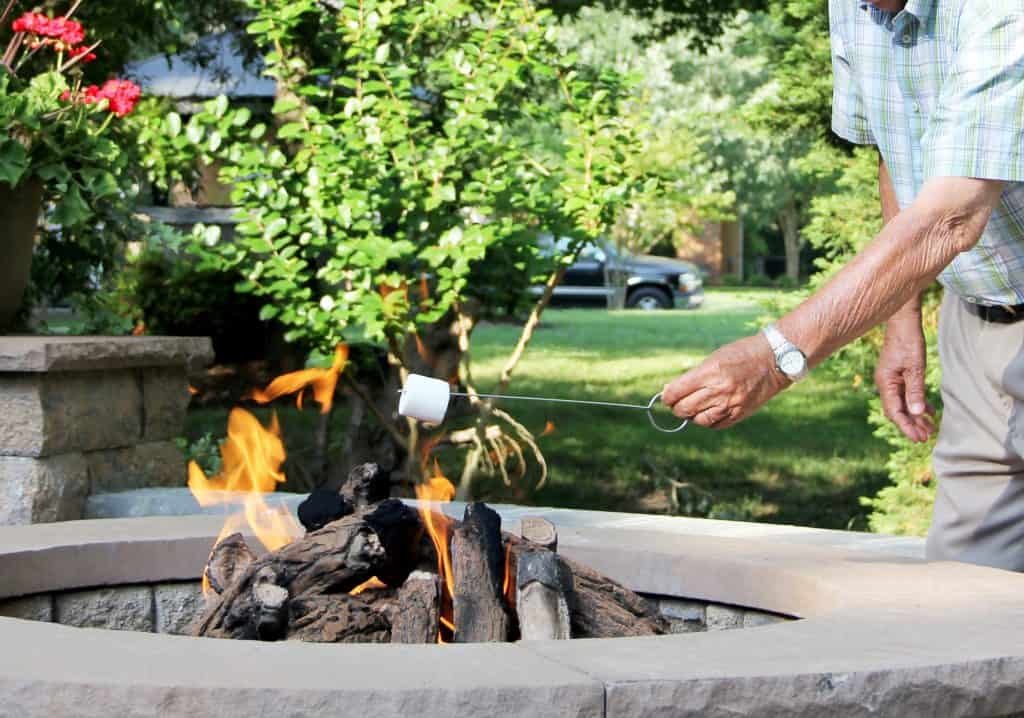 Takeaway
We hope this article was helpful. Always remember that there are so many options when considering fire pit accessories. Choose what looks best to you and makes your fire pit comfortable to hang out for many enjoyable hours.