For a hot tub, people in the market will either search according to the hot tub's dimensions (length, width, depth, height, area, or volume) or its capacity. However, online listings may only mention one or the other, making it challenging to compare sizes. For example, if you're looking for a 6 to 8-person hot tub, how can you tell what dimensions you need to guarantee it can fit in your backyard?
A 6-8-person hot tub's average size will generally be 80-90 square feet, with varying dimensions. For a hot tub of this size, you can expect to need as much as 600 gallons of water to fill the unit.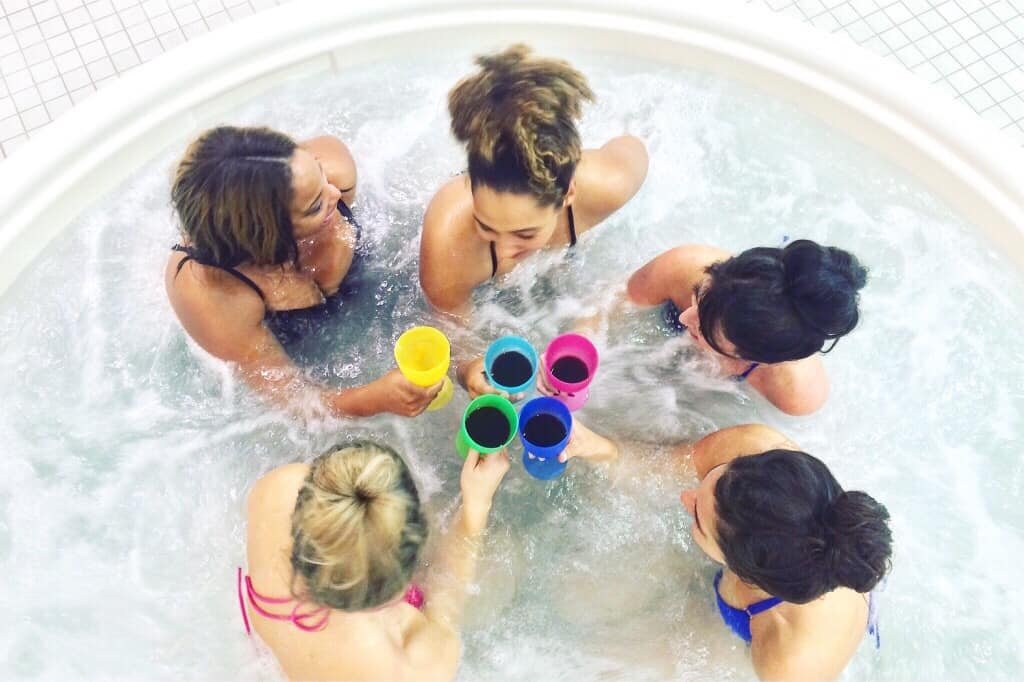 If your heart is set on a 6-8-person hot tub but not sure if you have the space for it, read on. We'll cover the average dimensions of a unit of this size and how you can potentially make it work with your backyard.
How Big Is a 6-8 Person Hot Tub?
A hot tub designed to hold 6-8 people is generally classified as a larger unit, with the following average dimensions:
Length: 7'-9'
Width: 7'-9'2"
Height: 36"-38"
Area: 49'-81'2"
How Much Water Does a 6-8 Person Hot Tub Need?
However, a hot tub's length, width, and height aren't the only dimensions you should consider. You should also think about the unit's volume and how much water you will need to fill a hot tub of this size. You can generally expect a 6-8 person hot tub to hold anywhere from 300 to 600 gallons of water.
How Much Space Does a 6-8 Person Hot Tub Take Up?
A hot tub should be expected to take up more space than what is stated from its square area; this is due to a combination of local building codes and the space needed to install the unit's support equipment.
Here is how much space you will actually need to set up a 6-8 person hot tub:
A flat space where you can install a surface pad capable of supporting the hot tub's weight (i.e., cement).
A separation distance from overhead power lines (typically at least 10 feet)
A separation distance from the electric panel for the hot tub (typically at least 5 feet)
A space with proper drainage to account for water splashing over the side
Additionally, you are encouraged to allow at least an extra foot of space on either side of the hot tub to provide enough room for installing and removing its cover. You may need to construct a separate enclosure for the pump, filter, and heater if you buy a hot tub that doesn't have these features already built into the hot tub cabinet.
How to Make a Large Hot Tub Fit Your Backyard
Now that you've found out just how big a 6-8-person hot tub can be, you may be concerned that it won't fit in your yard or your place of residence. Fortunately, there are many ways to efficiently install a large hot tub that aligns with your space.
Opt for an In-Ground Option if Possible
When you go with an in-ground hot tub, the size and shape options to choose from are nearly limitless. The final cost of an in-ground jacuzzi will be higher, but this type of unit comes with the massive benefit of being able to follow the size and dimensions that best fit your yard.
Additionally, an in-ground unit is much more aesthetically-pleasing than its above-ground counterpart, which can appear bulkier.
Choose a Different Shape
Above-ground hot tubs generally come in a wide variety of shapes. If you are worried that a 6-8 person hot tub will be too large, then you are encouraged to look at the different varieties of the models offered to see if any of these will be a better fit:
Square
Rectangular
Round/Circular
Triangle
The benefit of rectangular hot tubs is that they allow for more entry/exit points compared to other shapes, which is nice if you plan on having multiple people use the unit at one time. However, it does have less width than your standard square hot tub.
Note: Triangle-shaped hot tubs are usually more common among smaller units, so you will likely not come across a triangular model that holds 6-8 people.
Consider Portable Hot Tubs
Inflatable units like this Intex 6-Person Home Outdoor Round Tub are an excellent choice for those looking for a seasonal hot tub that is also affordable. Hot tubs like these also hold the great benefit of being simpler to tear down when you need to move it out of the way.
If conserving space is a priority of yours, you are also encouraged to look into a hot tub that houses the pump and heating equipment within the cabinet, negating the need to build a separate structure to house equipment.
This can help reduce the amount of space that the entire hot tub will take up. Units like this one from Wellis have a special foam built into the cabinet so that the pump and heating parts will not be subject to damage from cold weather.
Consider Installing a Hot Tub Indoors
It certainly is also possible to install a hot tub inside your home rather than your backyard. An indoor unit can be an excellent benefit for those who have the indoor space, but not necessarily the yard space appropriate for a hot tub of this size.
The advantages of indoor hot tubs include:
Maximum privacy
No need to take up yard space
Easy-to-access 365 days a year
However, there are also a few disadvantages worth considering:
The equipment is heavy, making it difficult to move and install within the home without paying extra for professional installation
The humid environment created by the tub requires special ventilation and dehumidifiers, which may be noisy
The room will need to be made waterproof before installation to avoid mold and mildew growth
Construction will also likely be necessary if you choose to install an indoor hot tub, especially one big enough to hold 6-8 occupants. Due to this type of construction's invasive nature, consider all the requirements needed for safe and efficient installation before deciding this is the way to go.
Consider Getting a Smaller Hot Tub
Homeowners who like to entertain large crowds may not want to hear this, but it may be best to go with a smaller tub anyway. As mentioned earlier, tubs holding 6-8 people may take up as much as 90+ square feet of space and require 600+ gallons of water to be filled, so if you don't have the room to make any of the other previous tips work, you may be out of luck.
However, there are plenty of benefits of going with a smaller hot tub:
Easier to manage water chemistry
They take up less space
You will save money on your water bill every month versus if you had a unit holding 6-8 people
Additionally, if you go with the smaller hot tub, you may realize that this is enough to entertain your guests anyway.
In Summary
You can expect a 6-8 person hot tub to take up an area of 80-90+ square feet and require as much as 600 gallons of water to be filled. With that said, a unit of this size could pose challenges in actually fitting the entire system in your yard.
Fortunately, there are many ways to get creative with design so that a large hot tub will fit your space:
Install an in-ground tub that can fit just about any shape you so desire
Go with a less traditional hot tub shape
Buy an inflatable hot tub
Choose a hot tub that houses the pumping and heating equipment within the cabinet
Consider getting a slightly smaller hot tub
Be sure to check out our other hot tub articles were we go over things like, bath bombs being safe for your hot tub, as well as how you can convert your hot tub to salt water.