Are bath bombs safe for hot tubs? Bath bombs are one of the most soothing, coolest new inventions that take our bathtubs to the next level. From glitter and flower petals to delightful scents and smells, bath bombs create an atmosphere that allows our bodies to completely calm down and enjoy. It's no wonder people are interested in tossing them into their hot tubs!
But, are they safe for hot tubs? Yes, if you use extreme caution in doing so. Bath bombs should be used infrequently and a thorough cleaning should be done after at least every 4 uses. Fabric bags should also be used to contain extra frills inside the bath bomb such as glitter, confetti, etc.
Of course, if you're a bath bomb fan you're going to want to know everything you can about bath bomb safety and your hot tub. It's no secret that a bath bomb will completely change your hot tubbing experience, even more than having a fancy gazebo hot tub area. But you need to know all of the details so you don't end up with a non-functioning, worthless (yet very expensive) piece of equipment.
Always Contain The Bath Bomb
A lot of bath bombs will simply release a fizziness that's highly enjoyable, sometimes along with a special scent like orange or lavender. These are okay to use in your hot tub from time to time, as long as you thoroughly clean the tub after use (which we will get into later).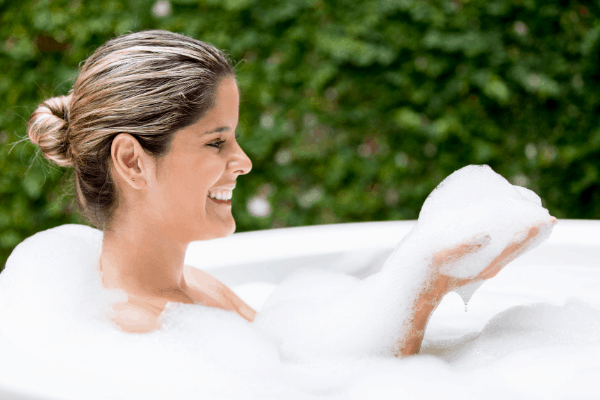 However, a large majority of bath bombs come with 'frills' inside, which could be anything from confetti to glitter, flower petals to beads, and so much more! While these things are super fun and safe for your bathtub experience, unfortunately these lovely extras will clog up the jets in your hot tub, rendering them useless.
So how can you enjoy a bath bomb that's loaded with frilly goodness without destroying your beloved hot tub? The simple solution would be to seal the bath bomb up in something that won't let the larger things slip through the cracks, while still allowing the fizziness to make its way into your hot tub.
To contain the frilly bath bomb insides, consider using a fabric bag. Nylon stockings can also be a quick and easy solution as it's likely a product you have hidden in your sock drawer already.
By making sure your bath bomb is secured in a fabric bag or nylon stockings, you can keep the glitter, confetti, and other materials from seeping out into the hot tub. These things are the key source for destroying jets inside the tub in as little as three uses, so make sure you are confining these frilly delights!
Another solution to avoiding messed up jets is to purchase bath bombs that do not contain any 'extras.' It will distinctly state on the bag or box whether or not there's something inside. By purchasing a solid bath bomb, you reduce the chance of causing problems to your hot tub.
For example: this Black Batch Bomb with Sliver Glitter may be insanely cool (especially outside in nature) but all of the glitters is likely to wreak havoc on your hot tub jets. Consider these Homasy Bath Bombs, 6 Pcs that come in bright colors with six different scents, such as lavender, orange and chamomile.
Don't Do It Often
Knowing that it's sometimes okay to pop a bath bomb into your hot tub is exciting news; but that doesn't mean you should throw one in every hour of every day just to increase your hot tubbing experience.
Using bath bombs too often in the hot tub is another leading cause of breakage in a hot tub, even if you are using solid ones with no extras squeezed inside.
The reason for this is because the bath bomb will release oils. In some cases, there may be other ingredients in the bath bomb to increase the amount of oil as well, such as when a bath bomb has hydrating ingredients like coconut oil found inside.
With all of this excess oil, the jets are likely to become clogged and not work properly. Not only can all of this oil make your jets work at a sub-par level, but it will leave an unsightly residue on the hot tub, destroying the inviting appearance and creating an eyesore in your backyard.
Bath bombs in a hot tub should be used infrequently, maybe once a month, or every other week at most. It's also important to clean the hot tub thoroughly after each and every use to avoid potential problems.
Thoroughly Clean After Use
One of the biggest mistakes a hot tub owner can do is not clean their hot tub. Hot tubs should be cleaned frequently to make sure they're functioning correctly, looking fresh, and free of any debris and bacteria. This becomes an even more important aspect of owning a hot tub if you're using bath bombs.
When using a bath bomb, you want to make sure the hot tub is cleaned after each use. You could probably slide with getting one or two more before cleaning, but why risk it?
The Proper Way to Clean a Hot Tub Post Bath Bomb
Run the hot tub with extremely hot water and dish soap for 30 minutes. The dish soap will be used to remove excess oil in the hot tub that is leftover from the bath bomb. Try and find a dish soap that does not create bubbles, as you don't want your backyard to turn into a bubble party.
Run the hot tub with extremely hot water and 2 capfuls of bleach for 30 minutes. Doing this will allow the jets (and entire hot tub) to become sanitized, which is imperative after using bath bombs.
Run the hot tub with cold water for 30 minutes. The last step is to run another 30 minute cycle using cold water and nothing added in. This will allow the hot tub to get rid of any extra oil, bleach, soap, and other particles and debris that may still be lurking around. If you have to drain your hot tub safely, you can watch this video.
Consider Hot Tub Safe Products
Businesses heard word that people are enjoying bath bombs so much, they'd love to toss them in the hot tub as well. That being said, a lot of companies are trying to create a formula that allows the user to experience the wonderful effects of a bath bomb without destroying their hot tub.
There's a few products on the market already, although we're likely to see an uprising in hot tub bombs in the near future. One of these products is the Spazazz Original Crystals. While not an actual bath bomb per se, it still functions by adding in aromatherapy to your hot tub that's undeniably delightful.
These aromatherapy crystals have a wonderful odor that relieves overall stress and tension, while also hydrating the skin. It's safe for hot tubs, too, which means you can use it often.
Another excellent option is the InSPAration Spa Bombs which are uniquely designed to work with hot tubs. They're oil free while still remaining hydrating and moisturizing for the skin. With over 20 different fragrances to choose from, it's easy to find a spa-specific bomb that you adore.
Conclusion
What do you think? Are bath bombs safe for hot tubs? We think they can be used in hot tubs as long as you use extreme caution in doing so. Glitter, confetti, and other stuffed bath bombs should never be used.
Bath bombs should only be used on rare occasions, and should be thoroughly cleaned afterward to avoid potential problems with the overall functionality of the hot tub.