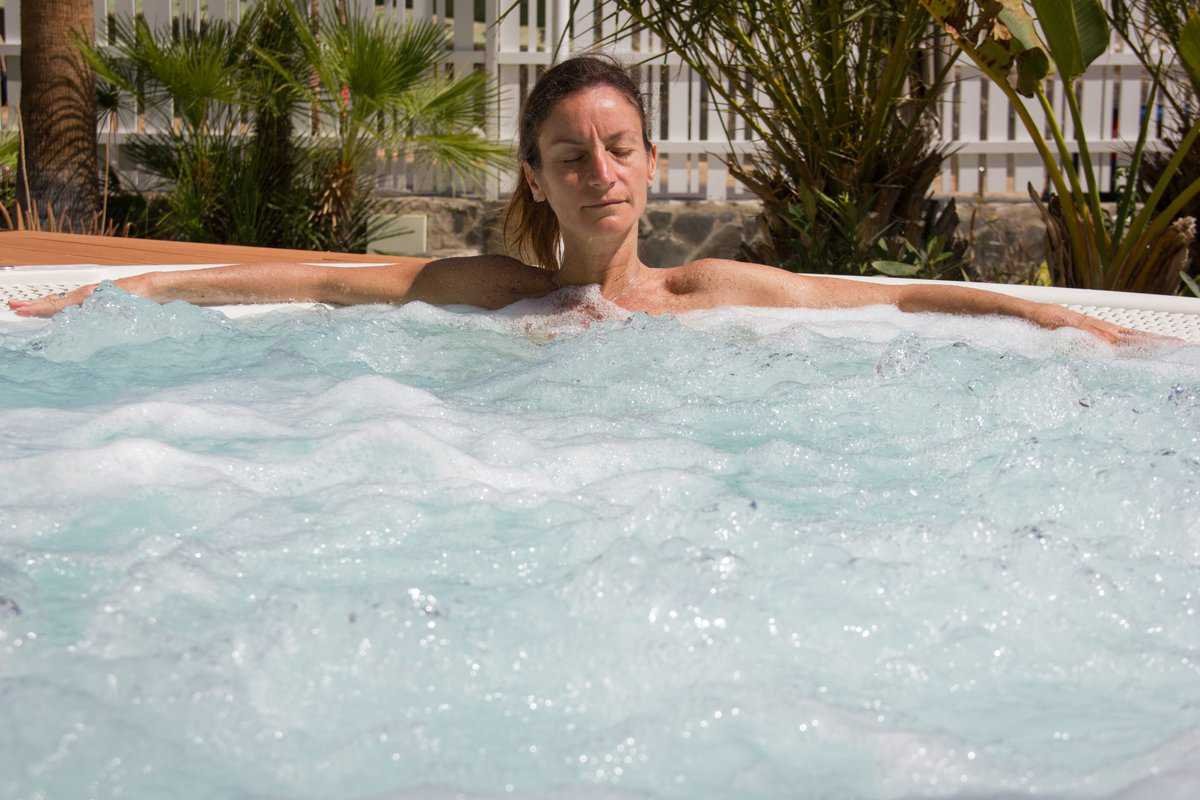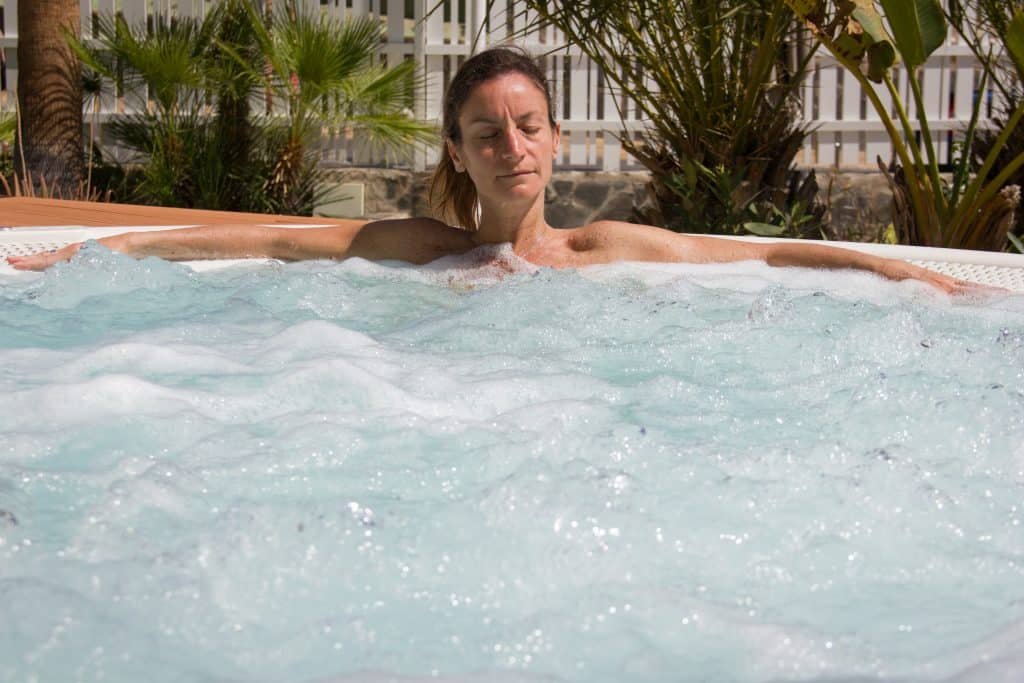 Hot tubs are a great addition to any backyard setup, as they add a layer of fun and relaxation to your space. But, in addition to this, many claim that hot tubs could be good for arthritis too. Could there be any validity to this claim?
Hot tubs are good for arthritis. They help to relax stiff joints and reduce pain associated with arthritis. Relaxing in a hot tub can also help to combat muscle weakness brought on by the condition.
If you want to know more about using hot tubs for arthritis, as well as how to properly use a hot tub for arthritis symptom relief, then keep on reading!
Hot Tubs are Great for Arthritis
Hot tubs are a godsend for people suffering from arthritis. The heat from the water in a hot tub acts as helpful therapy for your stiff and achy joints and muscles. Getting heat to your problem areas is a great way to get quick relief from your arthritis symptoms.
Hydrotherapy, which is the use of water to treat physical conditions, has been used for centuries to help relieve pain in joints and muscles. Many have seen positive results from using hot water. Submerging your body in a hot tub is a great way to administer hydrotherapy treatments.
These claims are not unfounded. According to the Arthritis Foundation, a study showed that arthritis patients who did heated water exercise programs experienced the following benefits: 
Increased range of movement.
Up to a 40% reduction in pain.
The warm water is thought to be responsible for the favorable results.
How Hot Tubs Help with Arthritis
Your hot tub can help with arthritis in three ways: heat, weightlessness, and massage. Each of these benefits will be examined in the sections below:
Heat from the Water
The heat from the water helps to heal tissue from damage. In response to heat, the muscle's blood vessels dilate and take in more nutrients and oxygen. This process occurs every time you sit in warm water and is responsible for the reparative effects that people experience after a hot tub treatment.
Heat also makes the muscles more pliable, sort of like how oil lubricates gears. After enjoying a warm soak in a hot tub, you will be able to move around easier.
Another way that hot tubs help with arthritis pain is by acting as a distraction from your pain. When you're sitting in a hot tub, you may notice a marked reduction in your pain. This is because the heat has the ability to reduce your brain's transmission of pain signals.
Feeling of Weightlessness
Chances are you've experienced how weightless you feel when you are in water. The buoyancy property of water enables you to move in ways that you wouldn't be able to out of water- this is because a high percentage of joint pressure is alleviated when you're submerged in water.
If you attempt to do certain movements in water, you could strengthen your muscles and increase the flexibility in your joints.
Hot Tub Massage Functions
If you have a hot tub that comes with massaging jets, you can maximize the benefits of a hot water soak. You may experience a greater degree of pain relief with using the hot tub massage functions than you would if you soaked without them.
Note: Not everyone will experience the same degree of arthritis symptom relief from hot tub hydrotherapy.
If you have been diagnosed with arthritis and you already have a hot tub, you are in good shape. But it's not a good idea to hop in without thought, as you could potentially injure yourself. There are certain ways to use a hot tub to ensure that you experience relief, and they are listed below:
Set the water to the right temperature. When using a hot tub for arthritis, hotter is definitely not always better. The water should be warm, rather than hot, because if you make the water too hot, you can burn yourself. The water does not have to be hot to be beneficial, either. As a guideline, you can begin your hot tub session at 100 degrees F.
Sit in the water for a complete session. To reap the benefits of a hot tub session, you need to sit in there long enough. The ideal amount of time to spend in a hot tub is up to a half hour- some only stay in for 10-15 mins. If you do short 5-minute sessions, the heat of the water may not have enough time to penetrate your skin and get to your aching joints and muscles.
Get moving. Maximize your session by moving your legs and arms. If you have severe arthritis, you have to be extremely careful with this step, as you don't want to cause yourself injury.
Tips for Safe Use of Hot Tubs for Arthritis
Hot tubs have the potential to be dangerous, especially when they are used by someone who suffers from arthritis. So, it's important to know how to safely use a hot tub. Use the following list for tips:
Be careful. Being that people who have arthritis deal with stiffness and pain, it's imperative to take your time when entering and exiting the tub. It takes one slip to end up with a grave injury. If your hot tub does not have a rubber coating at the bottom, consider adding one. You could also place a rubber mat just outside of the tub.
Sip water as you soak. Whenever you soak in hot water, dehydration is a real risk. So, as you soak, have a cup of water on the side and sip throughout your session. This can easily prevent dehydration.
Don't let it get too hot. Pay attention to the heat setting on your hot tub. If the temperature of the water goes higher than 104 degrees, you could experience nausea, dizziness, or you could even pass out from heat exhaustion.
Pay attention to how you feel. If you begin to feel odd, or experience any new symptoms while you're in a hot tub, get out immediately.
Keep the tub clean. If you don't keep your hot tub clean, bacteria and mold could build up and get into your system. If this happens, you could become very sick.
When Not to Use a Hot Tub for Arthritis
While the benefits of using a hot tub for arthritis are numerous, there are instances in which you should not use a hot tub. This section will be all about when you shouldn't use a hot tub.
If you are alone, you should not use a hot tub. Grab a buddy before you begin your soak. Or at the very least, make sure that someone is in your home and can come to your aid if something happens to go wrong.
If you have not consulted your doctor, you should do so before getting in a hot tub. Your doctor will be able to draw upon your medical history and make sure that using a hot tub is safe for you. Consulting a doctor beforehand is especially crucial if you have a medical condition or are taking medication prescribed by a doctor.
Final Thoughts
Now you know that hot tubs are good for arthritis, being that heat helps to alleviate multiple arthritis symptoms. We hope that this article will serve as a helpful guide to assist you with your arthritis concerns.