There are two basic types of mums: florist mums, also known as potted mums, and garden mums, also known as hardy mums.
Most florist mums are annuals, while potted mums can be perennial, but it depends on where you live and the season you buy and/or plant them.
Garden mums are perennials that are not affected by these two criteria.
Mums are a broad category that includes many different varieties.
Some of these are seasonal, some are perennial, and some are annual. So while some mums are perennial, others are not.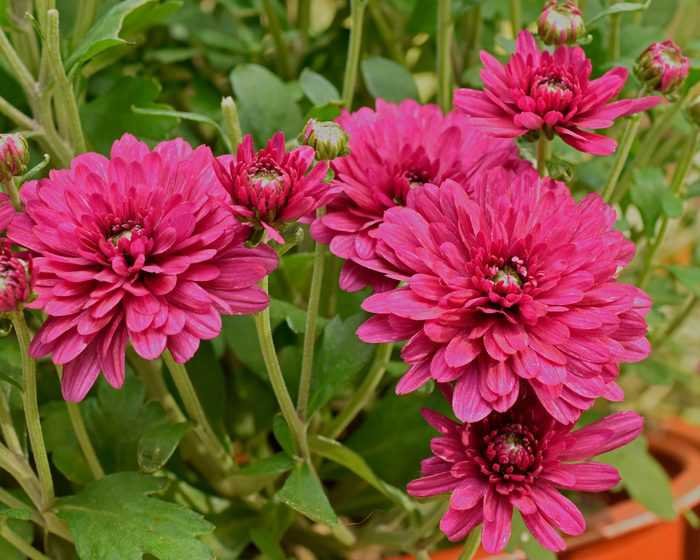 What Mums Come Back Every Year?
Both potted mums and garden/ hardy mums return every year if planted early enough and properly cared for.
There are thousands of cultivated varieties of mums (technically classified as chrysanthemums) and even 40 wild species.
Mums are one of the most popular types of flowers, prized for their beautiful colors and hardiness.
They also have the benefit of helping reduce air pollution and being pest-resistant.
Do Potted Mums Come Back Every Year?
Potted mums can return yearly if properly cared for and repotted in an appropriately sized container.
However, it's important to know that potted mums are more fragile than garden mums.
They can't survive being planted in a backyard and will most likely need to be brought inside to survive the winter. This is especially true if you live in a region that experiences a hard winter (below 32 degrees Fahrenheit) or regular frost overnight.
Increasingly, florist mums are being cultivated and sold as annuals because of their fragility. Many no longer produce underground runners, threatening an already shallow (and therefore delicate) root system.
Can Mums Survive the Winter in Pots
While mums are commonly thought of as seasonal plants, it is possible for them to survive the winter in pots.
The key is to provide enough protection from harsh temperatures and frost.
If possible, move the potted mums to a sheltered area, such as a covered porch or garage.
Another option is to insulate their roots with mulch or straw and cover the tops of the pots with blankets or plastic.
They may not bloom during the colder months, but they can continue to thrive with proper care until warm weather returns.
Keep in mind that potted mums will likely become root-bound over time and may need to be replanted in the spring.
With a little extra effort, though, these colorful flowers can add a touch of cheer to your winter landscape.
How To Get Florist Mums To Grow Every Year
Here are some tips for keeping florist mums alive through the year and giving them the best chance at coming back as perennials:
Pot them in a container that's roughly one to two inches larger (so for a six-inch mum, that would involve a seven- or eight-inch pot)
When outdoors, place them so that they receive at least five hours of morning sun or shaded afternoon sun; when indoors, make sure they get at least six hours of indirect light
When outdoors, water them often to prevent the roots from drying out; when indoors, frequently check the first inch of topsoil and cut back on watering, if necessary
Ensure the container has adequate drainage to prevent the mums' roots from sitting in water, which will eventually cause root rot
Avoid placing them near air vents, since a direct flow of heat (during the cool months) or A/C (during the warm months) can adversely affect their growth
When To Buy Fall Mums
If possible, it's best to buy and plant mums during the early spring. For many people, mums appear to start to appear in stores around September and October. However, planting mums during these months doesn't give the root systems much time to establish themselves before winter arrives.
This may mean that you have to buy your mums online. Alternatively, you can call local nurseries and gardening centers to see if they keep mums in stock year-round instead of on a seasonal basis.
When To Plant Hardy Mums
Mums should be planted in the spring to have the best chance at surviving winter and returning as perennials. Though it's possible for mums that are planted in early fall to survive, it's less likely.
The earlier you can get them and plant them, the better. If possible, aim for early spring, especially if you live in Zones 4 – 5 (i.e., a cold region). For most regions, September is the latest you can plant hardy mums and expect them to survive.
How To Grow Mums As Perennials
For mums to grow as perennials and survive the winter, it's essential that you plant them as soon as possible. The more time they have to establish themselves, the more likely it is they'll be able to survive the winter and return next year. Another key factor is ensuring they have hearty drainage.
Like many flowers and plants, mums also need good drainage to survive. This means that you'll need to add compost to your soil mixture when planting the mums. Mulch also has the benefit of insulating mums' naturally shallow roots. Generally, two inches is enough to drain and protect.
For naturally clay-heavy areas, mulch is even more critical for ensuring your mum's survival. In these areas, it's safer to go with a three-inch layer.
When winter arrives, you'll need to add more mulch (anywhere from three to four inches) over the plant, making sure to get it between the stems for protection. Other natural insulation, such as straw or shredded bark, it also helpful in addition to the mulch.
How To Get Garden Mums To Grow Every Year
Here are some other tips and tricks for growing mums as perennials:
Choose a sunny spot that receives at least six hours of direct sunlight each day
Make sure to follow spacing directions when planting and give your mums plenty of room to grow
Keep your mums moist enough to avoid wilting, but avoid overwatering
Fertilize in spring using a 5-10-10 or 10-10-10 slow-release mixture
If you're successful at growing mums as perennials, you'll also need to divide them in the spring to avoid overcrowding. This involves cutting off a stem, including the roots, using a sharp tool, such as a trowel or garden knife. Then, plant them in a free section of the garden and continue caring for them as usual.
Are Mums Perennials Or Annuals?
Perennials return every year, whereas annuals only grow for one season. Mums are perennials and will bloom in the spring for several years in a row if taken care of so that they can survive the winter. Whereas annuals have to be planted yearly, perennials can last for years at a time. Mums, specifically, can last anywhere from three to five years.
There are pros and cons to both perennials and annuals. For example, it's more convenient that mums return every year, preventing you from constantly buying and planting new flowers. But they also require more upkeep, especially when preparing them for winter.