Home décor magazines are full of amazing outdoor dining spaces and homes that are decked out in cozy seats and blankets with beautiful patio heaters. While this may look like a comfortable retreat, it is important to know that there can be some dangers associated with that comfort.
Patio heaters in and of themselves are not extremely dangerous. However, care needs to be taken when choosing the environment in which they are used. If they are not positioned correctly or in properly ventilated areas, they can become extremely dangerous.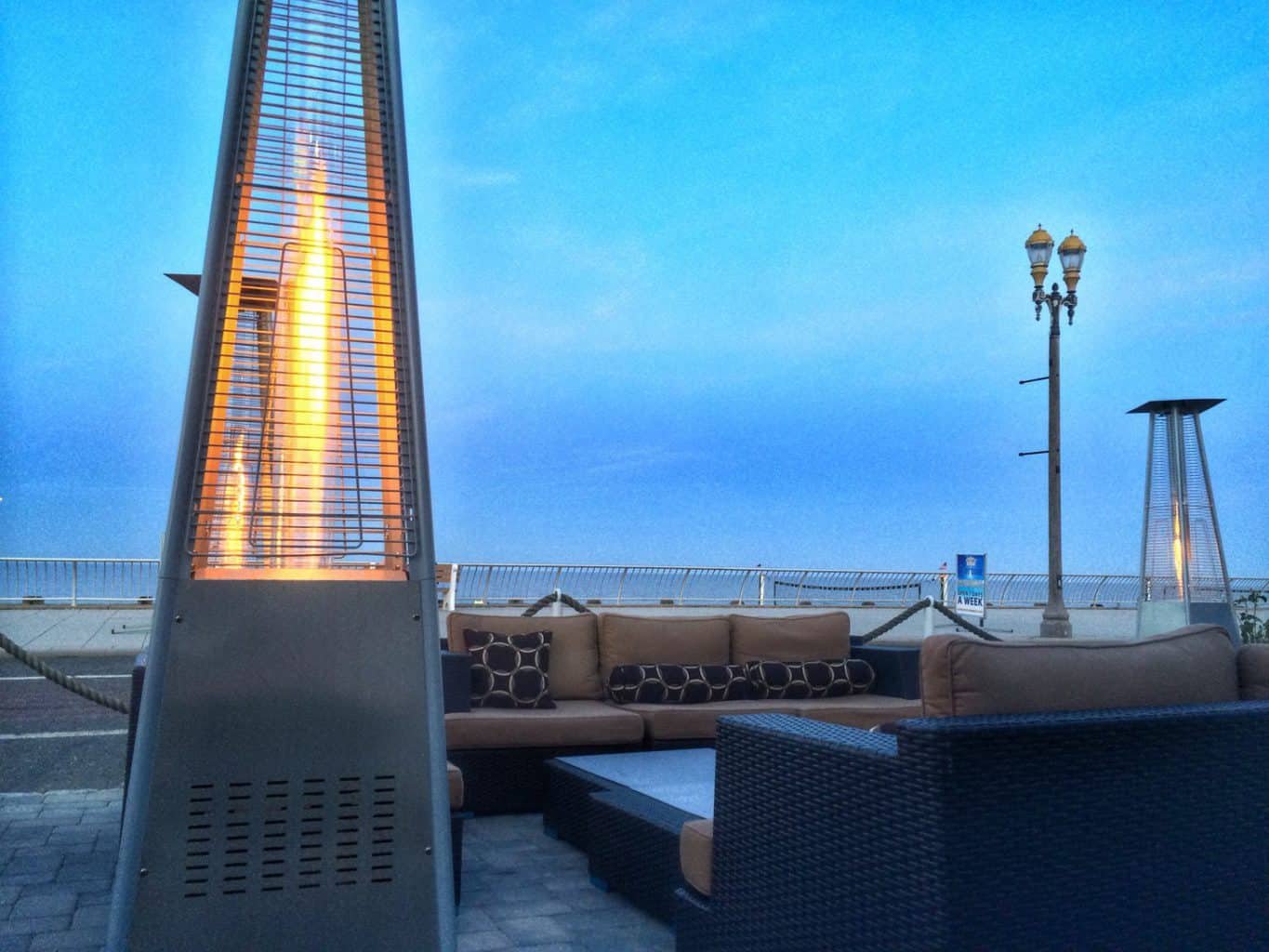 In this article, you will learn about patio heaters and how to use them safely. You will also learn about the hidden dangers of patio heaters and how to minimize their risks with safe use.
The Dangers of Patio Heaters
Patio heaters are amazing additions to any outdoor area you wish to use when there is a chill in the air, but they can be dangerous if not used properly. Therefore, you must do the proper research to ensure you are using the machine the way manufacturers intended for it to be used.
Some things to remember when using a patio heater are:
They produce high heat: Outdoor patio heaters are manufactured to produce intense heat levels because they are often used to take the chill out of outdoor settings. When you are working with or around any large heater, you need to use caution. The metal around the heater can be extremely hot and can severely burn an individual that is not being cautious.
Objects that are situated close to the heater also need to be monitored. When you are positioning furniture or other decorative pieces in your outside area, make sure there is a significant amount of space between them and the heater. This will help prevent unnecessary accidents.
Propane and natural gas require ventilation: Most patio heaters are fueled with propane. This is a highly flammable gas that can release dangerous fumes. Because propane is odorless and colorless, it is difficult to know when you are being exposed to toxic fumes that can be life-threatening.
Some patio heaters rely on natural gas for fuel. If you choose this option, you will need to make sure you are happy with the heater's location because it will not be able to be moved easily and will likely require new gas lines to be run.
Patio heaters can be dangerous when tipped over: Most patio heaters are built with anti-tipping mechanisms that prevent the machine from tipping and injuring an individual or damaging property. While these safety measures are in place, the patio heater could easily tip if kept in a location that is susceptible to high gusts of wind. Therefore, it is advised that the heaters only be used in areas protected from heavy wind gusts. There are also some ways to keep your patio heater from tipping over.
While the wind can cause an issue with the heater's stability, it can also pose a significant fire risk as well. If you try to use a patio heater when it is windy, you run the risk of the flame blowing out of the heater and causing significant damage. Although there are safety guards to prevent a person from touching the flame, they are likely no match for a strong gust.
Choose where you use these heaters wisely: The number one thing you need to consider when using a patio heater is the location in which you intend to use it. A patio heater must be used outside or in a well-ventilated area to be safe. They are equipped to release harmful fumes into the air. Using them in a location other than this could pose a safety risk.
It is also important to know what is in the surrounding area when you plan to use a patio heater. If your patio has a fabric awning and other flammable objects close by, you will need to rethink the heater's positioning. This simple adjustment to the location can prevent a fire from starting.
Considerations When Choosing a Patio Heater
There are many options for choosing a patio heater, but it can be daunting to dig through them all to find the safest model. While all patio heaters can be safe if they are used properly, there are specific things you should look for before you bring a patio heater home, such as:
Use: Consider when and where you will be using the heater. If you are only going to turn the heater on a couple of times a year, it is highly unlikely that you will want to invest a great deal of money into a commercial-grade heater. If you plan to use the heater frequently, it would be advantageous to spend extra money on a high-quality machine. If you have a large area, you will want to choose one large heater or a couple of smaller heaters. However, you need to make sure your space can accommodate more than one heater safely.
Design: Outdoor living spaces typically have specific design elements. The use of an outdoor heater can add to those designs or distract from them. When looking at the design, you want to find a heater that fits into your design scheme. An outdoor heater can be a focal point in a backyard oasis.
Weather: When choosing an outdoor heater, you need to consider the weather. Although outdoor heaters are made to withstand the elements, they will not all work well in every weather condition. For example, if you live in a typically windy location, an open fire pit may not be the best option because of the limited use you will get out of the fire pit.
Fuel: Your decision may also be dependent on the heater's fuel source. If you live in a location that frowns upon open fires, you may need to focus on cleaner options such as propane and natural gas. The amount you are willing to spend on fueling your outdoor heater is also going to be a factor in this decision.
Types of Heaters
When you begin looking at patio heaters, you will notice many different sizes and styles available. It would help if you chose a patio heater made for the area you will use it in. Along with the different sizes and styles come different hazards that you should be aware of before deciding.
The following chart tells the different patio heater types and their dangers:
| | |
| --- | --- |
| Type of Heater | Dangers |
| Free-standing | Prone to tipping in high wind situations or if they are not placed on a stable platformMay have issues with clearance when used on a covered patioRequire fresh air ventilation Wind impacts the dispersion of the heat. |
| Tabletop | Can be tipped over if the table is bumpedHigh heat within reach of people, so caution needs to be used to ensure nobody touches the heaterWind impacts the dispersion of the heat |
| Mounted | Must be installed by a professional to ensure proper clearance from flammable objectsMay only spot heat, so several are needed to heat a large area |
How Are Patio Heaters Fueled?
Propane is the most common fuel used in patio heaters. However, some heaters use electricity and wood. No matter which option you choose, there are pros and cons to each and safety factors to take into consideration.
The following chart tells the pros and cons of each patio heater fuel:
| | | |
| --- | --- | --- |
| Fuel Type | Pros | Cons |
| Propane | High heatRapid heat-upConvenient to useMess and hassle-free | Expensive to operateCan be dangerous because of the high heat thresholdLeaking propane can be deadly |
| Electric | Convenient Turns on with the flip of a switchHeats in wavesEnergy efficientSafe in high wind situations | Need to hire a professional to install properlyMay not heat a large area without several installed |
| Wood | Inexpensive Aesthetically pleasingNo worry of tipping over | Can cause smoke and smoke smellCan be dangerous for children and pets with the open flameWind can cause a huge issue with blowing flamesSparks and ash could cause a fire or burns on your home and furniture |
There are a few options for fueling patio heaters, and the best option for you will be dependent on your situation and the location in which you are planning to use the heater. If you have small children and pets, you will likely want to choose an option that is secure and does not involve open flames or has a significant tip risk.
Propane vs. Natural Gas as Fuel
Many different fuel types can fuel patio heaters. Most can be fueled by natural gas or propane. When using these two fuel types, there are things you need to remember to use them safely:
Propane: Typically, propane is delivered in a tank placed near your home or attached to the patio heater. When you are using propane, you must remember it is a highly flammable and pressurized gas. You must use caution whenever you are lighting or moving the patio heater.
Since propane is a colorless gas, it is difficult to detect a tank leak. If you are exposed to propane gas fumes in a large quantity, it can be life-threatening. If it is breathed in, it will displace the oxygen in your lungs and eventually lead to suffocation. While this is highly unlikely in an outdoor environment, it is something that needs to be taken into consideration.
Natural Gas: Many patio heaters rely on natural gas for fuel. If a patio heater uses natural gas, it is likely stationary because lines need to be run to the machine. While the stationary aspect of the patio heater is appealing, natural gas has its own set of concerns and safety hazards.
Natural gas is an odorless and colorless gas, which means leaks left undetected can be deadly. Most gas companies put an additive into the natural gas supply that releases a sulfur-like odor when a leak is present. If the heater is outdoors with fresh air, you may not realize there is a gas leak. Another problem with a gas leak is the risk of an explosion occurring.
While the risks associated with both fuel types are frightening, it shouldn't deter you from enjoying the addition of a patio heater. Knowing the risks and carefully examining your heater to ensure everything is working properly will help eliminate the risk.
Which Patio Heater is Safest?
When looking at all the different options and sizes of patio heaters, it may seem overwhelming, especially when you are focused on safety. There are many things to consider, and you may be wondering which fuel type or model of patio heater is the absolute safest for your family.
Any machine that radiates heat, whether from an open flame, infrared waves, or radiant heat, they each have a set of risks included, such as property damage, injury, or fire. It is unlikely that you will experience any of these risks if the heater is used correctly. However, there is always the potential for an incident to occur.
When considering all factors, electric patio heaters are likely the safest option. An electric patio heater will likely be the safest because of its installation, power, and control.
Installation: When you choose an electric patio heater, you will need to hire a licensed electrician to install the unit. When the installation is taking place, the installer will measure the distance around the heater to make sure it is safely away from all potential fire risks.
The installer will also be able to make sure it is properly grounded and in a location that will be safe from significant weather events that may hinder the safety of the heater. Not to mention, the installer will also be able to determine the best position for the heater to ensure you are receiving the maximum benefit from the heater.
Power: Electric heaters will be more dependent on the availability of electricity and may not work when the power is out, but you are more in control of an electric unit than a wood or propane unit.
If the heater needs to be turned off, a simple flip of the switch can stop the heater immediately. If you are using wood or propane, the stopping process may take a bit longer, which could cause injury or damage to occur.
Control: Whenever you are looking at an item that poses a potential safety risk, it is important that you can be in control of that item at any time. With an electric heater, you can easily cut off all power sources to the heater without much effort.
How to Use Patio Heaters Safely
Patio heaters can add an amazing ambiance to any outdoor setting; however, they must be used safely to create the feeling you desire.
Here are some tips for using your patio heater safely:
Make sure the area is properly ventilated.
Never try to use a patio heater inside.
Always keep pets and kids away from patio heaters
Don't put the heater near anything flammable.
Have an expert install wall mounted heaters.
Inspect your patio heater frequently, especially the fuel connections.
If you practice safe patio heater use, you will likely be able to enjoy your patio heater for many years!
Safe Places to Use Patio Heaters
When you invest in a patio heater, you may be hopeful that it can be used in other areas of your home. While this would be nice, it may not be the case. Patio heaters are manufactured for outdoor use and should never be used inside, not even in a garage with the door open.
Here are some safe places to use a patio heater:
Open-air patio:  As the name implies, an open-air patio is an ideal location to use your patio heater.  Because an open-air patio will provide ample ventilation and airflow, you will likely obtain the best results from your patio heater. 
Covered Patio: You can safely use a patio heater in a covered patio open on the sides.  Because you have a covering, you will need to take the amount of clearance above your patio heater into consideration.  If you are using a standing patio heater, you want to make sure it isn't close to the covering, as this can cause a significant fire risk. 
Open Porch: If you have a deck on your home, you can safely use a patio heater, but you need to make sure it isn't close to anything that could accidentally burn. 
Patio heaters require outdoor air to provide fresh air ventilation. If proper ventilation is not provided, you can end up in a dangerous situation. Because propane is odorless and colorless, there is a chance you may not know you are in a dangerous situation until it is too late.
Final Thoughts
Patio heaters can be a great addition to any outdoor living space and can add an aesthetically pleasing focal point to your oasis. However, when adding any patio heater to your outdoor living space, you need to make sure it is the proper fit for your space.
Overall, patio heaters are a safe addition to your outdoor space. If the manufacturing guidelines are followed when it comes to installation, you will likely enjoy the addition of your heater for many years.