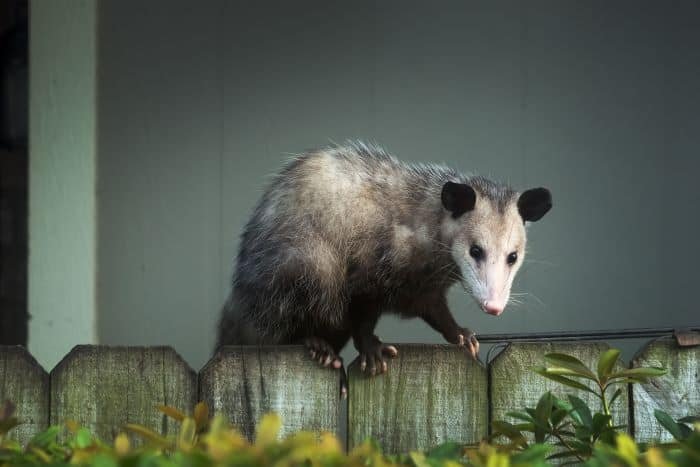 Opossums or also known as Possums are a common rodent in the United States. You may have seen one whether you live in the city or the country. Many people know what they look like or have heard of them before, but are they dangerous?
The short answer is yes and no. Possums can be dangerous but are not always dangerous. This being said, you shouldn't go out and try to make friends with a possum to test out this theory.
There are many reasons why Possums can be dangerous, but you shouldn't go out of your way to getting rid of them. There are many reasons why they are quite beneficial to have around your neighborhood or property.
Are Possums Dangerous To Humans?
They can be when they feel threatened by humans. When you see a possum, it is best to leave it alone, and they, in return, will leave you alone. They aren't aggressive and will not go out of their way to attack you.
If they do feel threatened by your presence, they will indeed attack you. This is especially so if they have their pups with them or near them. Be careful during this time because they can cause quite a bit of harm.
Are Possums Dangerous To Pets?
Possums are often passive animals and will "play dead" if confronted with a larger animal like a dog. They will not attack creatures or humans that they think they can not win against. Your pets should be considered safe.
This doesn't mean letting your pets approach an opossum. You should always have distance between you and your pet and wild animals. There is always a risk for your pet to be injured, and you don't want to kill a possum as they are beneficial to have in neighborhoods or yards.
Are Possums Dangerous To Children?
Although possums are normally docile and shy, they do have the capability to bite. Their teeth can damage, and you don't want those teeth to potentially harm your child. Teach your children to respect the possum so that it can go about its business without interruption.
Possums don't carry rabies, so you will not have to worry about this type of disease infecting you, your children, or your pets, but they do carry other diseases. Some things they do carry are the following:
Leptospirosis
Tuberculosis
Relapsing fever
Spotted fever
Toxoplasmosis
Coccidiosis
Trichomonas disease
Chagas disease
Try to keep children away from wildlife and have your child observe them from a distance. Children have weaker immune systems, so that they can contract diseases and illnesses more quickly. If you suspect your child has contracted something from the possum, seek medical attention.
What Are The Benefits Of Possums?
Although possums sometimes can be pests to you, they are beneficial to have around. If you can, take actions that won't cause harm or kill them to continue to be beneficial to the environment.
Here are some reasons why you shouldn't be quick to chasing off your new visitors:
They are beneficial to gardens.
They eat insects and sometimes other small rodents.
They will eat any leftover fruit from fallen trees.
They help eradicate ticks and cockroaches.
They eat snakes, including venomous ones (they are resistant to venom).
It has been discovered that when you have a healthy population of possums in an area, the ecosystem is healthier. There are fewer ticks that spread Lyme disease, and there are fewer occurrences of venomous snakes.
If you have a garden, it will be very useful to eliminate any extra vegetables and fruits that are rotten. They will also get rid of any insects that can harm your garden. So think twice before trying to get rid of them.
How To Keep Possums Out Of Your Yard
Most of the time, possums are just traveling through when you see them. They aren't there to stick around unless you provide them with a constant food source. Even so, there are many simple ways to keep a possum from entering your yard where your pets or children play.
If you have a backyard, one easy way to prevent possums from entering is by building a fence. Although these animals know how to climb, they will more than likely go around than climb over the fence to travel through your yard. This is especially the case when they are carrying their babies with them.
If you have any holes or openings that are large enough for a possum to squeeze through, close them up. Patch up the holes in your fences and fill any openings underneath where the fence meets the ground. If you're worried about digging, you can bury the chicken wire at the base of your fence.
What To Do If You Have A Nest?
Sometimes you may find that a possum has already made a home in your yard. They usually live in holes where they will raise their young until those babies are old enough to travel on their mother's back. If this is the case, you can easily deter the family.
Once the pups are old enough to travel with their mother, you can simply close up the hole. Make sure there are no possums left behind before doing this. The mother and children usually leave when it gets dark, so two hours after the sun has gone down should be safe.
Once you have ensured no possums in the den, you can close the hole's opening. You don't want to fill it up just in case there is anything still inside. After 3 or 4 days, if the dirt is not disturbed, you can fill the hole. This tells you nothing is inside, and you can safely close it up.
Conclusion
Possums, like any other wild animal, can harm. Their teeth are not just for decoration, but they will not go out of their way to attack you, your children, or your pets. You will find that possums, when frightened, will more likely play dead than attack you.
Be sure to checkout these articles that we thing you will finding interesting such as, composting with maggots, what grub worms are, and what exactly do worms eat. These article will give you plenty of information especially if you're wanting to get into composting.