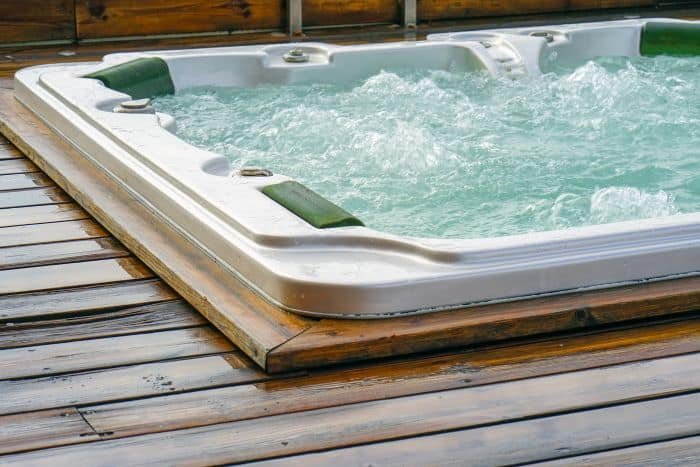 Finding the perfect hot tub depends on more than specs and accessories, but the cost does tend to be part of the deciding factor. If well taken care of, hot tubs usually last for twenty years on average.
Depending on what you're looking for, hot tubs can significantly differ in price. For the more modest models, you can get a hot tub for $3,000. But if you are looking for an even more luxurious experience, several models are available for $16,000 or more.
In this article, we'll show you five average hot tub costs. This will help make your decision easier and prepare you for future expenses you may encounter.
Entry Level Hot Tubs
Range – from $3,000-$7,000
Standard materials – typically formed plastic for both interior and exterior finishes
Jets – typically have a more limited variety of jets and a standard quantity
Water Care – standard bottled chemical maintenance
Efficiency – more basic options have standard efficiency levels, but for a slightly higher investment, more efficient and simpler models are available
Standard hot tubs are a great way to cut installation costs, as once it has been delivered, these models usually require a simple set-up and are pretty low maintenance.
Value and Premium Hot Tubs
Range – from $5,000-$11,000
High-Quality Materials – the best value hot tubs are constructed with high-quality materials such as molded acrylic and composite paneling
Jets – not only does this tier have a few more jets, but it even adds a few for a different variety
Water Care – for the best value, these have built-in sanitizing systems
Efficiency – higher efficiency levels than standard models
Higher-end value models have increased jet systems, as well as more advanced sanitization systems and options. These typically come with:
Self-regulating systems
Enhanced lighting options
Improved reliability ratings
Luxury Hot Tubs
Start – at $11,000
High-Quality Materials – molded acrylic, composite panels
Jets – highest quantity and variety for maximum comfort
Water Care – advanced sanitization systems, increased options, saltwater compatible
Efficiency – typically constructed to operate at the best efficiency levels
The most luxurious models offer extraordinary features that also improve its appearance for a high-end spa experience. These promise long-term and worry-free enjoyment.
Size Does Matter
The features and quality of your in-home spa contribute to the expense of your hot tub. But size doesn't only matter when it comes time to decide on where to put it; size can cause variation in the upfront cost and maintenance.
Larger hot tubs come at a larger expense. Aside from the increase in materials and higher quality that goes into a larger hot tub, there may be additional fees when purchasing. Because of this, many locations will often have different prices for identical models. Different models can also have different hot tub depths.
Prices may vary as a result of the following:
Freight costs
Delivery fees
Store/Dealer costs
Accessorizing Your Spa Experience
Hot Tubs need to be protected from the elements when not in use and keep children safe if unattended. If hot tubs are outdoors, there are additional expenses to consider.
Hot Tub Covers
| | | | | | |
| --- | --- | --- | --- | --- | --- |
| | Average Cost | Material | Motorization | PRO | CON |
| Soft Cover | $30-$300 | Vinyl | Manual Fastenings | Low Cost | Poor Heat Retention (R-Value) |
| Hard Cover | $130-$600 | Vinyl and Foam, hinges | Manual, Hinges to Assist | Greater R-Value | Can be Heavy if Foam Absorbs Water |
| Aluminum | $1200-$1500 | Aluminum and Styrofoam | Manual or Cover Lift | Lightweight | Lower R-Value |
| Smartop | $2000-$3000 | AluminumAnd Foam | Hydraulic lifter | Long-Lasting, Ease | Cost |
Choosing the right hot tub cover for you will depend on your location, budget, and preference. Lower priced covers offer lighter weights but have poor heat retention. For a larger investment, covers can be designed to hold heat more effectively or be removed and placed with greater ease.
Additional Coverage
Many hot tub owners opt for additional coverage to increase their privacy, adding to the overall expense. Some of these additional options:
Privacy Screens – added privacy to your spa experience
Solariums – can be attached or detached from your home, designed to fit many aesthetics
Privacy Screens – added privacy to your spa experience
Gazebos – a roof and privacy in one
Pergolas – create some shade while still enjoying the breeze while in your jacuzzi
These options can be customized to fit your needs and may even be constructed to be your backyard's focal point. Depending on your desired look or privacy level, the price will vary, but you just might be able to cut costs and do it yourself.
Heating Options
Selecting your heating option will also cause a price variation. Depending on your model, preference, and lifestyle, the various heating options will have a different appeal. We also go over how long it takes for a hot tub to heat up in this article here.
If you already have a gas line at home, heating your hot tub this way may be the most cost-effective. Taking advantage of solar panels is a great way to save on additional electric fees and help out the environment.
Below are the heating options available to you and your hot tub, with both a benefit and quick fact to help you get started.
Gas – powered by natural gas or propane, best for in-ground spas, portable spas, or free-standing wooden hot tubs
Solar – eco-friendly and connects to your existing pump system, saving costs on modifications
Electric – user and budget-friendly, may use excess energy depending on climate, model, and temperature
Heat Pump – heating and cooling options, with a variety of circulation options to enhance the experience
Wood Stove – a time-consuming option, but a satisfying and natural way to heat your at-home spa
In Sickness and in Health
Maintaining your hot tub is pertinent to maximizing its life expectancy. Once you have your hot tub at home, there will be additional expenses you will come across to keep it in tip-top shape – 'til death do you part. Before you click or sign to make that final purchase, be sure to know what caring for your hot tub at home will entail and possible expenses that can be avoided. There's also a lot of health benefits with owning a hot tub, such has helping with arthritis.
Care and Maintenance
Cleaning can be inexpensive, while maintenance will vary. To ensure low maintenance costs, it is best to keep up with regular care. Cleaning costs can be kept low with vinegar and regular rinsing and soaking of your filters.
To avoid expensive cleaning jobs, draining your hot tub every 2-4 months will prevent any huge build-up. To prevent some costly repairs, be sure to replace your filters when recommended. Costs of filters and chemicals will vary based on your hot tub's model and size. You can also use household products in cleaning your hot tub.
Pro-Tip: Don't worry about falling behind or not preparing for a lazy day. Hire a Hot Tub or Spa Cleaner to regularly tend to your hot tub for an average monthly cost of $80-$150.
Circulation
Keeping the water flowing helps prevent mold growth and keep the water clean by passing it through the filtration system. It's best to have this cycle run at least twice daily when your hot tub's not in use. You can make this process more effective by adding cleansing powder to a tennis ball and letting it soak up the harder to remove oils and lotions that may be present.
Bonus Tip: Your hot tub circulates when in use, so circulate once before your soak to get things moving beforehand.
Conclusion
There are many costs to consider before purchasing a Hot Tub in addition to that first seen price-tag. They will often vary based on model, preference, and appearance, but each style is designed to fit anyone's relaxation or budgetary needs.