Birdwatching is a fun outdoor activity for those looking for some mindfulness when they're out in nature. The great thing about observing birds is that you don't have to go out on a long hike to see them. You can even birdwatch from the comfort of your own backyard, especially if you know what to look for.
The following sections will show you what birds are the most likely to visit your backyard and how to look out for them in a way that helps you identify them. You can also always finds ways to attract these birds to your backyard to see these stunning creatures soar around.
Identifying Backyard Birds
Backyard birds can be a mystery to the inexperienced observer, but learning how to identify them doesn't have to be a daunting experience. Apart from making use of a field guide to narrow down the possibilities, these are some of the characteristics you can look out for when birds visit your backyard:
Aspect: Take note of the shape and dimensions of the bird as this will help situate the bird within a specific group.
Family: Bird groups are plentiful, but some are more likely to be seen in backyards. Once you learn the defining traits, you'll be able to identify specific birds quicker.
Markings and coloration: Physical traits like eye and tail markings will make it easier to pinpoint your backyard visitors.
Behavioral traits: The way birds move and socialize is a determining factor in correctly identifying them.
Flight: If you observe any patterns here, they may help you understand the type of bird you are watching.
Sound: Birdsong is a crucial aspect here, but so are any other noises or calls the birds use to make themselves heard. This can be one of the most time-consuming characteristics to learn, but also one of the most rewarding.
Which Birds to Look for In Backyards
Backyards offer great opportunities for birdwatching, especially if you have bird feeders. Numerous birds will visit your backyard, but some of them you will get to see all year and across most territories, as they are non-migratory species. These are some of the most common birds to look for when you're enjoying the comfort of your backyard.
House Sparrow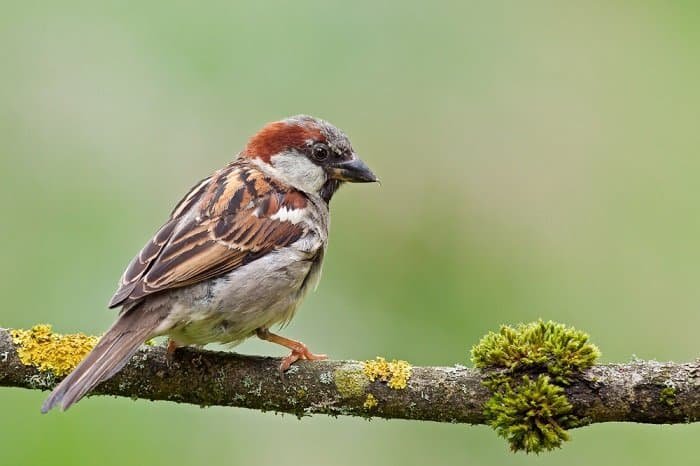 House sparrows are omnipresent in backyards, especially in areas with greater concentrations of people. They hop instead of walk and are very social. If you have a feeder in your backyard, they will likely be the most frequent repeat visitors. They also love baths, so if you're looking to keep an eye on them, use this to your advantage.
House sparrows usually have wings and backs that are marked with brown and black. They also have light abdomens and gray or black caps with a darker throat.
Northern Cardinal
This backyard guest is easy to identify with its crests and red markings. The females are usually brown with red accents, while the males are usually red with black. The Northern Cardinal is a popular favorite to observe, and it represents seven states. These birds make distinctive chirps and whistles and are usually the first birds you'll hear in the morning.
They are highly territorial during breeding seasons and have been known to attack even their own reflection on sight.
Mourning Dove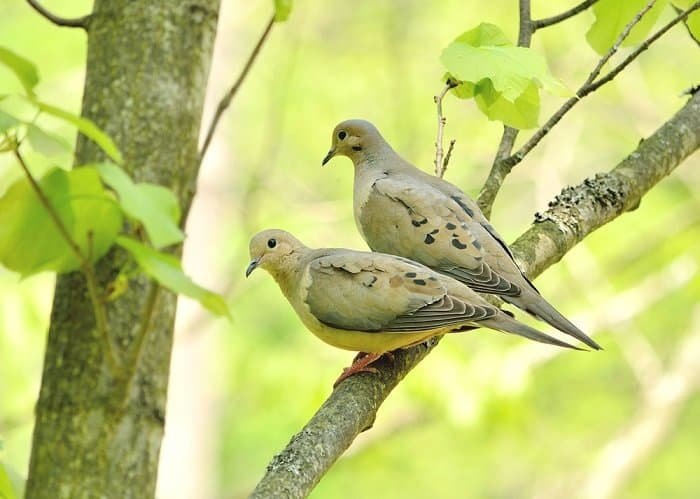 One of the most common birds to observe anywhere on the continent, mourning doves will have provided the soundtrack to your days on more than one occasion. The notes of lament in the rhythmic sounds of their melodies make them easily identifiable even before you get to see them.
They are usually accompanied by dark spots on their plumage and dark markings on their wings. You may notice iridescent parts on their necks. They have a straight flight pattern that is quick, and they love to perch in groups on telephone wires.
American Robin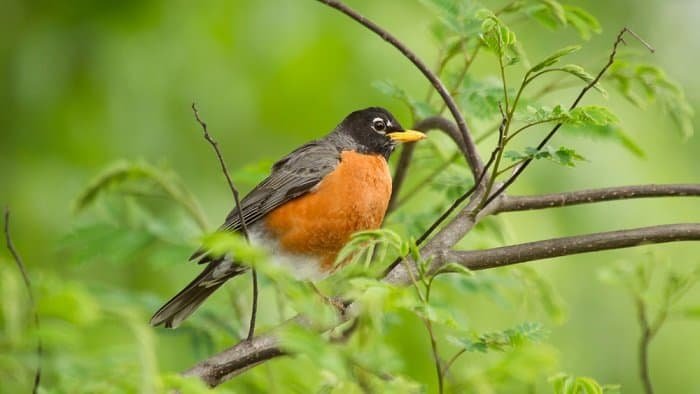 This bird can be easily identified by its red or orange breast coloring and dark grey wings. It usually heralds the end of winter and has an easily recognizable tune when it sings. The American robin is a frequent guest in backyards everywhere, where you might notice it hopping around or running to find food.
The American robin loves water features and water baths, so if you're looking to attract some, make sure to add some fun elements to your backyard. Despite becoming more active in the spring, the American robin is present year-round but in a more sheltered way during the winters. You may still spot one in the colder weather and should keep an eye out.
European Starling
The European starling is also known as the common starling and was introduced to the United States in the late nineteenth century. Since then, it has become one of the songbirds present in the most significant number across the country and one of the most common sights in backyards.
You'll be able to identify the starling by its short tail, glossy black plumage, and long pointed yellow beak. Its colors are speckled with white spots during the colder seasons, and the black has purple or green nuances during the summers. Starlings usually travel in huge flocks and are considered pests due to their large numbers and boisterous behavior.
Starlings have hidden skills: they can imitate the sound of other bird groups by studying them and then mimicking them. They are known to imitate more than 20 other bird sounds that aren't specific to their family.
American Crow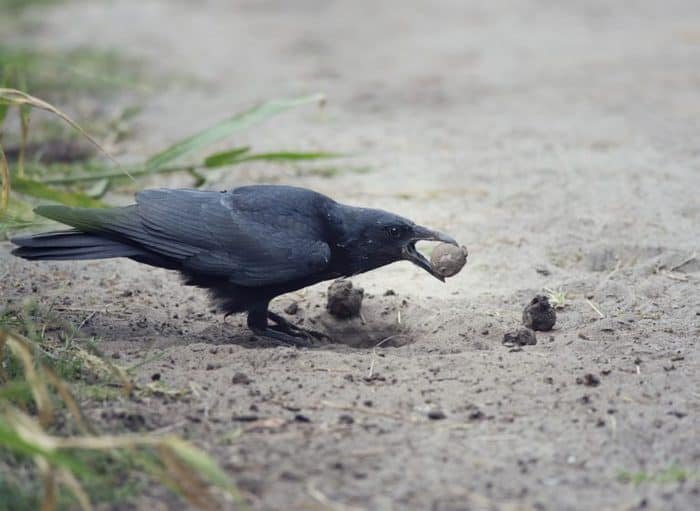 This corvid can be found in large numbers across North America and will make frequent stops in backyards it finds in its path. The American crow isn't fond of bird feeders, preferring food located in open space where it will be unhindered by other species.
American crows are easily identified by the cawing noise they make and their all-black coloring. Their wings might have purple, blue, or green nuances, and they can frequently be found congregating in large numbers.
If you're not sure how to identify an American crow compared to other corvids, keep an eye on its size: a crow will be smaller than a raven.
Blue Jay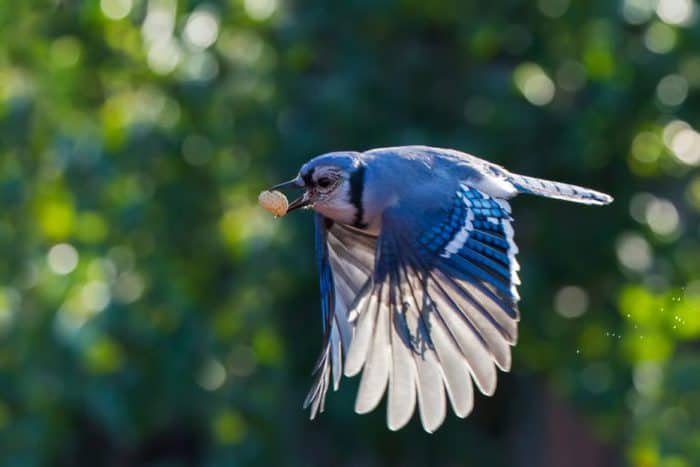 The blue jay is another bird that is easy to identify once you've seen it, with its crest and blue plumage highlighted with white and black markings. This bird is also part of the corvid family and, like crows, it is known for its intelligence and group social structures. The blue jay makes a loud call and travels in large flocks.
American Goldfinch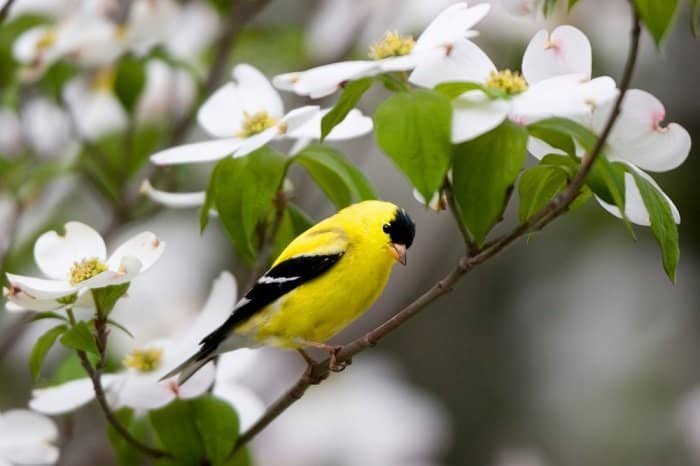 The American goldfinch is another famous state bird and can easily be recognized from its call and coloring. In the spring, the males are a bright yellow with some black markings on the crest, wings, and tail. Their plumage is more sedate in the winter but still identifiable, especially considering the particularities of their tail and bill shapes.
American goldfinches molt in the summer and the winter and are attracted to backyards with bird feeders and native thistle plants.
Downy Woodpecker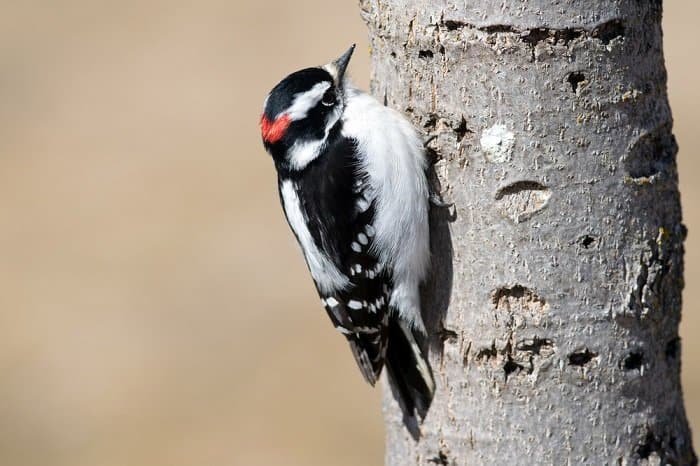 The downy woodpecker is a black and white bird that is small in size and can frequently be found in backyards. They have a high-pitched call with easily recognizable notes, and they are social birds that usually make their home with flocks of mixed bird species.
They are commonly mistaken for larger woodpecker types, but as long as you keep an eye on their size, you'll be able to expertly tell them apart in no time.
Conclusion
When you have a backyard, birdwatching becomes part of the experience of enjoying your space. You'll have plenty of winged visitors, and with some learning, you'll be able to start identifying them with ease. One way to attract birds is providing food, we have an article that goes over some of the best window bird feeders if you're wanting to see these birds from a closer view.