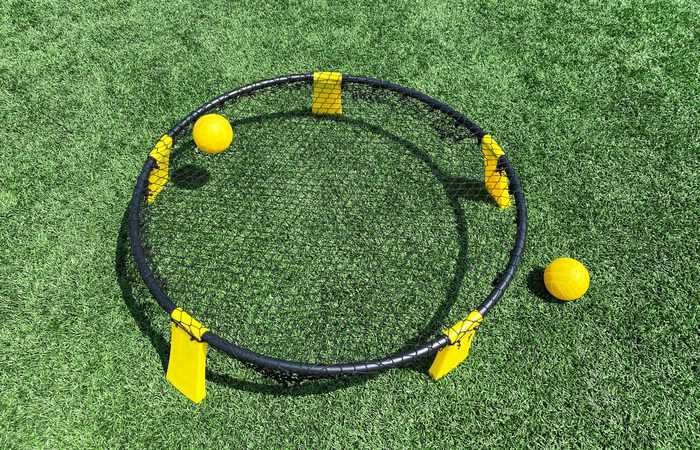 Do you want to make your backyard party the best party ever? Then, this blog post is for you. Here are four awesome games that will take your party to a whole new level!
With easy-to-understand instructions and a quick grasp of game rules, these backyard games don't require any experience to make them fun. You can also combine several games, play them in teams, and make up your own rules, which you will learn if you read on.
Spikeball
If you're looking for a game that anyone can play regardless of their age, then Spikeball might be what you need. Not only is it fun to play, but it's also straightforward to learn.
What's Included in the Game?
The game has different components that work together. There are:
Two balls, with one of them being relatively larger than the other
A net and a hoop frame to hold it into place
The five support legs offer stability and support and can be plugged around the hoop frame.
Air pump to inflate the balls
Nylon carry bag for easy storage and carrying around
Game manual
How Do You Play?
For starters, you need two teams with each team made of two players. The net is placed between the two teams. While the teams are supposed to volley the ball towards each other, they should do so by bouncing it on the net. The game rules are very simple: don't allow the ball to touch the ground. Otherwise, you risk awarding the opposing team a point. The two balls are categorized into 3.5" meant for advanced and experienced players and 6.5", which is suitable for beginners.
To win the game, a team has to be the first to score 21 points, with a point being awarded whenever the opponents miss the net and hit the ground.
Why You Should Consider Buying It
If you need a simple but fun game, then Kan Jam Strike Spikeball is a game for you. It's a fast-paced game requiring teamwork and quick reflexes. It doesn't take up much space, making it perfect for a small crowd in your backyard. The rules are elementary and straightforward, which means you won't waste time explaining them to new players.
Pros
It's a competitive game and requires others to participate.
It can be played indoors or outdoors.
It's durable since components are made of plastic and rubber.
Cons
Only four people can play at a time.
Bottle Bash Backyard Game
Do you have steady hands and an impressive aim? If so, then Bottle Bash Backyard Game is something you might want to try. This game is designed for fun, and anyone with decent arm strength can participate. You don't need the experience to play either.
What's Included in the Game?
The package comes equipped with several components, such as:
Two non-breakable bottles, each weighing more than 6 ounces
Two detachable pole caps that provide enough surface area for the bottles to sit on
Two adjustable poles are also included with the package and have an aluminum cover, which helps prevent rust or decay, making them perfect to use in the water
A built-in scoring system attached to the poles
Durable flying disc with a diameter measuring 10.5 inches and weight of just 0.175kgs
Durable mesh carry bag for easy storage and transportation
How Do You Play?
The game starts by planting the two poles opposite each other, with the bottles mounted on each pole. The essence of the game is to knock down the bottles either by directly hitting them or hitting the pole using a Frisbee. The team whose bottle has been hit has to catch the bottle and the Frisbee before they hit the ground. Two points are awarded to the throwing team if the bottle hits the ground, and one point if the Frisbee hits the ground. Three points are awarded if both the bottle and the Frisbee hit the ground.
The first team to reach 21 points wins the game.
Why You Should Consider Buying It
For starters, the game challenges your aim and might not be as easy as it sounds. If you need a game that keeps you on your toes the entire time and requires team participation, then Bottle Bash is a game for you. The rules are very simple, and the game can get competitive, where anyone can play.
Pros
It's effortless to play and great for a team-building exercise.
The components are tough and durable.
It can be played anywhere.
Cons
Only two teams can take part at a given time.
Giant Yard Pong
The idea behind Giant Yard Pong was derived from the famous beer pong game. However, this game takes a different route in terms of gameplay and rules. It challenges your aim and teamwork. /
What's Included in the Game?
The package includes:
12 durable buckets
Two tennis balls
Two special balls
Carry bag
The light-weight buckets can be stacked together to fit easily into the carry bag for easy transportation.
How Do You Play?
Two teams made of two teammates compete against each other. The buckets are divided into two and are arranged to form a triangle. With 15 feet a minimum distance separating the two sets of buckets, the aim of the game is to throw or bounce the balls into the opponents' buckets. Whenever the ball lands into the bucket, that bucket is eliminated, and another of the player's choice. The game continues until one team eliminates the others' buckets completely.
Why You Should Consider Buying It
For starters, the game is perfect for all ages. Secondly, it's easy to play, and the rules are straightforward for anyone to understand. With only 12 buckets and four balls, this game requires very little space to enjoy, making it perfect for any backyard.
Pros
The buckets are durable and have both water and sand lines marked on them.
Very easy to store and carry
It offers you value for money.
Cons
The tennis balls might get soggy when you fill the buckets with water.
Giant Wooden Tumble Tower
Do you have steady hands and nerves of steel? The best way to find out is by playing Giant Wooden Tumble Tower. You need to harness your elementary structural knowledge to get through the game successfully.
What's Included in the Game?
As a whole, the game comes packed with 54 giant wooden blocks, each measuring 7.75 x 1.5 x 2.5 inches and capable of constructing up to 18 rows. You also get a dry-erase board where you can write your game rules, as well as a carrying case capable of containing the blocks for easy transportation.
How Do You Play?
The first step is to build the tower. Each row should have three blocks, with each row laid in crossways. The essence of the game is to dismantle the tower while attempting to build it without interfering with the structure or causing it to topple over. Any number of people can play the game.
Why You Should Consider Buying It
If you enjoy challenging games that require more brainpower than physical interaction, then Giant Wooden Tumble Tower is a game for you. You can play it alone or in teams. It's a perfect backyard game without age restrictions.
Pros
It offers a mental challenge and is perfect for team building.
The blocks are strong and durable.
It can be played in small spaces.
Cons
The game needs exceptionally steady hands.
If you want a smaller version of this game that can be played indoor or outdoor, the Life is Good version is pretty cool.
Conclusion
Among the best ways to bond with friends and family is by taking part in playing outdoor games. These games mentioned in the article are easy to play since they have simple rules and instructions. More than two people can play at once, making them perfect for a small family.
If it's a party during the hot summer, read our backyard water games article to have fun and cool off at the same time. Or if you and your friends are golf crazy, check out whether you should get a golf net to enjoy at your next party.
Another fun thing you can do in your backyard is learn how you look for gold in your backyard, that's right gold!!