The new "work from home" culture has required some creativity in finding space for a now much-needed home office. What about the backyard? The backyard office is a new trend, and it's here to stay. You get additional living space without moving and the added bonus of a great view!
Backyard offices can be purchased as prefabricated structures or hired out to be built and finished to any level of simplicity or luxury. Another viable option is to go the DIY route by buying a shed and renovating it or using an existing structure in your yard.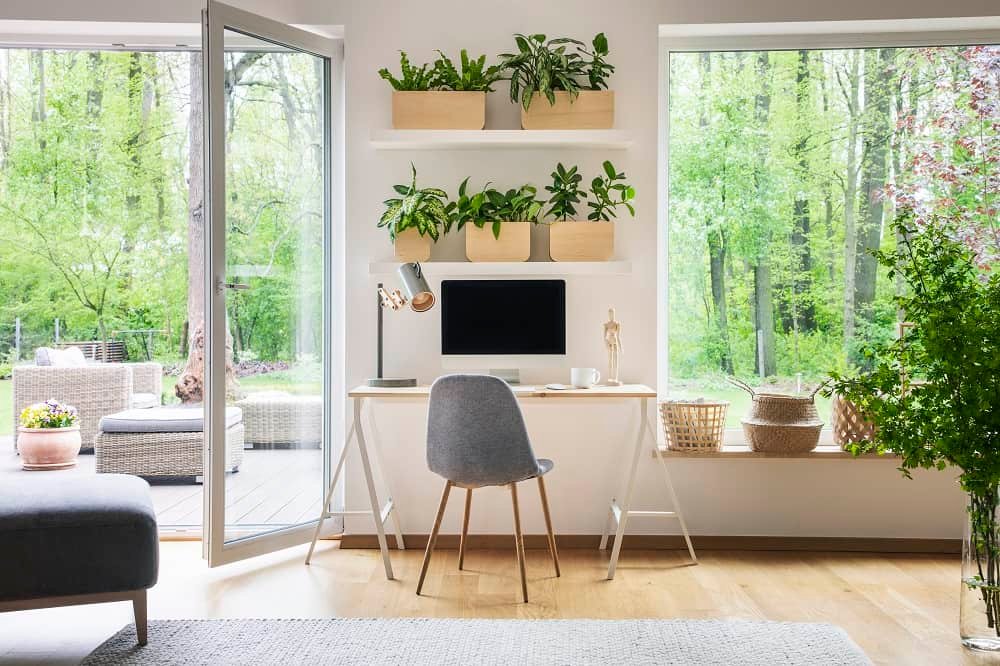 Imagine your 30-second commute to work through your backyard to your completely private and customized office. Sound appealing? Read on to learn about the pros and cons of an office in your backyard.
What You'll Need to Make a Functional Backyard Office
Once you have a stable structure to work with, think about an interior design that will be both functional and comfortable.
Electricity: If you're working from home, you will need electricity for lighting and access to the internet. Also consider how many outlets you'll need for computers, lamps, a printer, etc. You may even want a microwave and mini-fridge.
Internet Access: The signal from your house may be weaker in your backyard. You might need to install another modem inside the office to ensure a strong connection.
Weather Considerations: Do you need AC or heat? If you live in a mild climate, you may be able to get by with fans or a portable heater. But be realistic because you want to make sure that you'll be comfortable in your office for long periods. A ductless mini-split HVAC system will work great for the small space.
Furniture and Decor: Remember to include the cost of furnishing your office too. You can lower decor costs by using second-hand furniture. Browse your local consignment shop, thrift store, or flea market. Consider adding a small couch, rug, and wall décor to make the space feel cozy. Built-in shelves can also give you good storage space. This is where you can be creative and customize the space to your taste.
Now that you know what you'll need, you're probably thinking, how much will this cost? That depends on if you hire a company to build your office from start to finish, or if you refurbish a shed yourself.
Hiring a Company to Build a Backyard Office
There are several companies that will make you a backyard office. Backyard Office and YardPods are just two of the companies out there that specialize in building free-standing rooms.
These companies build the structure where you want it in your backyard. They take care of everything, including:
Design
Planning
Foundation
Electricity
Installing air conditioning and heat
The most expensive option includes a bathroom and kitchen. It is essentially a tiny home- you could actually live in it. However, due to the cost, most choose to skip this and use the plumbing in their home.
Some Details About Hiring a Company
This is a great option for a permanent structure that you can use for many years. Here are some facts about the project and advantages of hiring a pro to take this job from start-to-finish:
Codes and local regulations: These structures will meet residential building codes and are as stable as a house. Licensed contractors should take care of permits and will be insured.
Match your office to your home: If you'd like the style and materials of your office to mimic what you have on your house, hiring a professional contractor makes that a lot easier.
Cost: The average cost is $20,000 to $30,000. Remember, this is a long-term investment.
Sizes: There is a range of sizes from 8 x 8 to 12 x 20. Most people will find between 8 x 10 and 10 x 12 to be sufficient, similar to the size of a small bedroom.
Time Commitment: The process takes 4-8 weeks to complete.
Another Option: The "Instant" Office Delivered by a Pro
Studio Shed is a company that makes prefab backyard offices. Studio Shed gives you the option of installing the shed yourself. They ship you all of the materials and installation resources. You can also hire a certified installer for turnkey installation.
The DIY Backyard Office: Using a New Shed
You can also opt to repurpose a new shed yourself. You can buy a storage shed from a home improvement store or online.
What Type of Shed Should I Get for a Backyard Office?
Unless you already have a shed or garage in your backyard, you're going to be picking a shed for your home office. You have some options, so here are things to consider:
A good size – the minimum size you'll want is 8 x 10.
Several windows
Good flooring 
A solid roof
Made of wood instead of plastic
A door that can be locked 
Good quality shed (this will likely cost between $2,000 and $5,000, possibly more depending on how much space you want)
The time commitment 
Of course, you can build the shed yourself if you have the time and feel confident in your DIY skills. There are plenty of videos and online sources to help you plan that project. There are also plenty of kits available, and you can find tutorials for those, as well.
Next Steps for Turning a Shed into an Office
Once the structure is in place, you have to build those four walls into a working office. This is where it's time to get a professional involved in one or more of the next steps in your DIY project:
Lay it out: Think about the layout of your office so your deck has easy access to an outlet.
Install electricity: This requires hiring an electrician who will make sure everything is up to code.
Install a mini-split HVAC for air conditioning and heat: You'll want to budget $1,000 or more for the HVAC. DIY or pro, depending on your skillset.
Finish the interior: Insulate the walls and ceiling, put up drywall, and trim. Insulation will help with climate control and give you some soundproofing.
Finishing touches: Paint and add flooring for a fresh look.
Security: If your door doesn't have a locking knob, install a padlock so you can lock it up at night. A wireless security system isn't a bad idea, either.
You can repurpose a shed for under $10,000. The final cost will depend on how much DIY work you're willing to do and your interior design choices.
Repurposing an Existing Shed for an Office
If your existing shed is in good enough shape, you can fix it up to turn it into your new backyard office space. Look it over well to determine how much it may cost to fix up compared to buying a new one. Some things to check out:
Examine the roof, walls, and floor to ensure that rain or critters can't get in.
Make sure the foundation is sound and the flooring is even or can be leveled.
Can you add windows for natural light or add a glass-paneled door?
Once you've determined this fixer-upper will make a great office, clean it out and finish it off with the same steps above.
Landscaping Around Your Backyard Office
Part of the draw of bringing an office into your backyard is the natural beauty surrounding you. If you already have a mature garden, you're all set. If not, there are many natural touches that can make your workspace attractive, peaceful, and welcoming. Some features to consider:
Flower boxes
Planters with herbs or fragrant flowers
A paving stone walkway
Garden sculptures
A birdbath
A water feature
Outdoor seating: a small table or bench
This is one of the biggest benefits of having a backyard office and can bring new enjoyment to your daily work routine. But it's just one of the many things to consider.
What are the Pros and Cons of a Backyard Office?
There are some great reasons to build an office outside, not least of all because it is convenient and saves time and money needlessly spend on commuting. Here are some other considerations to think about:
Pros
Cons
Add equity to your home.
You essentially added another room to your house.
It takes up valuable space.
You will lose backyard space. This can be a problem if you have a small backyard already.
Save on rent.
If you are self-employed, you won't need to rent office space. This could save you money in the long run.
Not quite all of the comforts of home.Most backyard offices do not have plumbing. You'll have to go inside to use the bathroom, which can be especially inconvenient during winter.
Have a great view!Reap the benefits of being close to nature. You'll probably get a beautiful view of the tree, pond, or garden in your backyard. Nature can uplift your mood and make you more productive.
Meeting with clients at home. Not everyone is comfortable with mixing work and home to this extent.If you want to use the space to meet with clients, your clients will still need access to your home for the restroom.
Privacy and quiet .Create a physical boundary between work and home. You may be more productive by avoiding distractions like family members and TV.
It depends on your budget. Repurposing a shed yourself will be cheaper than paying a company to build one for you. If you think working from home will be a long-term situation for you, a backyard office could be worth the cost. After all, you are saving money on the commute.
It can be repurposed. Don't need an office anymore? Turn the space into a home gym, kids' play area, private guest space, or art studio. So many options!
 https://backyardscape.com/how-much-does-it-cost-to-build-a-guest-house/
Final Thoughts
Remote work is becoming increasingly popular, and it appears to be here for the foreseeable future. Instead of buying a new house with dedicated office space, a backyard office can be the perfect solution.
Since it is a separate structure from the house, you will feel like you're at work instead of at home. You can hire a company to construct your office from start to finish, or you can enjoy the satisfaction of repurposing a shed yourself.
Be sure to checkout more articles below to help make your backyard functional and stylish. If you reside in Florida, here are some backyard landscaping ideas, which are sure to make your yard look great. Also be sure to checkout our backyard waterfall ideas, and well as finding more storage ideas for your backyard!