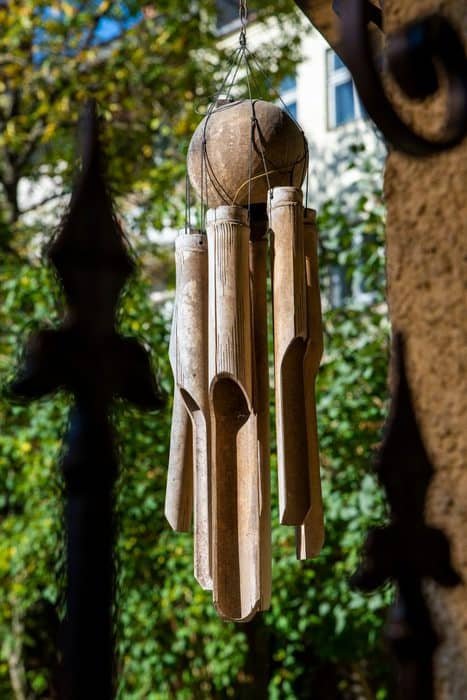 Now more than ever, life can feel stressful and chaotic. For centuries, bamboo wind chimes have been used as a natural remedy for stress, bringing soothing music, positive vibes, and relaxation into a home or backyard.
There are dozens of varieties of wind chimes. Each wind chime has a unique sound and quality, whether it be made of bells, tubes, or steel. Bamboo wind chimes have long been noted for their richness of sound and zen-inducing benefits. Below is a list of the best bamboo wind chimes on the market today.
Best Overall Bamboo Wind Chimes
We start our list with the best overall bamboo wind chimes. This ranking is based on price, value, customer ratings, and quality.
Durability. Hand-made to withstand all weather conditions.
Strong hook. The stainless steel hook is strong enough to offer extra stability during even the windiest of days.
Rich sound. Artisanally crafted so that each chime produces just the right, naturally beautiful tone.
Top-notch varnish. Each chime is coated in Albacrafts high-quality varnish for increased durability and long-lasting use.
Albacrafts promises 100% customer satisfaction and offers a one-year warranty that includes free returns, no questions asked.
Best Double-Row Bamboo Wind Chimes
Instead of a single row of pipes, these bamboo wind chimes offer two rows of pipes to produce a fuller, richer sound. These chimes are a bit pricier than the previous, but their unique double-row design is worth every penny.
Cohasset's antique double bamboo wind chimes
these classic bamboo chimes offer a unique sound thanks to their double-rowed design.
Hand-made. Each chime has a unique style and is hand-made on the island of Bali.
Sustainable. Made of a blend of fast-growing bamboo and coconut wood.
Relaxing tone. Each tube is hand-tuned to create warm, soothing tones.
Buying from Cohasset's means supporting the talented Balinese artists behind their products. Cohasset's works directly with the artist of Bali to ensure ethically sourced wind chimes.
Best Bobbing Crane Bamboo Chimes
If you're looking for something with a bit of charm and humor to add to your backyard, look no further. These bamboo wind chimes feature a whimsical bird that bobs its head in the breeze.
Cohasset Happy Bobbing Head Bird Bamboo Wind Chime Bobbing head bird wind chimes are a charming way to enjoy the relaxing benefits of wind chimes.
Entertaining. The bobbing bird atop these wind chimes is sure to offer endless moments of entertainment and laughter.
Hand-made. Also coming from Cohasset, these chimes are crafted one at a time by ethically sourced Balinese artists.
Perfect melodic sounds. Crafted to produce rich, relaxing sounds that won't annoy the neighbors.
Enjoy the fun of a classic bobbing head wind chime while supporting artists and promoting ethically sourced bamboo.
Best Bamboo with Coconut Wood Wind Chimes
There are several benefits to opting for a bamboo wind chime blended with other woods, like coconut. For starters, coconut wood offers a slightly different, more clacky sound than bamboo.
The Natural Bamboo and Coconut Wind Chime from MyFamilyHouse, These home-made chimes are available in a variety of sizes.
Fair-trade. Sourced from skilled Indonesian workers through a fair-trade program.
Green. Made using Albesia and Jempinis wood, quickly growing and ethically sourced. Whenever possible, MyFamilyHouse uses recyclable material for shipping.
Gentle sound. The combination of bamboo and coconut wood produces a softer, gentler, and more soothing sound than other bamboo wind chimes.
Brighten up winter days or summer nights with the soft, relaxing sounds of this fair-trade wind chime.
Best Beaded Bamboo Wind Chimes
The addition of beads to a bamboo wind chime creates a unique look and sound. When pushed by a light breeze, the beads knock together to add a gentle tapping sound to the music of your bamboo wind chime.
The Bamboo Wind Chime with Wooden Beads from TranquilityGiftsUK,
Hand-made. Artisanally crafted on the island of Bali and responsibly sourced from local artists.
Delicate design. The beads add a delicate, whimsical aesthetic to these wind chimes.
Unique sound. Each chime is carefully crafted with a thoughtful tube design to create a one-of-a-kind tone.
These hand-made bamboo wind chimes stand out from the crowd with their unique beaded design and artisanal craftsmanship.
Best Patterned Bamboo Wind Chimes
These wind chimes are hand-crafted using a unique method of pattern making. The bamboo is burned to create a lovely floral design.
Rustic Bamboo Wind Chime from Nalulu
Unique floral design. These wind chimes come with a unique burned floral pattern, offering hip, rustic vibes to any setting.
Built to last. Featuring a stainless steel hook and a double coat of varnish.
Biodegradable. These wind chimes are made using sustainably sourced materials and are biodegradable.
Nalulu offers one-year warranties on all of its products and guarantees customer satisfaction. Free returns and refunds, no questions asked.
Best BirdHouse Bamboo Wind Chimes
If you want bamboo wind chimes with double the use, these chimes may be exactly what you're looking for. Enjoy the soothing sounds of bamboo and invite feathery friends to your backyard or garden.
The House Bamboo Wind Chime from Nalulu
Also from Nalulu, these bamboo wind chimes offer a functional birdhouse crown.
Perfect for nature lovers. Not only will these bamboo wind chimes bring relaxing music to your backyard, but they'll also bring a variety of birds and wildlife.
Hand-painted. Each chime is hand-painted with a Balinese flower design for a colorful, cheerful look.
Made to attract birds. The birdhouse crown is made from straw and wood, attracting a large selection of birds to your backyard.
Nalulu's one-year warranty also covers these bamboo wind chimes, simply return for a full refund if you're unhappy with your purchase.
Benefits of Bamboo Wind Chimes
The benefits of bamboo wind chimes are evident when stacked against wind chimes made from other materials. Wind chimes made from ceramic, glass, metal, or other forms of wood don't offer the same rich, soft, soothing sounds of bamboo wind chimes nor the eco-friendly sourcing of bamboo wood. Other benefits of bamboo wind chimes are listed below.
Quieter Than Other Materials
Bamboo wind chimes produce sounds no louder than 20-30 decibels in a light breeze. With a bamboo wind chime, you won't annoy your neighbors. They may even thank you for the relaxing sounds coming from your backyard.
Yin Focused
Unlike metal wind chimes which are more yang focused and bring about energizing vibes, bamboo wind chimes are more yin focused. This redirection of energy through soothing sounds brings stability and relaxation.
Natural Looking
Bamboo wind chimes have a natural wooden appearance and blend in with backyards, gardens, or bohemian spaces. Overly shiny materials, like metal or ceramic, can feel out of place in a natural setting.
Versatile
They can be used for outdoor or indoor decoration, whether you chose to hang them from trees, porch posts, door frames, or ceilings.
Great Gifts
Bamboo wind chimes make perfect gifts for gardeners looking to add unique pieces to their backyard masterpieces or people interested in spiritual practices involving yin and meditation.
DIY Bamboo Wind Chimes
If you're the crafty type, consider following this DIY guide from HGTV to make your bamboo wind chimes. Creating your bamboo wind chimes means they're a fully customizable artistic expression.
You'll need dried, seasoned bamboo and some simple hardware and power tools. The process involves cutting out the clapper, splitting the bamboo, drilling holes into the bamboo and in the clapper for airflow, and then tying your wind chime together on a hanger.
If you find you're a natural bamboo wind chime crafter, consider gifting them to friends and family or starting your own online shop.
Conclusion
Bamboo wind chimes are an eco-friendly, unique way of bringing serenity and soothing music to your home and backyard. The most important things to consider when shopping for bamboo wind chimes are sustainability, ethically sourced or fair-trade materials, aesthetic, functionality, and durability.
Whether you tackle bamboo wind chimes as your next DIY project or purchase one from this list, bamboo wind chimes can serve as home decor or as natural, serene solutions to the stress of everyday life. 
Be sure to check out our article where we provide more of the best wind chimes.