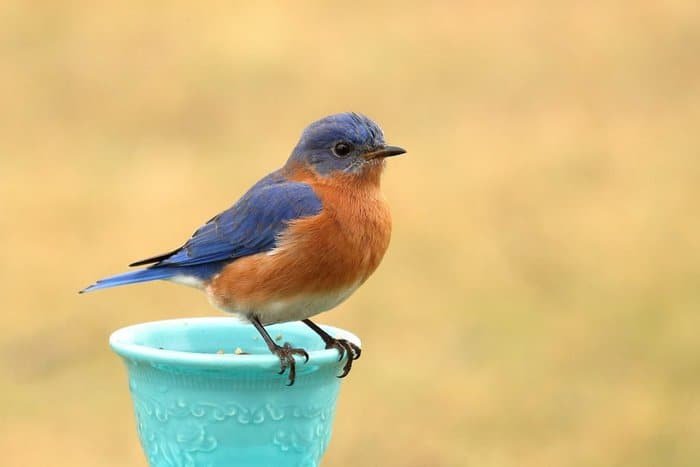 You do not have to be an avid birdwatcher to find the beauty in a gorgeous bluebird touching down in your backyard. Given their distinctive, impressive plumage, they are one of the most desired backyard visitors. The key to enticing them to your yard is all in the bird feeder you choose to display—and the food you put inside, of course.
The best bluebird feeders comfortably feed the bluebird its favorite foods while keeping larger birds away. Bluebirds also require particular feeders that preserve the foods they love to eat, primarily mealworms. Bluebirds will eat them year-round and feed them to their young. This is particularly important for the bluebird during the colder months.
The Snack 'N' Treats Bluebird Feeder is one of the top-rated bluebird feeders available. This feeder boasts a simple, elegant design: a curved hanger, perching space, and an enticing blue dish. The beautiful design will be a lovely addition to your yard or garden area.
The .75 ounce dish is perfect for offering bluebirds mealworms, suet, jelly, and even water. It has small holes for drainage, ensuring the food inside stays fresh.
Other benefits include:
The hanger is made of steel and can resist the elements.
The plastic bowl is sturdy, so you do not have to worry about replacing it quickly.
The bowl can be washed in the dishwasher for easy cleanup.
More Birds 38200 SeedFeed Feeder, Dish
SIMPLE AND SLEEK DESIGN: Stokes designed this birdfeeder to attract a wide variety of birds depending on what you chose to feed, while also looking simple yet attractive in your outdoor space
HIGHEST QUALITY FEEDER IN ITS CATEGORY: The durable tray is made from polycarbonate and the metal hanger and perches are powder coated and meant to last a lifetime
SIMPLE AND HASSLE FREE: The included hanging hook, leak resistant seal, and large bottle opening makes an easy to use functional feeder
We earn a commission if you make a purchase, at no additional cost to you.
07/02/2022 12:10 am GMT
Another highly rated bird feeder, the Window Bird Feeder, offers you close-up views of the birds who frequent your feeder! It is made from transparent acrylic, which allows you to birdwatch from the comfort of your home. It provides hours of entertainment for all members of the family.
The Window Bird Feeder is also incredibly easy to clean, as it comes with a removable tray. Discard old seeds, wipe down the surface, and refill! It is also made with drain holes to keep food from staying wet and spoiling.
This house-shaped feeder is made of 4-millimeter thick premium acrylic, so it is strong against harsh weather. The inclined roof makes it difficult for hungry squirrels or raccoons to gain access to the feeder, making it a safe space for the birds you wish to attract.
This feeder adheres right to your window with its powerful suction cups. Nature's Hangout offers a lifetime guarantee on their suction cups and assures customers that their feeder will never fall down. If it does for any reason, they will grant a full refund for this product.
Window Bird Feeder - Large Bird House for Outside. Removable Sliding Tray with Drain Holes. Best for Wild Birds. Clear Acrylic. Easy to Clean. Great Gift. for All Weather
🐦 ENJOY THE BEAUTY OF WILD BIRDS WITHOUT NEEDING BINOCULARS! If you are looking for a top-of-the-line birdhouse to attract birds right to your window, you will love our Nature's Hangout Outdoor...
🐦 THE EASIEST BIRD FEEDER YOU'LL EVER CLEAN… We created our high-end bird houses with you in mind. The removable tray makes it easy to quickly and easily clean. Simply remove the tray, and...
🐦 PROVIDES HOURS OF ENJOYMENT FOR CHILDREN, CATS, & THE ELDERLY! Maybe you're looking for great way to teach your curious child about nature and birds— or you're trying to keep your lazy cat...
We earn a commission if you make a purchase, at no additional cost to you.
07/02/2022 12:10 am GMT
Made in the USA, this hanging feeder is hand-made from recycled poly lumber. You can watch the bluebirds up close, thanks to the acrylic siding. The environmentally-friendly recycled plastic is resistant to cracks and fading.
Bluebirds love this feeder for many reasons:
They are attracted to the vibrant color.
The extensive interior tray holds up to 3 cups of food.
There are perches on the side for clinging birds and side holes for birds to utilize the inside of the feeder.
Another practical feature is the short, durable cable. This keeps the feeder close to wherever you hang it, which in turn keeps squirrels and larger birds away—they simply cannot fit in the space.
JCs Wildlife Poly Lumber and Acrylic Hanging Bird Feeder with Roof - Holds 3 Cups of Bird Seed - Great for Your Backyard Bird Feeding Garden (Blue)
BIRDS LOVE THIS FEEDER: accommodates Cardinals, Bluebirds, Downy Woodpeckers, Chickadees, Finches, Goldfinches, Nuthatches, Redpolls, Song Sparrows, Titmice and Siskins.
ENVIRONMENTAL: Made using recycled poly lumber
ATTRACTIVE DESIGN: Bright, vibrant color attracts many birds, allowing for up to 3 cups of seed to be placed inside. Feeder dimensions are 9" W x 7.5" H x 5.25" D.
We earn a commission if you make a purchase, at no additional cost to you.
07/02/2022 12:09 am GMT
The simple yet bold design of the Hummble Bold Bird Feeder will attract smaller birds, particularly the bluebird. The dazzling colors available will turn your yard into the local birds' favorite dining spot! The 3.4-ounce dish is made from recycled glass, making it an eco-friendly option. It will also reflect light like a beautiful glass yard decoration.
Many of a bluebird's favorite foods can be used inside:
Mealworms
Suet chunks
Fruits
Jelly
Sunflower hearts
Water
The perching area is made out of powder-coated metal, which will keep your feeder from rusting. The vertical ring around the feeding dish offers plenty of room for perching. The open-top hook makes it possible for you to connect multiple feeders for more visitors. There are no drainage holes, so you will need to clean this feeder often.
Mosaic Birds M047-200-A Hummble Bold Bird Feeder Aqua
3. 4 Ounce Capacity Bowl With 3" Opening-Provides ample feeding room for multiple birds
Bowl Without Drainage-Holds mealworms, suet pellets, jelly, and flower seeds to attract a wider range of birds
Outer Perch Ring-Provides a resting spot for birds and longer viewing enjoyment
We earn a commission if you make a purchase, at no additional cost to you.
07/02/2022 12:11 am GMT
Wherever you hang it, the Woodlink Bluebird Feeder will add an extra touch of beauty. The ring around the feeding dish provides ample space for multiple birds to perch at once.
Perhaps the most helpful feature is the protective baffle that keeps the food underneath from getting wet with precipitation. This means you will spend much less time cleaning the feeder and more time enjoying the view.
There are several feeding options as this feeder includes a small dish and two spokes where you can affix various foods. Now you can serve mealworms, suet, and fruit all at the same time! The bluebirds will appreciate their buffet.
Woodlink NABBFDR Audubon Dome Top Seed and Bluebird Feeder
Dome top seed and bluebird feeder
Attract bluebirds by feeding them mealworms
Adjustable dome keeps large birds and weather out
We earn a commission if you make a purchase, at no additional cost to you.
07/02/2022 12:08 am GMT
The best feature of the Dome Top Seed and Bluebird Feeder is the dome covering for multiple reasons. First, the dome top is adjustable, which keeps larger birds out. Bluebirds must feel they are in a comfortable and safe space. If they do not, they will not visit your yard or your feeder.
The dome protects the feeder from all types of weather. It hangs over the food tray to protect it from rain or snow. Also, it is made from heavy-duty polycarbonate, which is UV resistant. Bluebirds can happily eat from this feeder in the pouring rain and stay dry.
The large tray allows you to offer multiple foods that the bluebird loves. Remember, if you want the bluebird to come to your feeder, live mealworms are the way to go!
We earn a commission if you make a purchase, at no additional cost to you.
07/02/2022 12:08 am GMT
Another feeder made in the USA, the Recycled Bluebird Mealworm Feeder, is constructed from long-lasting cedar wood, with the sides made from clear plexiglass. Not only does this give you views of the beautiful birds, but it lets the birds check out what food is being offered up on the inside. This feeder has small entrance holes which fit the bluebird but keep out larger, bully birds.
Bluebirds may need time to figure out how to use the entry holes. It is recommended that you temporarily remove one of the plexiglass windows until your visitors get used to this feeder. Birds will quickly fly in and out while learning that this is where the good food is! In a few days, replace the window.
This feeder
Has a hinged roof for easy access to clean and refill
Can be hung or mounted per your preference
Is constructed from recycled milk jugs
Comes in multiple color options
Kettle Moraine Recycled Bluebird Mealworm Feeder Hang or Mount (Green, Cedar)
Made from Recycled Milk Jugs
Guaranteed to Never Crack, Split, Peal or Fade
Heavy Acrylic Viewing Windows
We earn a commission if you make a purchase, at no additional cost to you.
07/02/2022 12:09 am GMT
The Wildbird Essentials Cedar Bird Feeder is made from quality materials in the USA. Premium cedar is used, which prevents insect damage and rotting. It is also constructed with rust-free materials such as stainless steel screws and wire, an aluminum hinge, and powder-coated seed ports.
You can fill this feeder with different foods in vast amounts between the suet cages on the sides and the center container. The center holds up to 82 ounces of food!
The Cedar Bird Feeder is super easy to use. The plastic windows slide out easily for cleaning. There is also a detachable roof which makes refilling the feeder no problem!
Solution4Patio Homes Garden USA Cedar Bird Feeder Wildbird Essentials Handmade Wooden Outdoor Ranch Patio Yard Tree Hanging with Double Plastic Window and Double Suet Holder Cages Combination #G-8534
🐤CEDAR WOODEN DESIGN: Cedar wood smell like a well treat that attracting different kinds of birds. Enjoying the ultimate bird watching experience!
🐤HIGH QUALITY: It is very sturdy so would hold up to extremely bad weather. And the maximum load can reach 5.18 pounds.
🐤EASY TO USE: Removable roof makes it easy and convenient to refill your bird feeder with fresh seed. Besides, the seed comes out at the bottom to fill both sides of the tray.
We earn a commission if you make a purchase, at no additional cost to you.
07/02/2022 12:09 am GMT
Different birds maybe attracted to different types of bird feeders. Be sure to check out our articles were we provide some of the best feeders for hummingbirds, cardinals and blue jays!