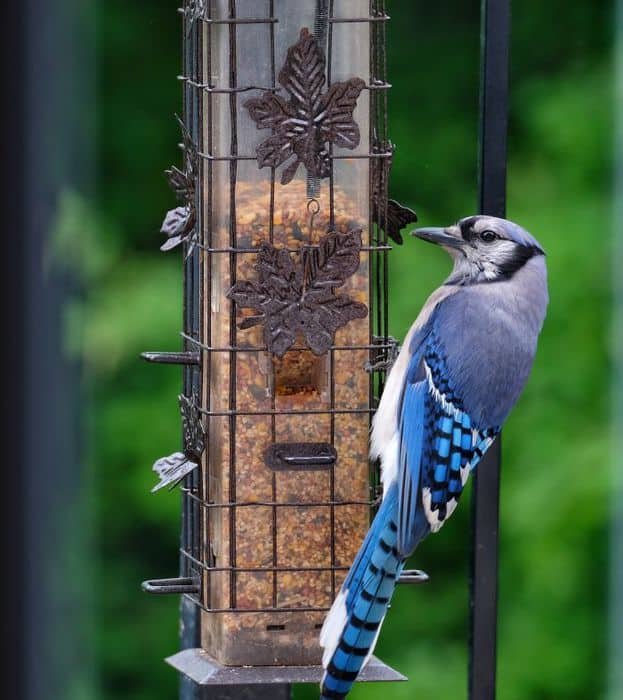 If you're looking for the best feeders for blue jays in your backyard, this article is for you!
We'll cover what to look for when choosing a feeder and provide two examples of birdfeeders that are sure to attract these beautiful birds.
Blue Jays have a reputation as being clever and resourceful birds so it's not hard to imagine why they make such great visitors to backyards across North America.
They enjoy eating peanuts, sunflower seeds, suet balls, safflower seed mix, corn on the cob or kernels (but not whole), dried fruit like raisins or apricots and even mealworms.
So how do we figure out which type of feeder will be most attractive? Consider where the feeder will be located.
Whether you want to attract lots of Blue Jays and study how they interact with one another or are just hoping to catch a glimpse of one here and there, there are feeders for those occasions. 
Read on to see which Blue Jay feeders have been most highly rated and preferred for purchasing and using in your own yard.
One of the main complaints that bird watchers have about feeders is that, more often than not, they aren't squirrel-proof. They spend the time, money, and energy to hang a bird feeder full of nuts and seeds in their yard with the intent to see beautiful birds.
Then they end up spending all their time fighting off the neighborhood squirrels to try and keep them from eating all of the food out of the feeders. Most often, if there is a squirrel on the feeder, a bird will not approach it.
This squirrel buster bird feeder has solved that problem! This feeder comes completely squirrel-proof. The design of the feeder makes it impossible for those pesky squirrels to steal all the food.
Not only that, but it also sports features such as:
4 feeding ports for maximum bird capacity
5 lb feed capacity
Adjustable height
Pole-mountable (pole sold separately)
Made in the USA
If you're looking for a different feeder then this is the way to go. This feeder comes with similar features as the feeder above but is copper and smaller making it a lovely addition to your patio or backyard.
The Hanging Wild Heavy Duty Bird feeder offers features such as:
Squirrel-proof
Four feeding ports
2.4lb seed capacity
Seed ventilation to keep them fresh
It stands at about 18 inches tall and hangs seamlessly from many areas in your yard. It will blend in with the yard to keep discrete, which Blue Jays tend to prefer (according to Wildaboutbirds.com), and will make it the optimum bird feeder to draw the Jays into your yard.
Not all bird feeders offer a squirrel-proof design, and that is simply because not all locations demand that. If you do live in a climate that has a thriving squirrel community, then you'll need that feature.
The Squirrel Solution 200 Bird Feeder also offers a design that makes it impossible for squirrels to hog all the seeds. Not only that, but this particular feeder also offers:
Six feeding ports
3.4lb seed capacity
Free seed funnel
Optional metal perches to add on
It keeps the seeds fresh and is small and discrete enough to keep the birds feeling safe to enjoy their seeds. Since Blue Jays like to stay with their young for weeks after they hatch, they sometimes prefer to feed together. This 6-feeder makes that possible.
This compact feeder offers a lot inside its small package. The FORUP Panorama Bird Feeder offers features including:
Large seed tray
Squirrel resistant cap
Rust-resistant and durable design
Built-in hanging cable
Easy cleaning
Up to 2 lbs. of bird feed capacity
This feeder is versatile, holding many types of bird feed, and also comes in a few different colors, depending on your preferences. It is compact, and the price point is excellent. Fill it with some of the Blue Jays' favorites, like peanuts or sunflower seeds, and it will be a huge hit.
Window Birdhouse Feeder by NatureAnywhere
If you're looking for something that can bring the birds up-close and personal right to your window, then this could be an excellent option for you.
The Window Birdhouse Feeder By NatureAnywhere has the look of a glass birdhouse and it attaches right to your window with four strong suction cups that will keep it there as long as you want it there. It offers features such as:
Sliding seed holder
Squirrel resistant
Durable design
Lifetime guarantee
Easy to clean and fill
It has a unique and beautiful design and offers the experience of having the birds so close you can enjoy their beauty and the vibrancy of nature's wonderful Blue Jays.
If you like the idea of the window bird feeder but aren't sold on the birdhouse design, there is this other option of the Window Bird Feeder that features:
Strong suction cups (3 additional)
Seed tray for easy fill and clean
Drain holes to keep seeds fresh
Lifetime guarantee for the suction cups
It offers the same benefits as the item above, with a slightly different price point and the additional suction cups with a different design to suit preferences. For more window bird feeders, be sure to check out our article here.
If squirrels aren't a problem and you're looking for something simpler that can hold a little feed and attract many Blue Jays at once, then a tray feeder is a great option.
This Nature's Way Bird Products CWF3 Cedar Platform Tray Feeder offers:
Rot and insect-resistant cedar with protective stain
Easy cleaning, refilling, and removal
Accommodates various seed mixes and types
Allows space for larger birds, such as Blue Jays
Vinyl-coated steel hanging cable
While this is much different than the other feeders listed, it has its own charm and appeal. The tray feeders allow various birds to feed on it, sometimes more than one at a time, and the design makes them user-friendly and straightforward.
If you love the ideas behind the Squirrel Buster Plus and the Squirrel Buster Classic, but you are looking for something a little smaller, then the Squirrel Buster Mini Bird Feeder is perfect for you.
This smaller version offers the same benefits as the other two, but miniature. It has:
Squirrel-proof design
Four metal perches
0.98lb seed capacity
Seed ventilation
It is easy to fill, easy to clean, and easy to hang. It makes Blue Jay feeding a breeze and keeps things on a smaller scale for those who prefer that.
If you're looking for something slightly more decorative and rustic looking, then look no further. This Heath Outdoor Wild Bird Feeder can provide many features and also look decorative and ornate.
It offers features such as:
2lb seed capacity
Patented sure-lock cap to be squirrel resistant
Bird-preferred U-shape adjustable perches
Drain holes for seed freshness
Intricate, beautiful design
It does everything you need it to and looks pretty, too. If decorative feeders are something you'd like to explore, this one comes at a great price and with all the features you could want in a feeder.
Bird Watchers Unite
No matter what walk of life you are coming from, the enjoyment of the beautiful Blue-Jay can be universal.  All these feeders have one thing in common: they can attract the Blue Jays for your bird-watching pleasure and keep them coming to your bird feeder all year round.