Finches are beautiful little birds that many people wish they could see more of. A bird feeder can be an excellent way to get these little birds to stick around for some fun viewing. Certain bird feeders might attract different kinds of birds though so it is important to select a feeder that is optimal for feeding finches.
The best finch feeders will have little openings for their small beaks to get through that are not large enough for other species to exploit at the same time. These optimal finch feeders will also need to hold the best feeds for attracting the little birds. Check out this simple list to see what feeders are worth the purchase when wanting to attract finches.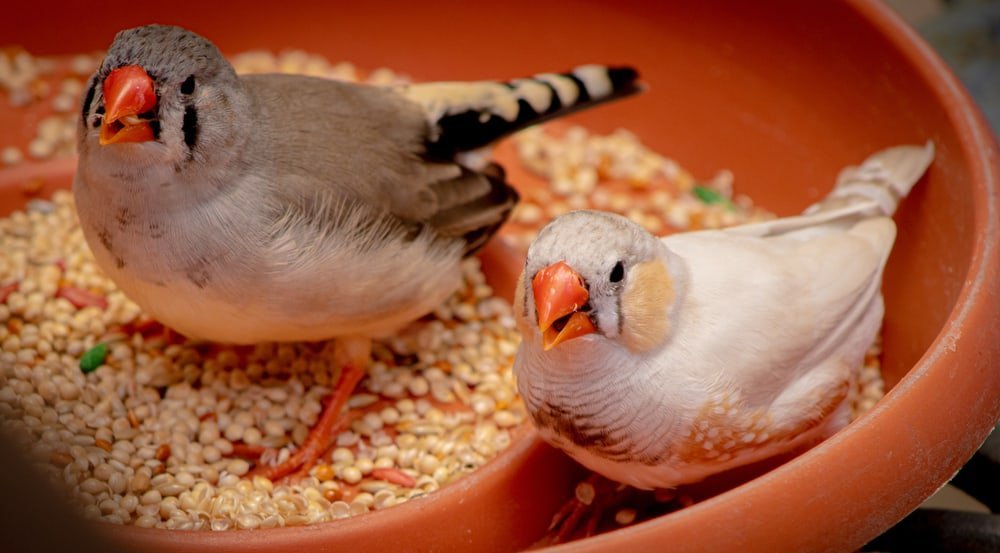 Aside from the cool name, this feeder is pretty simple. It is a standard tube feeder that has a cage only little finch beaks can access. This is great for birdwatchers that are having to battle the local squirrels to keep enough feed for attracting finches. It is well-made and simple to use making it one of the best feeders on the market today!
Squirrel Buster Finch Squirrel-proof Bird Feeder...
Worth its weight in Gold(finches)!
TRULY SQUIRREL-PROOF: Openings in the shroud align with the feeding ports, providing birds access to the food. When a squirrel climbs onto the feeder, its weight automatically forces the shroud down,...
PAYS FOR ITSELF IN SAVED SEED: Squirrels can no longer steal your wild bird seed. Over a short period of time this adds up to substantial savings that will pay for the purchase of your feeder.
Key benefits of this finch feeder include:
Designed to be used with Nyjer seed which is perfect for finches
Metal cage keeps squirrels out of the feed and attracts more finches
Made from weather-resistant metal and plastic ensuring a long product life
Comes with a lifetime warranty that replaces the feeder at no additional charge
Requires absolutely no tools to perform installation upon receipt of the feeder
This feeder simply hangs from wherever the birdwatcher has an available mounting spot. This feeder requires no tools or drilling for installation which can damage fences and trees. The feeder is easy to refill and holds a whopping amount of feed. This means that the birdwatcher will not have to constantly refill the feeder in order to see finches!
This feeder makes the top of the list due to the handy feature of the cage which will keep hungry squirrels away from the finches supply of tasty feed. It is a great feeder that will be easy to install and maintain. The plastic material that it is made out of will make cleaning residue and debris very simple and painless. This feeder is a great buy!
This feeder is a little more affordable than the others on this list, making it a great budget option! People love this simple feeder for its cost and durability. This feeder is made of plastic and stainless steel. It has a clear tube that will allow the birdwatcher to know how much feed is left in the feeder without having to check it manually.
Key benefits of this finch feeder include:
Highly durable materials used in the construction of the feeder
Simple refiling at the flip of the top cap on the finch feeder
No tools required to install the feeder
Comes with a mounting bracket if the birdwatcher wants to mount on a post
Holds 3.5 pounds of feed for hungry little finches to eat
This feeder is easy to refill, use, and set up. Finches flock to feeders like this because they offer 20 feeding ports which makes sharing much easier. Birdwatchers that want to see a large number of finches without breaking the bank should consider purchasing this feeder. There is no warranty or money-back guarantee with this feeder though.
This feeder easily holds the most feed of any on this list. It is the best option for birdwatchers that want to do as little refilling as they possibly can. When the feeder inevitably needs to be refilled, it will be a very simple process for the purchasing birdwatcher to perform. This simple design offers good benefits to finches and watchers.
This is a beautiful bird feeder with finely brushed copper fixtures. This tube finch feeder is made from glass so handle it with care. It is expertly crafted to ensure that the birdwatcher is always able to see just how much feed is left in the tube. This can cut down on the trips needed to maintain food levels. This feeder looks and works great!
Sale
Key benefits to this finch feeder include:
Four feeding ports to allow more than one finch to feed at the same time
The glass construction keeps hungry squirrels away from the finch's feed
The metal hanger allows for the feeder to be installed almost anywhere
No tools are required to set the feeder up upon delivery of the item
Glass tube allows the birdwatcher to see the amount of feed available
Woodlink's tube feeder is perfect for birdwatchers that want to attract finches to their yard or garden. They should make sure to handle this finch feeder with great care. The glass construction makes this feeder the most fragile on the list. This setback aside, the Woodlink tube feeder is a great product that does exactly what the birdwatcher needs.
This feeder is a beautiful piece to add to one's yard or garden. The brilliant copper fitting on this finch feeder will really look fantastic against the greenery of nature. The only drawback to this feeder is that the glass will be prone to breaking under the right conditions. On the bright side, the glass will be very easy to clean off residue and grime.
One bonus that was not mentioned above is that the brushed copper will develop a patina as it is exposed to the elements in the yard or garden. Think about how cool the Statue of Liberty looks and that is what could happen to the copper on this feeder. If that is not what the birdwatcher wants, they can simply brush this away with a dremel tool.
This is a great finch feeder to purchase when a birdwatcher is looking for a strong and lasting product. This finch feeder is a great one to use in areas that are plagued by squirrels that are out to steal the feed that birdwatchers put out. Its transparent polycarbonate tube will not bend, bow, or flex from wind or other elements of nature.
Sale
Gray Bunny 6-Port Bird Feeders for Outdoors...
EFFECTIVE DESIGN: Premium grade metal will keep your seeds secure. Six well-spaced feeding ports with perches allows for multiple birds to feed simultaneously. Enclosed circular seed housing keeps up...
CHEW-PROOF: Metal feeding ports, perches, lid and base are chew-proof and will last a life time. Even if the squirrels get to your seeds, they won't destroy your feeder.
ENTERTAINING: Feed and watch wild birds in your own backyard! GrayBunny Green Classic Tube Feeder is great for attracting smaller birds like finches, chickadees, titmice, sparrows, goldfinches and...
Key benefits that this sturdy finch feeder offers:
Constructed of strong and dependable metals and plastics to ensure a long life
All of the materials are chew-proof which will keep squirrels away from the feed
Easily refilled by flipping the top flap of the tube open with the thumb
Holds up to four cups of feed at a time for hungry finches to eat
A thirty-day money-back guarantee is included with every finch feeder
This is a brilliant execution of a classic model. It is strong and sturdy, easy to fill and refill, and the setup requires no hardware, or tools whatsoever. This is an excellent finch feeder to buy even if the birdwatcher is on the fence about this one in particular. The company has a guarantee that will ensure any unhappy customers are refunded in full.
This finch feeder has to be the strongest one on the list. It is an excellent choice for customers that want a long-lasting product that will attract finches to their yard or garden for many years to come. This feeder holds less than other finch feeders on this list and this is it's only drawback. Those who enjoy refilling more should look here.
Conclusion
It can be a little daunting when shopping for the best finch feeders, but this list is the place a new birdwatcher should start. The feeders on this list are excellent choices when it comes to attracting little finches to a yard or garden. Good luck, and happy feeding! Be aware that different birds are attracted to different feeders, such as bluebirds and hummingbirds.