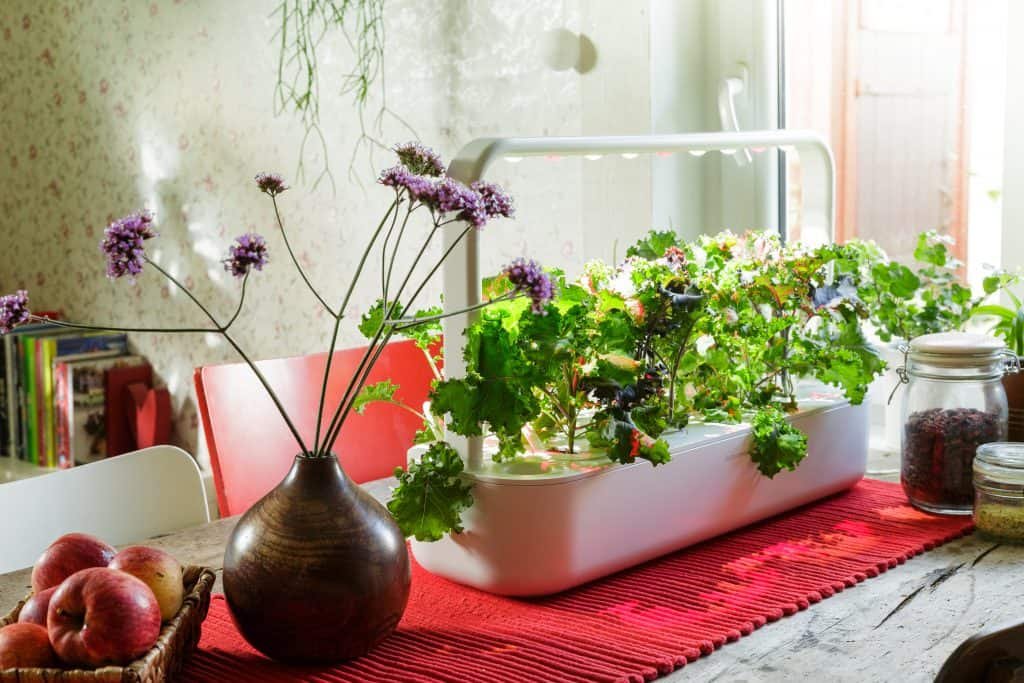 Do you want to grow your own herbs or vegetables in your kitchen?
A hydroponic system allows you to grow your own vegetables no matter if you live in a large house or a tiny apartment. You don't need a yard, nor do you have to worry about cold weather.
The hydroponic grow systems we showcase below will do a lot of the work for you taking out the guesswork of when to water, how much to water, when to give them nutrients, and how much nutrients.
Most all of the WIFI enabled systems are connected to a phone app and will send you push notifications when the system is low on water or nutrients in their holding tank. Some even have "vacation mode" to make sure your plants don't die while you're away. It doesn't get much easier than that in my opinion.
We're testing out the Click and Grow Smart Garden 9 Pro right now that we purchased from a local hydroponic store. And if we have a successful harvest, then I'm saying anybody can. We kill plants all the time so I'm very interested to see how well this indoor system works. We'll update this article with any new information as we go.
When I started to research indoor garden systems to purchase I came across the 5 companies below that have been highly touted by regular users. Many reviewers are first time garden growers and are thrilled with their bountiful herbs and vegetables.
How do Hydroponic Grow Systems Work?
In essence, a hydroponic grow system involves the cultivation of various plants without the use of soil. These plants grow directly in nutrient-rich water, and one of the following (peat moss, clay pellets, perlite, and rockwool) is used in place of soil to support root growth. You can explore both outdoor and indoor hydroponic growing systems, though we will be focusing on indoor systems in this article.
Using hydroponic growing systems come with a lot of benefits. Aside from the fact that it saves space and allows you to grow plants all year round, it also promotes water conservation, ensures faster growth, allows nutrient control, and increases yield.
One of the best benefits is being pesticide free since chemicals are not used on the plants. Less chemicals is better for our bodies and better for the environment. All the systems below but one specify that they use non GMO seeds with their gardens.
Like most other products where quality matters, it is essential to get a hydroponic system that is well made and easy to use. All the products below are highly touted and have excellent warranty or return policies if something goes wrong to give you peace of mind.
Each system below has different sizes from very small for herbs to producing enough vegetables to feed an entire family. While the smaller sized systems are priced in the $100-$300 range the larger systems can be a significant upfront investment into growing your own veggies. Let's dig in deeper to each system to find the best one for you.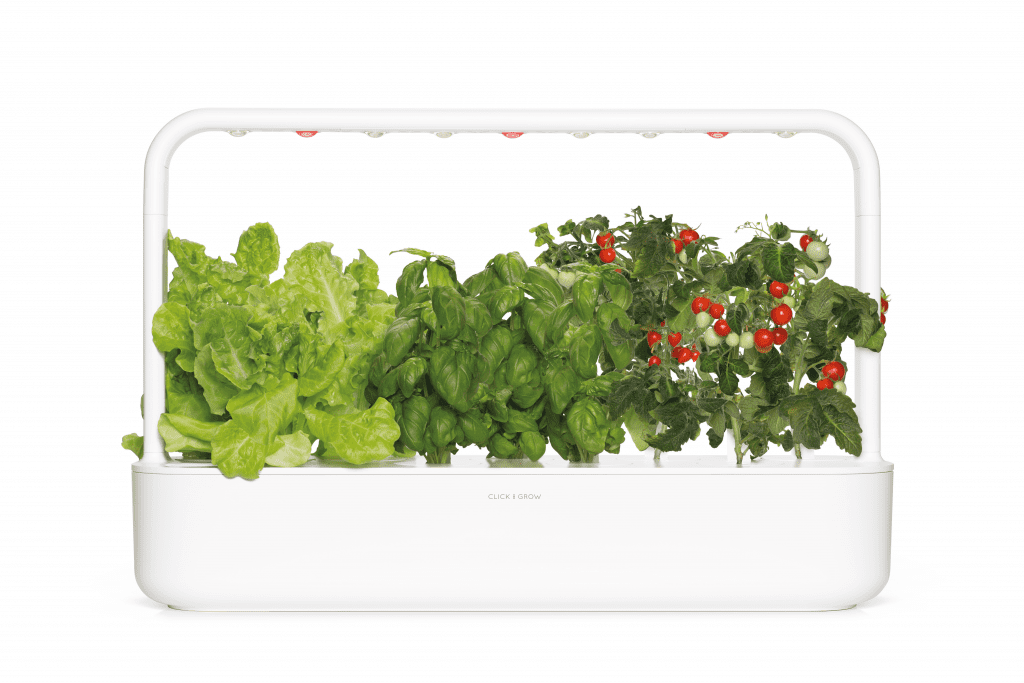 The Click and Grow hydroponic system is one of the easiest to use. They have 6 different sized systems that range from a 3 pod countertop model up to a new 75 pod vertical wall system. It's an all in one integrated planter with automatic lights, pod holder and water tank that holds enough water for 3 weeks.
The planter has a water float on the side of the planter that drops to indicate when the water is low. Setup is super easy on the smaller units, since they are already assembled. Simply add the plant pods, fill the water tank and plug in your unit. It's that simple.
Each system comes with the following.
Smart Garden system
Quick Start Guide with pro gardener tips
Complimentary non-GMO plant pods: number based on your sized system
2 year warranty, 30 day return policy
One feature that is different with the Click and Grow from the other systems is that the nutrients are already included in the plant pods with the seeds. Other systems have a liquid that you add to the water at specified ratios. You don't have to worry about adding nutrients separately with the Click and Grow.
There is a subscription service that gives you a 50% discount to purchase additional plant pods at a designated recurring time period. The subscription may be worth it if you plan on changing out plants regularly.
Similar to the AeroGarden, some of the gardens have App controlled smart features, while others do not. The Smart Garden 9 Pro App feature allows you to control the light features and light schedule, but everything else is the same as the other Smart Garden 9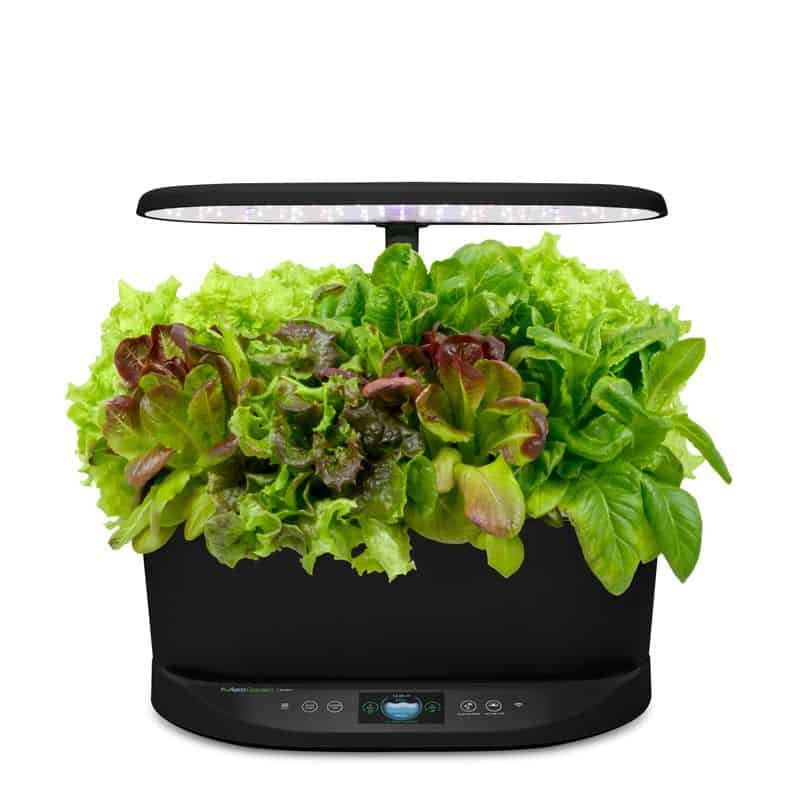 AeroGarden is well known for their indoor smart gardens. While they have over 15 different types of individual gardens, they have four distinct models. Some gardens have more smart features at a higher price.
The smallest is the 3 pod Spout Garden which is perfect for herbs. Next is the popular sized 6 pod Harvest and 9 pod Bounty Gardens. The largest being the 12-24 pod Farm Family Garden with enough veggies to feed a whole family.
Out of all the systems, AeroGarden has the most gardens to choose from. At the smaller end of their systems you get a low water reminder, low nutrient reminder and automated lights. With the larger models, you also get an integrated touchscreen, WIFI connectable system, vacation mode and dimmable lights. Several are even compatible with Alexa.
Each system contains the following:
The AeroGarden planter
LED Grow Light System
non-GMO Seed Kit (number of plants based on size of system)
Plant Food Liquid Nutrients
Power Adapter
Trellis
1 year limited warranty, 30 day return policy
One of the best features is being able to germinate the seed right in the garden planter. Several other systems have a small nursery that requires you to germinate the seeds separately.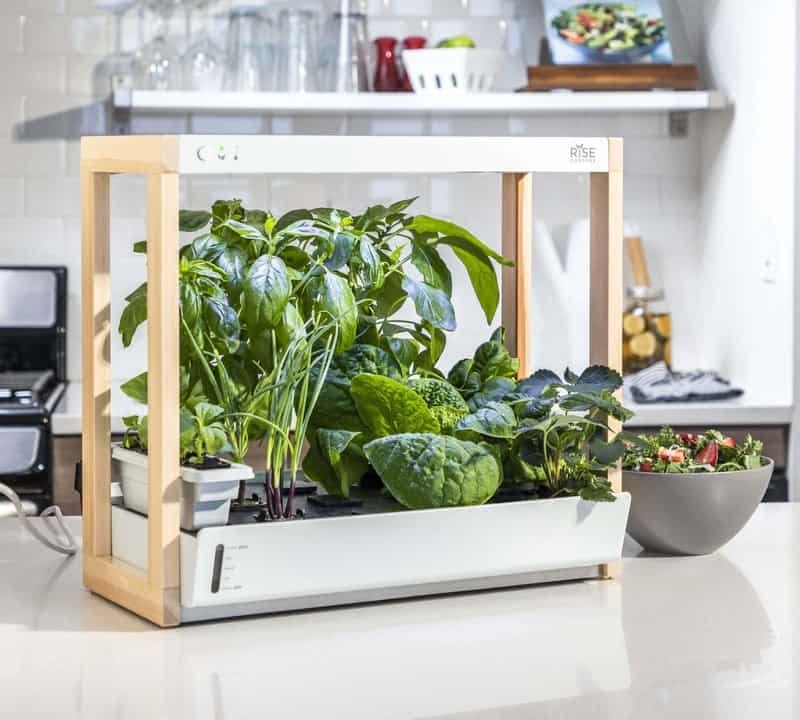 The Rise Garden has two sizes of gardens. A countertop Personal Rise version that can hold up to 8 plants and the Family Garden version which can be added on vertically to increase the available plant capacity without increasing the footprint. The Single Family Garden can house up to 12 plants, while the Triple Family Garden will hold a total of 36 plants.
The Personal Rise footprint is 18 inches wide by 11 inches deep by 16 inches tall, perfect for your kitchen countertop when you're low on space. The Family Garden footprint is 36 inches wide by 16 inches deep by 39 inches tall for the single and up to 66 inches tall for the Triple Garden.
What's included with each system?
App Enabled Hydroponic System
Starter Kit including Seeds & Nutrients
Self Watering Tank
LED Grow Lights
1 year Warranty, 90 day return policy
The wifi enabled garden automatically self waters and adds nutrients automatically to the plants. The phone app will then guide you on when to add water and nutrients to the holding tank, when to adjust the light schedule and even tell you when it's time to harvest.
The Rise Garden doesn't specify if their seeds are non GMO but they do state that their Nutrients are not organic. You will also place your seeds in a starter kit to germinate and sprout before using the actual planter.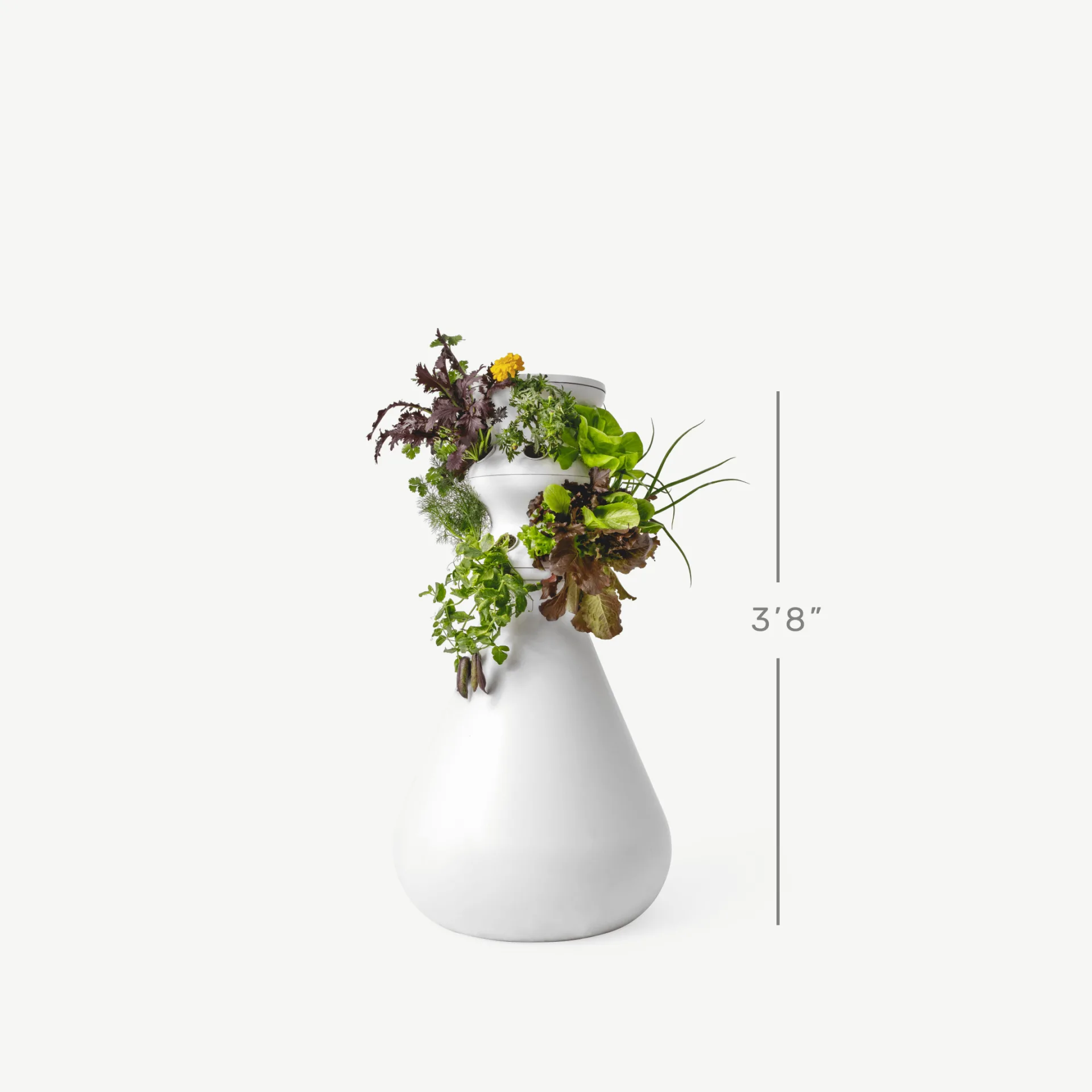 The Lettuce Grow Farmstands allow you to grow indoors with glow rings or outdoors in a spot that receives 6+ hours of sun, unlike the rest of our systems which are indoor only. The Farmstands come in five sizes ranging from 12 pods, 18 pods, 24 pods, 30 pods, or 36 pods.
The smallest 12 pod Farmstand footprint has an approximate 2 foot diameter and is 3 feet 8 inches tall and each 6 pod extension adds 7 inches in height. We'll focus on the indoor Farmstands that must be used with their glow rings.
What do you get with each set-up?
Product – Farmstand, water pump, power cord, grow cups, timer and glow rungs for indoor.
Nutrients – plant food to feed 130+ plants.
Supplies – pH Testing Kit, seedling grow cups, stir stick, and scoops.
1 year warranty on electrical parts, 3 years for non-electric parts and includes glow rings, 90 day return policy
Another difference with the Lettuce Grow Farmstand system is that they only sell seedlings that have already sprouted and that will be ready for harvest in a shorter period than from seeds. All seedlings are pesticide free and non GMO.
While other systems include seeds with the initial system purchase, Lettuce Grow does not include seeds when you buy their system. Each 6 seedling bundle will cost you $15 on top of the farmstand price.
Since it is a vertical grow planter, you can easily add on more plants with their extension kits if you find that you want to grow more plants without having to buy an entirely new Farmstand system.
While they do have an app, it is mostly to help with push notifications for watering and harvesting and some helpful tips for certain plants.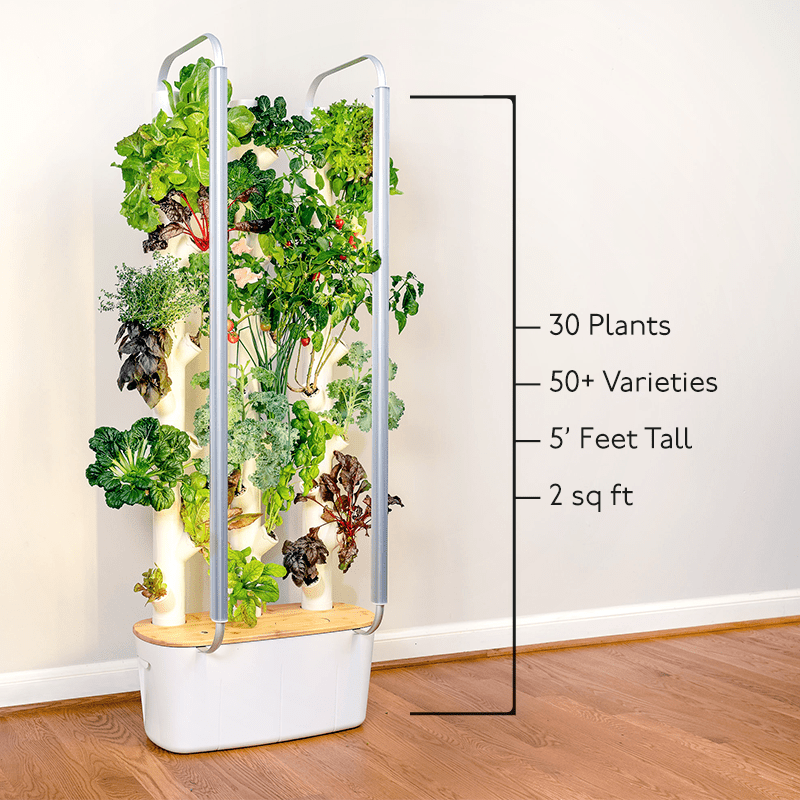 Gardyn only has one product, compared to the other products above that have a range of products from small to large. Gardyn is one of the largest systems that has 30 pods that fit within a 2 square foot area which is quite compact. Its a vertical system that allows you to grow even the tallest plants.
The planter is 24 inches wide by 12 inches deep by 64 inches tall. One of the best features about the Gardyn planter is it's environmentally friendly build. It's built with bamboo, aluminum, recyclable BPA free, food-grade plastic and the pods are compostable corn based.
Whether you choose the original Gardyn Home Kit 1.0, while still available, or the new Gardyn Home Kit 2.0 system, both include the following
Vertical Grow System with integrated LED lights and cameras, multiple sensors, 5 gallon water tank
Plant Starter Kit – 30 non-GMO seed pods ranging from lettuce, tomatoes, fruits, herbs and peppers.
Accessories – Plant food, pod sleeve, and 6 pod caps to close off empty pods.
1 year warranty, 60 day return policy minus shipping and handling and restocking fee
Gardyn has some really cool smart app features such as getting personalized advise based on the plant pictures taken every half hour with the included cameras. Plus a vacation mode that slows down the grow process while you're away. Unfortunately you do have to enroll in their monthly membership to use those two specific features.
The membership also gives you 10 free pods per month or substitute plant food for one of the pods. Access to Kelby, their Smart Assistant to help with growing, harvesting and maintenance. It also gives you access to real people who are experts and can diagnose specific problems you may be having.
Without membership you can still connect the Gardyn with their app to adjust the automatic lighting and watering system, read the temperature, humidity and water levels. If you want more pods, it will cost 4.99 per pod and no personalized help with growing your plants.
In my opinion, they have made the membership a necessity for the price of the pods they charge without it. To receive 10 pods a month without a membership would cost well over $50 a month. A cancel anytime membership fee is $39 and the 2 year membership is $29 a month.
If you plan on growing a lot of vegetables, then the membership is worth it for the plants alone, with the added bonus of the other features. They do give you a 1 month free membership when you purchase which should help you decide.
| Features | Click n Grow | AeroGarden | Rise Gardens | Lettuce Grow | Gardyn |
| --- | --- | --- | --- | --- | --- |
| Automatic Watering | Yes | Yes | Yes | Yes | Yes |
| Water Refill Notification | Water Float | Control Panel or App Notification | App notification | No | App notification |
| Automatic Lights | Yes | Yes | Yes | Yes | Yes |
| Nutrients | Included in Pods | Liquid | Liquid | Liquid | Liquid |
| non GMO seeds | Yes | Yes | Yes | Yes | Yes |
| Germination within Planter | Yes | Yes | No | Seedlings in Planter | Yes |
| Use Own Seeds | Yes | Yes | Yes | Yes | Yes |
| Seeds Included | Yes | Yes | Yes | No | Yes |
| Vacation Mode | No | Some models | No | No | Yes, with membership |
| Return Policy | 30 day | 30 day | 90 day | 90 day | 60 day |
| Warranty | 2 years | 1 year | 1 year | 1 year / 3 years | 1 year |
Frequently Asked Questions
Can you use tap water in Hydroponics?
Yes, you can use tap water for your hydroponics. However, you should ascertain and ensure that the chloramine, chlorine, and PPM level is optimal.
How often should you change hydroponic water?
It is best to change hydroponic water every 4-6 weeks in the systems showcased above. The frequency and mode of water change is essential to maintaining proper nutrients and optimal pH.
Can you grow hydroponics without nutrients?
No! Hydroponics cannot grow without nutrients because the nutrient solution is the only source of food the plants can access.
What fruits can be grown hydroponically?
The best choice of fruits that can be grown hydroponically in the systems above are mostly tomatoes and strawberries. The larger systems may be able to accommodate more berry varietie.
Does hydroponics use a lot of electricity?
Hydroponic systems outlined in this review do not consume a lot of electricity.
What is the best hydroponic system for beginners?
The best hydroponic system for beginners is the Click and Grow Smart Garden 3. It's a perfect starter for herbs at a low introductory price to hydroponic gardens. Add plant pods, water, plug it in, replenish water as needed.
Conclusion
Indoor hydroponic gardens are great for a year round bounty for you and your family. These new smart hydroponic systems are very simple to use and guides you throughout the growing process.
If you want fresh veggies but don't have the space for a garden or you live in an area that is not conducive to growing, hydroponic gardens are the way to go. We've showcased several different brands and sizes, so hopefully one of those will fit your specific needs.
If you're curious about other small gardening locations for your home, click the link to read more.