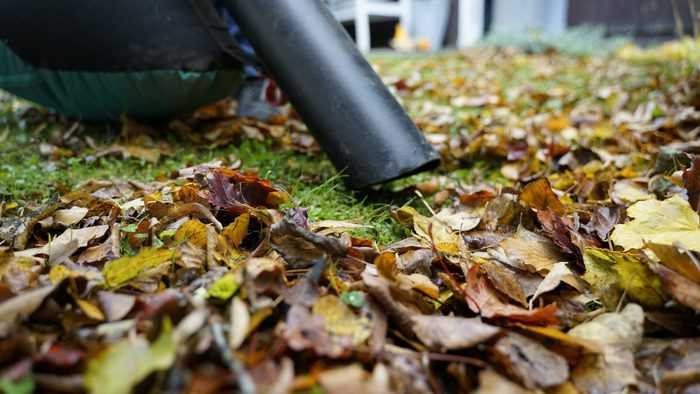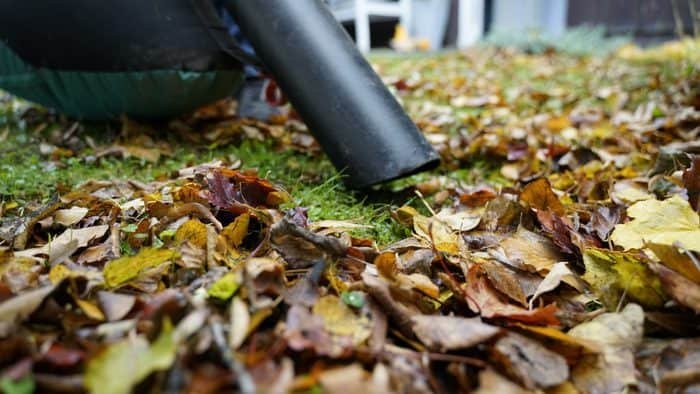 Tending to a backyard is no simple task, especially falling leaves in Autumn. While I love seeing the leaves change color while they're on the tree, I hate seeing them all over my grass. If you have a lot of trees in your yard, you will need an easy way to remove all them
I'm here to help you choose a tool you may have never heard of before, who'll aid you in the painstaking process of cleaning up your yard. A leaf vacuum.   
So, What Exactly Can a Basic Leaf Vacuum Do?
A leaf vacuum is a machine that can suck up leaves or debris and can also finely grind them (also called mulching). For other ways to mulch leaves, check out our how to mulch leaves article.
This mulch is sucked in the leaf vacuum bag, in which you can use it as a compost pile or simply dispose of it in the nearest recycling center, for instance.
Another task a leaf vacuum can accomplish is leaf blowing. You can blow the leaves/debris/litter till you collect them in a certain area to be vacuumed and/or mulched.
5 Top-Selling Leaf Vacuums
Below is a cut-to-the-chase list of 5 of the most reviewed leaf vacuums, give it a look:
The Toro Ultraplus leaf vacuum is best for overall leaf blowing, vacuuming, mulching and it also includes a shredding functionality. 
It weighs just about 9 pounds, has an airspeed of up to 250 MPH and a 350 CFM blow mode and 410 CFM Vac mode. Amazing power, no exhaust emissions as it's run by an electric motor.
It reduces 97% of collected leaves into size less than 0.5 inches.
What We Like
Variable speed controls in both vacuum and blower functionalities
It can reach high speeds, up to 250 MPH, all while maintaining good airflow 
Comes with a storage hook and a vacuum bag with a bottom-zipper in which you can store all provided accessories in
What We Don't Like
Can't handle reducing small twigs as good as other models
Its motor's electrically supplied through a power outlet, which means that it's corded and needs to be plugged. This causes limited movement for the user.
The Greenworks 24322's biggest plus point is that it runs on a 40 V Li-Ion battery which provides efficient performance, a run-time of 20 minutes of continuous work with lesser noise and vibration.
The machine also features a turbo button and a max speed of 185 MPH to suit different conditions in your yard. It only weighs 5.6 pounds.
What We Like
Equipped with a G-Max battery that fully charges in 60 minutes
Cordless machine, you can move freely while clearing up your garden
Starts instantly with a press of a button
The impeller fan is covered with a plastic cover to ensure that the user won't get injured
What We Don't Like
It can't handle large debris well as the impeller is made out of plastic
A couple of users had issues with emptying the bag as it isn't very practical
This machine's well-reviewed on multiple sites, it's budget-friendly for a powerful 12 amp motor and a metallic impeller that stands firm against occasional acorns and small twigs.
It also includes a built-in cord retainer which keeps the power cord jammed in your machine and plugged in, preventing it from being accidentally disconnected.
With a 16:1 mulch ratio, you won't stop every 10 minutes to empty your vacuum bag.
What We Like
Airspeed of 250 MPH
Equipped with a strong metal impeller
50% reduction in noise in comparison to other models
What We Don't Like
The machine is a bit on the heavy side as it weighs about 8 pounds
Vacuum's strap setting makes it difficult to carry for a prolonged period of time.
It's one of the most powerful leaf vacuums in the market due to its insanely high mulching ratio.
Its TURBINE fan technology provides you with 525 CFM at 65 MPH. Although the airspeed is a bit low, it's still worth the buy for the other fantastic specs.
It weighs about 9.3 pounds and is equipped with a dual-stage metal impeller that shreds any yard's debris. It has a mulching ratio of 24:1.
What We Like
An airflow of 525 CFM
Switching between the vacuum and blower is as easy as a breeze, no attaching accessories, just simply flick the lever
3-year warranty opposite to the industry's standard 2-year one
What We Don't Like
Low airspeed, only 65 MPH
Weighs 9.3 pounds, which is heavy
A bit noisy (although it's relatively less noisy than its counterparts)
So I've wanted to mention a gas leaf vacuum for the sake of variety and the Craftsman BV245 comes right to mind.
Although gas machines aren't environmentally friendly, they're famed for their performance and sheer durability.
The Craftsman BV245 is equipped with a special handle that absorbs the machine's vibrations, which is really a plus point as gas leaf vacuums are hard to handle because their forceful motors create harsh vibrations.
What We Like
An airspeed of 205 MPH, and an air volume of 450 CFM
A 2-cycle gas engine, 27cc
16:1 mulching ratio
What We Don't Like
Emissions. As it's a gas motor which burns fuel
Noisy
Put These Aspects in Mind Before Buying a Leaf Vacuum
We'll discuss the following aspects that you must be aware of to help you choose the most suitable leaf vacuum. These aspects are as follows:
Leaf Vacuum Types
Leaf vacuums are either run by gas or electricity.
Gas Leaf Vacuums
Gas leaf vacuums are supplied with fuel, which is a mixture of oil and gasoline. The machine is started by a pull-start cord.
They're known for their efficiency in maintaining a large yard, their longevity as well as supplying the user with larger power due to their forceful motor.
But with this comes more vibration, noise and exhaust emissions. They're also a big workout in carrying and moving them around.
Corded Electric Leaf Vacuums
These leaf vacuums are connected to a power supply through an extension cord. They're quieter, emit zero fumes and are a lot lighter than a gas leaf vacuum.
Because of the extension cord, you're a bit limited in the maneuvering range so you have to opt for picking a long enough extension cord that lets you move around in your yard comfortably.
Cordless Electric Leaf Vacuums
These vacuums contain a battery that supplies electricity to the motor. The presence of this battery adds up to the weight of your machine and adds up to its price as well.
The battery also limits how long you can use your machine, as it runs out of electricity, you'll need to recharge it.
Most cordless leaf vacuums' batteries can run the machine for up to an hour, so if you have a small yard a cordless leaf vacuum would work just fine, but if you have a larger one it may be a bit impractical.
Technical Specs
This is indisputably the most determinant aspect when buying a leaf vacuum.
Motor power
It's measured in amps. Make sure your motor is at least 10 amps for ideal leaf vacuum performance.
Battery Capacity
For cordless leaf vacuums. The higher the battery capacity is, the longer the run-time lasts.
MPH (Miles Per Hour) and CFM (Cubic Feet Per Minute).
Both of these simply determine the volume of air coming out of the nozzle in case of blowing and how forceful it is in doing so. For vacuuming, it's pretty much the same principle but in the opposite direction.
MPH is a measurement of the speed in which the volume of air (measured in CFM) blown out/vacuumed moves.
CFM is directly proportional to your motor's power. If your motor's power is high, the rotating impeller which pushes the air out (in case of blowing) rotates at a speed so high that pushes a dense volume of air out.
So which is more important? Both are. Imagine you're struck with a wall of dense material at a low speed; yes there would be a painful impact but not as accented and lethal as it would be at a high speed.
High CFMs and MPHs are useful in effectively ridding your yard off wet leaves that are stuck to the ground.
Mulching Ratio
Leaf Vacuums' rotating impeller blows the air out when the leaf vacuum is in blowing mode but sucks air in when it's in vacuuming mode. During suction, the impeller is also responsible for mulching leaves and debris sucked in.
The impeller optimally has to be made out of sturdy metal. This combined with high motor power, high CFM and MPH, the mulching ratio ideally skyrockets.
Some leaf vacuums have a mulching ratio that reaches 24:1, meaning that this leaf vacuum can mulch 24 bags of leaves into 1 bag only.
I'd also like to point out that a good condensed mulch is really good for your yard. It aids you in getting rid of unwanted weeds like crabgrass and dandelions.
Average Lifetime and Warranty
You should keep in mind that a leaf vacuum is a lifetime investment, you don't buy a new one every 2 months or even years. So you should pick a durable machine.
The motor casing should be made out of good quality plastics that are light but heavy-duty, the impeller should ideally be made out of metal.
Your machine should be covered with a warranty. They're usually 2-year ones.
FAQs
Here are some frequently asked questions by other users that you may benefit from.
Will a leaf vacuum pick up pine needles/grass?
No, pine needles may damage your vacuum. Your vacuum won't be able to pick up grass as well. A lawnmower may be the better alternative.
Will a leaf vacuum pick up acorns?
Only STRONG leaf vacuums can handle this, please be extra careful as a regular leaf vacuum may get damaged.
Will a leaf vacuum pick up stones?
Not at all. They're not designed for that purpose whatsoever. So be careful if you have gravel in your backyard.
How do I get ready for using a leaf vacuum?
You should wear fitting clothes, and ideally, eye goggles and a facemask to protect them from dust resulting from the scattering of leaves.
Also, protect your ears by wearing sound-insulating headphones as prolonged exposure to loud noise caused by the vacuum's motor may be harmful to your hearing.
How do I switch from blower to vacuum?
Unless your leaf vacuum comes with a simple switching lever, you'll need to remove the blower tube and attach the vacuum tube to the air intake area (which pretty much directly faces the impeller). Fun fact, did you know you can use a leaf blower to clean your dryer vent?
Does the position of the impeller matter?
Yes, it does! When blowing, the impeller sucks air and blows it through the blowing tube to scatter leaves. If the impeller is located on the side of the machine, it'll keep sucking your pants!
Opt for one with an impeller that's located at its bottom.
To Wrap It Up,
The choice of your leaf vacuum is entirely dependable on your yard's size and your budget. I'd recommend the Greenworks 40V for standard users, and the Black and Decker BV6600 for a yard that requires more attention and work.
For an extremely budget-friendly leaf vacuum, the Toro, is a great option and one of the least expensive leaf vacuums out there. 
Get your vac, and blast it up! Give your garden the royal clean-up it deserves!