Extension cords are tools that can substantially increase convenience and electric possibilities by providing additional length between an electrically powered gadget or appliance and an outlet. Of course, it's no secret that electricity and the natural elements don't mix, especially when you consider precipitation.
Outdoor extension cords have the same basic function as indoor cords, but differ due to their durable insulation, increased gauge, three-pronged design, and ability to withstand higher amperage. These tools are often used to power outdoor decorations and gardening/lawn care equipment, and ultimately, the best one you can buy is the US Wire and Cable 99050.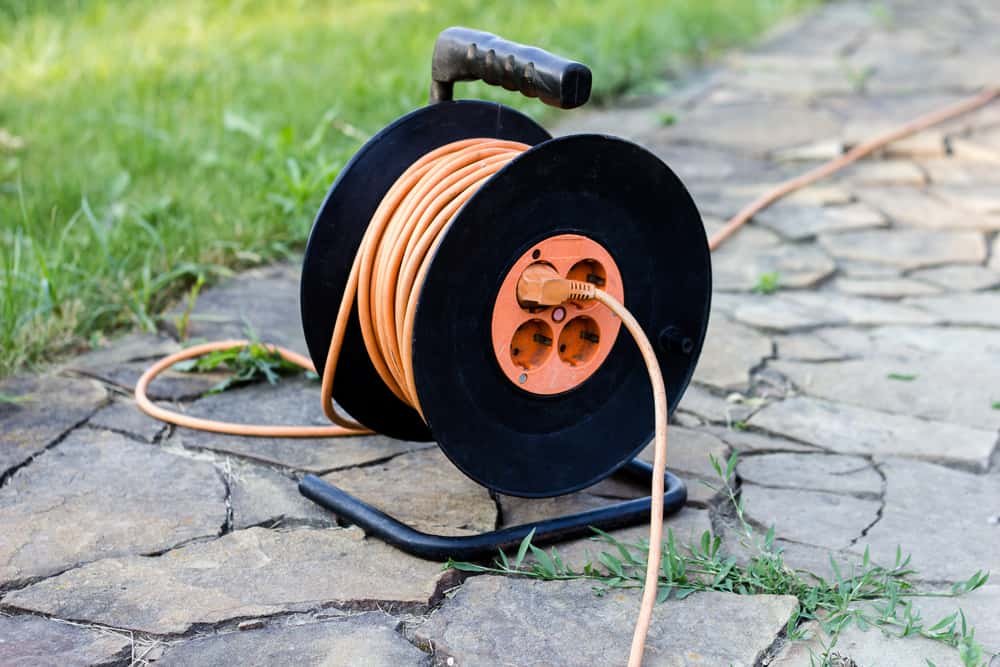 Read on to learn more about how outdoor extension cords differ from indoor extension cords and what they are typically used for. You'll also learn some beneficial tips about how to use outdoor extension cords safely and efficiently. Finally, read to the end to learn our top three outdoor extension cords, all of which can be easily acquired on Amazon.
How Do Outdoor Extension Cords Differ From Indoor Ones
If you desperately need an outdoor extension cord, but all you have is an indoor one, you might think they're essentially the same and can be easily used interchangeably. Unfortunately, this is not the case.
A great deal differs in design and functionality when comparing an outdoor extension cord to an indoor extension cord. Here are the main differences between the two extension cords that render outdoor cords superior in safety and functionality when exposed to outdoor elements.
Protective Insulation
The main reason that outdoor extension cords can withstand the elements whereas indoor cannot because they are designed with durable insulation. Indoor extension cords are made with less protective materials than outdoor cords because they are not meant to endure water and extreme temperatures.
To ensure outdoor extension cords are up for the challenge, they are created with materials that ensure they are protected against:
Moisture
Extreme temperature changes
Light damage
Chemicals
Without this protective insulation and other design elements, outdoor extension cords would succumb to elemental forces and would be ultimately unsafe or ineffective.
Larger Gauge Conducting Wires
Typically, you'll notice the outdoor cords are much longer when you buy an outdoor extension cord versus an indoor extension cord. This is mostly because, for these cords to be as functional as possible and fill consumer needs, they need to stretch over lawns and other significant lengths, whereas indoor extension cords rarely have to stretch farther than a room.
To accommodate such increased length, outdoor extension cords are made with larger gauge conducting wires so that the electric current can properly flow throughout the entire length of the cord.
Because the wires within the cord are so long, they increase the cord's overall gauge since the gauge is determined by the size or diameter of the internal conducting wires.
This means that the length required for an indoor extension cord to power an appliance is typically half of the length an outdoor extension cord allows for the same gauge level.
Three-Prong Plug Design
Most homes have at least two electric outlets located along their exterior. As long as these were installed before the 60's you've probably noticed they have three holes.
All homes built after the '60s are installed with three-slot electric outlets suitable for 15-20 amps and 125 volts. However, if you glance at most appliances in your home, such as a lamp or a phone charger, you'll notice their plugs only have two prongs.
The same goes for indoor extension cords. However, if you check an outdoor extension cord, you'll notice it is designed with three-prongs, so why the difference?
Ultimately, outdoor extension cords are designed with three prongs instead of two to increase safety and reduce the risk of electrical shock or fire. This is possible due to the third prong functioning as a grounding wire that helps absorb electricity when the voltage is too high.
Accommodation of Higher Amperage
Many of the previously listed elements that set the outdoor extension cord apart from the interior extension cord also make this difference possible. Amperage is essentially the strength of the electric current required to fully power an appliance.
In a world dominated by electricity, many modern tools and gadgets run on electricity, and some require more amps than others.
Typically, outdoor appliances and tools used for gardening and lawn care require a significant amount of amperage, and so, outdoor extension cords must be designed to accommodate this.
Therefore, these cords can handle much higher amperage than indoor extension cords that typically power low amperage tools.
Uses for Outdoor Extension Cords
Outdoor extension cords are highly efficient and can vastly increase the possibilities when performing outdoor maintenance tasks or decorating your home or garden. Some cords are simply plugged in for a 5-minute task, and others could be left in for months.
If you're looking for some convenient or innovative uses for outdoor extension cords, here's a list of possibilities:
Powering lawn tools: Probably the most common use of an extension cord but certainly an efficient one. When you are using a leaf blower or weed whacker on your entire lawn, you'll need something that can help you reach its farthest corner.
Powering seasonal decoration: Let's face it, the twinkling splendor of Christmas lights strung along your home wouldn't be possible without the help of some sturdy outdoor extension cords.
Powering garden features: One of the best ways to increase your garden's charm and aesthetic is with some decorative features. Extension cords can make some of the most awe-inspiring features possible, such as water fountains or koi ponds, by powering their water pump or adding some mood lighting to the space.
Decorating and maintaining your home should apply just to your indoor spaces. Your lawn and gardens deserve tender love and care from time to time, and this is made easier through the use of outdoor extension cords.
Tips for Using Outdoor Extensions Cords
Since they are used to supply significant amounts of electrical power to electronic devices and appliances, there is a certain degree of risk that comes with using outdoor extension cords. To ensure your safety, in addition to the safety of others, be sure to follow some of these tips when using these tools.
Purchase a Ground Fault Circuit Interrupter Extension
More commonly referred to as a GFCI, this circuit breaker can significantly reduce the risks of using outdoor extension cords and high amperage devices.
You would install this device into your breaker. If it ever detected improper power flow, for instance, through a person, the device is designed to automatically shut off to prevent shocking. This tool could easily be the difference between life and death when working with electric devices and are a worthwhile investment for any homeowner.
Purchase the Proper Length
Outdoor extension cords can reach up to 150 feet or more if really necessary. These cords can be found in lengths of significant size at relatively cheap costs.
Therefore, the best thing you can do when purchasing an outdoor extension cord is to ensure it is the proper size. Overextending a cord could damage your cord, the prongs of your device, or potentially put your safety at risk.
Alternatively, if the cord is too long and left out for an extended period of time, someone could trip over it, or worse, someone might damage it with a powerful gardening tool, such as a lawnmower, which would have serious consequences.
Practice Proper Care
Extension cords should be protected and maintained just like any other electric tool. Try to minimize the length of time you are using your extension cord to prevent overheating. You'll also want to minimize the risk of overheating or even a fire hazard by ensuring your extension cord is completely uncovered when in use.
When you are finished with your extension cord, be sure to wrap it up and store it safely. This will reduce any potential risk of electric shocks or fire hazards and will protect the cord's longevity.
Lastly, try to keep your extension cord away from water as much as possible. An electric current running through water can be exceptionally dangerous but easily avoidable.
Since outdoor extension cords are made with protective insulation, they are a little more resilient to water than indoor cords, but this should not mean you should leave them out in the pouring rain or stick them in your garden pond or fountains to power their pumps.
Top 3 Outdoor Extension Cords
In addition to being extremely convenient and helpful tools, outdoor extension cords are also incredibly common. So, there is a vast array of options when you're looking to purchase one. Here are our top three outdoor extension cords as supported by Amazon to help dwindle down this list.
| | | |
| --- | --- | --- |
| Cord rank and name | Lengths | Style |
| US Wire and Cable 99050 | 25ft, 50ft, One-size | 12/3, 12-gauge, 14-gauge |
| UltraPro Double Insulated Cord | 9ft, 15ft, 25ft, 40ft, 50ft, | 1 pack, 2 pack (both 16 guage) |
| Iron Forge Heavy Duty Cord | 3 Ft GFCI, 3 Plug Lighted Outlet, 6 ft, 10 ft, 15 ft, 25 ft, 50ft, 75 ft, 100ft, 200ft | 10 ft- 2 Pack 25 ft- 2 Pack50 ft- 2 Pack 100 ft- 2 Pack |
Final Thoughts
If you ever need a few extra feet of cord, or maybe 50, try investing in a quality outdoor extension cord. These tools are highly functional, durable, and affordable. As long as you care for them properly, these tools can last for years. If you're not wanting your outdoor cables showing, you can always find ways to hide them to keep your backyard looking neat.
Remember to utilize our tips to ensure safe maintenance and use of these tools, and when you're looking for a quick purchase, we guarantee you won't be disappointed with our top three outdoor extension cords on Amazon.