With hot weather on the rise, investing in a misting system for your patio could help keep things cooler. But what is the best patio misting system to get?
The best patio misting system to get is the MistyMate Cool Patio 30 Deluxe cooling system. This cooling system has great reviews, made with quality brass products and can be upgraded with a pump.
So what are some other great patio misting systems and what could be great features for each of them? Reading this article can help you determine the best misting system for your patio and what a patio misting system should do.
What Does a Patio Misting System Do?
If you are interested in purchasing a misting system you may be wondering what they do exactly. 
Misting systems for your patio will emit mists of water from a sprayer to give a cooling effect.
This type of cooling system can be installed on patios, porches, gazebos, and other areas that have an overhang. They generally have a water supply tubing that connects to a spray nozzle to ensure that the mist is evenly dispersed along the area. Typically, the supply tubing will connect to an outdoor water hose or faucet. 
What are the Different Types?
There are different types of misting cooling systems. Each type of system can have different water pressures and can be easier or more complicated to install. The types of misting systems can be found below. 
| Low-pressure misting | Mid-pressure misting | High-pressure misting |
| --- | --- | --- |
| Water pressure is from a home's main water supply | Uses a pump to boost the water pressure | Use large, powerful pumps for water pressure |
| Cheapest to purchase | Produce a fine mist | Cools the surrounding area quickly |
| Easiest to install and operate | Reduces the area's temperature | No residual moisture |
| Misting is not as fine | No residual moister left behind | More expensive and consumes more electricity |
| Will not cool down the area as quickly | Usually easy to install | May need professional installation |
| Leaves behind a residual moisture | Requires connecting pump to an electrical outlet | Used in larger commercial areas |
| | More expensive to operate | |
Most homeowners will purchase a low-pressure misting system that will work well at cooling off their patio. If you have a larger patio or your water pressure is low, you may have to go with a mid-pressure using a pump to get higher water pressure.
Best Types of Patio Misting Systems
There are a ton of misting systems out there for your patio. However, this article can help narrow down some of the best patio misting systems that you can buy based on the benefits they offer as well as the cons each may have. 
This is considered a good low pressure system at a low price. With great reviews, the Homenote misting system works well at cooling an area. This misting system includes seven misting nozzles. It also has the features of being eco-friendly and can bring the heat down to 68 degrees.
It comes in larger sizes if you have a larger patio as well the color white to blend in better. The downside to this system is that, while it is considered the best, may not mist effectively but instead drip or spray water instead. 
This low pressure misting system is considered the best for its price. Since the Redtron is an all-in-one, everything that is needed in a misting system is included. This kit provides you with a constant mist that allows you to be comfortable while enjoying the outside weather.
The misting system provides a wide range of cool mist while being environmentally conservative. There are ten different misting nozzles and 32-foot system tubing that offers area customization. The only downside to this system is that with so many nozzles, placing can be overwhelming.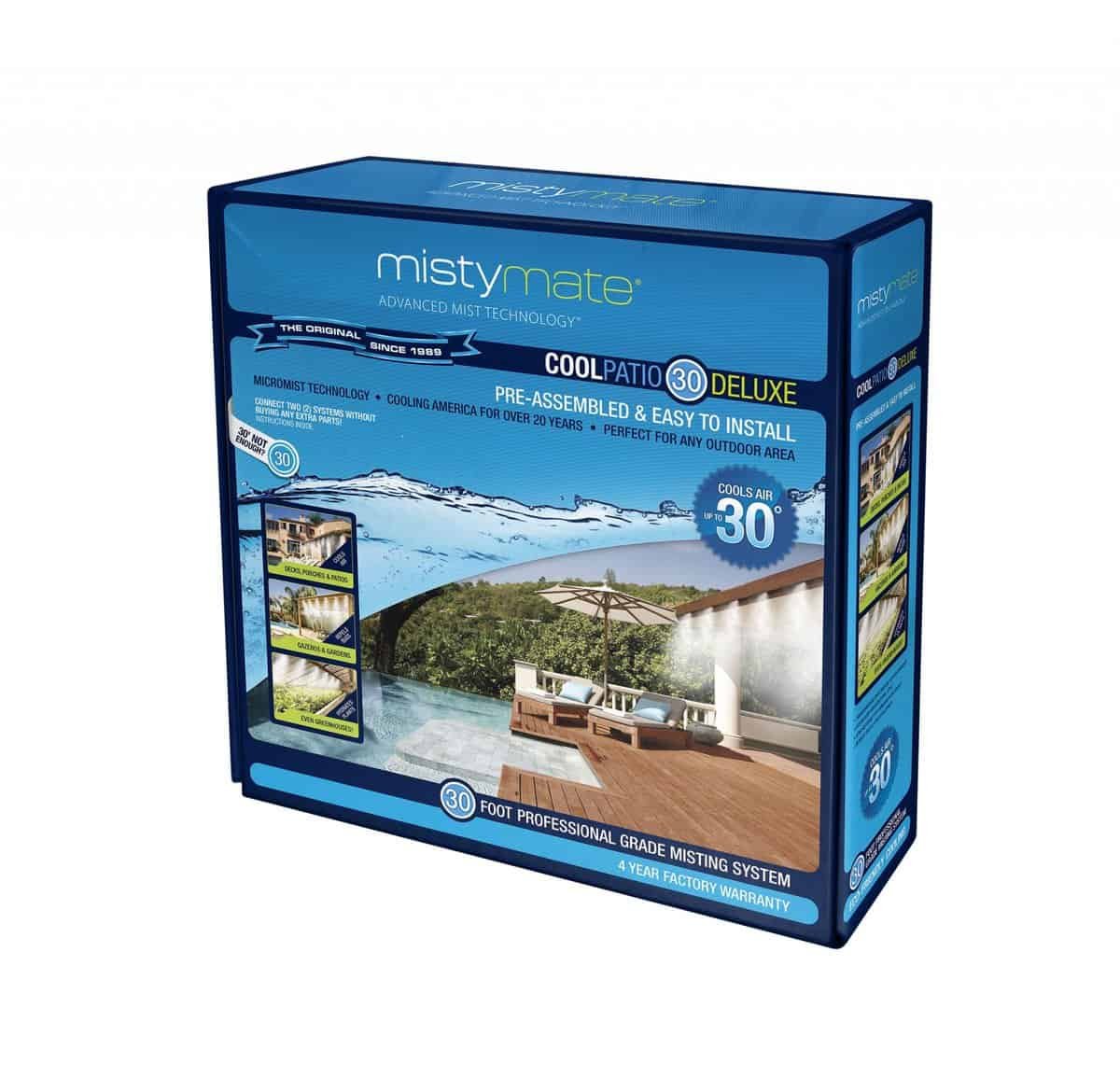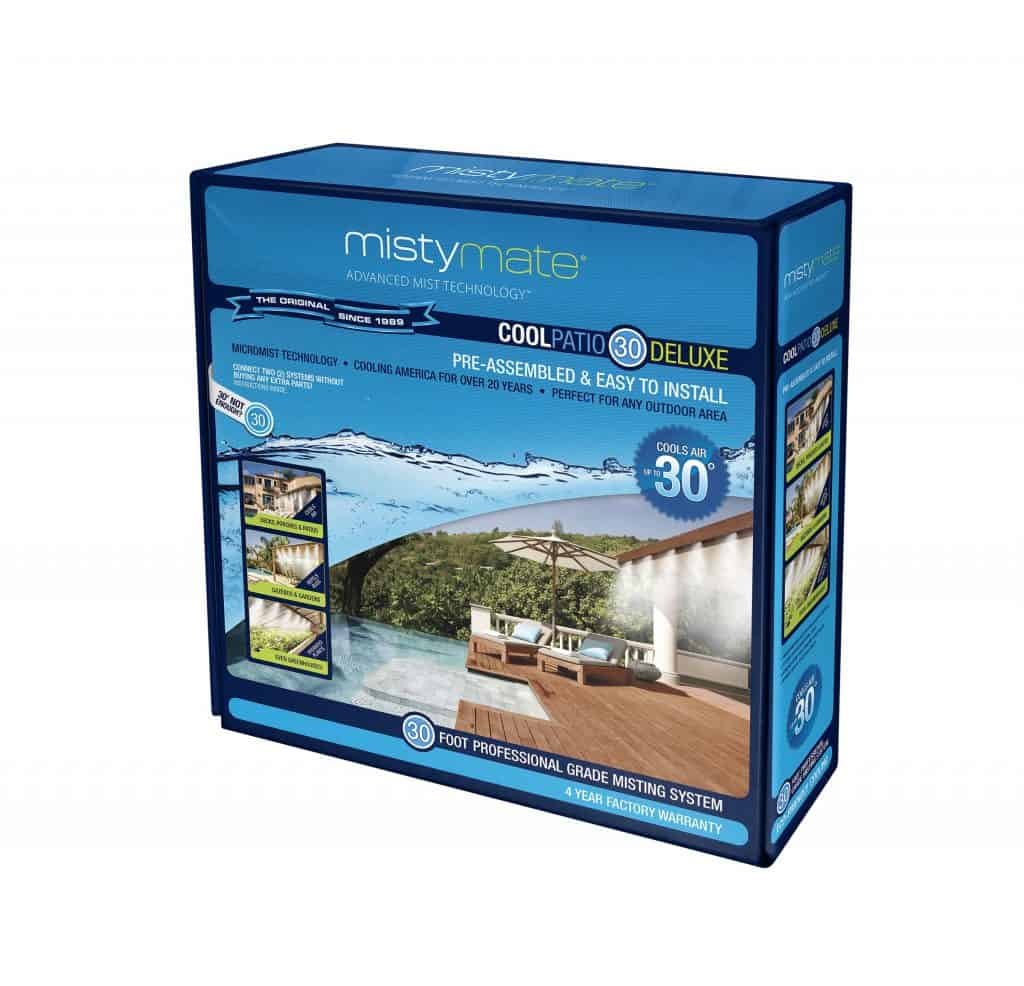 MistyMate is a high quality misting system. It can be used as is or you can add a booster pump to make it a high-pressure misting system. It is extremely easy to install and can effectively cool down your patio area by 30 degrees.
It comes with a brass nozzles, brass nozzle fittings and brass spigot connector for longer lasting components. There are 30 feet of line for misting and 10 feet for a supply line.
This system also includes sixteen misting nozzles and is pre-assembled and ready to be connected to the water source. For the convenience and quality, you can't go wrong with the Mistymate misting system.
XPower is a heavy-duty fan misting system. This system is portable and can be taken with you anywhere. There are four nozzles that help cool the surrounding area by 25 degrees. Since this is a fan, there are three-speed options, and is lightweight.
This system includes a power cord and a handle that allows for easy carry and is simple to set up. Use this on your patio, or take it with you camping or tailgating. The XPower is pricier than the low-pressure misting systems, but it's like a 2 for 1 fan and misting system and worth the price.
This is a flexible misting system that can be used in different and fun ways. The system can connect to a hose or a hose bib for a fast setup. It comes with 6 feet flexible tubing that can be twisted to be free standing or wrapped overhead for a patio.
There are eight misting nozzles with 360 degree functionality for mist in all directions. It will cool your area by 20 degrees and you can pick this up at your local Lowe's store.
Conclusion
With so many misting systems, deciding which ones are the best can be difficult. A misting system should have everything you need to cool off your patio. These can range in price but most will be well worth the cost to be able to enjoy your patio even in the hottest weather.
Whichever products you pick from the list above, each has it's benefits that may work perfectly for your backyard needs. If you're looking for other ways to cool off your backyard, or shade sail ideas, check out our highlighted articles.