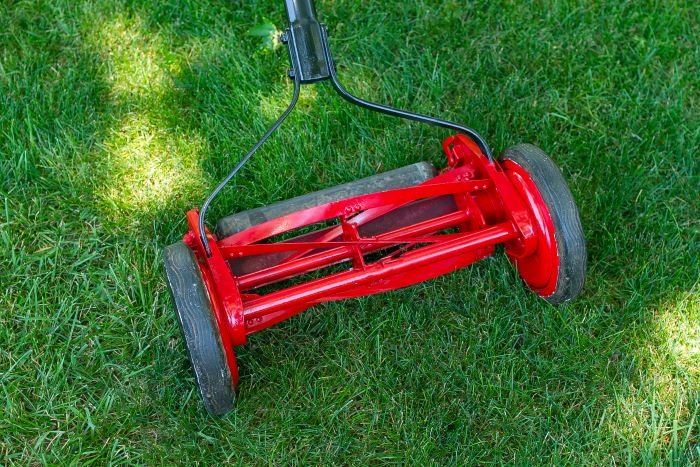 If you've been trying to up your lawn mowing game, you might want to consider getting a new reel mower to make your grass perfect.
If you want to have a zero-emission option and get cleaner cuts for your grass, it's probably better to stay away from motorized mowers and opt for push reel mowers instead.
We're giving you our recommendations for the best reel mowers to make your lawn shine. Besides, we'll take a look at the important aspects to check to find the most suitable reel mower for your grass.
Our Top Picks
Here are our picks for the best push reel mowers of different widths, capable of providing high-quality cuts quickly and easily.
The 304-14 is the 14 inches version of the high-quality reel lawn mowers by the American Lawn Mower Company. It's a lightweight and durable mower with a wide cutting path and high maneuverability.
This hand-pushed mower features a four spider, five blades reel with ball bearing design. The sharp blades are made from tempered alloy steel and can achieve high cutting power and precise cuts.
The cutting height can easily be adjusted from 0.5 to 1.75 inches using a 5-section roller. This allows you to have the right height for your type of grass and you'll be able to make large paths thanks to the 14 inches wide reel.
The mower is comfortable to operate due to the full-length loop handle that's cushioned with a foam grip and the 8.5 inches composite wheels that are large enough to maneuver unsteady grounds with ease.
Pros
Simple and robust design with no need for any tool assembly
18 inches wide reel with five sharp steel blades
Adjustable cutting height
Cons
Could struggle with thick or coarse grass
The handle can become unscrewed
The Fiskars StaySharp Max is one of the most advanced mowers with multiple features that will offer you a high-quality cutting experience and give you the nice-looking green grass you wish for.
This mower has an 18 inches wide reel. The design features inset wheels and blades extending over the full width of the reel. You'll benefit from this while cutting the hard edges near the fence or sidewalk.
Unlike plastic gears of other mowers, the mechanism of this mower uses a chain-drive design as a connection between the turning wheels and the blades. This makes the mower glide more freely over the grass.
The heavier blades also improve the inertia and lessen the friction while cutting, which can make it easier for you to push the mower and keep the blades spinning even at a slow pace.
The InertiaDrive technology uses a large-diameter reel with five thicker blades to provide you with increased cutting power to smoothly cut through tight spots.
The StaySharp Cutting System is also designed to make sure that the blades never touch the stationary central reel. This makes the mowing smoother and extends the blades' life and keeps them sharper for a longer time.
You can easily adjust the cutting height from 1 to 4 inches using the handle lever. You can also change the clipping direction to be forward, backward or downward by adjusting the reversible grass chute.
Pros
Easy to maneuver and works well on steep grounds due to the chain-drive design
The frictionless heavy blades don't get dull for an extended period
Can efficiently cut the edges near the foundations
Cons
Heavier than other options
Expensive
The Great States 16 inches push reel mower offers a precise and clean cutting performance for small lawns and normal-height grass.
The mower is lightweight and easy to push using the t-style handle with the cushioned grip and the 10 inches composite wheels with ball bearings that roll smoothly even on bumpy terrain.
The 16 inches four spider reel has five blades made from heat-treated tempered alloy steel. The cutting height of these blades can be adjusted between 0.5 and 2.5 inches.
You can cut short grass with ease but will struggle with anything taller than 2.5 inches and will require passing over it several times.
The mower has a durable construction due to its steel side plate, which offers more protection, along with the sharp blades that require little sharpening.
This mower has a narrower cutting reel than the other options, but you can get the 18 inches version if you wish for a broader cutting path. However, if you want even a narrower deck, you can opt for the 14 inches model instead.
Pros
Heat-treated blades that last longer
Steel side plate to protect the mower
Lightweight design
Cons
Fewer height adjustment options, which need to be bolted each time you want to change the height
Can't cut grass taller than 2.5 inches
The Scotts 2000-20 Classic is the widest reel mower on our list. You can use it to quickly and cleanly mow lawns of medium and large size with a few passes.
The mower's five spider reel is 20 inches wide. It features five alloy steel blades with ball bearing. The Quick-snap system allows you to easily adjust the height into one of nine slots between 1 and 3 inches.
The blades have a high-quality, consistent cutting performance over the grass of different lengths. As a result, the grass is evenly trimmed, and the mower would hardly jam.
This mower is lightweight enough that you can easily turn around, yet it would still stay stable on bumpy terrain. The dual tracking wheel design with 10 inches composite wheels and six inches tracking wheels makes it even easier to maneuver, as it decreases the drag. However, it's hard to trim the edges due to the outward position of the wheels.
Pros
20 inches wide reel that speeds up the mowing process
Dual tracking wheels for accurate and easy maneuverability
Nine height adjustment options
Cons
Can't cut through large twigs
Uses plastic gears that are not as durable as metal ones
The Greenworks is the only reel mower on our list with a collection bag. It's suitable for light and medium mowing workload.
The mower has an 18 inches wide reel with five sharp blades delivering crisp cuts. The dual lever handles allow you to adjust the cutting height between 1.75 and 2.75 inches, although you have to pull the two levers at the same time to be able to change the height.
It's effective at cutting short grass and reaching hard edges, but it won't be able to cut tall grass or pass through twigs.
This mower has improved maneuverability because it uses two dual 6 x 10 inches wheels. It also gives you the ability to adjust the wheels to have two different heights. This feature makes it easier to navigate slopes and steep lawns. You can comfortably push it and move it around using the handle with the foam grip.
The Greenworks offers you the choice to choose between mulching the grass or collecting it in the included grass catcher. The grass collection bag can be attached or removed to the end of the mower to gather the clippings while you're mowing.
Pros
Dual wheels with adjustable height options
Includes a detachable collection bag
Cons
Can easily get jammed
Weak construction
What You Should Know Before Buying a Reel Mower
There are a few aspects that you should consider when looking for a suitable reel mower for your lawn that would give you a clean, crisp cut and make your grass healthier and greener.
Size
The most critical dimension in the size of the mower is its width, specifically the reel's width. It usually varies from 12 to 20 inches. If you have a large lawn, it's better to go for an option with a cutting deck of 18 to 20 inches wide.
Shorter mowers are better for small lawns or ones that have awkward shapes and edges or obstacles. The short mower will allow you to squeeze between those small areas.
It's important to take into consideration the extra inches that the wheels add to the width. However, there are some exceptions where you have inset wheels, which allow the mower to cut to its edge.
The weight of the mower is also a factor. The heavier the mower, the more stable it'll be on the ground, allowing it to resist going up and down on bumpy terrains, which makes the cut more even and consistent. The downside is that it could be harder to push, especially if the wheels are not good enough.
Blades
You'll find that most blades are made from heat-treated alloy steel to allow them to cut through the grass cleanly.
The number of blades makes the actual difference in cutting quality. Most mowers have between four to eight blades. Having a higher number of blades allows you to easily and precisely cut through thick and tall grass without the need for many passes.
Thicker blades also help produce powerful cuts. You'll need at least five blades if you have coarse grass.
Nevertheless, having more blades makes the mower heavier and harder to push. That's why it's better to opt for fewer blades if you're going to cut thin and short grass. This way, you wouldn't need much energy to push the mower.
Other Features
Most mowers provide height adjustment mechanisms so that you can control the length of your grass. You should be looking for options that give you a big range. Good ranges are between 0.5 and 3 inches.
Some mowers also provide a collection bag that you can use to gather the clippings while you're mowing. If you don't want to mulch the grass, look for this feature.
Conclusion
The Great States reel mower has the best value for money. It's easy to push and maneuver and it'll give you the cleanly cut grass you wish for.
If you have a bigger lawn and looking for an option to get the work done quickly, the Scotts 2000-20 is the right choice for you with its 20 inches wide cutting reel.
Others tool to consider to maintain your lawn are scarifiers and dethatchers along with leaf blowers to handle falling leaves in the fall. If you need other lawn tool recommendations, check out best wheelbarrows, types of shovels, metal vs plastic rake, top hedge trimmers and best reel mower.