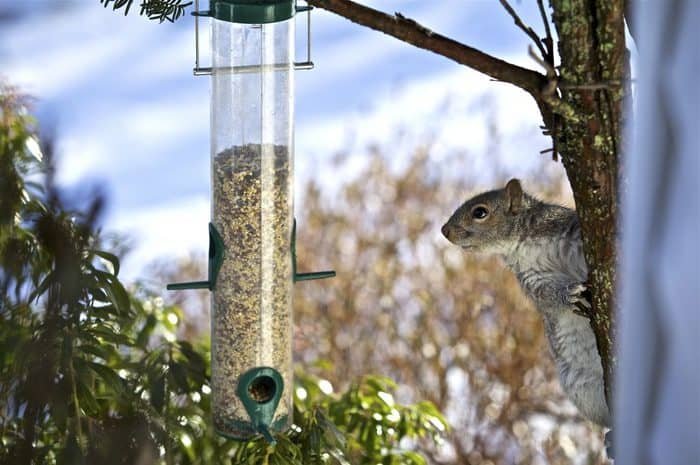 Bird lovers and backyard bird watchers know better than most the frustration of squirrels wreaking havoc on their bird feeders. Attracting birds to your backyard while keeping annoying pests like squirrels from stealing your feed is challenging for even the most seasoned of bird feeder owners.
Read on to discover the best squirrel proof bird feeders on the market for any budget, backyard, feed selection, bird population, and level of bird feeder experience.
Best Overall Squirrel-Proof Bird Feeder
The Droll Yankees YF-M Yankee Flipper is a hanging feeder ranks as the best overall squirrel proof bird feeder
Weight-detecting shroud. This safety feature closes when triggered by the weight of an adult squirrel, denying access to the food.
Company support. It includes lifetime care from The Brome Store and a free cardinal ring to attract Northern Cardinals.
Adjustable. You can adjust the weight setting to control the size of birds using your feeds.
Most Affordable
The 114B Squirrel Stumper Bird Feeder from Perky-Pet boasts a 4-star rating on Amazon and nearly 1,000 reviews. It's a low-risk, high-reward investment for first-time bird feeder owners.
Options. Available in two colors, copper and green.
Size. The 114B Squirrel Stumper Bird Feeder comes with eight feeding ports and holds up to 3lbs of seed.
Good defense. The wire barrier keeps squirrels at bay, and the tough-on-squirrels metal frame prevents rust and damage. The twist-lock lid is the final line of defense against pesky squirrels.
The durable and attractive metal construction makes this feeder a best buy.
High Seed Capacity
Squirrel Buster Standard from the Brome store holds a whopping 4.2 lbs. of seed. It's a great choice for novice and experienced feeder owners alike.
Protection. It boasts four squirrel-proof feeding posts.
Wide opening. This easy access makes filling and cleaning simple.
Protection. The squirrel-proof feeding ports work by automatically closing at the weight of a squirrel.
More Birds Feeders come to us from a family-owned company, passionate about bringing the joy of birds to your backyard.
Best Pole Feeder
NP431 Classic Squirrel Resistant Wild Bird Feeder from Birds Choice will cost you about $55 and has a 4.5-star rating with over 400 reviews on Amazon.
Easy pole mounting. If you don't have the ability to hang a feeder, this is the best choice. Included is a pole mount and a 3-section pole for easy assembly and installation.
Attracts a variety of birds. This durable squirrel proof feeder attracts chickadees, doves, jays, sparrows, woodpeckers, and cardinals to your backyard.
Protection. It keeps squirrels away with its anti-squirrel baffle skirt.
This feeder has a large reservoir that holds up to 5 lbs. of classic birdseed and is made from UV resistant polycarbonate meant to last a lifetime.
Best Suet Feeder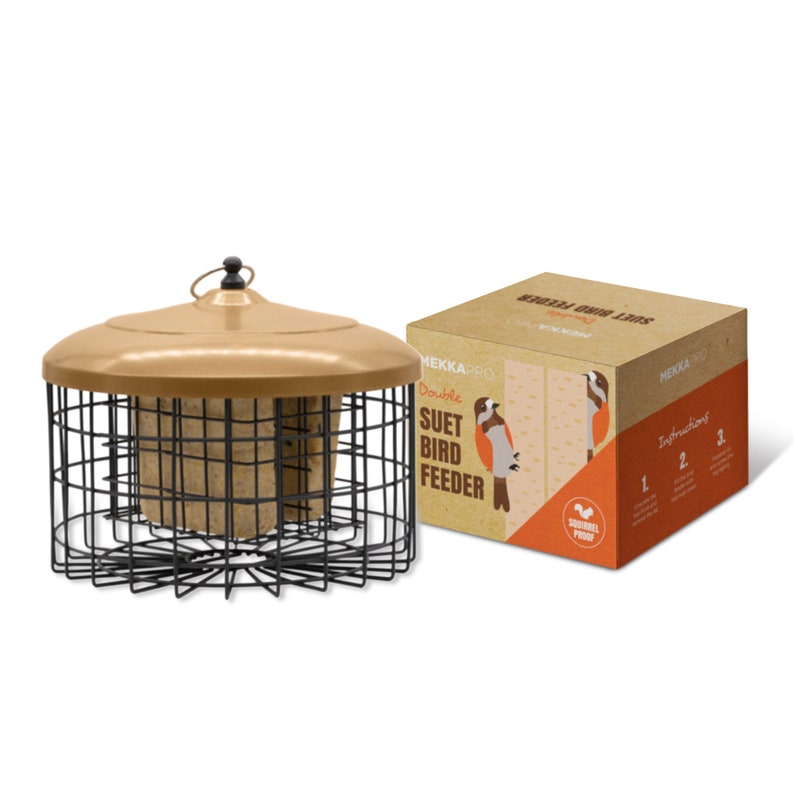 The MEKKAPRO Squirrel Proof Feeder from MAU Brands on Etsy.
Designed to protect. The handmade cage design prevents squirrels from accessing the suet cakes inside but allows small birds to enjoy a tasting suet-cake snack.
Cake feed. Say goodbye to hauling around heavy bags of feed; MEKKAPRO has its own selection of tasty suet-cake feed.
Humane design. MEKKAPRO is designed without a gap beneath the lid- similar feeders from other brands are not designed this way and can cause birds to get stuck and die inhumanely.
The MEKKAPRO is designed to be appealing to clinging birds like woodpeckers, nuthatches, and chickadees; it's sure to safely attract unique birds to your backyard.
Best Stainless Steel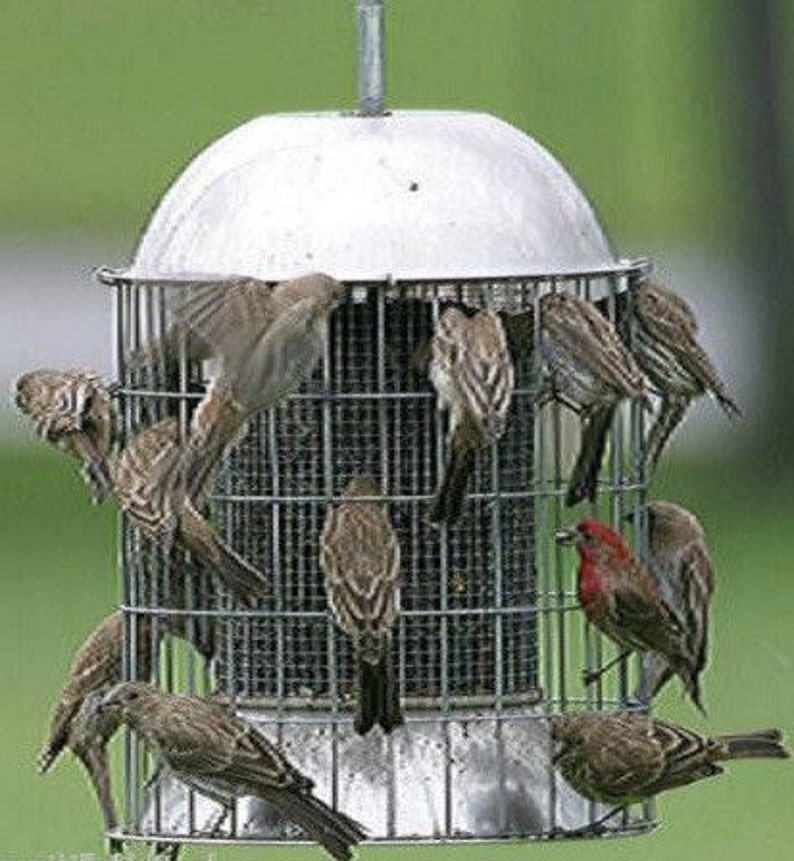 The Squirrel Proof Large Stainless Steel Bird Feeder from Chickadee Farms is an Etsy best-seller, with 4.5 stars and over 500 reviews, and will cost you about $55.
Durable. This handmade stainless steel hanging feeder withstands weather and sun damage and can last up to 20 years. The tapered surfaces keep out rain and snow, keeping your seed fresh.
Good capacity. Designed to hold 10-15 days' worth of black oil sunflower seed, which the DNR says 95% of birds prefer, this Chickadee Farms feeder is guaranteed to keep birds coming back for more.
Less mess. The design also prevents birds from eating more than one seed at a time, preventing waste and mess in your backyard.
The stainless steel on this feeder is tough enough to withstand squirrel teeth, keeping the pests away from your feed.
Most Stylish Design
The 13 in. Caged Bird Feeder from PierSurplus offers a squirrel-proof cage design for around $40 that doesn't skimp on style. With a 4.5-star rating and nearly 80 reviews on Amazon, this squirrel proof feeder would add timeless style to any backyard or garden.
Meant for little birds. This detailed feeder offers 3 ½ cups of feed to smaller birds like finches, orioles, or grackles, and its cage design keeps squirrels from accessing the feed.
Sturdy and durable. Its sturdy design prevents damage from the sun, weather, large birds, and squirrels.
This feeder is a great gift idea or addition to your own back yard. Perfect for hanging or sitting on a flat surface, this feeder will add vintage reminiscence to any bird lover's feeder collection.
Best for Nuts and Fruit
The Nut Feeder from Squirrel Buster is a hanging feeder with 4.5 stars, 50 reviews, and comes in at around $80 on Amazon.
Designed to hold a variety of feed. It comes with two mesh systems to hold various feed, including nuts and dried berries.
Attracts a variety of birds. Birds that are attracted to dried fruit include blue jays, mocking jays, catbirds, and waxwings.
Easy to change feed. The meshes are interchangeable, so you can try out a large selection of feed with ease.
Guarantee. Squirrel Buster promises lifetime care- replacement parts are covered under a no-cost guarantee, and they provide free shipping of all replacement parts and exchanges.
The squirrel-proof feeding ports here work similarly to other feeders on this list, with a shroud that automatically closes at the weight of an adult squirrel.
Additional Squirrel Protection for Your Bird Feeder
Do you want to be extra sure squirrels can't get into your bird feeder? Consider the following additional lines of defense to protect your precious seed.
Squirrel Slip
investing in some Squirrel-Slip from Etsy. It's affordable, non-toxic to wildlife, and creates a slippery coat on your feeder that squirrels can't cling to.
Be careful not to apply it to perches or places birds may cling to; you don't want to deter your feathery backyard visitors.
Squirrel Slip works best on feeders with poles that squirrels could climb but applying it to the chain on your hanging feeder is another great way to keep the squirrels away.
Flaming Squirrel Seed Sauce
Another option for deterring squirrels is Cole's FS16 Flaming Squirrel Seed Sauce from Amazon. This all-natural, chemical-free sauce contains food-grade chili concentrate and is easily mixed with your feed of choice. While squirrels can't stand the heat, there are several varieties of birds that love the spice.
With Cole's Squirrel Seed Sauce, you can still attract blue jays, cardinals, wrens, buntings, finches, and songbirds while keeping squirrels from stealing your seed.
Chili is full of nutritional value for birds, including vitamins A and D. Not only is it effective at deterring squirrels, but it will also contribute to the health of your backyard bird population.
Conclusion
There are many factors to consider when shopping for squirrel proof bird feeders. Your budget, the type of birds you want to attract, the type and amount of feed you want to use, and the ability to hang a feeder are all essential things to consider.
The best squirrel proof bird feeders are durable, effective at keeping squirrels from eating the feed, bird-friendly, easy to clean and fill, and should be long-term investments. Any of the feeders outlined in this list would serve a bird enthusiast well and keep pesky squirrels away. For more tips on keeping squirrels out of your backyard, click here, as well as be sure to check out our article one what birds you're most likely to see in your backyard!