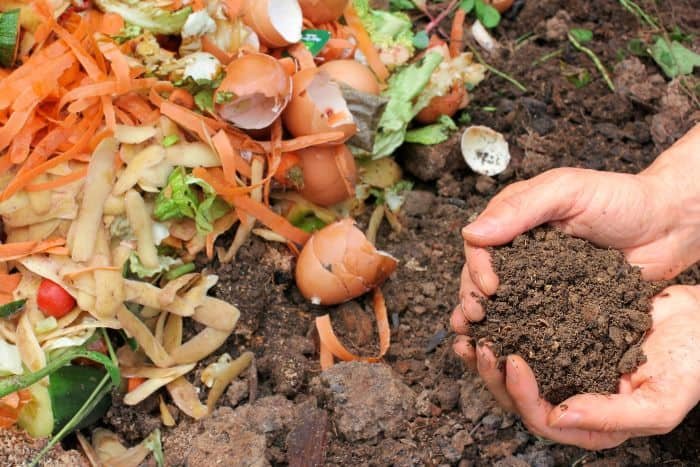 Composting is an excellent way to safely and positively dispose of kitchen waste, grass clippings, and paper products. If you like gardening and are environmentally conscious, you might consider composting.
Does your house always have food and garden waste that is simply thrown away? You could make good use of it by turning it into a nutrient-rich fertilizer that could work wonders for your plants.
Composting is an excellent way to safely and positively dispose of kitchen waste, grass clippings, and paper products. In addition to reducing landfill waste, composting also makes better use of biodegradable waste and becomes easy and readily available fertilizer and pot filler.
In addition to nourishing your plants, compost bins are also an environmentally friendly way to get rid of waste materials that would otherwise end up in the trash. A popular style of composter is the tumbler composter for it's ease of use and how quickly it turns useless trash into gardening gold soil!
So what's the best tumbler compost bin you can purchase today? Read on to find out which of these 5 compost bins will be perfect for your backyard composting needs.
.
The FCMP Outdoor IM4000 has a special 8-sided design that facilitates easy composting. It's also extremely easy to use, making it an ideal option for beginners and professionals alike.
It is one of the first outdoor compost bins to use an 8-sided configuration instead of a traditional cylindrical barrel shape. This configuration allows deep fins to easily break down lumps of waste. They also have numerous vents that you can adjust to your liking.
One of its unique features is its dual chamber design, which allows you to cook fresh batches of compost all the time. You can unload it when one side is finished, and you can start a new one while the other batch is still running. You will get a total of 37 gallons, 18.5 gallons in each chamber, which is a little bit small for larger families.
This is our go to choice for composting as it has everything you need at a reasonable price.
| Pros | Cons |
| --- | --- |
| Dual chamber design | The door can get stuck in winter |
| Easy to use | Not good for large compost stacks |
| Removable door with large openings | Difficult to assemble |
This Miracle-Gro Composter contains two chambers of 18.5 gallons each, making composting practical. One chamber can be used for usable compost, while the other chamber can be used for reprocessing. This compost bin is made of a robust material that allows it to be left out at any time of year.
It is built for people considering composting for the first time, who need compost in a short time, and provides easy-to-use functionality. In addition, the assembly is stress free and includes a metal base for extra protection.
Since the two chambers work independently, at least 18.5 gallons of compostable materials should be handled. And thanks to the internal mixing rods, which significantly speed up this process, a rich, nutritious and fertile compost can be produced for your garden in just 4 to 6 weeks.
The Miracle-Gro Dual Chamber is another model that needs some assembly work. It could take 20 to 30 minutes for all parts to be assembled.
| Pros | Cons |
| --- | --- |
| Stress-free assembly and use | Some parts are a little cheap |
| Manual scooping is not required | Somewhat small |
| Odorless | |
| It is robust | |
If you have a green thumb or an aspiring gardener who wants to grow fresh vegetables, Mantis Compost Tumbler CTO2001 is an excellent solution for cleaning up kitchen and garden waste and producing high-quality compost.
The Mantis Compost Tumbler CTO2001 may seem to be part of a post-apocalyptic film or video game, but it is characterized by efficient compost production. It's been a household name in the horticultural field for decades. In only a few weeks, more waste can be composted, compared to traditional methods, which can take months or even years.
The Mantis Compost Tumbler CTO2001 is a closed composting drum designed to compost quickly and efficiently, preventing the growth of pests and vermin in the compost. The composting drum is also easy to rotate, even when it's loaded. It has a capacity of 12 cu. and it can hold around 88 gallons or 9.5 bushels. The height of the drum is 12 "above the ground.
The Mantis Compost Tumbler CTO2001 is equipped with drainage holes and ventilation door, which makes it easy to load and unload. It is designed and manufactured in the United States and comes with a two-year warranty.
If the Mantis CTO2001 is unavailable another Mantis composter, which is similar, should be available.
| Pros | Cons |
| --- | --- |
| Loading and unloading without bending | No tank for compost tea |
| Free flow of oxygen and excess moisture | Deformed door and ventilation caps |
| Elimination of odor and prevention from pests and vermin | A bit expensive |
| A capacity of up to 88 gallons | |
This compost has a cylindrical shape. This shape is perfect for the processing of the waste inside. The Exaco Mr. Spin compost drum is split in the center, making it a two-chamber compost system. This will help you start a new batch without combining it with the old batch.
Also, the use of two chambers allows continuous composting. It's very simple to use since it rotates on the central shaft. In addition, it is made entirely of environmentally friendly plastic.
Due to the fact that it is a small compost bin, it is heavy at the bottom, and this weight helps to turn the mixture about. Stable steel protection provides a high ground clearance to keep rodents and pests away. The composer has a sliding door which is ideal for keeping rain, pests and insects away while keeping the scent and components within the compost.
This composer is particularly built for small gardens and yards and really simple to use ; just turn and stir. It is an outstanding compost container with a high capacity of 43 gallons in total.
| Pros | Cons |
| --- | --- |
| Made from environmentally friendly materials | The doors are smaller than expected |
| Easy to use | Turning will be difficult if you add a lot of compost |
| Good value | |
| Works as advertised | |
The Jora Compost Tumbler is one of the nicest looking and well built to last many years. It's constructed from galvanized steel and the barrel is powder-coated to be more durable and longer lasting as well as having stainless steel hardware.
The dual chambers have over 2 inches thick polyethylene plastic. Having dual chambers lets you keep adding new materials in one bin while the bin other matures. The JK270 has a volume of up to 70 gallons and capacity of 7-8 gallons a week.
The elevated Jora Composter with doors that are secured with a latch will ensure no possibility of rodents or other pests gaining access to the waste in the machine. The only down side is that is the most expensive composter on the list as you are paying for the upgraded construction.
| Pros | Cons |
| --- | --- |
| Durable Construction | High Cost |
| Handles Large Volumes | Difficult to Assemble |
| Rodent Free | May not be suitable for humid climates |
Accessories for your Compost Tumbler
Frequently Asked Questions
What to look for when choosing your compost bin?
Choosing the right container for your composting needs can be confusing. But there are a lot of options to suit different situations. Depending on your situation you could consider size, shape, appeal, durability or usability.
Should a compost bin be in sun or shade?
You can place your compost bin in the sun or in the shade, but if you put it in the sun, the composting process will be accelerated. The sun helps to raise the temperature, so that bacteria and fungi can work faster than before.
How often should you turn compost?
By turning more often (about every 2 to 4 weeks) the compost will be produced more quickly. A waiting period of at least two weeks allows the middle of the pile to warm up and promote maximum bacterial activity.
Do you add water to the compost bin?
Yes. If the pile is dry, add water. The contents of the compost container should be moist, like a squeezed sponge. If the contents are too dry, composting takes too long; and if they are too moist, the contents can start to smell.
What should you not put in compost?
You should not put meat, fish, fats, poultry scraps, oils, dairy products, grease, charcoal ash or dead plants.
Final Thoughts
Compost bins are an essential household appliance that lets you nourish your plants while reducing the amount of waste in your home. These products provide an environmentally friendly way to dispose of your household waste.
Composting does not need to be overly difficult and, with a little practice and trial and error, you can create nutrient-rich soil for your potted plants and gardens. These tumbler composters provides an easy, less taxing way for you to create awesome compost, which your flower beds and vegetables will love.
There is no perfect way to compost. You will have to mess around with the ingredients before you are able to create a good batch. Composting can be finicky, and there are a lot of ways for your compost to go wrong, but with one of the above compost tumblers, you will save yourself a lot of time, frustration, and sore muscles.