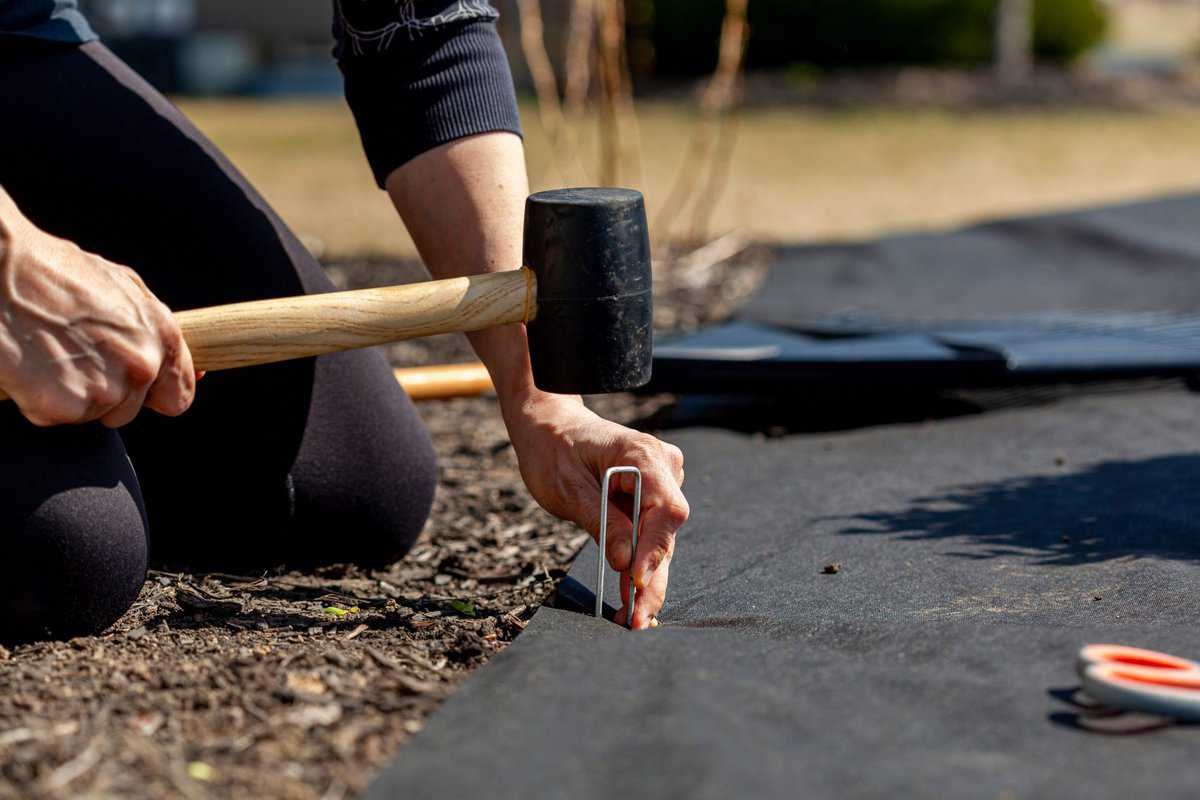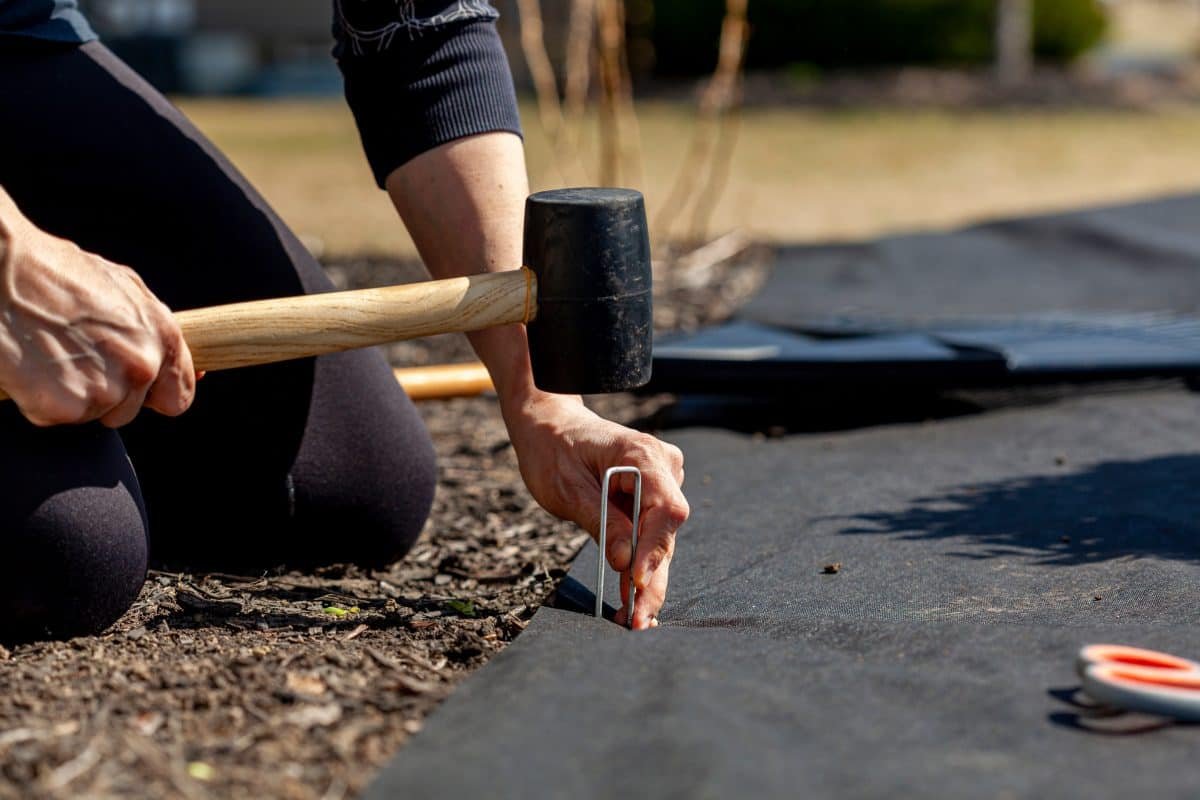 Landscaping fabrics stave off weed growth, which in turn helps ensure that vital nutrients are not stolen from your plants. There are other benefits to landscaping fabrics, such as erosion control. The key is to know when and when not to use landscaping fabric.
I use landscape fabric in my backyard to keep weeds out of my large gravel areas that connect to my large deck. It has done a great job keeping a lot of weeds from popping up. In Florida with our long growing season, weeds grow year-round.
Are Landscape Fabrics Worth It?
One of the most challenging aspects of gardening is pest control. Weeding in particular can take up a lot of effort. If only your tomatoes could grow as fast as your weeds!
The effects of excess we'd growth are obvious. They take up vital nutrients, block out sunlight and introduce additional pests to your garden. So naturally, cutting down on weed growth is a must for maintaining a healthy garden. But unfortunately, this can take up quite a bit of time. If you leave for vacation for a week, you may be bombarded with weeds.
This is where landscape fabrics come in. Landscape fabrics will help stunt weed growth. They can also offer additional advantages, such as offering soil stability and preventing erosion.
When or Where Should I Use Landscaping Fabric?
The experts recommend that you primarily use landscaping fabric under mulched plants. It is not recommended for ornamental bed plants, such as grasses, where a healthy root environment is critical. 
You will often hear that the best place to put landscaping fabric is in places where you have permanent shrubs or trees. Landscaping fabrics are a no-go in areas of frequent planting and replanting such as flower gardens and vegetable gardens.
Landscape Fabric is great under gravel when trying to remove lawn areas. If you're trying to do more xeriscaping in your backyard and removing lawn areas a weed fabric is a necessity. Weeds will constantly grow up through gravel without the fabric underneath.
Landscaping fabrics are also quite effective at stopping frost damage from occurring. Some gardeners will use old blankets during times of frost, but large sheets of landscaping fabric will sure save you a lot of trouble. The woven structure of good landscaping fabric is also a lot more reliable when it comes to retaining heat.
Are There Any Disadvantages To Using Landscaping Fabric?
One potential disadvantage is that the fabric can prevent certain plants from growing healthy. It isn't a good idea to lay the fabric in an area where you plan on putting annuals.
The fabric needs to be replaced periodically (possibly every 2-3 years depending on the specific product). If the fabric is allowed to deteriorate, it can harm the health of the soil.
Best Landscaping Fabrics For Your Garden
Interested in landscaping fabrics, but don't know where to start? Below you'll find a list of the top landscaping fabrics available for purchase today.
ECOGardener 3 x 100 Weed Barrier
The ECOGardener 3 x 100 Weed Barrier comes in several sizing options. The 5 oz/sq. yd thick material will last a long time and comes with a 30 day money back guarantee if you're not satisfied.
Woven landscape fabric is particularly effective for staving off weed growth while also allowing water and nutrients to reach plants.
Sta-Green 3' x 100' Landscape Fabric
The Sta-Green Premium 3' x 100' Landscape Fabric is a great choice at your local Lowes or Home Depot. When you need something fast and can't wait for shipping, this is a great landscape fabric. With over 1500 positive reviews, a lot of people like using this weed fabric in their backyard.
How Long Does Landscaping Fabric Last?
The biggest killer of landscaping fabric is sunlight. Exposure to UV rays can cut down on a fabric's lifespan significantly. So make sure you store your fabrics in a dark or shaded location, out of direct sunlight.
It's not uncommon to have to replace landscaping fabric every 2-3 years. If you are keeping your fabric in an area with permanent shrubs or trees, then you are much less likely to have to replace the fabric frequently.
If you have woven fabric, it should last longer also. The key in any case is to avoid putting the fabric in a location where you will be replacing plants frequently.
How To Install Landscaping Fabrics
You can easily install landscaping fabric around existing plants or trees by cutting out properly-sized pieces of the fabric. You will also need to prepare a clean area for the fabric before installation.
Remove or cut down any plants, weeds, and leaves from the surface.
Till the soil and level it out.
Install the fabric with the fuzzy side of the fabric pointing downwards.
Overlap different sections of fabric 6 inches.
Pile mulch or soil on top of the fabric. Even out the soil.
It's crucial that the fabric is covered with soil and will not become exposed to sunlight. Roots should be able to puncture through the fabric. 
Conclusion
When you're trying to keep weeds at bay, landscape fabric can certainly help. I know from experience, the difference weed fabric makes in your backyard.
I didn't put down weed fabric under my river rock fire pit area because I was in a hurry, and I'm constantly having to pull weeds. I will not make that mistake again, and hopefully you won't as well.