When you start doing backyard projects, you start to realize that you'll need some kind of wheelbarrow to help move dirt, mulch, plants, and so much more.
In this article, we'll share some top wheelbarrows that you can choose from and I'll talk about our favorite one that we use all the time.
Some people think that because all wheelbarrows do the same job, then it wouldn't matter which one to choose and any wheelbarrow would do.
Wrong!
In this article we'll be reviewing the best 5 wheelbarrows currently on the market, hoping to help narrow down your options.
Our Top 5 Favorite Wheelbarrows
Wheelbarrows make our lives much easier in terms of moving items, especially heavy bulky ones, from one place to another.
Below is a review of our top 5 picks.
We have this cart and love it. The tires are inflatable so you'll have to make sure they are inflated and maintained. We recently had to replace one of the tires, and it was easy and painless.
The cart has a black coating and a steel frame to protect your supplies and support its bed.
It also has a big poly bed that could carry up to 1,200 lbs and weighs 58.6 lbs. The wheelbarrow comes with pneumatic turf tires that are 13 inches thick, and have a ⅝ inch diameter axle, which enable it to move easily on any type of soil.
Because of the poly bed design, this wheelbarrow requires very little maintenance. NOTE, I drilled small drainage holes throughout the bottom since we get a lot of rain in Florida and I didn't want standing water in the tub.
This wheelbarrow is designed with a dumping system to make unloading an easier process. Also, it has a 2-in-1 D-shaped handle that enables it to convert to a tractor, or ATV or just be pulled by hand. We have the older version that doesn't have this, but this is a great addition.
The Gorilla Cart Heavy-Duty Yard Cart's dimensions are 45.2" x 25.6" x 25.2" inches, so it competes with other wheelbarrows in the massive weight it could carry.
The dump feature that this wheelbarrow has protects your back as it eases unloading anything, and saves a lot of your time and effort. When I built my ground level deck, I needed to move a lot of dirt and the dump feature was perfect since the dirt is very heavy.
The instructions are written in a simple manner, but some users could find it difficult to assemble.
So far, we've used the older version to move crushed concrete, mulch, make a deck, and even for demolition of a condo kitchen near the beach located on the second floor. We love this thing.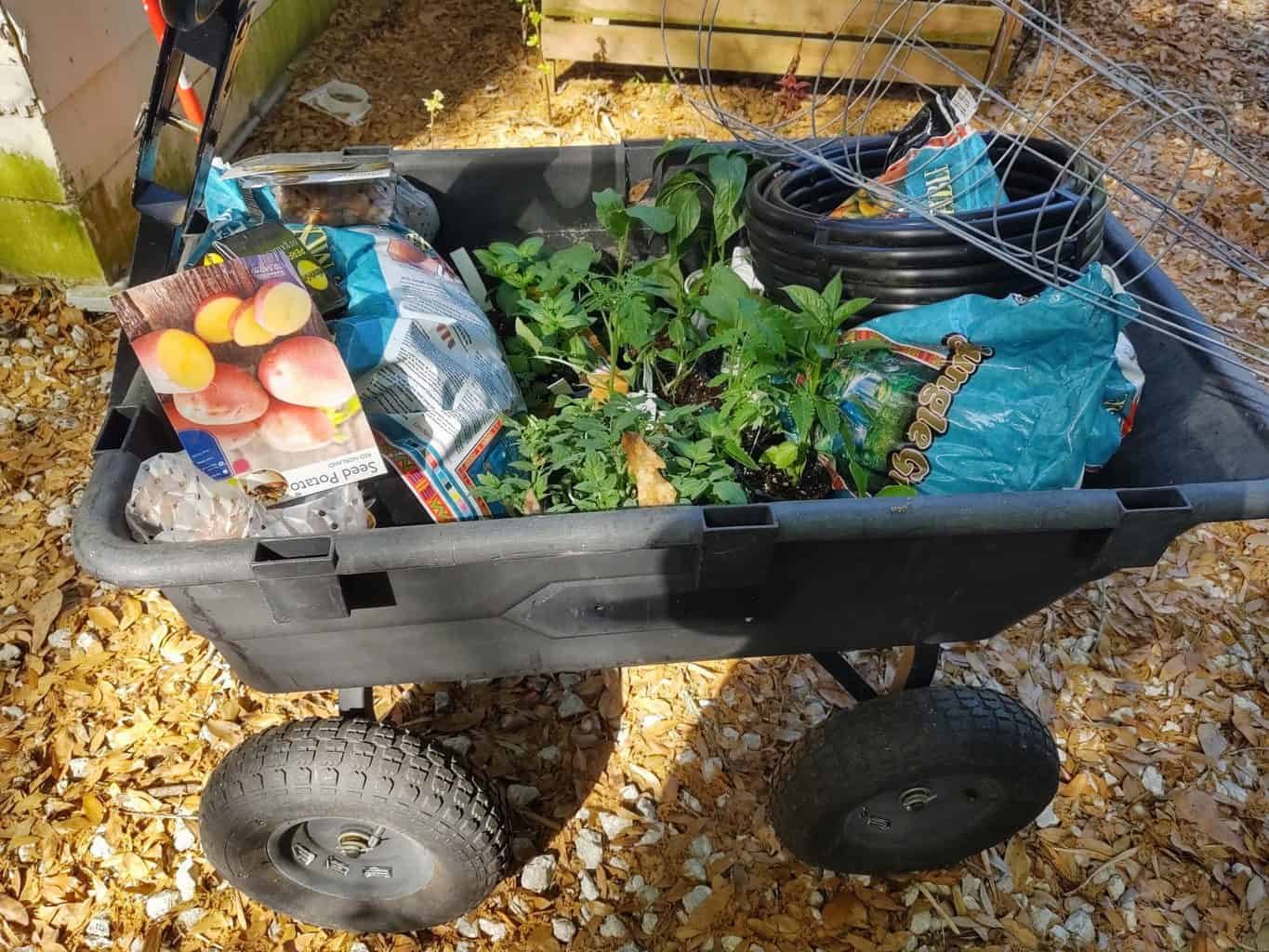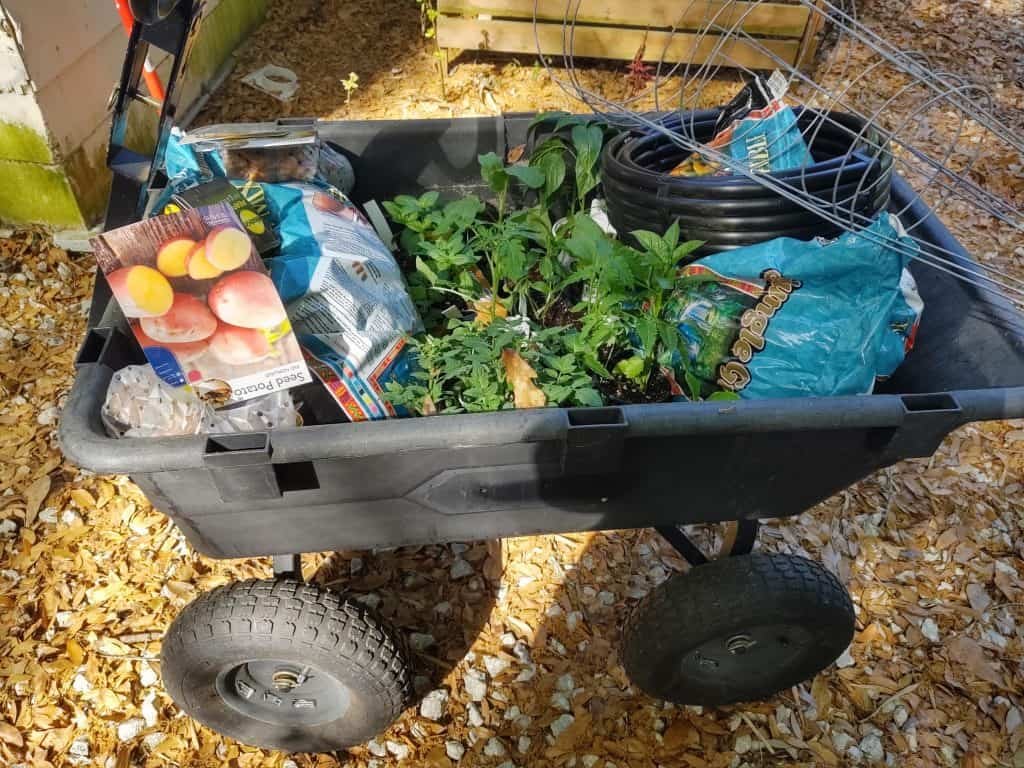 Things We Like
The way it's designed makes it easy to pull and move around
1200 lb. capacity
Inflated tires helps going over unlevel ground
Has a good grip which makes it easy to pull
Comes with a 1-year warranty
Things We Don't Like
In tight spaces it will be snug
It's pretty heavy if you're transporting it in a car
This is definitely not your traditional wheelbarrow. It's unique in shape and performance, and best of all, green-safe.
The Landworks 2103Q044A Heavy-Duty wheelbarrow is a great choice for outdoor gardening and construction chores whether indoor or outdoor.
This wheelbarrow has a loading capacity of 400 lbs, which makes it heavy-duty and suitable for hard chores.
It has an anti-rust powder-coated steel frame to give it strength in terms of quality and makes it resistant to the weather changes.
The rubber wheels that come installed in it are thick and made from shock-absorbent rubber. The 10-inch diameter of the wheels makes it flexible when it comes to maneuvering.
The sides are mesh and removable and can be transformed into a big all-purpose moving platform for transporting heavy loads.
This foldable frame allows you to easily assemble and disassemble it for storage.
The wheelbarrow arrives sealed in its original factory packaging.
Things we like
Well-built
Easily moved when loaded
Sides could be removed for storage needs
Paint used on it is high-quality and doesn't peel off
heavy-duty 400 lb. capacity
What we don't like
Not easy to assemble
Poor instruction manual
Doesn't have a U-shape cut-out in the front part to hold it while stored
This wheelbarrow is a very popular one on the market. It has a sleek vintage multi-purpose design and a tub made of polyethylene, which guarantees no cracking or rusting for a long period of time.
Its axle is placed right in the center, making its movement smooth even when fully loaded with bulky items. The excellently balanced 20-inch rubber tires attached to the cart will never deflate.
According to the manufacturer, it's an easy to assemble cart that'll be up and going in just a few minutes.
The Polar Trailer 8376 Utility Cart will carry things like rock, dirt, firewood, grass and mulch and not complain. It's a tool that'll enable you to perform great field, lawn and farm work without feeling any fatigue.
This cart has a relatively high price for a plastic wheelbarrow, but the high-quality construction makes up for that.
To give you peace of mind, this wheelbarrow has a 5-year guarantee.
Things We Like
Easy assembly
400 lbs. capacity
Only weighs 49 lbs.
Very durable
Tires won't go flat
Has big wide-diameter wheels that facilitate movement on almost all ground types
What We Don't Like
Relatively expensive
The rims of the material are of poor quality
This affordable wheelbarrow is perfect for small gardens and chores around the house because of how lightweight it's designed to be. This makes it easy to move around, along with its two wheels and cushioned grip that make it easy to lift up.
The Marathon Dual-Wheel Residential Yard Rover Wheelbarrow will suit people of different strength levels and ages equally.
It could be considered as a tool designed to make moving things around easier, especially yard work, and provides a natural balance because of its large wheels.
The dimensions of this wheelbarrow are 35" x 16" x 14", which is relatively small in comparison to other wheelbarrows. It weighs 33 lbs Iand it has a carrying load capacity of 300 lbs.
This wheelbarrow is popular among gardeners and home-owners, rather than construction work environments. To assemble it, all the tools you need are a flat-head screwdriver and a crescent wrench.
The manufacturers of this wheelbarrow have indicated that they've specifically designed it this way to prevent high lifting efforts and maneuverability, as well a high-balance level.
The tray of this dual-wheel wheelbarrow here manufactured by Marathon is a five-cubic foot rust-proof poly tray, which protects it, making it last longer.
The Marathon Dual-Wheel wheelbarrow is definitely not recommended for heavyweight loads. However, it provides a strain-free experience to the user because of it's comfortably cushioned loop-shaped handle that makes pulling and pushing it easy.
Things We Like
Durable and lightweight
Comfortable grip
The two wheels give it excellent balance
Easy to move around
Comes in 4 different colors
Two-minute simple assembly
Its Steel frame is powder-coated
What We Don't Like
Not too deep, so not great for high volume
Tires need inflating often
If you're looking for the swiss army knife of wheelbarrows, then the Worx WG050 could be the one for you. It's made from heavy-duty steel to ensure its durability.
This wheelbarrow is an 8-in-1 all-purpose wheelbarrow that can be quickly converted to a dolly. When in the standard wheelbarrow mode, the Worx Aerocraft can lift as much as 300 lbs of weight.
Once you convert it to a dolly, you'll be able to move around heavy objects. The manufacturer even claims that it can withstand a fridge! The dolly capacity is 300 lbs.
Other functions included in the Worx Aerocraft are the bag holder, cylinder carrier, extended dolly, and rock carrier. The cart itself weight is 41 lbs. If you intend on storing the cart upright, it'll measure 58" x 22" x 20".
Along with the cart, you'll get the cylinder and bag holders, the plant mover strap and the rock mover mesh.
We really appreciate that this wheelbarrow comes with two wheels, which makes it very stable.
The included wheels are solid wheels, which is in our opinion, good and bad. The great thing is that solid wheels mean that they won't deflate. On the other hand, this also means that it wouldn't handle uneven surfaces that well, and may feel the bumps through your arm.
Assembling the Aerocraft wheelbarrow is fairly easy with the instructions manual and shouldn't take you more than a few minutes.
If you're on the taller side, this wheelbarrow may not be right for you. That's because it's low to the ground.
The Worx Aerocraft comes with a 3-year warranty and a 30-day money-back guarantee if you feel that it isn't the right wheelbarrow for you.
Things We Like
Efficient, space-saving storage
Tires don't need inflating nor maintenance
Extra stable dual wheels
Comes with a trash bag holder
Sturdy material
Designed with an extra-extending arm
Has a foldout arm
Things We Don't Like
Not very flexible on rough terrain
Has a relatively small tub
Isn't suitable for tall people
What is a Wheelbarrow Used for and How Does it Work?
A wheelbarrow is a device used to ease the transportation of material. The device sits on one, two or four wheels and has a bucket or a "barrow" to carry the items in.
It's a device used in multiple fields like gardening, construction, and even landscaping.
To simplify things as much as possible, a wheelbarrow works by you picking up its handle and putting some effort on the lever, which makes the wheelbarrow easy to lift.
By applying more effort to the wheels, the wheelbarrow starts moving.
How easily the wheelbarrow moves depends on the design, frame, and the number of wheels, as well as the load it's carrying. Sometimes the ground it's going over also affects the process a little.
Things to Consider When Selecting a Wheel Barrow
There are so many things to consider when choosing a wheelbarrow, like the size, material, to go for a one-wheeler, two-wheeler or four-wheeler, the handle design, and so many other details.
We'll be discussing below the different types of wheelbarrows, each with its pros and cons. This should help you identify your needs and decide on the wheelbarrow you want easier.
Material
The material of the wheelbarrow reflects its quality and work capacity. Below is a list of the different materials of wheelbarrows.
Metal Wheelbarrows
This is usually the most common choice among gardeners. Metal wheelbarrows are known to be durable and sturdy.
These wheelbarrows are commonly used for transporting heavy materials around houses, gardens or even industrial areas because of their durable and heavy-duty construction.
Metal or steel wheelbarrows are coated with paint to help with rust prevention, so be careful if you're hauling materials that can scratch the paint, like rocks and gravel.
The other downsides to metal wheelbarrows is that their weight, which can make them difficult to move around, especially in rough terrain. They also tend to heat up if left in the sun for too long, so be careful touching the metal tub.
Plastic Wheelbarrows
Plastic wheelbarrows are completely rust resistant and cost less than the metal variants, making them ideal for low budget shoppers.
Their lightweight increases their maneuverability and portability making them suitable for transport through less defined routes.
They trade their lightweight for durability as the plastic material is weaker and susceptible to developing and propagating cracks when exposed to trauma or extreme temperatures.
Canvas Wheelbarrows
Canvas wheelbarrows have a load tub made of canvas material. They're durable and mainly designed for loading items and storage needs. Usually, you could lay them flat to easily load and offload items on and off of them.
These wheelbarrows are a bit too soft as a material for heavy load carrying, as they'll simply fall out of it. Needless to say, they're not fully made of canvas, they've got a metal frame that could be extended to a full tub for stability reasons.
Canvas garden carts have 4 wheels but also have a tub made of canvas and can be foldable. They have more stability than the 1 wheel canvas wheelbarrow and may better suit your needs for heavier items.
Since canvas wheelbarrows are foldable, and flexible, they could be easily stored under furniture or inside closets rather than taking up space if left open.
Newer wheel barrows or dump carts which have 4 wheels is becoming the standard to move things around in the yard due to their versatile uses and heavier load capability.
Number of wheels
Single-wheeled Barrows – They have a single wheel located at the front and center of the wheel barrow. This is the most popular kind of wheelbarrow.
They are easy to maneuver especially in tight spaces, but require higher upper body strength than the multiple-wheeled barrows.
Multiple-wheeled Barrows – Here, the most common types found here are the two-wheeled variants. They offer more balance especially when moving asymmetrically distributed heavy loads. They also require less strength to operate.
They can be harder to maneuver than the single-wheeled variant particularly on inclined terrains. The two wheel wheelbarrow barrows may have less maneuverability but they're still easier to maneuver than the three- or four-wheeled barrows.
Four-wheel wheelbarrows are more commonly called garden carts. They may be harder to maneuver than one or two wheelbarrows but can hold much more weight. If you need to haul heavy loads a lot around your yard, they'll best suit your needs.
Wheel design
Pneumatic wheelbarrows – Wheelbarrows with pneumatic wheels have inflatable wheels that need to be inflated from time to time and contain a tube within that serves to absorb mechanical shock.
They are perfect for use across rough terrains but should be kept away from sharp obstacles like cacti and sharp rocks as there is a risk of getting punctures.
Semi-pneumatic wheelbarrows – This is halfway between pneumatic and non-pneumatic wheels. The semi-pneumatic wheelbarrow wheels have air pockets within them that serve as shock absorption, compared to the tube in pneumatic wheels. They are great for use in rough terrains and do not have the risk of getting punctured.
Non-pneumatic wheelbarrows – In these kinds of wheelbarrows, the wheels are all solid rubber all they way through. They will never go flat and require less maintenance, which increases their convenience.
They can also be used in terrains with sharp rocks and extreme temperatures without fear of the tires getting punctured but will be harder to push.
What to look out for when purchasing a wheelbarrow (A buyer's guide)
After reading through the different types of wheelbarrows, consider the following factors before reaching into your wallet or purse to make what would likely be a long term commitment:
Size
Wheelbarrows come in a wide variety of sizes ranging from small to average to small sized wheelbarrows. Your body size and intended use would determine the size of the barrow you get.
Most body sizes would be compatible with average sized wheelbarrows. However, extremely tall or short individuals may find it difficult to operate them as they may have to stoop or stretch respectively.
Weight and load capacity limit
This depends on the types of loads you plan on carrying. How large and heavy are the materials? If you intend to carry heavy loads, then a heavy duty wheelbarrow with a high weight limit is preferable.
The reverse is also the case as it is illogical to get a heavy duty or very large wheelbarrow when all you intend to use it for are light weight small garden chores.
Construction Quality and Durability
The construction material quality affects the durability of your wheelbarrow. If you intend to carry out frequent heavy tasks, getting a durable metal wheelbarrow or 4-wheel garden cart would be the wiser investment choice.
The plastic wheelbarrows are more budget-friendly but have way less durability than the stainless steel barrows and are suitable for lighter duty jobs.
After ensuring the material is right for the intended tasks, make sure the all connections on the barrow are properly fixed to prevent it from falling apart.
Type of Terrain
The number and type of wheels would depend on the predominant terrain it is used. For instance, in a hilly terrain populated by sharp rocks, getting a non-pneumatic, multiple-wheeled barrow. In the same vein, pneumatic tires are best for carrying fragile loads as they have adequate mechanical shock absorption. Four-wheeled barrows (garden carts) are not suitable for very hilly terrains as they are affected by gravity and harder to maneuver.
Usability/ Maneuverability
I don't think anyone would want to spend their money on a product that is difficult to use or maneuver. If the primary use of the barrow is as a garden wheelbarrow, getting a single-wheeled barrow that offers the best maneuverability is the best option.
The 2-4 wheel wheelbarrows are slightly less maneuverable but they offer more balance and higher weight capacity. The best wheelbarrows are easy to use, and offer comfort features like proper handle length with rubber grips.
Conclusion
In an environment that involves transporting, loading and unloading items, especially heavyweight ones, a wheelbarrow becomes crucial. Whether it's your garden, a big home, or even work.
We've reviewed with you our top 5 picks of wheelbarrows, each with its advantages, disadvantages and recommended uses.
Our top pick of wheelbarrows is the Gorilla Carts Heavy-Duty Yard Poly Dump Cart. This is the wheelbarrow that we have and love.
It's a heavy-duty wheelbarrow that can bear very heavy loads and will be suitable whether you have lots of work in the garden, in the construction industry, or even simply live in a big place and just need to move around many items often!
If you're looking for a more budget-friendly option, the Marathon Dual-Wheel Residential Yard Rover Wheelbarrow is a good choice.
This wheelbarrow won't require you to make any extra power when pushing it as it's designed to be light, well-balanced and with a comfortable grip.