Hot tubs are a nice accessory for any homeowner to have in the back yard. While most people enjoy the idea of taking a soak in one, the inclusion of jets can make you wonder if there is any risk of using a hot tub.
Can hot tubs cause bruising? It's not impossible for a hot tub jet to leave a bruise under certain circumstances, but it isn't very likely. Most hot tub jets are perfectly placed and adjustable to prevent any discomfort or injury.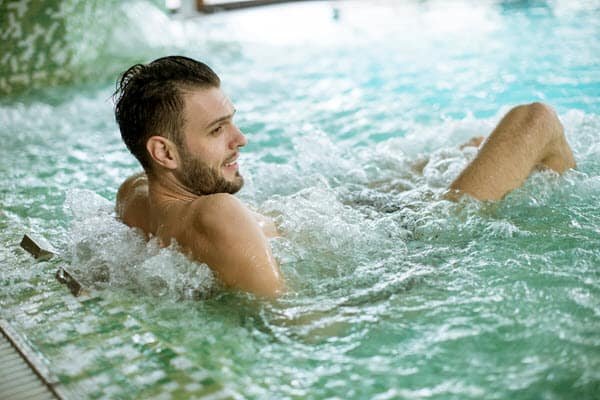 If you are concerned about getting a bruise from your hot tub jets, take a look below at some of the reasons this may occur. You can also find out about how hot tubs can provide more of a benefit to your health over time.
Why a Hot Tub Might Cause Bruising
The presence of jets in a hot tub can lead to curiosity about the likelihood of bruises occurring. If you have so much water pressure directed at one spot on your skin for an extended period of time, couldn't it leave a mark behind?
It's pretty unlikely that sitting in the hot tub will result in any bruising. The jets used in hot tubs are most often placed to help prevent or ease pain rather than risk causing it. That doesn't make it impossible, though. If you are experiencing bruising after your hot tub sessions, there could be a few reasons why.
Poorly Placed Jets
Sometimes, a hot tub manufacturer may be more focused on the number of jets they can possibly fit in the hot tub than where they are placed. Hot tub jets are a useful tool to help relax your body and your muscles, but only if they are utilized in the right way.
More jets doesn't necessarily mean a better product. The number of jets rarely makes a difference in the effectiveness of a hot tub. What is more important is where the jets are placed. If you have a jet putting pressure in the wrong place, or too many places at once, it could result in adverse effects such as bruising.
Lack of Adjustability
One of the most important features of a good hot tub is the level of adjustability included. This ensures that you have the ability to set how weak or strong the jets are depending on your needs.
Some of the lower end hot tubs out there won't offer you any kind of adjustability. You should be wary of hot tub manufacturers that boast about having the strongest jets available. Stronger jets are not a good thing for everyone.
If you are looking into purchasing a hot tub, you should absolutely find one that gives you the option to change how strong the jets are. It's essential to have the ability to turn the jets down if they are causing you discomfort. This will ensure you don't end up with any kind of bruising after your soaks.
Sensitive Skin
In some cases, the appearance of bruising after using a hot tub could simply be due to a person's biology. Some people bruise much easier than others or have sensitive skin that is more prone to irritation and injury.
Take into stock how easily you bruise before using a hot tub. If you find that the jets are causing you to bruise, you should limit the time you spend in the hot tub. Having a few extra minutes isn't worth subjecting your body to injury of any kind.
How a Hot Tub Can Help Heal Bruising
There is evidence to the fact that sitting in a hot tub after receiving a bruise can actually help to heal it faster. This is because of the way hot water helps to improve circulation, which in turn speeds up the healing process.
It's important to note that you shouldn't get in the hot tub immediately after bruising occurs. In the first 48-72 hours after getting a bruise, it is much more beneficial to apply ice or a cool compress to help contain swelling. Within the first few days, a hot tub could make any swelling and bruising worse.
Once this time has passed, however, a hot tub is a good way to get rid of the discoloration of a bruise much faster. While you're sitting in the hot tub your blood vessels will dilate which improves circulation. This increase in blood flow helps your body naturally heal the bruise quicker than it would on its own.
Health Benefits of Hot Tubs
On top of helping to heal your bruises, having a hot tub can offer other health benefits as well. Many hot tubs are manufactured for the purpose of giving you as many of these benefits as possible.
The Benefits of Hot Tub Use for Your Health:
Relieve Stress
Joint Pain Relief
Aid in Weight Loss
Better Sleep
Lower Blood Pressure
Because a hot tub uses a combination of hot water and air to massage and create buoyancy, it is an easy and effective way to expose your body to hydrotherapy. Having a hot tub in your back yard gives you the opportunity to regularly soak up any of these benefits and give your overall health a boost.
However while there are plenty of benefits from hot tubs, did you know they could also potentially cause dehydration?
Relieve Stress
Removing yourself from the everyday stresses of life is one way to positively impact your health. There are a dozen things that happen in your day-to-day life that may trigger stressful responses from your body. Everything from an email to traffic can make you tense.
Relaxation is an important factor in being as healthy as possible. Even spending 15 minutes a day sitting in your hot tub can impact your stress levels. Including relaxing music, aromatherapy, or even meditation can make taking your mind off of daily stresses even easier.
Joint Pain Relief
The combination of hot water and pressure applied to certain points on the body make for an effective combatant to joint pain. Sitting in the hot tub can help to reduce the stress placed on your joints and increase joint movement, easing any discomfort you may be feeling.
Those who suffer from arthritis find great relief from the use of a hot tub. The heat and jets can not only relieve the pain but also reduce stiffness and swelling that come along with it. Sitting in the hot tub promotes a more active lifestyle, as the decrease in discomfort makes it easier for anyone with arthritis to get moving.
Aid in Weight Loss
Physical pain and discomfort is a deterrent for most people in being active. The more weight added to your body, the more discomfort you are likely to feel from the stress added to joints and muscles. The more pain you feel, the less you feel like living an active lifestyle.
As well as relieving discomfort and making it easier to get the exercise needed, hot tubs also mimic the effects of mild aerobic exercise by raising your heart rate. This makes it much easier for you to transition to more traditional activities outside of the water.
Better Sleep
Poor sleeping habits can have extremely adverse effects on your health. Insomnia and restless legs, as well as lifestyle choices, can contribute to getting less sleep than is necessary for your body to function in a healthy way.
Soaking in the hot tub can help you sleep more soundly. Spending a short amount of time in your hot tub every night around the same time can help reset your internal clock and let your body know it's time to sleep. Hot tubs can also be used to ease restless legs before you sleep so they don't keep you up at night.
Lower Blood Pressure
Hot tubs are extremely beneficial to the cardiovascular system as a whole. The combination of hot water, massaging jets, and steam help to trigger responses inside your body that may lower your high blood pressure.
Immersing yourself in hot water makes your blood vessels dilate, giving the blood an easier passage to travel through. Hot tubs also increase your heart rate to an extent, which gets your blood moving better throughout your body.
Hot Tubs Are Made with Your Body in Mind
You shouldn't worry yourself too much about the possibility of bruising because of your hot tub jets. If you do your research and even test out a hot tub before buying, there is a very low possibility that you will end up with any sort of injury from the jets.
The most common reason your hot tub is causing you bruising is that the jets are too strong and there are too many of them. If you are trying to save money on your hot tub you could miss out on the ability to adjust the strength of the jets. When you start considering hot tubs, it is crucial to get one that gives you this kind of control.
Overall, hot tubs are more of a benefit to your health than they are a risk. They can even help heal injuries more quickly when used as intended. Just make sure you use it as directed and don't stay in for too long!