Today's backyard living spaces can range from comfortable seating around a fire pit to full-service outdoor kitchen and dining areas. More people are spending time at home with family, and our backyards require more functionality and protection from the elements. If you are decorating your patio or deck, you may wonder can outdoor rugs get wet and still be perfectly fine.
The answer is, it depends on the type of rug you buy, the material it is made of, and how much rain exposure you expect. Continue reading to learn all about where to place outdoor rugs, how to maintain them, and how to tell if your outdoor rug has been damaged by mold or mildew.
Why consider an outdoor rug?
The right outdoor rug color and pattern can be an inexpensive way to spruce up your back patio, deck, or a grassy area that you use for lounging. Or, maybe you've improved your backyard by adding a new deck and are looking for the perfect decorations to give the area some personality.
An outdoor rug can function as both! A soft surface for bare feet and as part of your overall backyard decor. No question about it, a rug offers a softness that mates well with the hard surfaces in a backyard – either wood, stone, or brick surfaces. These rugs, when specified for outdoor use, are made to handle a certain amount of moisture and are easy to clean.
You should consider an outdoor for your lounge seating area, your outdoor dining area, or an outdoor rug runner to lay a dirt-free path for traffic through a breezeway. You can truly create a personalized atmosphere and add visual excitement when you choose to put an outdoor rug in your backyard.
Choosing the right outdoor rug
Aside from the outdoor rug's detail, size, pattern, and color, the main consideration is the actual material You will have many choices that include natural fibers, synthetic textiles, and engineered materials.
Natural fiber outdoor rugs
Natural fibers are a good choice because these rugs are made from materials that existed outdoors. These include sisal, jute, seagrass, and bamboo. You may notice that cotton and wool rugs, which are also natural fibers, are not in this list. That's because both of these materials should only be used for indoor rugs.
Cotton is extremely absorbent and will warp and literally fall apart when exposed to rain water. If wool rugs are exposed to water for a long time, they will shrink, develop mildew, rot, and be completely destroyed.
The natural materials that you will find outdoor rugs constructed of are highly textured. Especially the bamboo and seagrass rugs. In other words, these are not the softest rugs underneath bare feet. If you're looking for a great natural rug with more softness, then choose jute or sisal. Depending on the weave, they will have a texture similar to a soft wool.
Natural rugs are absolutely beautiful and will add a warm and organic look to your outdoor furnishing style. The softer outdoor rugs made of sisal or jute are less durable. Bamboo and seagrass are actually great options that can take the punishment from outdoor gatherings without losing their great, natural look.
Can outdoor rugs get wet? – Natural fibers
Natural fiber outdoor rugs, especially those made of jute or sisal, are best for covered outdoor areas like a breezeway, porch, an all-seasons room, or a covered deck. They can certainly handle some moisture and even a rain shower, but remember that all natural fiber rugs, when exposed to moisture, are prone to mildew. Mildew will eventually cause the rug to discolor, smell bad and decompose.
The best outdoor rugs for poolside or exposed backyard areas are synthetic material rugs made specifically for the outdoors.
Outdoor rugs made of synthetics
The most durable outdoor rugs are made of synthetic fibers and engineered materials like polypropylene, nylon, olefin, and polyester. These rugs are virtually indestructible and, depending on the quality of workmanship, can offer many years of useful service.
Nylon outdoor rugs are the most expensive and the most durable, making nylon outdoor rugs the preferred choice for high traffic areas. Be careful of spills when it comes to nylon – better yet, apply a stain protectant on nylon rugs before using outdoors.
Polyester and polypropylene rugs are extremely durable and can take just about anything your family and friends can dish out when it comes to outdoor rugs. Not only are these rugs offered in a wide range of beautiful patterns, they are affordable and will repel stains.
Olefin outdoor rugs are softer than their polyester counterparts, while still holding up well to spills and dropped foods. Olefin rugs are mildew-resistant and fade-resistant rugs that are moderately priced.
Can outdoor rugs get wet? – Synthetic materials
Most synthetic materials are tightly woven with materials that do not absorb water. They can certainly stand a spring show or light summer rain. After a heavy rain, synthetic outdoor rugs should be given a chance to sun dry on both sides.
More importantly, you may want to move the rug so that the floor area underneath dries completely, because mold can colonize underneath a rug that is on top of a wet surface for a prolonged period of time.
As you can see from the pic below, the part of our rug that was partially under our patio roof didn't get enough sun to dry and got moldy. Luckily, since it was a synthetic material, we were about to clean it up fairly easy.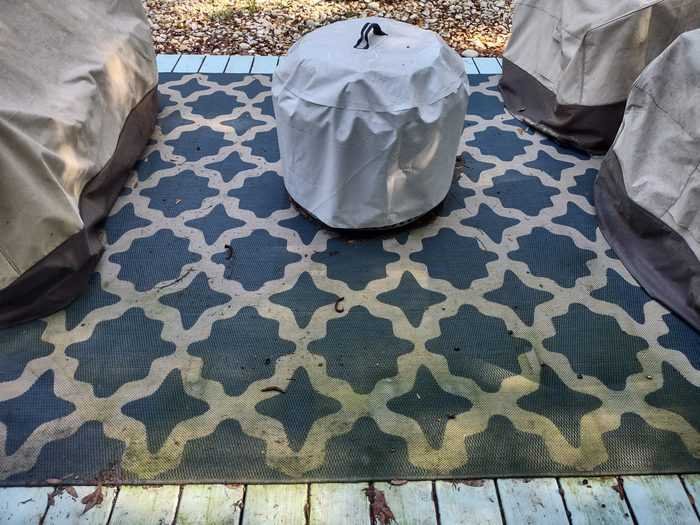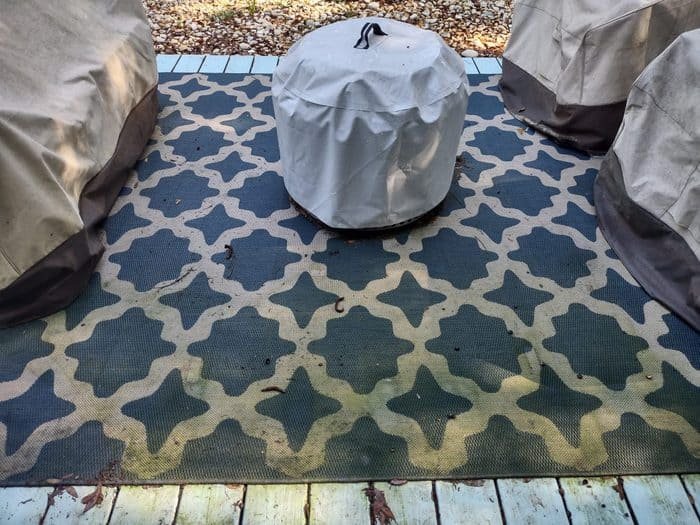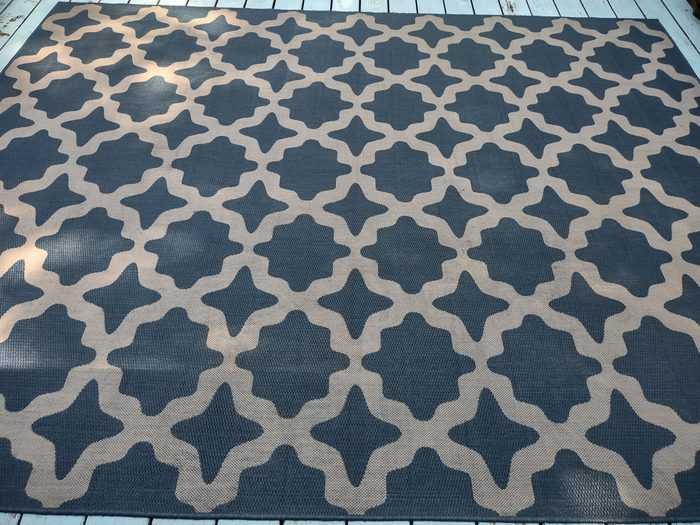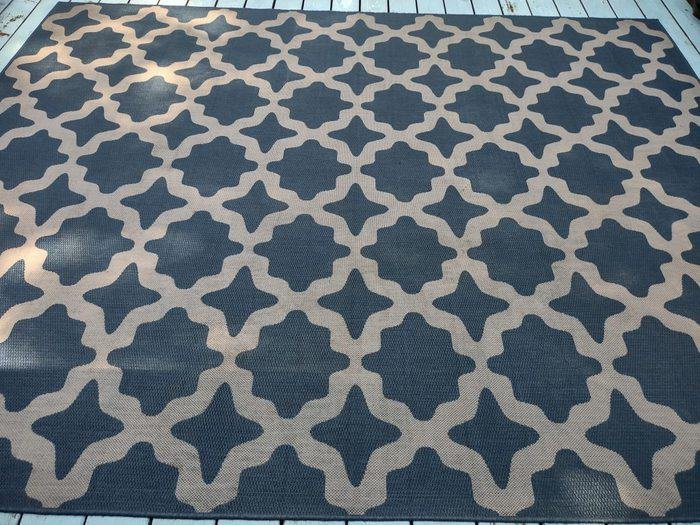 Choose an outdoor rug made of synthetic fibers if your climate is very wet or humid or if you feel the area will be subjected to heavy foot traffic. We live in Florida where it's very humid and at times very wet, so a synthetic material rug was our only choice for an outdoor rug exposed to the elements.
How to care for your outdoor rugs
There are ways to keep your outdoor rugs looking beautiful for many seasons. Start by immediately cleaning up any food or beverage spills and do a spot treatment if there is any chance of staining. Only use cleaning products made for your rug material, and preferably a product that does not have harsh chemicals.
Also, regularly shake out smaller rugs and vacuum larger area rugs on a regular basis. This could be every week or every month, depending on how often your family eat and drink in that area or how much dust and dirt circulates around your home. It is also a good idea to hose down your outdoor rug at least once per month to remove dust, dirt, and grime.
Before the next spring and summer season arrives, have your natural fiber rug professionally cleaned. This is also true for higher-priced, synthetic outdoor rugs that are an investment. For synthetic rugs, you can scrub the rug with a weak bleach and dish soap solution for solid colored rugs or vinegar-and-water to protect brightly colored rugs.
The best way to maintain your outdoor rug is to keep it dry. After heavy rain or mornings with heavy dew, allow the rug to dry completely on one side – then flip it and move it to another area so both the bottom of the rug and the ground surface can also dry out.
After the end of the entertaining season, roll your outdoor rug up and store it in a dry place that is not exposed to the sun to prevent the rug from fading.
When to discard an outdoor rug
You want to replace your outdoor rug if it has become so soiled or faded that it no longer brings beauty to your outdoor area. While synthetic outdoor rugs typically do not get mold, the ground underneath can if it is allowed to remain wet for long periods of time or if you live in a high humidity climate.
You can tell if the rug is harboring mold, mildew, or algae needs to be discarded or professionally cleaned if you see circular patterns of brown, green or black stains on the carpet.
If the rug has a pungent, musty, or sour smell, then this can also be a sign of mold and/or mildew growth. Children, pets, and those with allergies can be negatively affected by these allergens, so seriously consider either discarding the rug or having it professionally cleaned before using it again.
Outdoor rugs can be purchased at very reasonable prices. And, since they will be exposed to foot traffic, food spills, rain, sun, pests, and biological agents like mold and mildew – it is good to know when to replace them for a new outdoor rug or have it cleaned and sanitized each season.
Be sure to checkout are articles were we compare on contrast sunbrella fabric to perennial fabric and bella dura fabric!