Hot tubs can hold anywhere from hundreds to over 1,000 gallons of water. Recycling that water in your yard or garden is much more attractive than simply draining it away, especially in places where water can be hard to come by.
Should you water plants with hot tub water? You can water your plants using your hot tub water with certain criteria. Certain plants are better to use hot tub water on than others and you should always test the water for the presence of chemicals before using it on your plants.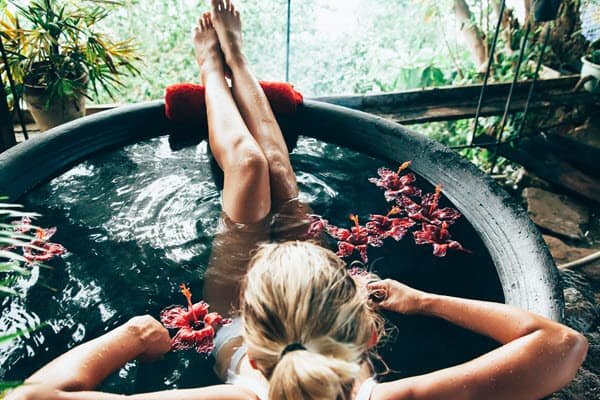 Read below to find out how to best recycle your hot tub water for your plants as well as some other ways you can use it when it comes time for draining.
Watering Plants with Hot Tub Water
Hot tub water falls under the category of gray water, which is water that has been used and is no longer in its natural, pristine condition. That being said, it's still perfectly okay to use hot tub water on your plants.
Using the water from your hot tub can be as easy as planting shrubs and flowers you like in the path of where the water will naturally drain. You can also fill a large bucket with some of the hot tub water to refill your watering can whenever necessary.
While hot tub water is perfectly acceptable to use on plants, you shouldn't use it to water your vegetable garden. It's never a good idea to use something like hot tub water on anything you may be eating later on.
Before you start watering your plants with recycled hot tub water, it's important to test the chemical levels to ensure it is safe for them. Correcting the chemicals to get them to the right levels won't take you more than a day or two.
Testing Your Hot Tub Water
You will need to test the chemical levels in your hot tub water depending on the type of system you use for upkeep. If the levels are too high then the water could damage your plants instead of helping them thrive, so it's important to be sure before you dump it into your garden.
If you use a salt system to sanitize your hot tub, it's best to avoid using the water on any plants. Even if you try to balance out the salt level, there will still be salt present in the water that could build up in the soil over time. Saltwater isn't good for most plants. It's best to just drain it away using the appropriate method.
What to Test:
Chlorine
Bromine
pH
Temperature
Chlorine
High levels of chlorine are not safe for your plants and it needs to be tested before you use the water. Chlorine evaporates fairly quickly when you give it the chance. It should take no more than 2 days for it to dissipate completely.
Do not use or treat your hot tub at least 24 hours before you plan to drain it. This should give the chlorine plenty of time to evaporate on its own. Use a chlorine test strip to check the level. When it reaches below 1.5 ppm it is safe to use on your plants.
If the chlorine levels aren't low enough after a day of sitting on its own, open the lid and turn the jets on high. This should remove the remaining chlorine and bring the water to a safe level.
You can use your hot tub water on your plants even if you're not draining it any time soon. Simply scoop out some water with a 5-gallon bucket and leave it to sit overnight before using it. After that amount of time, the chlorine levels should be appropriate for your plants.
If you're not wanting to use chlorine, be sure to check out our article were we provide some alternatives that do just a good of a job.
Bromine
Bromine isn't generally harmful to plants. Even so, you want to make sure that the level of bromine in your hot tub water is below the recommended range for regular spa level, which is 2.0 to 4.0 ppm. You can use a bromine test strip if you want a more exact reading.
pH
Before using your hot tub water to water your plants, you should test the pH balance to make sure it is in the neutral zone. It should test from 7.2 to 7.4 on the pH scale. You can test the pH level of your hot tub using a simple pH test strip.
If the balance is off, you can add sodium bisulfate to lower the pH level or sodium carbonate to raise the pH level. If the pH balance of your hot tub water is too low or too high it could cause harm to your plants.
Temperature
Hot tub water is meant to be hot, but using it straight on your plants can damage them. You should let your hot tub water cool before watering your plants with it to ensure it is good for them. The water should be around 68° before you use it. Letting it cool overnight gives it plenty of time to get it to the perfect temperature.
Plants That Do Well with Hot Tub Water
Some plants thrive more when watered with recycled water like what is found in your hot tub. You can plant some of these around your hot tub or where the water will be drained for an extra touch of landscaping.
Best Plants to Water With Hot Tub Water:
Aloe
Deer Grass
Evergreen Euonymus
Ice Blue Star Plant
Juniper
Marigold
Oleander
Olive Tree
Rosemary
Texas Ranger
If you are unsure whether your lawn or certain plants will react well to the hot tub water, only use a little bit at first and wait to see what happens. Testing the water this way will prevent any major damage to your plants.
Other Ways to Recycle Hot Tub Water
Recycling water is a great way to cut back on the amount of fresh water used in your household. In areas where being water conscious is essential, the hot tub is a great source of water to tap into whenever you need it.
Wash Your Car – Using a submersible pump connected to a water hose, you can direct your old hot tub water to your driveway to give your cars a good wash. You can even go old school with a good bucket and some sponges.
Wash Outdoor Equipment – If your patio furniture or lawnmower have seen better days, you can use your hot tub water to bring them new life. Grills, trash cans, and even the outside of your home could be washed with the recycled water.
Drain hot tub water in Pool – Larger pools are more than capable of taking in a hot tub's worth of water without any trouble. You can also use it to fill a smaller pool for your furry friends to cool off in.
When You Should Change Your Hot Tub Water
Before draining your hot tub anywhere it's important that you look up the regulations in your specific area for doing so. The laws on draining hot tubs vary from place to place and it's better to be safe than sorry.
It is recommended that you change your hot tub water every 3-4 months. Some people insist you shouldn't go longer than 2 months without changing the water so that it is drained and refilled an even 6 times a year.
Signs the Water Needs to Be Changed:
The water is cloudy, no matter how many times you clean your hot tub filter or shock it.
Foam forms on the water and won't clear away.
Your hot tub has started to smell funky.
While there are ways to extend the life of your hot tub water, such as showering before you soak and filtering it for longer, you should still change your water at least every 4 months.
Hot Tubs Can Be Used for More Than Relaxation
If the thought of conserving water takes some stress off of you, then your hot tub can work double duty. Even when you're not relaxing in it, you can recycle the massive amount of water it uses for other purposes around your house.
Watering plants using hot tub water is a great way to reuse it. Always keep in mind the chemical levels that need to be checked before dumping hot tub water in your garden. And never use hot tub water on your vegetables. With so much water on hand, you won't ever have to worry about your plants going thirsty.