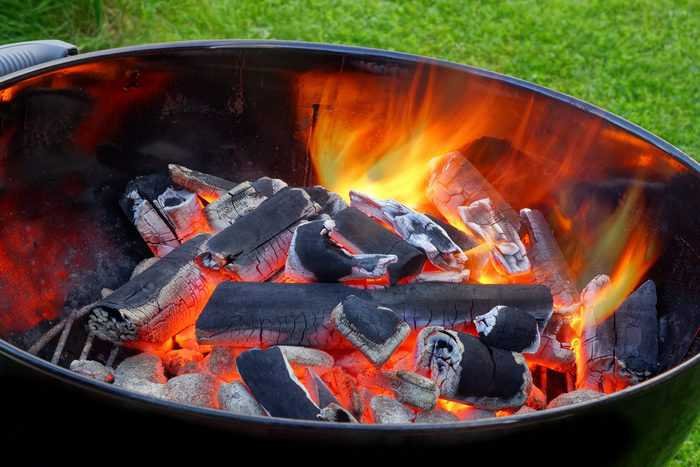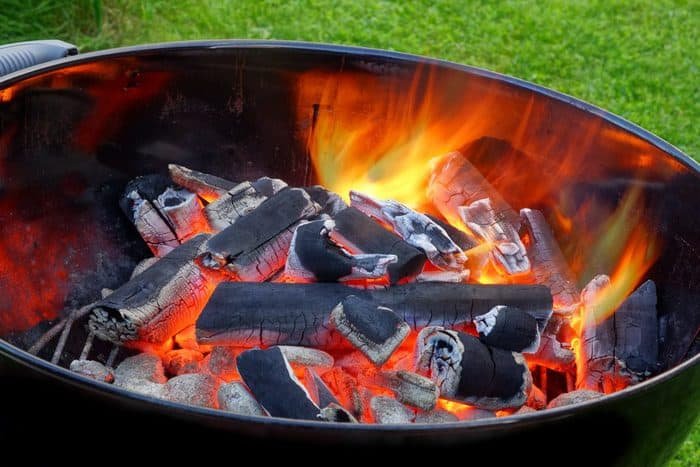 After working hard on your backyard all Saturday morning, you're probably ready to fire up the grill, enjoy a cold one and enjoy a well deserved meal. Having a great charcoal barbeque grill will enhance your grilling experience.
Charcoal barbeque grills are the most basic type of BBQ grills, only needing charcoal as a fuel source. You don't need propane or electric for the grill to work which makes using them anywhere possible.
All charcoal grills have primary cooking features. A bottom grate to hold charcoal, wood or other fuel source and a top grate to hold your food. There will also be vents placed around the grill to help retain your preferred cooking temperature.
We enjoy charcoal grilling the most out of all the other types grills and have used many of the type of grills below. We'll discuss the various types of charcoal barbeque grills and which ones we recommend that have the best customer satisfaction.
Types of Charcoal Grills
To help you make the best decision on which grill to buy, it makes sense to describe the different types of charcoal grills. How you plan on using your charcoal grill will help determine which type of grill works best in your situation.
Kettle Grills
This style of grill is found in a lot of homes around the country. It's your standard round metal grill, with a separate top and bottom on legs with bottom and top grate with vents to control the heat. This style has been around since the 1950s and still remains popular due to it's simplistic design and effective heat distribution for even grilling.
This grill is great for feeding up to six people and works best when you have a smaller backyard. Here's some of the most popular Kettle style grills.
The Weber Kettle Grill is the epitome of traditional kettle charcoal grill. It has a lid-mounted temperature gauge that helps you to monitor the temperature inside your grill. It also includes a large size rust proof damper that opens to allow heat release and closes to increase cooking temperature.
Char-Broil Charcoal Barbecue Grill can fit 13 burgers with a 363 square inch cooking area. The steel grate is hinged allowing you to add charcoal without disturbing the food. The porcelain enameled lid has a hook to easily hang on the side of the grill, keeping it off the ground. It also has a small shield so you don't burn your hand, which is a very nice feature.
This charcoal grill model makes cleaning a snap with a high capacity ash catcher built-in the grill bottom that's easily removed for quick disposal. You can move the grill around your backyard easily with the steel legs and durable wheels.
| Pros | Cons |
| --- | --- |
| Easy movement and storage | Small cooking area |
| Steel legs for stability | No handle |
| Accessible ash collection and disposal | |
| Rust-resistant grill crate | |
| Lid-mounted gauge for comfortable temperature follow up and regulation | |
Barrel Grill
A Barrel Grill in it's most simplistic form is a 55 gallon barrel split into two with legs installed on the bottom. Newer Barrel grills may not be as large as a 55 gallon barrel but it still looks the same. These type of grills work in the same manner as the Kettle grills but hold a lot more food to feed a larger crowd.
These grills are great for backyard parties and if you plan on feeding a lot of people on a regular basis. Many barrel grills also double as smokers with a smaller offset barrel to hold the wood. They come on a cart with legs and wheels to move around easy and side tables for easier food prep.
If you want a large cooking space with total control over your cooking processes, then the Char-Griller Outlaw Charcoal Grill is the grill for you. It has a total of 950 square inch cooking capacity with 725 sq. inch large primary grilling grate and 225 sq. inch warming rack. This grill can cook up to 38 burgers at once to feed a huge backyard party.
Despite the broad area of this grill, it ensures a proper airflow with specialized air vents and adjustable height fire grate. Char-Griller Outlaw Charcoal Grill made of powder coated heavy duty steel includes a heavy-duty lid that consists of a professional thermometer for accurate temperature readings and handle for easy lifting.
| Pros | Cons |
| --- | --- |
| Relatively affordable | Possibility of box flaking |
| Heat–resistant buildup | You might need large space for its use and storage |
| Large working and storage areas | |
| Very easy to clean up | |
| Easy to read temperature gauge | |
Ceramic "Kamado" Grill
These type of cookers have been around for close to 3000 years in Asia. Ceramic style grills retain heat better than metal grills. They also will last a lifetime if properly cared for since you won't have to worry about rusting as you do with metal grills. They have more of an egg shape with the bottom being longer and bigger than the top that opens.
Since they retain heat better, they are well suited for smoking meats for long periods of time. They are well suited to use charcoal or wood depending on what you're cooking and come with different vents to control the heat. They are some of the best grills you can buy on the market today for grilling and smoking.
The biggest drawbacks are price and weight. They are usually well over the $1000 range or more depending on the size and features. They also weight significantly more than a metal grill, which makes them difficult to move around.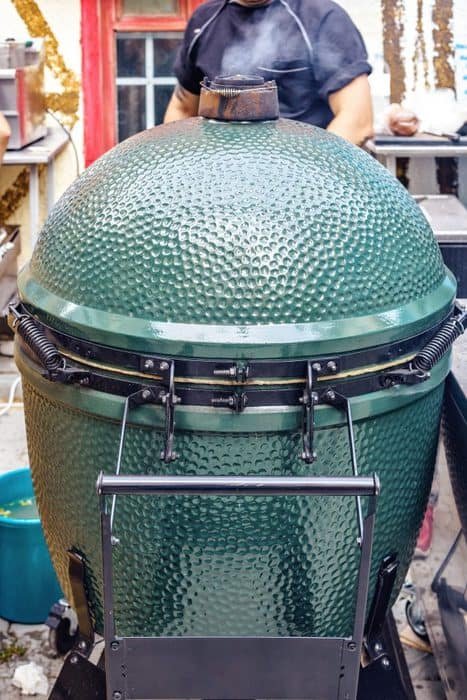 The Big Green Egg is what everyone thinks of when you say Kamado or Ceramic Grill. It is the original and still the best ceramic grill you can purchase. This is a grill that can be handed down several generations due to its quality ceramic build and comes with a limited lifetime warranty.
This is the grill to buy if you want to grill, smoke and even use as brick oven for pizza. The ceramic properties allow this grill to be lit in minutes, similar to a gas grill, and control consistent temperatures with its patented airflow systems. It even works well in the coldest outdoor temperatures due to it's heat retention capabilities, making grilling in the winter possible.
The large egg is the most popular size capable of holding up to 8 steaks or 12 burgers at once. It has a cooking area of 262 square inches and weighs 162 lbs. There are 7 different sized eggs with a plethora of accessories to buy for each giving you maximum options for your particular grilling needs.
This grill does it all and does it all better than the rest. If you want a maintenance free grill to cook a wide variety of foods, you can't go wrong with this grill. To get this premium versatility, you will take a big hit in your wallet as this is one of the highest priced grills on the market.
| Pros | Cons |
| --- | --- |
| Solid ceramic body construction | Very expensive |
| Best heat retention | Weight |
| Limited lifetime warranty | |
| Grills, Smokes and can use as brick oven for pizza | |
Portable Charcoal Grills
Smaller, portable charcoal grills are great for camping or tailgating at the big game. These grills are lightweight and compact which makes them easy to transport from place to place. They can come in round or rectangle shapes and some even fold up making storage a breeze.
Most all have the same type of grilling features with a lower grate to hold charcoal and a top grate to hold your food. We'll showcase our favorite below.
Weber Smokey Joe is one of the most portable charcoal grills you will come across. Built with a cast aluminum lid, rust-proof vent, and porcelain enameled metal body, this weber charcoal grill is perfect for picnics or grilling on the beach.
Despite its portability, this Smokey Joe grill didn't leave out elements that promote its ease of use. It has a carrying handle to make transport easy but also has a Tuck-N-Carry lid that allows you to store the lid on the side of the grill rather than placing the top on the ground.
Weber Smokey Joe is built to last with its rust-resistant aluminum dampers. The dampers allow easy control of the temperature inside the grill. This feature enables you to optimize the temperature to suit specific cooking and grilling needs.
The setup of this model is relatively easy. Aside from the fact that it comes with an installation manual, it also comes almost entirely pre-assembled.
| Pros | Cons |
| --- | --- |
| Portable and lightweight | Small cooking surface |
| Easy temperature control | The enamel coating can get flaky after extended use |
| Suitable for minimal space | higher cost than other portable grills |
| Tuck-N-Carry lids | |
One of the top features of this charcoal grill is its adjustability. Esbit Portable Folding Charcoal BBQ Grill has adjustable height features that allow you to adjust the model up to three levels to suit specific applications.
The stainless-steel construction of the Esbit Portable Folding Charcoal BBQ Grill ensures its long-term durability and allows extensive use. It has a removable handle for easy carriage and easy storage. It also comes with a nylon carry bag with a convenient shoulder strap to make carrying it around easier.
Esbit Portable Folding Charcoal BBQ Grill uses both wood and charcoal which allows flexibility in its energy source. The three adjustable heights also regulate the heat; thus, influencing the diversity of the type of food it can make.
The buildup of this charcoal grill includes four corner stands for stability. You can also fold the model when not in use for easy storage and carriage.
| Pros | Cons |
| --- | --- |
| 3-level height adjustment options | Exposed coal can radiate heat |
| Foldable and portable | No cover |
| Can use wood and charcoal for grilling | |
| Lightweight and comes with a carrying bag | |
| Removable handle | |
Weber Go Anywhere Charcoal Grill is a great grill to take camping with its lockable top and bottom. The locking feature slides over the top and also doubles as legs. Attached carrying handles conveniently placed on each side and top make transport easy.
The grilling area is about 160sq. inch that offers enough space to hold 6 burgers. It has two ventilation holes on the top to ensure proper air circulation throughout the grill. Made out of porcelain enameled steel to prevent rusting and peeling.
This grill conveniently fits inside a car trunk or an RV outdoor storage compartment. We used a similar model when we were RVing. We loved the ability to close everything up to make storage mess free inside our RV compartment.
| Pros | Cons |
| --- | --- |
| It is very affordable | No temperature monitoring feature |
| Compact and portable with locking lid | |
| Lightweight and large grilling surface | |
| Heat resistance buildup | |
| Easy setup | |
Frequently Asked Questions
Best way to light a charcoal grill?
We wrote an entire article showcasing how to light charcoal, but in summary, a chimney starter is the easiest and fastest way to light a charcoal grill.
What's good on a charcoal grill?
The right charcoal grill can be suitable for fast grilled foods and slower smoked foods. Foods like BBQ pulled pork, hot dogs, smoked baby back ribs, Grilled chicken, smoked turkey, pork chops, as of course burgers.
How long do you let the charcoal burn before cooking?
The time required for charcoal to burn before cooking starts varies. It depends on the type of charcoal and its purpose. On average, it takes about 10 to 15 minutes for the charcoal to reach its peak temperature.
Do I close the lid after lighting charcoal?
No! it is not compulsory to close the lid of charcoal grills after lighting. Some charcoal grills don't even come with covers, and charcoal needs proper air circulation to sustain burning.
How do you keep a charcoal fire going?
All you need to keep a charcoal fire going is oxygen, which comes from proper air circulation. You might also need to add extra charcoal if some are already burning out.
How long does a charcoal fire last?
The duration of a charcoal fire varies with the type of charcoal, burning temperature, and quality of material your grill is made from to retain heat.
Can you add more charcoal to hot coals?
Adding more charcoal to already burning coal is the easiest way to keep the coal burning.
Conclusion
Charcoal barbeque grills are suitable for a variety of outdoor cooking needs. We've showcased several different types of charcoal grills to help you decide which works best for you. Regardless of which one you choose, you'll create many memories enjoying the time honored tradition of cooking food over fire.
Choosing the right charcoal barbeque grill should be based on where you're cooking, what you're cooking and how much you're cooking to make your experience even more enjoyable.
If you're researching other ways to cook in your backyard, check our Top Charcoal Smokers and Top Gas Grills.