If you live in a rural area or any region heavily populated with deer, chances are great that you have trouble growing some of your favorite plants. Deer will try to eat just about any plant they can find. So, what are some deer-resistant perennials?
There are several options of deer-resistant perennials that you can find. Whether the defense mechanism consists of thorns, toxins, or simply a bad taste for deer, you should have no trouble finding deer-resistant perennials to plant in your backyard.
Continue reading to learn more about deer-resistant perennials. There is a vast selection to choose from, depending on the style of plant you are looking for. Based on foliage, flowers, and color, finding a deer-resistant perennial that you like is just as easy as looking for any other plant.
What Are Deer-Resistant Perennials?
Deer-resistant perennials consist of any perennial equipped with defense mechanisms to keep deer away. It can be difficult to prevent deer from getting into your backyard on your own, but if you have deer-resistant perennials, it makes the struggle much easier. Examples of defense mechanisms include:
Spiky foliage or flowers
Fuzzy foliage or flowers
Poison or more minor toxins
Foul odor
Bad taste
Below are some of the best deer-resistant perennials you will be able to find. Enhancing the look of your backyard is essential to maintaining a unique aesthetic for your yard, but if you struggle with deer grazing on more than just your lawn, you might choose to buy and plant deer-resistant perennials.
As mentioned above, there are so many options to choose from. No matter what look you are trying to give your backyard , there is a high likelihood that you will be able to find the perfect deer-resistant perennial to last for years in your backyard.
Kniphofia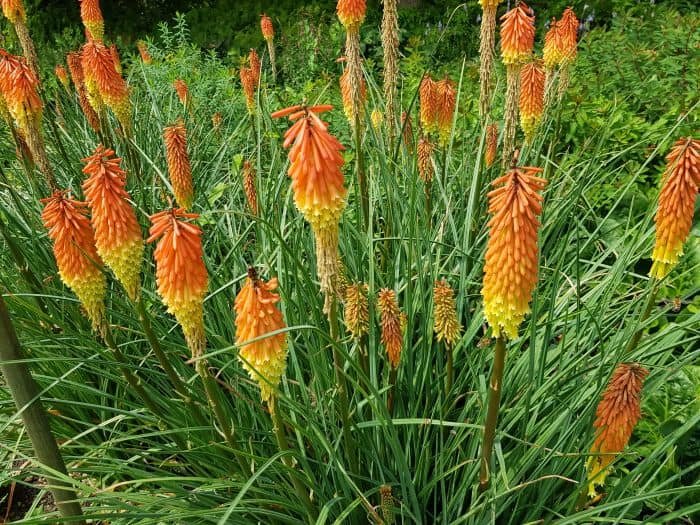 Also known as Red Hot Poker, Kniphofia is one of the most unique-looking of any perennial, deer-resistant or not. The stems of the Kniphofia plant perennial consist of long, thin foliage, but the flowers produced are what make it so capable of resisting deer. The beautiful yellow and red buds are pleasing enough to one's eye, but they are also quite spiky, making it difficult for deer to make a meal of them. They grow well in hardiness zone 6-9.
Lavandula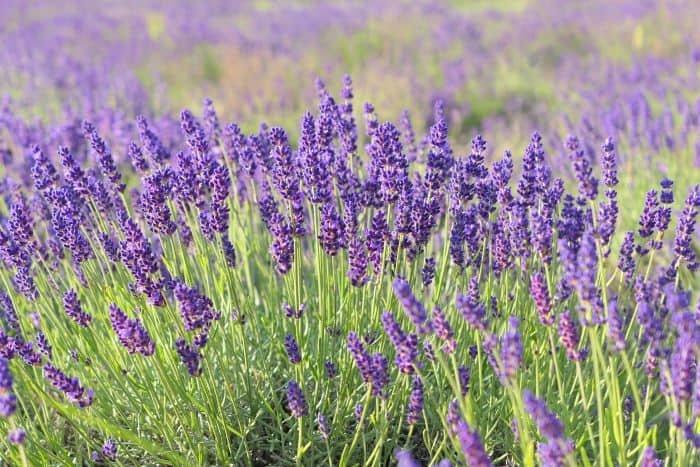 The Lavandula – or Lavender – plant, is extremely popular among countless gardeners and grow well in hardiness zone 5-9. The sweet smell of the eye-catching purple flowers is incomparable to most other plants. At first glance, it may seem that Lavandula is the perfect choice for deer, considering its low-ground growth and perfect, small petals. However, that smell that people love so much is actually unappetizing to deer. It makes Lavandula too pungent, ensuring that deer will stay away from the perennial.
Abelia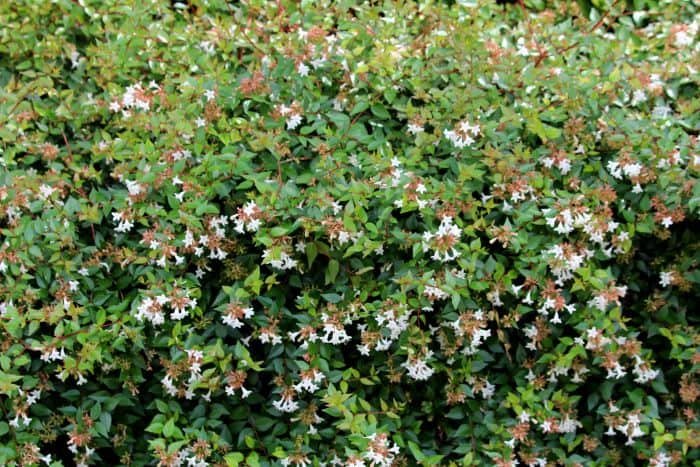 The Abelia perennial is a great choice for a plant with deer resistance and an appealing look. This bush-like plant grows well in hardiness zone 6-9 but can grow to be quite large in warmer climates, making the white, red, and pink flowers stand out in your backyard. While Abelia perennials are not toxic to deer, deer tend to always steer clear of the flowers. Chances are that they simply do not like the taste. In any case, Abelia can also be helpful if it grows big enough. It can act as a barrier to prevent deer from getting into other plants in your backyard.
Aconitum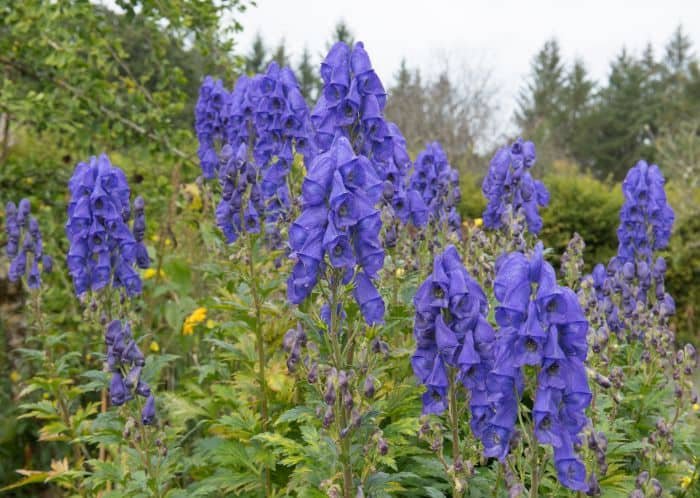 Perhaps better known as Monkshood, the Aconitum perennial is perfect for planting in patches around your backyard. Typically staying under 12 inches, the stems of Aconitum bloom exquisite-looking purple-white flowers. While this perennial is a sight for sore eyes, its flowers are poisonous even for humans. As a result, deer know to stay away from Aconitum. This perennial grows well in hardiness zones 4-8.
Spurge
The Spurge perennial is a member of the highly varietal Euphorbia genus and lives in hardiness zones 5-11. Spurge, in particular, is itself quite unique. When grown to its potential, this bush-like plant sprouts gorgeous yellow flowers. However, the sap that leaks from the flowers is at least irritable – and oftentimes poisonous – to deer.
Delphinium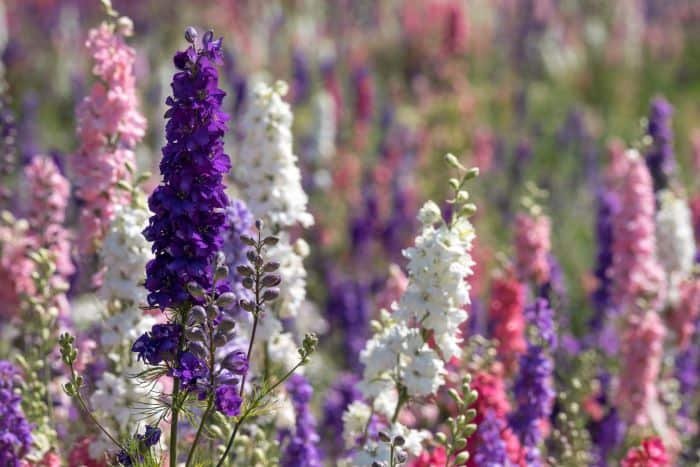 If you take care of your Delphinium perennials, you can help nurture some of the most exotic-looking flowers one can find. The multicolor bloom perennials can live in hardiness zones 3-7. These dark-blue petals are an excellent accent to spruce up your yard. Additionally, they contain toxins that keep deer away, making for a beautiful addition to your yard.
Brunnera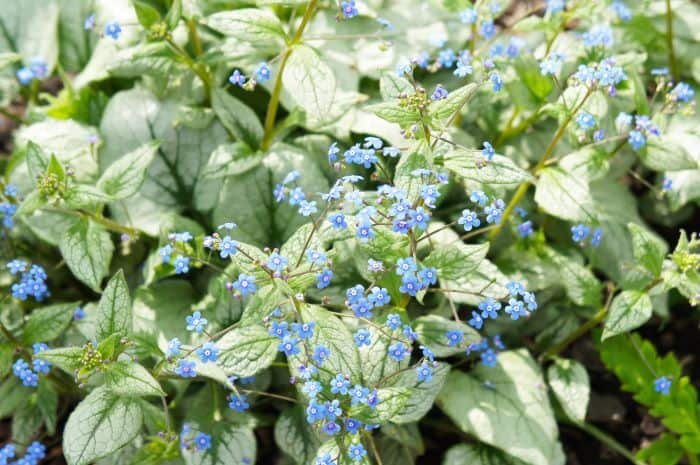 The Jack Frost Brunnera is a beautiful, heavy-foliage perennial. While it can bloom small flowers, the main attraction is the silver-green leaves that cloud together and illuminate your backyard. Luckily, the textures of the leaves are not favored by deer, so Brunnera is a great choice for your backyard. Brunnera grows well in hardiness zone 3-8.
Fern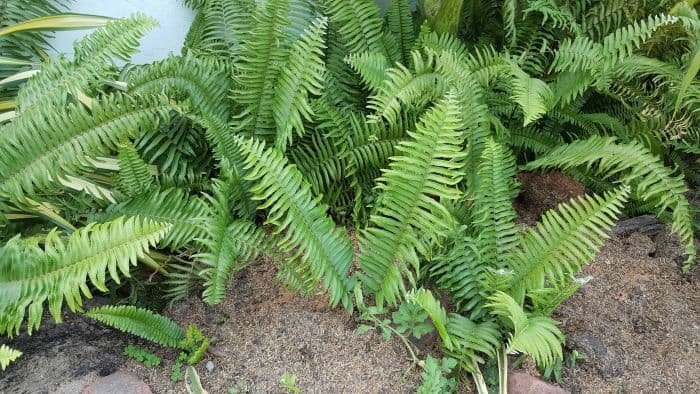 Theoretically, any type of fern you find is going to suffice against deer. The foliage of ferns is typically spiky enough to act as a defense mechanism to hungry deer. Plus, ferns are a great way to add to your backyard with low-maintenance qualities and stems that cover a good amount of ground. If you are looking to have low-lying, expanding, deer-resistant perennials, ferns are the way to go. With so many different varieties of ferns to choose from, they can grow from Zone 2 through Zone 10.
Artemisia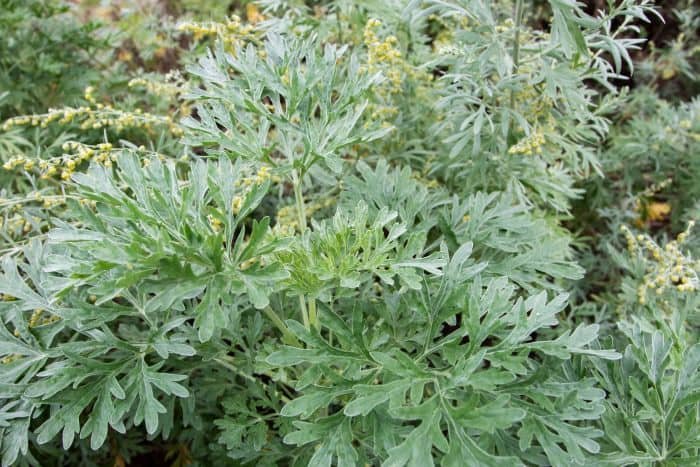 Artemisia perennial is another genus of plant that contains hundreds of options in and of itself and can grow from hardiness zone 4-9. Deer tend to go for softer, easily accessible foliage and flowers. While Artemisia is fuzzy, the prickly components are oftentimes too spiky for deer. Plus, while you can benefit from deer staying away, Artemisia is quite a unique-looking perennial. Its silver-green foliage can help give your backyard a more luxurious appearance.
Yarrow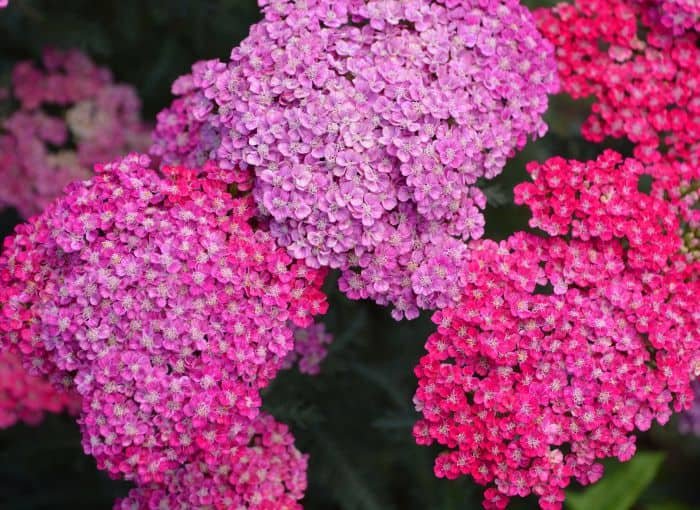 The Yarrow perennial is a tall, skinny plant that produces clusters of yellow, red, orange, and magenta flowers. Almost resembling sunflowers but with much smaller petals, Yarrow is a great plant to add to your backyard. Its deer resistance comes from its pungent smell. This also makes Yarrow good for lining your backyard and creating a deer-resistant barrier. Yarrow prefers colder climates and grows well in hardiness zones 3-7.
Aloe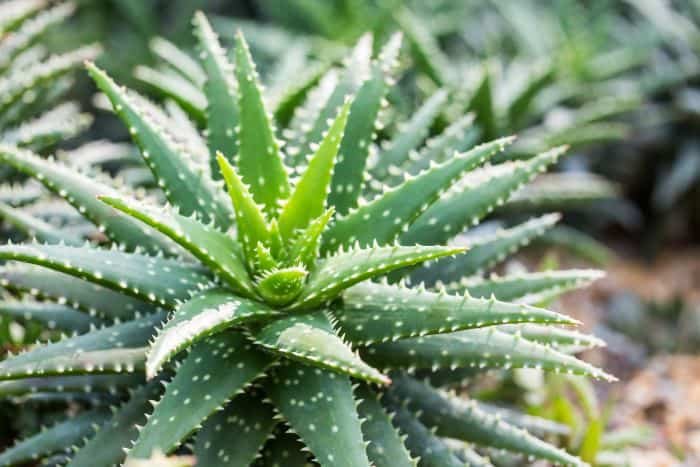 You have probably heard of this unique perennial before. Aloe vera can be used to treat sunburns and moisturize your skin. The Aloe perennial itself is very deer resistant. Both the texture and taste do not appeal to deer. If you are looking for a beautiful green perennial that can grow as long as seven feet wide, Aloe is an excellent choice for giving your backyard some tropical accents. Aloe likes hotter climates and grows well in hardiness zone 8-11.
African Daisy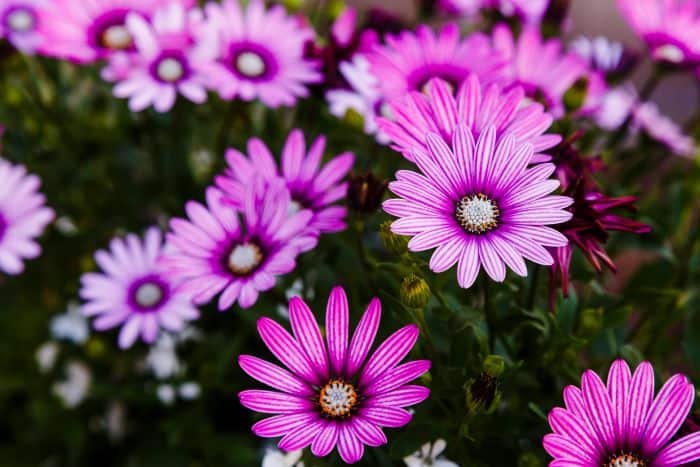 While there is not much evidence of toxicity in the African Daisy perennial, deer seem to not like the taste. That makes it a great choice to populate your backyard with. The pink petals of African Daisy flowers are sure to grab the attention of anyone observing your backyard. Plus, they are some of the longest-blooming flowers you will find in hardiness zone 9-11.
Takeaway
There are so many deer-resistant perennials to choose from and I hope one or several of the options above will fit your needs. If not, there are still dozens of more options out there that may suit your preferences. If you are looking to fill your backyard with deer-resistant perennials, many different plants have unique defense mechanisms to help them grow stress-free.