If you are thinking about improving your garden, you may have wondered what the differences between these structures are. Arbors, pergolas, gazebos, and pavilions are very similar and it may be hard to see the differences at first glance, but there are some unique characteristics in each one that makes them special.
The differences in the four structures lie in their unique design concepts which include their structures, sizes, installations, and uses.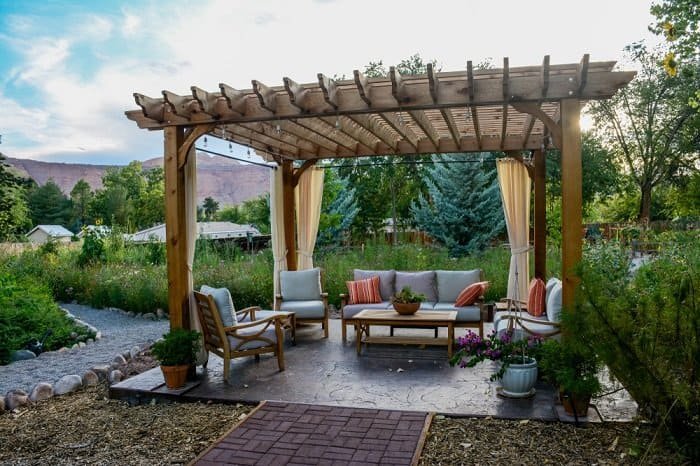 All four of these heighten the appearance of any park, yard, or environment they are placed in, but that does not mean they are all the same. What is it that makes these structures unique from each other? Read on to learn about the distinct differences between these decorative and functional pieces.
What Is Different about an Arbor?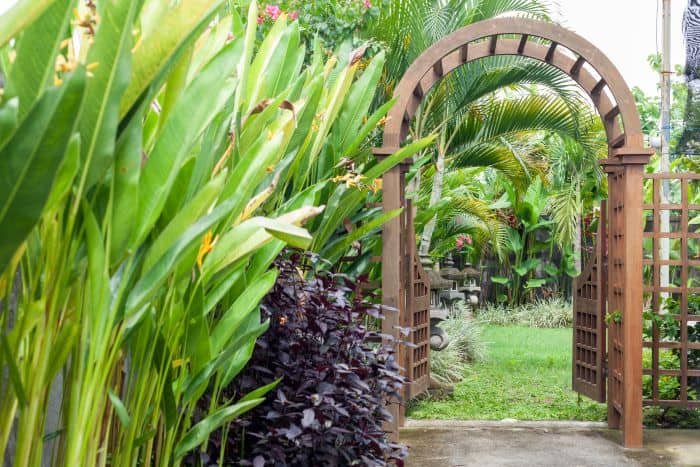 Unlike the other three items on this list, Arbors tend to be smaller in nature, and often serve as a focal point of entrances or gated structures.
Aside from being smaller in size, there are other features that set arbors apart from their counterparts.
Arbors are usually used as standalone structures.
Arbor Structure
Arbors are normally found to be at least six feet tall. This is so any visitors to the area will be able to walk under the arbor without too much hassle. They are usually found at the beginning of a walkway to another area, or used as a resting point for a quick sit down.
Many arbors include a gate to signal the point where you enter a garden or the front sidewalk of a house along a pathway. Most arbors have roofs that are either arch-shaped or slatted.
Common Uses for Arbors
A commonplace to see an arbor would be at a wedding festivity where the bride and groom join hands. Arbors are usually laced with garden decor to highlight their beauty. These laced items can include:
Vines
Flowers, such as roses, honeysuckle, or jasmine
Fruits and vegetables
Any arbor you choose to set up, however, needs to be able to withstand any amount of gardening that you decide to decorate it with.
Arbor Installation
When building an arbor, you will find that they are much easier to install compared to other similar items. You can use a wider variety of materials when building an arbor compared to the other structures.
Arbor Size
Arbors are used for smaller events, whereas the next three structures are used more for much larger social gatherings. If you are looking for a simple addition, an arbor is the way to go.
If you would like something more extravagant, a pergola, gazebo, or pavilion would be a better choice.
What is Different about a Pergola?
As mentioned above, pergolas are larger than arbors.
The idea of a pergola is quite old, as they were invented in the 1640s. They found their original homes in Greece, Asia, France, and Egypt. However, this is also the case for the arbor mentioned above.
Pergolas, unlike arbors, are not usually standalone structures. They are often built up against another building like a house. They can stand freely, though.
Pergola Structure
A pergola is a structure that is typically much larger than an arbor. It is like a gazebo without a roof. They cover a much larger area than an arbor.
Pergolas are usually square and have four or more posts coming from the ground. Also, the top of a pergola is lined with flat horizontal trelliswork to let plants grow and to let light and air in.
Common Uses for Pergolas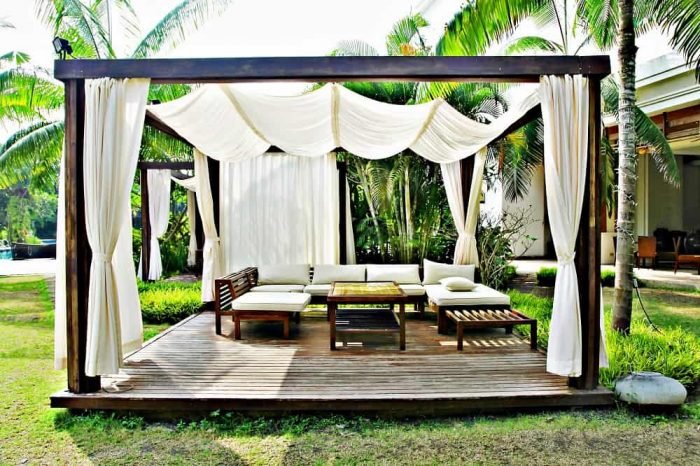 Although pergolas can have some of the same vegetation as arbors growing on their sides and on top, pergolas have some defining characteristics that separate them from arbors.
If you are looking for a spot to rest your head or be social with your friends in great weather, a pergola is a great addition. You might be wondering what is a pergola. Pergolas are like a lounge area.
Pergolas are more of an extended resting place for gatherings and social events. You will often find pergolas with the following items placed inside, or even installed onto the pergola:
Just be aware that you might have to go inside if the weather does not want to cooperate with your plans. For this reason, many people add curtains and other weather blockers on the side of their pergola to protect themselves from the elements.
Pergola Installation
A pergola is more typically found in areas where it does not rain much, such as sunny California. Often you will find a pergola with lighting fixtures or a fan hanging down from the roof in these areas since the chance of rain is minimal.  
What is Different about a Gazebo?
Like arbors and pergolas, the concept of gazebos is also old. However, gazebos go even further back, all the way to Egypt in 1400 B.C.
Gazebos are usually smaller than pergolas, covered, and shaped differently.
Gazebo Structure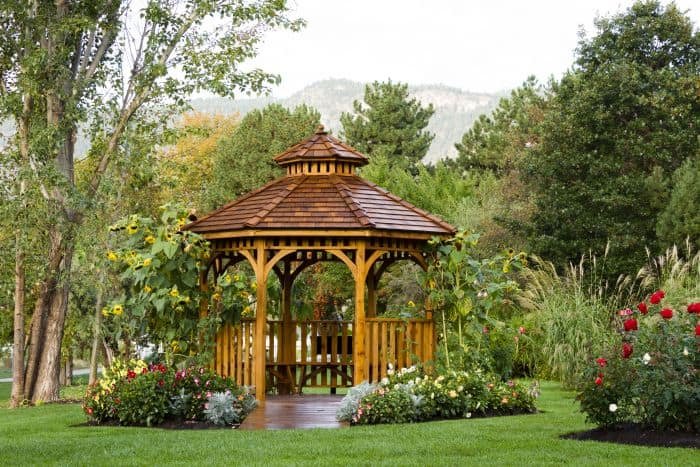 Instead of being square, gazebos are often found with six to eight sides. The biggest difference between a gazebo and the other structures is the roof and the floor. Gazebos are a perfect place to sit and have a relaxing outing with a few friends.
A gazebo's roof is normally closed off, not letting light in from the top.
The floor is often raised up from the ground, providing an overlook to a garden or other landscaping.
You can think of a gazebo as a small house with partially open sides.
If you are trying to find shelter, a gazebo would protect you, whereas an arbor or pergola would not. A gazebo has a flat, or tiered roof.
Common Uses for Gazebos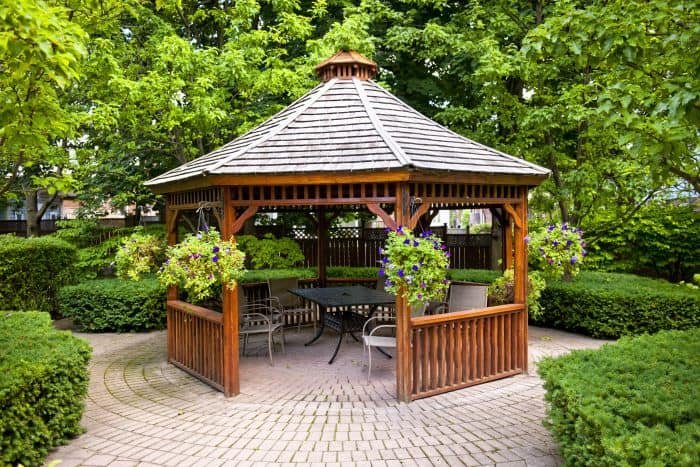 A gazebo provides more protection compared to an arbor or pergola. Gazebos often have mosquito screening for protection whereas the other structures do not normally provide such a barrier to pesky bugs.
Gazebos are usually found by themselves outside in a park or in a backyard setting, compared to a pergola or pavilion that is normally attached to the side of a house.
Gazebo Installation
A gazebo gives privacy that the other structures do not. It is important when installing a pergola to be aware of building permits in the area. Structures beyond a certain size often require a permit to build. Because of their smaller size, the gazebo price might be a better option.
Running electricity to a gazebo is much safer than running it to the other three structures listed since the gazebo provides the most amount of protection compared to the rest.
What is Different about a Pavilion?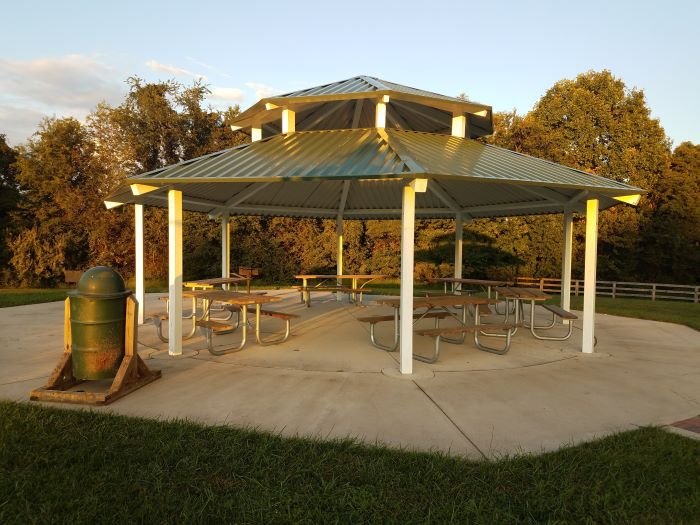 Pavilions were popular starting in the 1800s in Europe.
While a gazebo is a form of a pavilion, there are some differences between the two. A pavilion is a basic version of a gazebo.
Pavilion Structure
A pavilion provides shelter when needed, but it does not have the flooring a gazebo would. A pavilion is completely open and, therefore, does not offer as much protection when it comes to shielding you from a rainy day.
Pavilions are never enclosed with screens like gazebos sometimes are.
The roof of a pavilion is pitched.
The flooring is not raised.
The floor is often laid with cement so that it can be clear of any debris or vegetation.
Pavilions are usually standalone structures and can be quite large. You will likely see a covered pavilion at a park with picnic tables underneath for events.
Common Uses for Pavilions
A pavilion has a lot of room underneath. A pavilion will hold and protect a much larger group of people than any of the other structures will. There are people who put full kitchens underneath their pavilion because the square footage of it is so large.
Pavilions are a bit more costly than the other three structures. However, on top of everything that a pavilion provides, it also will increase the value of your home.
Conclusion
Whether you are looking at adding an arbor, pergola, gazebo, or pavilion to your yard, each one is unique and differs from another in some way. The area of coverage varies with each structure, along with the amount of protection each one gives.
These decorative structures can be used for all sorts of events. From typical social gatherings to something as eventful as a wedding or retirement celebration, these additions go great outdoors with your home.