There is nothing quite as relaxing as a nice hot spa with the perfect assortment of jets to massage and soothe our body and mind. By simply sinking into a hot tub after a hard days work, it seems all of the troubles melt away instantly. And those jets? Well, they're the source of relaxation for many of us; so there's no wonder why someone may want to increase the amount of jets in their hot tub.
Do all hot tubs have jets and can you add more? No, not all hot tubs have jets. Some hot tubs may allow you to add more jets, but it should be done by a professional as it is a very mechanical process that may require more pumps as well.
Even inflatable hot tubs can have jets, although they are usually air jets and not water jets.
If you're thinking about turning your hot tub into a jetted masterpiece, there's a lot of things to consider. You don't simply screw on a jet and expect it to work. There's a lot of mechanical aspects as well as other issues you may face when trying to transform your hot tub.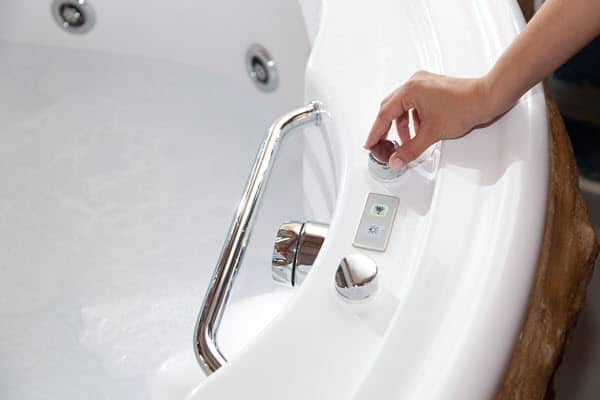 Do All Hot Tubs Have Jets?
When you think of a hot tub, you're likely thinking about a square or circle tub that's filled to the brink with hot water and plenty of jets to keep things bubbly and relaxing. What you might be surprised to find out is that some hot tubs are made without jets entirely.
At this point you're probably wondering: why would someone ever want to purchase a hot tub that doesn't have any jets? The main reason why someone wouldn't want jets is that they want a more natural and serene experience without the hustle and bustle and loud noise the jets put off.
Another reason why someone may want a hot tub without jets is that they don't like the way jets feel. It sounds impossible, but some people don't find the jets to be relaxing in any way. Others have found that the jets even cause their skin to become itchy and irritated from the force of the jets.
A hot tub without any jets can be thought of as a larger bathtub that can be placed outdoors. It still have the inviting, soothing properties of a jetted hot tub, but without the frills. They are likely to be a cheaper option with less maintenance needed as well.
Can You Add More Jets to a Hot Tub?
A lot of people enjoy the experience of a jetted hot tub so much that they want more. But what they don't take into consideration is the fact that adding jets to a hot tub is a very mechanical process that can require other costly features such as another pump to handle the extra jets and more maintenance all around. More jets can actually cause the hot tub jets to not work as good as before, which would lead to a lesser hot tub experience.
There are some ways to handle the solution of wanting or needing more hot tub jets:
Do Ample Research Before Purchasing
The best thing you can do is perform plenty of research before making your hot tub purchase. Know how many jets you're looking for and find the perfect model that suits your needs before buying. That way you won't have to think about adding more jets in the future at all.
If you think that it's a possibility you might want more jets, then check the hot tub and the manufacturer. Some hot tubs will allow for additional jets to be installed rather easily, with the warranty still in place. Other hot tubs do not allow for the installation of new jets entirely, and doing so could cause leaks, damage, and an instant end of a warranty.
Think how you'll use your hot tub. Will you put your hot tub on gravel? With a gazebo? Will you use bath bombs in your hot tub?
Check Jet Placement and Number of Jets
If you're someone who is thinking about adding jets to their hot tub, your mindset is probably focused on 'the more the merrier'. But to be perfectly honest, more isn't always best when it comes to hot tub jets.
First and foremost you need to pay attention to the placement of the jets. A lot of hot tubs will have jets that are the same height and width across the surface area. While it gets the job done, it won't provide an experience for the entire body, focusing prominently on the back.
You want to find a hot tub that has a variety of jets of all different sizes and shapes throughout the tub. With a variety of jets, you can be sure that all major parts of the body are being massaged while you relax in your hot tub.
You should also pay attention to the number of jets in the hot tub. As we mentioned earlier, more isn't always the best way to go with a hot tub. The more jets in the hot tub, the less power they have.
This means that a hot tub with 50 jets going in all different directions may seem very appealing, but they lack any power. The jets won't be able to provide much massaging or relaxing as they're barely able to put out any power and water between all of the different jets.
Pay close attention to the placement and number of jets on a hot tub. There should be enough to hit major body points that need massaging, but there shouldn't be an overwhelming amount. The placement should be spaced apart with jets of different shapes and sizes to ensure pressure and power are being distributed correctly, giving you the best experience possible.
Ask a Professional
Installing a new jet into a hot tub is no easy task. Unless you're a professional in hot tub building and installation, it's highly recommended to not mess with the equipment. If you're not sure what you're doing, you're likely to cause damage to the hot tub that could lead to leaks and jets malfunctioning.
If you truly want to install new jets, a professional should always be contacted. Most of the time, these professionals will encourage you to stick with the jets you have. However, some professionals are willing to install new jets in a hot tub, especially if the hot tub is designed for new jets to be placed.
Understand the Cost
There's a lot of things that go into installing new jets on a hot tub. The new jets itself may cost a lot of money, depending on how many you're installing, and the professional installation will likely cost you a couple hundred dollars.
Aside from installation costs, you're likely to have to purchase an additional pump to handle the load of more hot tub jets.
If you try and install new hot tub jets on your own there is a high chance of breaking the hot tub. This will result in repairs that could exceed over a thousand dollars, depending on the situation, or render the hot tub useless altogether.
Conclusion
Not all hot tubs have jets, although the majority of them do. It's important to do research on hot tubs before purchasing so you buy exactly what you need. If you want more jets in the future, make sure that you have a professional help with installation.
They will be able to inform you if it's even possible with your particular hot tub, and how you can install them without causing damage to your hot tub. However, it's always recommended not to install new jets if possible, as this can cause damage or a faulty hot tub.