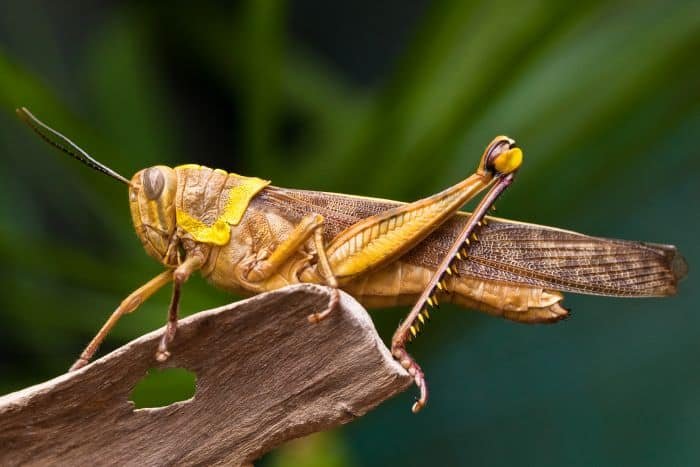 Do grasshoppers bite? While they may look like an tiny alien from another planet, grasshoppers are generally harmless.
Grasshoppers are one of the most common insects in the world. We encounter them in our daily lives, especially when we are outside in the summer. Luckily, they are unlikely to bite you, although it can happen. However, you should be cautious of their cousin, the cricket.
If you are curious about when grasshoppers are most likely to bite humans and how to treat a grasshopper bite, read on. We will also discuss whether grasshoppers are venomous and what to do if you are bit by a cricket.
Grasshoppers Rarely Bite People
Grasshoppers are common insects that you are likely to see in the outdoors. They make a distinctive chirping noise during the summer mating season. There are over a million types of grasshoppers across the globe, so it is not uncommon to encounter them in the wild.
All grasshoppers are herbivores, which means that they eat almost exclusively plant material. They are especially attracted to grassy areas, where they will lay their eggs. If you live in an area with lots of tall grasses, then you will probably see grasshoppers all over the place.
Since grasshoppers are more interested in eating grass and other vegetable matter, it is very rare that a grasshopper will bite a human. Most insect bites are from mosquitos and other insects that feed off blood. Grasshoppers have no reason to bite humans since they get no nutritional benefit from people.
That being said, it is not impossible for a grasshopper to bite a human. There are several reasons why a grasshopper might bite, but for those with a bug phobia, it is unlikely that you will ever find yourself in these situations.
When do Grasshoppers Bite People?
Grasshoppers are generally a solitary species, only interacting with other grasshoppers to mate and procreate. However, there are several types of grasshoppers that will swarm in larger groups.
When grasshoppers swarm, they are usually looking for food. When grasshoppers land on a field of crops, they can devour the whole crop in very little time.
Should you find yourself in a swarm of grasshoppers, you will probably expect to be bitten. The grasshoppers are in a feeding frenzy and might not be able to distinguish between the food they are trying to eat and any human unlucky to find themselves surrounded by grasshoppers.
Grasshoppers can also bite when they are agitated or feel threatened. This is very unlikely to be the case in normal grasshopper interactions, though it can happen. However, there is no need to worry that every grasshopper wants to bite you.
Grasshoppers are Not Venomous
One good thing about being bit by a grasshopper as opposed to other insects is that grasshoppers are not venomous. While a grasshopper bite might hurt at the moment, unlike a spider bite or bee sting, it is not going to have a lasting reaction.
Grasshoppers Can Spit
Another defense mechanism that grasshoppers have is "spitting", or defensive regurgitation. When grasshoppers "spit", they release a fluid that is made up of partially digested plant materials and digestive enzymes from the stomach.
This fluid is harmless to humans, but it might leave a stain on the skin if you are spit on.
Grasshoppers Have Spiny Legs
As many people know, grasshoppers can jump out of nowhere and startle you. Sometimes, they even land on you. Though they are not likely to bite you, you might feel a pricking sensation on your skin.
The hind legs of grasshoppers have spikes on them, so this is what you are feeling. You might notice irritation or scratching, but there isn't any danger from having a grasshopper on you.
What To Do If You are Bitten by a Grasshopper
If a grasshopper bites you, do not worry. Since they are not venomous, you are unlikely to have any reaction to the bite. It is important to clean the bite site to make sure there are not any other contaminants that could cause irritation.
Here are the steps you should take after being bitten by a grasshopper:
Clean the area with soap and water to remove debris.
Sometimes the bite area can swell up. To reduce swelling, apply an ice pack to the area.
If you do experience itchiness, apply an anti-itch cream such as hydrocortisone or calamine lotion. Avoid itching the bite as it can increase the chances of infection.
For any pain, you can take an over the counter pain medication.
If the bite lasts longer than a few days, consult a medical professional.
Grasshopper bites do not have long lasting reactions, but you should pay attention to every insect bite in case it does get worse.
Avoid Cricket Bites
Grasshoppers and crickets are often confused for one another. They are both jumping insects that make a chirping noise. Cricket bites are also rare, but can lead to a more severe reaction. Crickets carry bacteria that can lead to an infection after a bite. Common symptoms of a cricket bite are:
Sores on the skin
Skin rash
Flu-like symptoms
Just like with a grasshopper bite, it is important to clean the site of the cricket bite with soap and water. Apply an anti-bacterial ointment to reduce the chances of an infection. If your symptoms get worse, consult your doctor.
Grasshoppers are Generally Harmless
If you are worried about being bitten by a grasshopper, don't be. Grasshoppers, despite the fact that they are such a common insect, are very unlikely to bite you. If they do, you are probably not going to have a reaction. So enjoy your time outside and don't be afraid of the chirping insect in the grass.