Patio Heaters are a genius creation. They make it possible to enjoy your backyard even when the weather turns cold.  To enjoy a nice meal outside a restaurant.  When summer is over, patio sitting does not need to end. It can continue throughout the year. 
While people love to gather around the patio heater, they also have a tendency to attract unwanted guests, namely bugs and mosquitos. While the unwanted bugs and mosquitos are going to come, they do not need to stay.
Due to how patio heaters work, they can attract bugs.  We'll discuss in this article why patio heaters attract bugs, which patio heater works best, and how to get rid of the unwanted pests.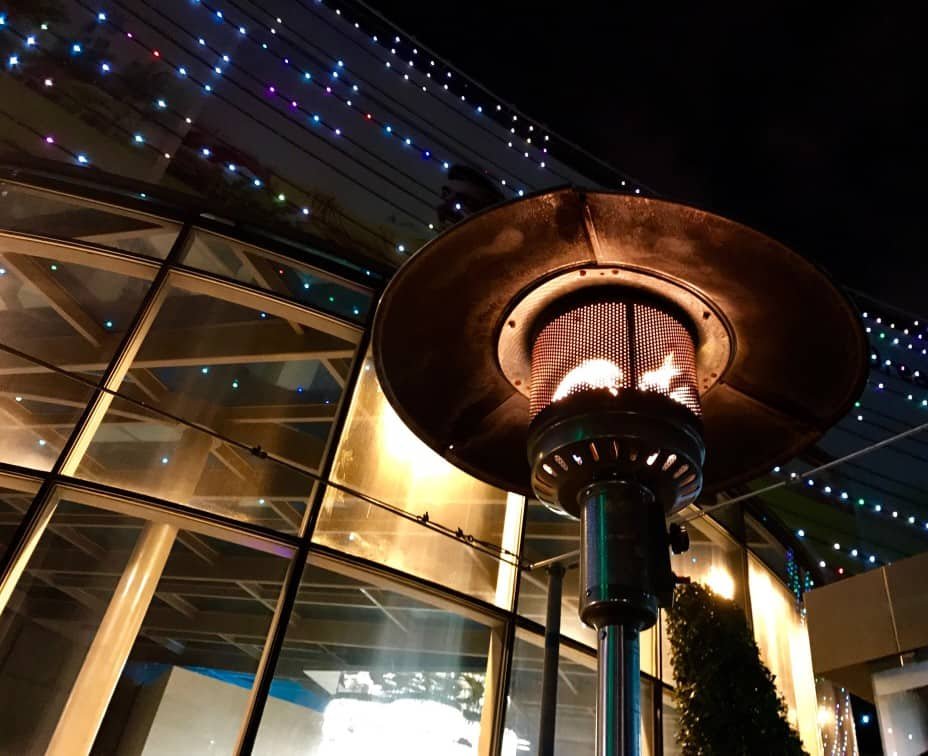 Why Patio Heaters
Patio heaters are a fantastic addition to any outdoor patio, sitting or eating area.  They are beneficial for home and restaurant use.  They allow the user to extend summer and to use the patio during the colder months. They can also be safer for children and animals than having heat from a real fire.  
Instead of sitting outside in a bulky winter coat trying to enjoy a cup of coffee, one can turn on a heater, ditch the coat and continue to enjoy lounging outside. Why let the short summer season ruin your patio time when a patio heater can be used.
Why Do Heaters Attract Bugs
Patio Heaters attract bugs in several ways, in which three of them are: heat, light, and carbon dioxide.
Warmth
Bugs are cold-blooded and function best in the warmth. When it is cold, they slow down and sometimes hibernate until spring. If they find warmth, such as a heater, they go to the heat source. This is why bugs seem to disappear during the winter and why bugs are more likely to be inside a home on a cold day.
Light
Bugs also have positive or negative phototaxis. Phototaxis is how the body of an organism reacts to light. Bugs with a positive phototaxis are attracted to light while bugs with a negative phototaxis move away from light. Most flying insects have a positive phototaxis while crawling insects such as cockroaches and ants do not like the light.
Light from the heater can attract bugs—the greater the heat and brightness, the more bugs that will be attracted. Bugs use the light of the moon and the stars for navigation.  When they see other light, they are drawn to it, and it confuses them and causes temporary night blindness. The night blindness can take up to 30 minutes to go away.
This is why bugs act confused when they are near artificial light.
(source: Why insects are attracted to light Outdoor lighting and bugs Heater attracting insects and farmers almanac)
Carbon Dioxide
Some bugs, such as mosquitos, are attracted to carbon dioxide.  Carbon dioxide is a byproduct of propane, natural gas and of course people as well.  Mosquitos became attracted to carbon dioxide through evolution.  Mosquitos have attributed carbon dioxide with food in the form of animals and humans.  When they recognize the presence of carbon dioxide, they swarm looking for food. 
Do All Heaters Attract Bugs
Patio heaters can be categorized into three groups depending on their fuel type. They are propane, electric, and natural gas. Propane and natural gas heaters emit carbon dioxide, so they attract bugs.
Electric infrared patio heaters do not emit gas and do not attract bugs.  So when looking for a patio heater, it is important to know that not all types attract bugs.
Types Of Heaters
When choosing a heater, it is important to look at which type will fit your location and utilities, and if that type attracts bugs.  If your patio is in the middle of your yard, an electric heater may not work. Likewise, if your patio is partially covered, a natural gas heater would not be a good choice.
If a natural gas line is already available, that would be a better option than using a propane or electric patio heater.
Before purchasing a new patio heater or when deciding if the current heater is a good fit, take the time to learn about the different types of heaters. There are three main types of heaters. Two of the types attract bugs, and one does not. Each type comes with its own pros and cons.
Natural Gas: These heaters are the least expensive to operate.  They have the greatest coverage area but need a large clearance area.  They are not very wind resistant.  These heaters only contain 1-2 heat level settings. 
They also are more permanent and can be used in the standing, inground, and hanging models.  The natural gas emits carbon dioxide and will attract bugs.
Pros:
Inexpensive
Large coverage area
Connected to a permanent gas line
Cons:
Needs large clearance area
Only has 1-2 heat levels
Need help to set up the lines
Attract bugs
Propane:  These patio heaters are expensive to operate. They need a larger clearance to operate and are less wind resistance.  They also only have 1-2 heat level settings. 
But, propane heaters are very convenient to operate. They can be permanent or mobile and found in tabletop, standup, hanging, and ceiling or wall mount styles. The propane emits carbon dioxide and will attract bugs.
Pros:
Convenient to operate
The propane tank is stored inside the heater
Cons:
Expensive to operate
Needs large clearance area
Gas tanks need to be replaced
Attract bugs
Electric: These patio heaters are the most expensive to operate. They are a renewable energy source and provide instant heat. They also have multiple heat level settings and are wind resistant. The electric heat does not emit carbon dioxide, so it will not attract bugs.
Pros:
Provide instant heat
Have multiple heat level settings
Can be used indoors and outdoors
Does not attract bugs
Cons:
Most expensive type of patio heater
May need a high voltage wall socket
Need to be plugged in
We go into more detail between the different types of patio heaters if you want to do further research before purchasing your next patio heater.
How To Repel Bugs
Now that you have chosen a patio heater or learned more about your current patio heater, it is time to learn about how to repel bugs.
Just because a patio heater attracts bugs does not mean that it should not be used or that the user is stuck with lots of bugs.  There is a variety of options on how to repel bugs from the patio. 
Start With The Yard
A simple way to repel bugs can begin with basic yard maintenance. Yardwork can do more than make your yard look nice. It can remove unwanted pests as well.
Stop using mulch: Mulch looks really nice, but it is the perfect place for bugs to live.  Consider using rock or gravel instead. 
Remove standing water: Mosquitos can breed in 2.5 centimeters of water, so any water can be a breeding zone for mosquitos.  To reduce the chance of bugs breeding, it is important to change birdbaths weekly, keep pools stocked with fish, remove extra water from potted plants, keep swimming water treated and clean out clogged gutters.
Tidy yard: Walk through the yard and remove dead branches and plants and mow the lawn to keep the grass short.  Dead plants and long grass can be a great breeding ground for bugs.
Add plants: Fragrant plants are another option for repelling bugs.  Plants such as citronella, lemongrass, lavender, and basil emit a fragrance that naturally repels bugs.  Another option is to put the leaves on aluminum foil and let the leaves dry. Once dry, they can be lit on fire, and the fragrance and smoke will repel mosquitos.
Clean Patio: Crumbs and dirty dishes can attract bugs.  After each use, check the patio for napkins, crumbs, and trash. Make it a habit to regularly clean and sweep the patio.
Using Household Items
There are items in the home that are already available that can repel bugs.
Different lights: White light bulbs have blue light, which attracts bugs. Changing the light bulbs to yellow or sodium vapor light will create less blue light and attract fewer bugs. Warmer and brighter lights attract bugs. 
Add a Fan: A fan can be a simple solution to repelling bugs.  Place the fan on the patio facing out and away from people.  Bugs cannot fly against the power of a fan and are blown away from the patio.
Dryer sheets: Dryer sheets can mask the smell of humans.  To work on the patio, they can be rubbed on all the furniture. 
Mouth wash: Mouth wash can also mask the smell of humans and food. It can be sprayed around the perimeter of the patio. 
Hydrogen peroxide: Hydrogen peroxide can mask the smell of food.  A mixture of 1 part water + 1 part hydrogen peroxide can be sprayed on the furniture.
Coffee grounds: Instead of throwing away coffee grounds, they can be used to repel insects and some plants like coffee grounds.  The first step is to dry the grounds on some foil. Once dry, add some bbq oil.  Light them on fire and then quickly smother it. The coffee grounds will keep smoking and repel the mosquitos away.  
Clothes: Mosquitos are attracted to carbon dioxide and heat. Dark clothes can absorb more than lighter colored clothes.  Wearing lighter colors can help repel mosquitos. 
Products To Buy
If the previous ideas do not work and a stronger repellant is needed, then head to the store and look for electric pest repellers. Electric pest repellers do the job without lots of preparation and extra work.
Ultrasonic pest repeller: The ultrasonic pest repeller needs to be plugged in to work. It uses high-pressure ultrasonic sound that animals and bugs can hear but not humans. 
Flowtron electric insect killer: The flowtron electric insect killer emits UV light and attracts mosquitos. It needs electricity to run. It can cover a ½ acre radius and is not affected by the weather. On the negative side, it also attracts flies and insects and zaps them.
Thermacell Mosquito Repellent: A battery-operated mosquito repellent that is strong enough to keep a large area mosquito-free.  The battery is rechargeable and lasts 6.5 hours. 
Natural Repellents
The following is a list of natural repellants that use essential oils and plants.  They are usually considered safe for people and animals, but a few will say if they are not people or animals safe.
Essential Oils
Essential oils can help with many things. One is to repel bugs. They are easy to use and just need to be mixed with water and witch hazel.
Lemon Eucalyptus: This oil is very potent, and it is not kid or pet friendly. Its main ingredient citriodiol, is very effective in repelling bugs. To use, make a mixture ½ cup of water + ½ cup of witch hazel + 30-40 drops of lemon eucalyptus oil. Then put in a bottle and spray where needed.
Citronella: Citronella is a common repellant. To use, make a mixture of ½ cup of water + ½ cup of witch hazel + 12 drops of citronella oil. Then put in a bottle and spray as needed.
Lavender: Lavender is a common ingredient. It can be used alone or be added to citrus oils, neem oils, lemon eucalyptus, clove, or cedarwood oils. To use, make a mixture of ½ cup of water + ½ cup of witch hazel + oil, then put in a bottle and spray as needed.
Neem: Insects really dislike this oil. It comes from the evergreen neem tree. To use, make a mixture of ½ cup of water + ½ cup of witch hazel + 1-2 tablespoons of neem oil. Glycerin may be added to help everything mix. Put in a bottle and spray as needed. This oil works best when other fragrances are added.
Cedarwood: This oil is very fragrant. It can be used alone or added to citrus sprays for a more powerful bug repellent.
Clove: This oil is very potent. Clove oil or whole cloves can be used. To use, make a mixture of ½ cup of water + ½ cup of witch hazel + a few drops of clove oil. Then put in a bottle and spray as needed. Do not apply this mixture to hands or leave on skin for an extended time.
Peppermint and castor oil: These oils can be mixed with water and sprayed where needed. Peppermint has also been found to kill mosquito larvae.
Homemade Remedies
Along with essential oils, other food items can be used as bug repellants. One would be surprised at what can be found in the kitchen to repel bugs.
Bug balm: Citronella and lemon eucalyptus oil can be used to make a bug balm.  To make one, heat beeswax, cocoa butter, and coconut oil.  Citronella and lemon eucalyptus is added after the balm is made and while it is cooling off. 
Citronella candles: Citronella candles are a very common bug repellant. When making homemade candles, citronella oil can be added to the wax while it is setting. Citronella masks the human smell and repels insects. The downside is it burns out quickly, so have a backup plan. 
Garlic and lemon juice: Garlic is another good repellent for insects and animals. There are two ways to use garlic.  One is to soak crushed garlic cloves in mineral oil for 24 hours, then mix the oil with water and add 1-2 teaspoons of lemon juice. Or boil garlic cloves and use the water to spray around the patio. 
Fresh herbs: The herbs mint, catnip, and citronella can be used together to make a repellant. Use  ½-1 cup of herbs and boil with 1 cup of water.  Let it cool down and filter out the herbs. Then mix this with witch hazel and put it in a bottle to be sprayed as needed. 
Final Thoughts
Patio heaters allow for patio owners to extend their outdoor living in their backyard.  When the cold hits, the heaters are turned on, and the patio can be enjoyed for more seasons.  A downfall is that most patio heaters attract bugs.  But a positive is that the bugs can be repelled quickly and safely.
Do not be leery about buying a heater since we've shown many ways to keep the bugs away. Before you purchase your next patio heater make sure to read out article on the safety of patio heaters to keep your family protected.