If you're wanting a backyard full of lush grass you might have looked at adding grass seed to fill out any dead spots. But be careful if it's been in your shed for a while.
When stored under optimal conditions, grass seed can remain viable for up to three years. However, the fresher the better – you will definitely get the best results with grass seed that is one year old or fresher.
Here, you might be wondering does grass seed go bad?
Different types of grass seed have different optimal storage requirements to retain freshness. So the first step to retaining freshness is to identify the type of grass seed you have.
Most Popular Types of Grass Seed
Kentucky bluegrass
Fescue (tall, fine, standard)
Ryegress
St. Augustine (Floratam)
Zoysia
Dichondra
Bent
Bermuda
Temperate to cool climate grass seed such as Ryegrass may last as long as five years under proper storage conditions. The lower humidity and drier climate helps to extend the useful life of these grass seeds.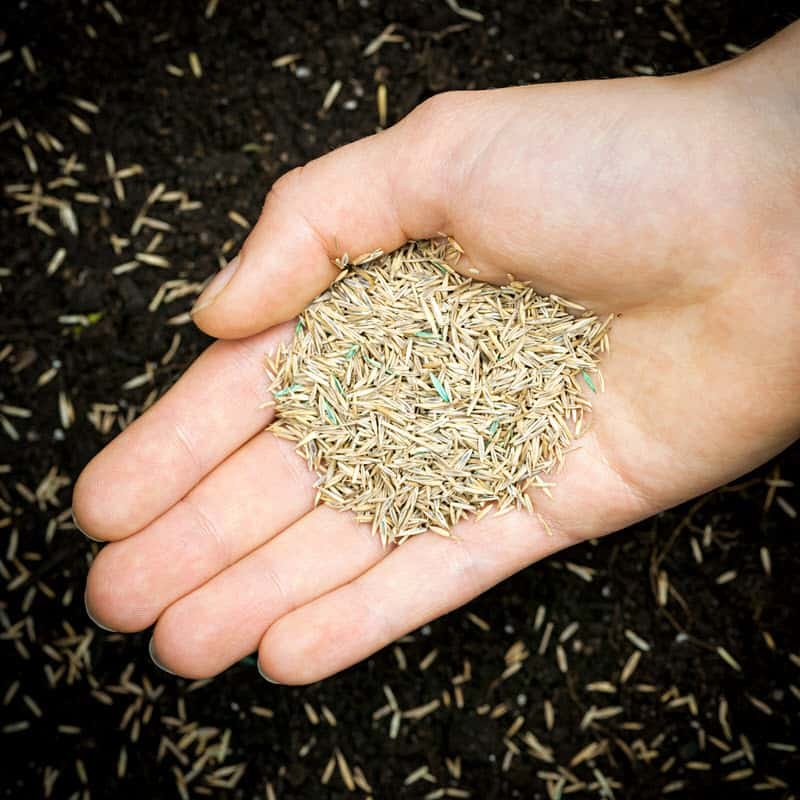 What Is the Best Method to Store Grass Seed?
As we mentioned above here, there are many different varietals of grass seed. Different varietals are used on their own or (frequently) combined together for use in different hardiness zones.
But just because you live in the sub-tropical south, where temperatures can soar into the triple digits in summer with humidity following suit, this doesn't mean you should allow your grass seed to sit in the same conditions unprotected.
Ultimately, all grass seed benefits from storage conditions that replicate the cooler, drier conditions of areas more distant from the equator.
Here is a step-by-step to help you store your grass seed for extended useful life.
1. Place unused grass seed in a sturdy bag.
If you have not yet opened an unused bag of grass seed, store it in its original packaging to take advantage of the existing freshness seal.
If you have an opened bag of grass seed you wish to store, choose a durable yet natural bag material like burlap or heavy cloth. This type of material admits a good deal of air but repels insects and mold and mildew.
2. Choose a storage location with a consistent year-round cool, dry climate.
Your biggest challenge when storing unused grass seed (whether unopened or opened) is selecting the right storage location. An unused extra refrigerator, a dry cellar or basement or an enclosed temperature-controlled crawl space or workshop are all good choices.
You want the location to have some natural ventilation and circulation. You also want to be sure it won't freeze, which will kill the seeds. A temperature range of between 40 and 50 degrees Fahrenheit is ideal.
The humidity should stay in the 30 to 50 percent range – above 60 percent humidity and you risk mold, mildew and seed degradation.
You can also add some natural desiccant to absorb excess humidity. If you have the little desiccant packages that are sealed, you can place those into any opened grass seed bags. If your grass seed bag is sealed, place the desiccant packages nearby.
3. Elevate your grass seed stores off the floor.
No matter how creatively you store your unused grass seed, you can be sure hungry insects and critters will be even more creative in trying to get to it to eat it!
Always elevate your grass seed bags off the floor. If you have sturdy shelving, this is ideal. If not, you can create a makeshift low shelf with a few piled bricks and a thick piece of wood or even an unused plastic tub and put your grass seed bags in that.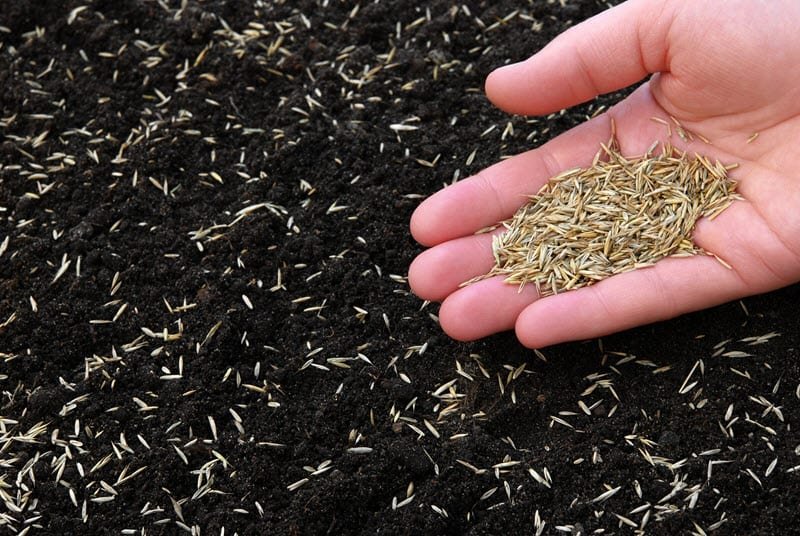 Does Grass Seed Go Bad?
As you might imagine, figuring out when grass seed has reached the limits of its useful life isn't always an exact science.
The best way to extend the useful life of your grass seed is, of course, to make sure you store it under the conditions described above.
But there are other telltale signs you can also look for to detect signs that grass seed has passed its expiration date. How to tell if your grass seed is bad?
Check the expiration date on the original package if you still have it. This will at least give you a frame of reference to work from as you examine your grass seed.
Pour out some of the grass seed and give it a good visual check. Grass seed that has gone bad will often start to visibly discolor. You may see what looks like white dust or greenish damp patches – this is fungi and mildew. Seed that clumps together is also more than likely no longer viable.
Give your grass seed the sniff test. Nothing says "mold" faster than a whiff of that telltale damp, grassy, musty, "dirty gym socks" odor. If your grass seed doesn't smell like seed anymore, there is a good chance it is no longer viable.
You may notice that some of the grass seed still appears viable. If the damage doesn't appear extensive, you may be able to scoop out the damaged seeds and retain the rest.
However, it can be wise to grow a little "test patch" of this seed first and see how it does rather than pin all your hopes for a green spring lawn on compromised grass seed.
How Can You Preserve As Much Stored Grass Seed As Possible?
When you are reseeding a larger patch of land, it can be challenging to purchase your grass seed in just the right amount for what you need.
Chances are good you will find yourself with some leftover grass seed on your hands when the planting is done.
Since you will likely have some leftover seed to store away for next season, this also gives you the opportunity to plan in advance to keep your stored grass seed viable.
Here are some of our favorite tips to increase the viability of stored grass seed.
1. Choose the grass seed package with the longest expiration date.
Most grass seed packages will display two different dates. The first is the sell-by date and the second is the expiration date.
The expiration date is the date by which the manufacturer recommends discarding any unused seed.
2. Invest in high quality grass seed.
The highest quality grass seed manufacturers will verify that their grass seed meets these requirements:
– Contains less than 0.5 percent weeds.
– Is free from invasive weed species.
– Contains less than two percent "filler" material (i.e. chaff, dirt).
– Contains no more than two percent non-grass seed seeds.
The higher the quality of your original grass seed, the more likely you are to get extended useful life so long as you are properly storing unused quantities.
How to Improve the Odds of Your Grass Seed Growing Well
Even fresh young grass seed may fail to thrive under sub-optimal growing conditions. But the older your grass seed gets and the closer it inches to its expiration date, the more tender loving care it will need to sprout and grow well.
Here are our favorite tips to successfully sow grass seed.
1. While you are waiting for seed to germinate, set up a twice-daily watering schedule. You can Set Up Zones on Sprinkler Systems to make sure you're watering it properly.
Grass seed needs plenty of fresh water to thrive. However, you don't want to drown your grass seed either!
This can be a challenging balance to achieve, especially if you live in a wetter climate with erratic storms.
The general rule of thumb we recommend is to make sure the top one inch of soil is moist. Whether that happens because of a spring shower or your sprinkler system isn't so important as simply that it happens. So before you water, you can go out and test to see how wet or dry that topmost inch of soil is and adjust your watering schedule from there.
Optimally, water your grass seed early in the morning and later in the evening when temperatures are cooler and the water has a lower chance of evaporating.
2. Once your grass seed germinates, water at least once per day.
Here again, it doesn't matter if the watering comes from a summer shower or from a sprinkler hose. What matters is that your sprouting grass seed gets the water it needs to become established and thrive.
3. Wait until your grass seed stands three inches high before you mow.
More grass seed is destroyed by premature mowing than even by lawn pests or critters. To give your grass seed the best chance to become established, hold off on mowing until your full lawn stands at least three inches high.
Even then, set your mower height higher than you prefer to help your young lawn continue to grow and set.
4. After your second mowing, you can move into a mowing and watering schedule for an established lawn.
After you have successfully mowed your young lawn at least twice, resume a watering and mowing schedule as you would for an established fully grown lawn, always adjusting as needed for weather.
Conclusion
Now that you know that seed looks and smells like when it's bad, you won't make the mistake of adding it to your lawn. Seeding a lawn with fresh seed is best and if you have leftover seed, you might want to give it away to a neighbor rather than trying to store it.