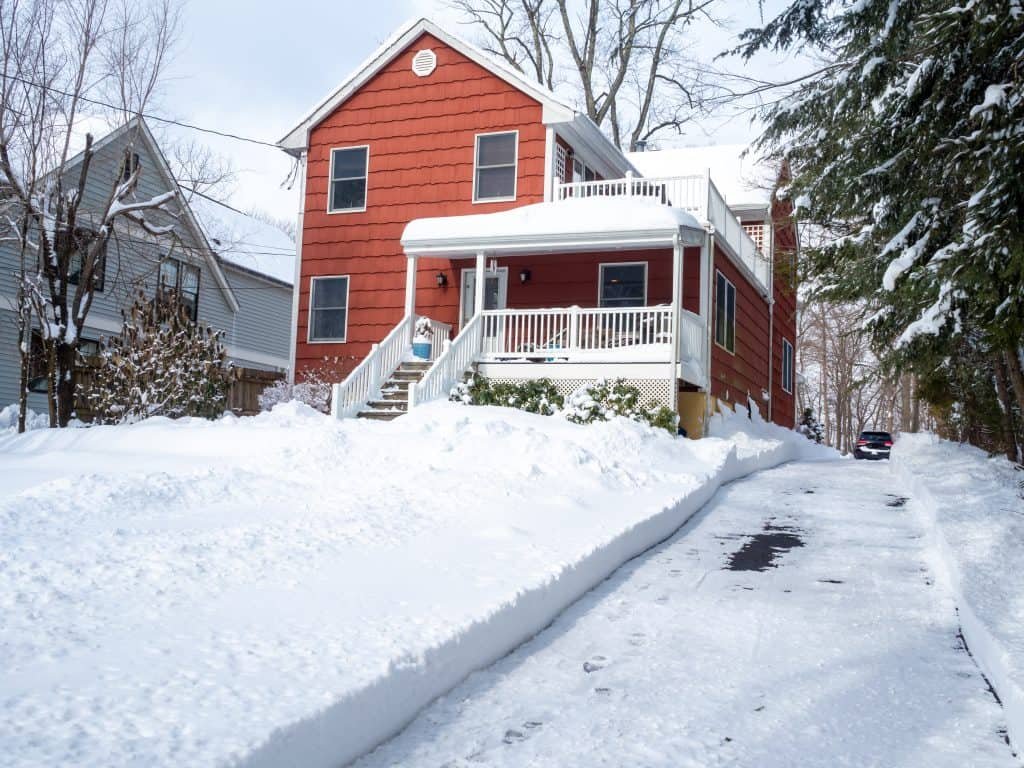 Winter is on the way. This means cozy sweaters and hot chocolate, but it also means shoveling snow out of the driveway every single day.
This cold season chore quickly becomes dreadful, especially if there's heavy snowfall where you live. Should you ditch your shovel and invest in a snowblower?
In this post, we'll weigh the benefits and drawbacks of each option to help you decide. We'll also compare gas snow blowers to electric ones.
Finally, we'll be exploring the first EGO Snow Blower to hit the market. We'll take a closer look at its specs, performance, pros, and cons.
Shovel vs. Blower
Shoveling can be tiresome, but investing in a snow blower isn't always worth it either. So what's best for you?
Snow Shovel
First off, a shovel is incomparably cheaper. There are also 0 operational costs. You don't even need to worry about maintenance and repair.
If you're not awaiting intense or frequent snowfall, you may want to stick to your snow shovel instead of spending lots of money on a snowblower.
Contrary to popular belief, a snow blower isn't faster by default. In fact, when snowfall isn't heavy, using a shovel can be the faster option. Moreover, a shovel doesn't require any set-up or putting-away time and effort.
While a snowblower is effective for wider areas, you'll probably need a shovel to clear narrower areas and corners. Be sure to check out article on the different types of shovels there are!
Snow Blower
For people who experience heavy snowfall in their areas, a snow blower is a more suitable choice. In this case, a snowblower is less physically taxing than a shovel. It'll probably get the job done faster, too.
Furthermore, it's painful to use a shovel in order to clear out wet snow. A snowblower will do a much better and quicker job at handling heavy or wet snow.
This makes the extra cost really worth it. 
Gas vs. Electric
If you've decided that a snow blower is a right match for your needs, you're probably wondering which to buy: a gas blower or an electric blower.
Gas Snowblower
A gas snowblower needs to be gassed up. This adds up to the operational and ongoing maintenance cost due to being a gas motor, and it can be annoying to run out of gas.
Although gas blowers are much more powerful, they're also not very environmentally friendly.
Electric Snowblower
On the plus side, electric snow blowers are lighter and more compact. This makes them easier to put away.
However, an electric snowblower presents a different kind of hassle. You need an extension cable, and how far you can go is limited by the length of the cord.
Cordless snow blowers omit the hassle of plugging in the machine, but the battery life can be limiting.
Why EGO?
Through its Power+ line, EGO aims to provide cordless appliances that mirror the quality of gas-powered alternatives.
Their Arc Lithium batteries have what they say is the biggest capacity in the market. They also take pride in their interchangeable Power system, which enables customers to use the same batteries and chargers across multiple tools.
The Power+ Snow Blower reviewed in this article is EGO's first.
Specifications
The Power+ Snow Blower employs EGO's Peak Power technology. We'll be taking a look at its build, capabilities, and how to operate it.
Construction
The EGO Power+ Snow Blower is 38.2 x 23.9 x 19.6 inches big. It's also fairly light, weighing about 60 lbs.
Although it's mostly made of plastic and steel parts, the snowblower has a durable build. Moreover, it's ipx4 weather-resistant.
It has a brushless motor as well. Brushless motors don't heat up as much as brushed motors, making the blower perform better.
An especially cool feature is the LED headlights at the front, which makes it easy to see where you're going.
Power
This snowblower is cordless and battery-powered.
EGO's Power Peak technology enables the snowblower to deal with heavy, deep, and wet snow when powered with any 2 EGO batteries.
Operating this snowblower with 2 batteries boosts power and usage time, but you can get the snowblower working with just 1 battery.
Moreover, you can adjust the power according to the depth of the snow.
Higher power is needed to handle deeper areas of snow, whereas shallower parts require less power. By decreasing power when needed, you can make the batteries last longer and enable yourself to cover bigger areas during one round of clearing.
Operation
Setting up your EGO Power+ Snow Blower isn't a tiresome task. Operating it is simple as well.
All you have to do is push the start button! However, unfortunately, this snowblower isn't self-propelling, so you'll have to exert some effort to push it yourself.
There are also various variable controls that allow you to use the snowblower to your preference.
Adjustments and Controls
The 180° chute adjustment feature allows you to manually control the direction in which snow is thrown.
To control the distance at which snow is thrown, set the speed to your preference.
You can even adjust the height of the handle for optimum comfort; there are 2 levels.
When done, fold back the handle to make the snowblower more compact and easier to store.
Batteries and Charger
The battery life isn't fixed and will differ from one person's usage to another's.
EGO POWER+ batteries are 56-volt ARC Lithium batteries. Usually, they run for about 45 minutes. Sometimes they even last up to an hour.
The EGO Rapid Charger takes approximately 30-45 minutes to recharge a 5.0 Ah battery and about 60 minutes to recharge a 7.5 Ah one. A regular 56-Volt EGO charger will take longer to charge the batteries.
Unfortunately, the charger can only accommodate 1 battery at once.
Luckily, EGO's batteries and chargers aren't product-specific and can be used interchangeably with multiple EGO products. To put it simply, any EGO charger can charge any EGO battery.
When to Recharge
The power indicator will show different colors for different states of the battery to help you discover when it's time to recharge your batteries. Here's what each color means:
Green: All good; each battery is charged by 15% or more.
Red: The battery needs to be charged.
Flashing Red: The battery is about to die.
Orange: Stop using; the appliance or the battery is overheating.
Flashing Orange: Overload; clean the clogging snow and go slower.
Performance
The EGO Power+ Snow Blower has a 21-inch clearing width.
It also has a 35-foot throwing distance.
The maximum height intake is 13 inches.
There are mixed reviews about how much depth of snow this snow blower can clear.
Caution needed when using the snowblower on gravel or other rocky areas.
Purchase Options
EGO batteries can be used interchangeably. If you've previously purchased any EGO appliances, you don't have to buy new batteries and a new charger.
Simply use the EGO batteries you already have to operate your new snowblower. The same goes for the EGO charger.
If you don't have EGO batteries or an EGO charger at home, or would like to have extra ones for any reason, you can purchase the SNT2102 full kit.
The kit includes 2 batteries in addition to the EGO rapid charger.
Here are your options:
Purchase the snowblower only (SNT2100)
Purchase the snowblower, two 5.0Ah batteries, and the EGO rapid charger (SNT2102)
Warranty
If you buy the EGO Power+ Snow Blower from an approved supplier, the product is warranted for 5 years. Batteries and chargers bought from approved suppliers are also warranted for 3 years. Both warranties are limited.
Refurbished products used domestically are warranted for 1 year only. Products used commercially are warranted for 1 year if new, and 90 days if refurbished.
For more details about the warranty covering machine parts and accessories, visit the official website.
Manual & Instructions
The EGO Power+ Snow Blower kit includes a user manual.
If you still need help setting up or using your snowblower, check out this Youtube playlist for help.
It includes videos demonstrating get your EGo Power+ Snow Blower up and running. Certain replacement parts are also available for purchase, so the playlist shows you to replace them in your snowblower.
Pros and Cons
Now that we have a full-around view of the EGO Snow Blower, let's focus on its advantages and disadvantages.
Pros
Lightweight
Cordless, so you don't need extension cords and you're not restricted
Batteries recharge fairly quickly
Easy to use
Has headlights
Easy variable controls
Handles heavy wet snow
Not very noisy
Cons
Can't handle the same depth of snow as a gas snowblower
Not self-propelled
To handle deeper areas of snow, you need to exert more physical effort and go slower
It needs to be operated at full capacity for optimum performance
The blades aren't durable although they're cheap to replace
Usage time is limited by battery life
Wrap Up
It's no secret that the EGO Snow Blower is not as powerful as a gas snowblower. However, it saves you from the hassle of starting up the tool with a choke start and is easy to use. If you're having issues with your snowblower, be sure to check out our article on why your snowblower won't start to hopefully provide you a solution.
It's compact, light, and mostly very efficient. Let's not forget that it's also a more environmentally-friendly option!