With so many perennials available in zone nine, narrowing down the best for a personal backyard can be challenging. So, depending on your style, here are the four best hardy perennial flowers in zone nine. Zone nine (a-b) both require similar soil situations and changing temperatures within the cold to warm regions.
Perennials come in all shapes, styles, and sizes; if the plant has seasons, it is considered a perennial plant. For this reason, these plants grow, bloom and complete one flowering cycle per season. These plants can take up a permanent residence in any garden in zone nine and still look amazing.
Plants are essential, in my option, to enjoy spending many hours in your backyard. Whether they bloom, smell good or attract beautiful butterflies, planting or potting them around you will increase your backyard experience.
Daylily is Garden Friendly-In Zone Nine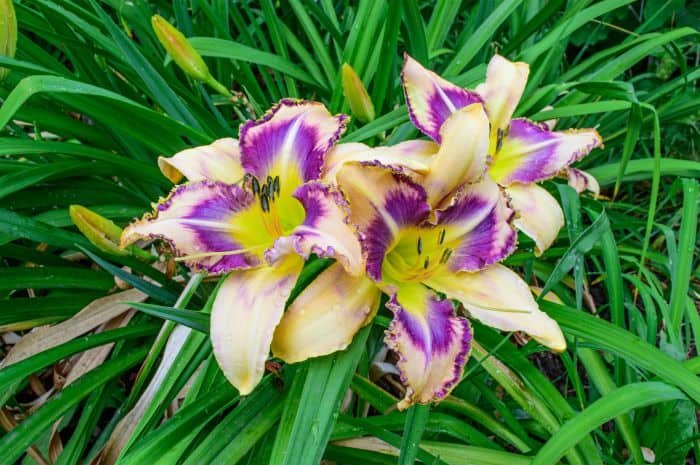 The Daylily is an excellent perennial for zone nine because it is easy to grow and gorgeous. The Farmer's Almanac recommends planting lilies in full or partial sunlight. The colors of the flowers vary from orange to white, and this plant attracts butterflies. The Daylily is the shortest of the series of lilies that are planted in zone nine. The plant features a tall stem with several long narrow leaves leading up to the flower.
Lilies need well-drained soil or will experience root rot. Lilies in zone nine also need to be planted in full to partial sun. The bulb needs to be planted immediately after purchasing them as lily bulbs do not go dormant. Lilies in Zone 9 can be planted both in the spring or also in the fall before the season's first freeze.
Best tips for planting daylilies is to till the earth to a depth of one foot then big holes a little larger than the root bulb. Make sure you space your lilies at least 18″-24″ apart so they don't overcrowd each other. Place the bulb in the hole, tamp the soil firm and then water the bulb. Lilies need frequent watering for maximum growth.
Lilies have a good mix of color options for aesthetics:
Orange
Red
Pink
Yellow
White
Purple
Sedum Ground Covering Perennials are Perfect for Rocky Gardens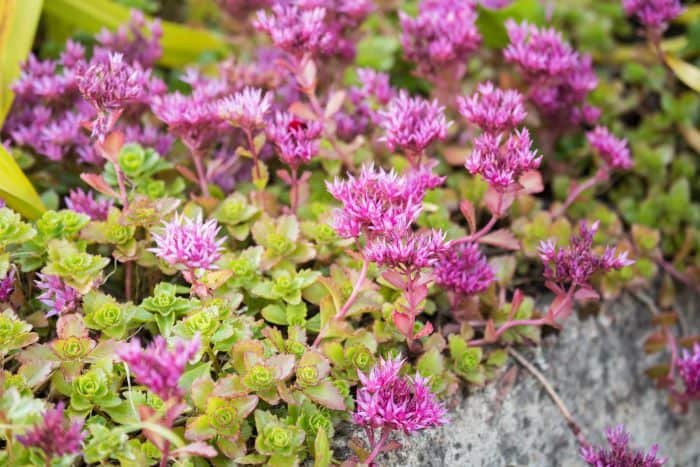 These succulents are the perfect addition to any walkway or rock garden as ground cover. Two types of sedums are low-growing and upright sedum. The upright variety grows flower cluster atop of an elongated stem. Regardless of the sort, the flowers are tiny, star-shaped, coming in various colors.
Sedum is sold in a plug form is planted during the spring planting season. The soil in zone nine is perfect for either variety of sedum. Sedum does best in well-drained soil with an average Ph level. These succulents are easy to transfer and spread around the garden. You can take a single trimming of the succulent and place it cut side down in the soil; the sedum should take root in the new soil.
The upright variety will stay in one space, while the low-growing type will spread to cover any uncovered ground. The sedum plants need full sunlight but minimal water to grow. Animals such as deer are attracted to sedum types. Proper trimming and care will alleviate any overgrowth concerns.
The Butterfly Bush Does Exactly What its Name Suggests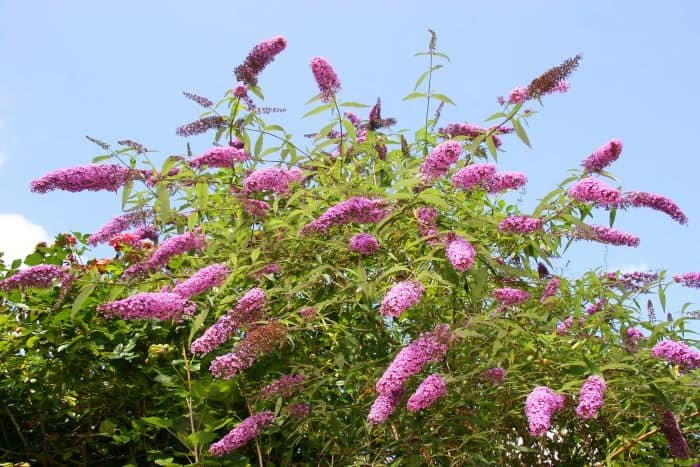 The butterfly bush has a long stem with flowers blooming all around the stem. The flowers on this massive shrub are elongated bells and attract butterflies with their nectar. As a result, caterpillars are also attracted to the butterfly bush. When this shrub is combined in an area with other butterfly-friendly plants, such as milkweed, dill, and aster, the butterflies will stay around the garden for many seasons.
Since the classification of this plant as an invasive species, some regions may not allow the butterfly bush to be planted in that area. However, the butterfly bush does very well in full sun in most zones but thrives exceptionally in zone nine. As with most zone nine plants, these guys need well-drained soil as well.
The flowers need to be trimmed back, or the butterfly bush will take over any untreated garden. The butterfly bush comes in many colors, and some varieties even have multiple colors. The best time to see the butterfly bush bloom is during the summer months through the end of fall. If planting numerous plants, keep them five feet apart when planting the butterfly bush of any variety.
The Top Butterfly Bushes come in Many Varieties:
Black Knight: deep purple
White Profusion
Pink Delight
Ms. Molly: Light Burgundy
Amethyst
Nanho Purple
Kaleidoscope
Hardy Hibiscus is The Best Tropical Plant for Zone Nine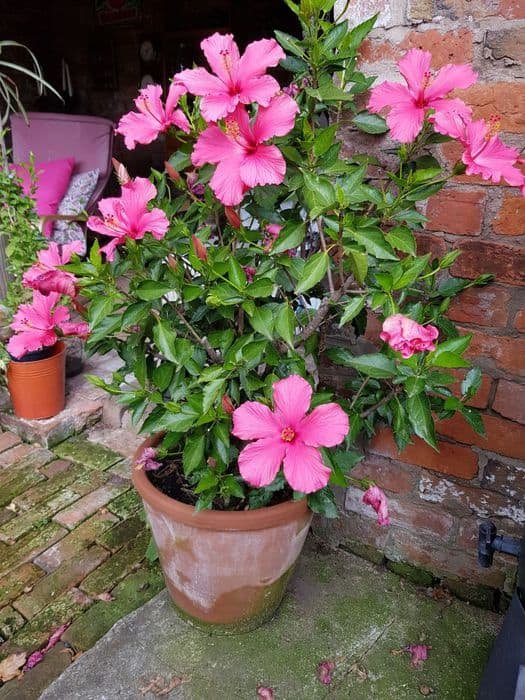 The Hardy Hibiscus plant variety is a beautiful tropical plant to put in pots around your backyard deck or patio. We have a couple of them in pots on the sunny sections of our deck and love seeing all the colorful bloom summer through fall. Actually ours is still blooming and it's currently January but we've also had a warm winter so far in Florida.
The Hardy Hibiscus plant variety is more tolerant of cold than the traditional Hibiscus that only grows in tropical environments. This variety can grow from Zone 4 (with protection) through Zone 9. It will die back in colder climates but comes back to life in warmer Spring weather.
Although some varieties can grow quite large, the variety that tolerates colder weather grows better in a pot in Zone 9. The Hibiscus plant also prefers full sun but will tolerate some indirect sunlight. The potting mix should be allowed to dry in between watering to avoid root rot. The recommended fertilization schedule from the Farmer's Almanac is weekly during the summer and bi-weekly during the spring.
Perennial Plants are Perfect for A Long-Term Residence in Zone Nine
There is a real challenge to keep some plants thriving in zone nine conditions; however, perennial flowers can have a long bloom season that will extend the regular bloom season. Some of these plants will bloom in early spring and then transform in the offseason.
These plants are great during a drought setting as most of these varieties require well-drained soil. Perennials typically have a life span of three years at minimum, so you can enjoy these beauties blooms year-round.