Hot tubs as we've known them, have been in America since the early 1940s, they were introduced as a reimagined Japanese Ofuro. Over the years we've used many terms interchangeably to describe a hot tub and you may be questioning, Hot Tub, Spa or Jacuzzi? What's the difference?
There is little to no difference between the jetted and heated tubs we are describing with these terms. However, the usage of these terms differs as it pertains to historical and cultural meanings. We'll describe these differences for you within this article.
What Came First?
According to Wikipedia, "The belief in the curative powers of mineral waters goes back to prehistoric times." The term spa can be traced back to ancient Greece and Rome where it became much more popular for people to participate in personal cleanliness. Often times, they practiced this ritual in public bathhouses.
The Greek people built bathtubs and large bathing facilities, or sometimes utilized natural springs and tidal pools. They believed the natural springs were blessed by the gods and bathing within them would prove to have curative powers, they weren't far off on this theory.
The ancient people of Greece and Rome actually understood very early on the relief that hot water could bring to rheumatism and arthritis. While the "spas" of ancient Greece and Rome did not offer a more jetted experience like we know today, Rome, actually introduced the concept of receiving a massage during the bathing rituals.
Spas
In ancient times the term spa is used to describe a multitude of public bathing rituals that societies utilized. Whether it was to cure illness or to indulge. Today, we still see the term Spa used, not just to describe hot tubs, but also large scale facilities that offer saunas, massages, mud baths, hair services, nail services and more.
Since a hot tub is used for hydrotherapy and relaxation it makes sense as to why we sometimes refer to them as Spas in modern culture. Although they aren't as large as some ancient bathhouses were, the fact they can be utilized by more than one person proves their use to be a shared experience and ritual.
Where Did the Term Jacuzzi Come From?
Jacuzzi is actually a trademarked term that describes a corporation who invented the infamous underwater jets we see in pools, hot tubs, and bathtubs. Their company name has become so synonymous with the product that we now use the name Jacuzzi to describe any hot tub, even if it isn't manufactured by them. This is called a proprietary eponym.
Some other fun proprietary eponyms include:
Band-Aid
Coke
Dixie Cups
Frisbee
Mace
Kleenex
Google is becoming one as well
It's fun to think about all of the eponyms we use daily without realizing we are describing a company trademark as opposed to the product itself.
The Jacuzzi family consisted of seven brothers and six sisters from Italy who emigrated to California. Their interests were mainly in aviation, but with further research, in thermodynamics and hydraulics as they pertained to fluid, the company switched to a more agricultural approach.
In 1943 the son of Candido Jacuzzi, Kenneth was suddenly stricken with rheumatic fever that left him to suffer from rheumatoid arthritis. Much like the ancient Greeks and Romans, Candido understood the benefits of hydrotherapy to ease the symptoms of arthritis. This understanding he learned while watching his son receive monthly therapy sessions in the hospital.
With the desire to provide an at-home treatment for his son, he developed a new hydrotherapy pump called the J-300. The small family business soon took off with increased popularity from the benefits of their new product. It wasn't until the 1970's that the Jacuzzi family would develop the first hot tub that we know of today to include heating elements and pumps.
Jacuzzi describes more of their family history and provides a detailed video on their website here.
The Evolution of the Hot Tub in America
Contrary to popular belief, hot tubs were actually around before the Jacuzzi brothers inventions. They just weren't as encompassing of features and were much more makeshift. During WWII many American soldiers experience what are called Ofuros in Japan.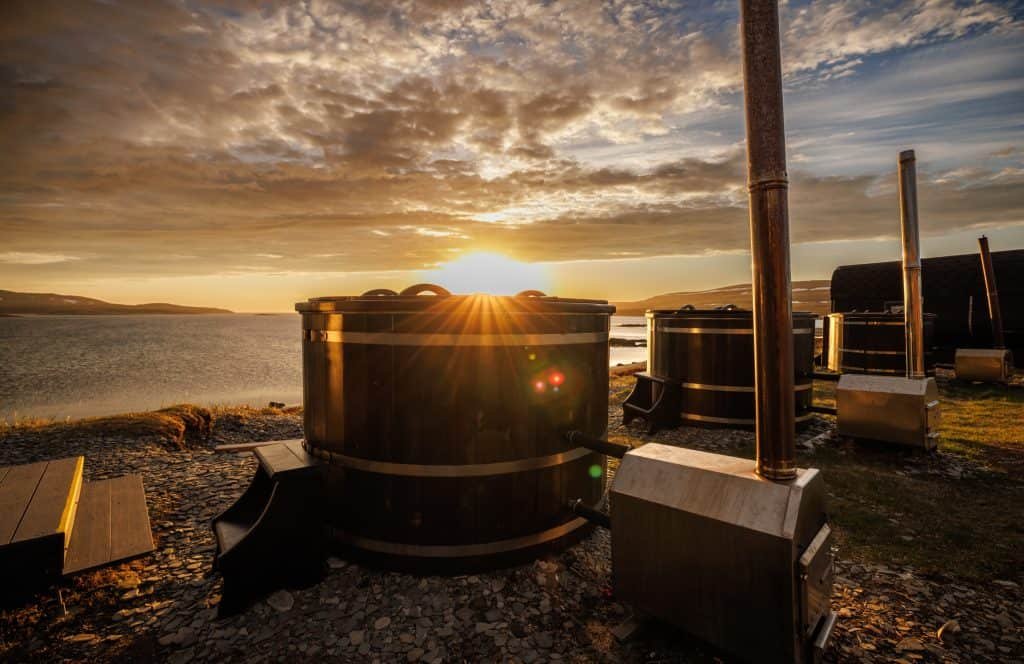 Culturally speaking Ofuros are the first private hot tubs historically seen. They were commonly built from wood and were also wood-heated. The Japanese used them for relaxation as opposed to bathing. American soldiers brought this concept home with them.
In the 1960s many Americans were using several methods to create wood-fired hot tubs but the success was very limited. Even today, those who are looking for a bargain on a hot tub attempt to fashion their own wood-fired hot tubs.
Today, hot tubs are produced from durable acrylic or thick plastic depending on price point. They have evolved in recent years to encompass more than just jets and heat. You might find flashy built-in lighting systems, waterfalls, and even stereo systems included with hot tubs.
In terms of maintenance, many have discovered ways to make the process more efficient, like incorporating saltwater, which provides water that is free from chloramine and irritants and remains fresh much longer.
The average cost of a hot tub is between $3,500 and $8,000.
What is a Whirlpool?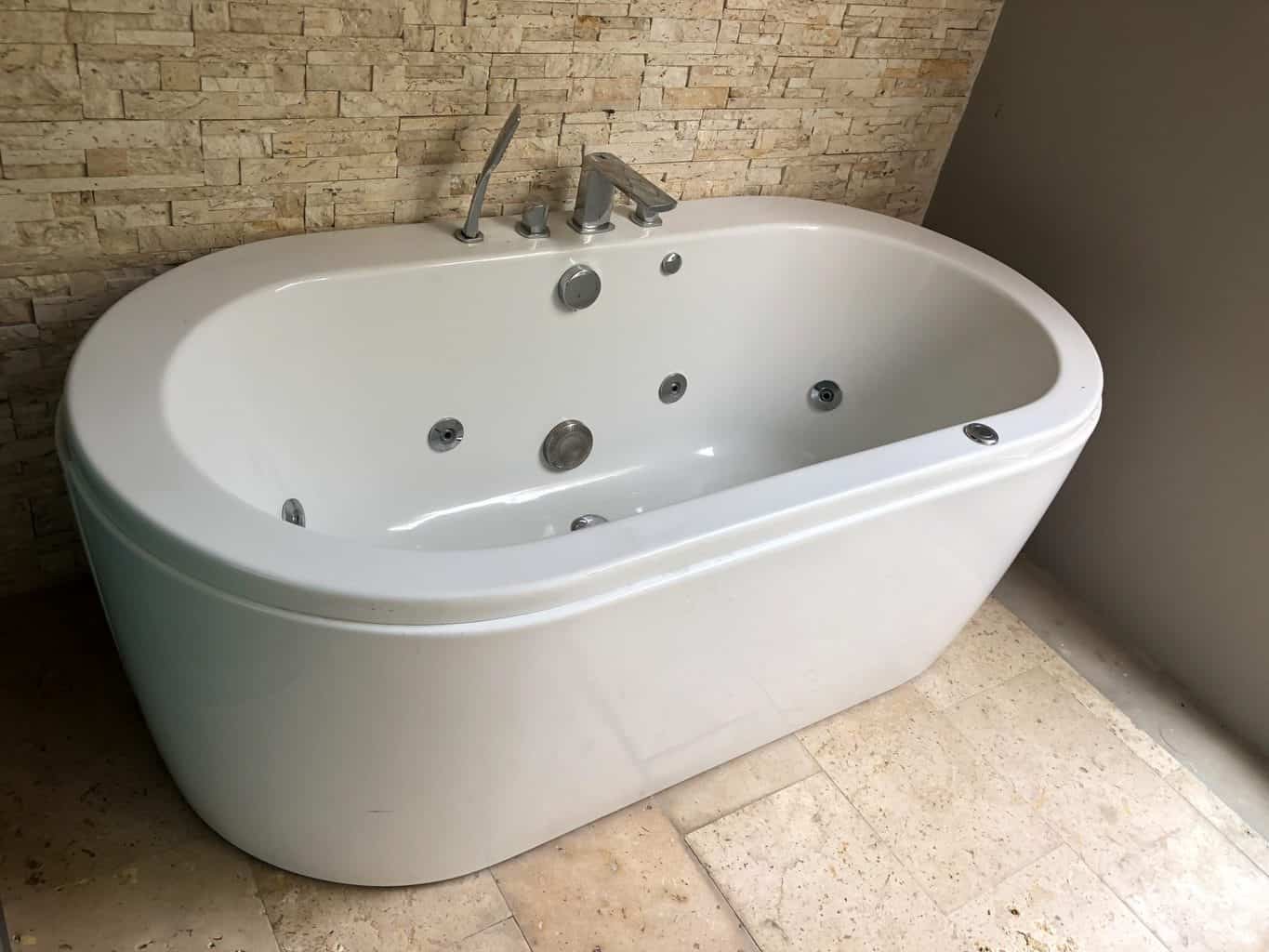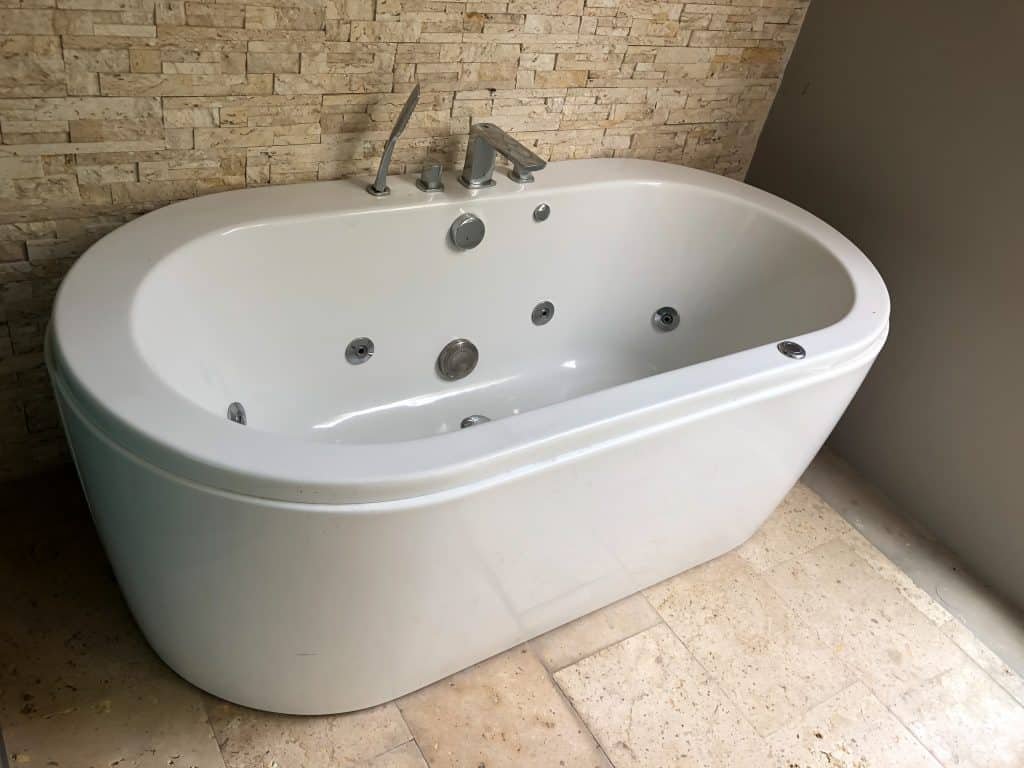 A whirlpool tub refers to a bathtub inside the home that encompasses the same jetted features of a hot tub. Whirlpool tubs are more for private bathing use as opposed to social relaxation in groups. They typically come in two options, air jets or water jets. The difference is just as described, one shoots jets of air, the other, jets of water.
These tubs were also invented by the Jacuzzi family but are sold by a variety of manufacturers today. On the more affordable end, a whirlpool bathtub may cost you around $600.
Health Benefits of a Hot Tub
There are many benefits that come from utilizing a hot tub. Consider the following benefits proven by many sources from the use of hot tubs:
Relieving arthritis pain – The Arthritis Foundation recommends soaking in warm water to relieve arthritis pain, for 20 minutes daily. The warm water will reduce swelling and inflammation which is the main cause of pain.
So if you're suffering from bouts of insomnia, a hot tub investment could be right for you. Just make sure not to fall asleep in the hot tub!
Reduce blood sugar levels in type 2 diabetics – If you're a type 2 diabetic, the New England Journal of Medicine conducted a study in which patients utilized a hot tub for 30 minutes daily over the course of six weeks. They found that soaking in a hot tub reduced patients blood sugar levels by as much as 13% on average. Check out New England Jounral of Medicine's study to learn more.
Helps promote weight loss – Loughborough University actually conducted a study on 14 men who were assigned to either soak in a hot bath for an hour or participate in an hour of cycling. The cycling proved to burn much more calories, however, it was found that soaking in a hot bath for an hour burned as many calories as a 30-minute walk.
On average those who utilize a hot tub are also known to lose up to 3.5 pounds more over a similar time span of those who do not while also not changing any diet or routines
Lower blood pressure – The Mayo Clinic has studied several cardiovascular responses to submersion in hot tubs. They have found in numerous studies that as little as 15 minutes in a hot tub, can reduce blood pressure and heart rates.
Relieves stress and tension – We don't need to reference any medical studies for you to know that hot tubs, in general, provide stress and tension relief. More than likely, if you have ever used a hot tub you have already noted this yourself.
Safety Precautions When Using a Hot Tub
While a hot tub provides a joyful and relaxing experience for many, they do require some safety precautions to avoid harm. Try to practice the following precautions when using a hot tub:
Use the hot tub cover properly. All hot tubs come with a cover of some sort, try to purchase one with child locks if you have children or pets. These covers will ensure that children and pets can not get into the hot tub unaccompanied.
Additionally, because hot tub covers can be large and heavy, when removing one, make sure it is completely off of the hot tub to avoid anyone becoming trapped underneath.
Install steps on the outside of the hot tub. It's common knowledge that water proves to make slippery surfaces. This can be a hazard when entering or exiting a hot tub that requires stealthier movements because of the height.
To avoid falls it's best to install steps on the side of your hot tub that allow you to enter and exit with more ease. Some people even install spa-side handrails like the spa handrail featured here on amazon.
Let a professional install your hot tub. The electrical components on a hot tub can be confusing and if they are installed improperly it could be a safety hazard for those who use it. If you're unfamiliar with hot tub installation, it's probably best to let a professional do the job.
Additionally, you should learn where the electrical panel is located for the hot tub so you can turn it off quickly in an emergency.
Do not use electronic devices and extension cords in or near the hot tub. You're risking electrical shock if an electronic device comes into contact with the water in a hot tub. Make sure all electronic devices are removed from the areas surrounding the hot tub and never bring one into the water with you.
Always properly maintain the water within your hot tub. All hot tubs will come with a proper guide for maintaining the quality of water in the hot tub. Hot tubs can be a breeding ground for bacteria that thrive in warm and damp areas. To keep the users safe from illness, always follow the proper maintenance.
You should always follow the recommended time frame for purging the water and replacing it. To take extra precaution you could always make sure everyone rinses off prior to entering the hot tub. This minimizes the contaminants introduced into the hot tub.
Drink plenty of fluids before and after. Hot tubs will make you sweat, and since you're relaxing it can be easy to forget to not hydrate in compensation. Try drinking plenty of fluids before and after you use the hot tub to avoid dehydration. Avoid drinking fluids in or around the spa so you do not contaminate the water or introduce possible broken glass form containers.
Do not use a hot tub with open wounds or sores. Be mindful of infection contamination. Entering the hot tub with an open wound or sore will leave others vulnerable to bacteria and contagions in the water.
Watch the temperature. All hot tubs are designed to never exceed 104 degrees for safety for scalding. If someone is especially sensitive to warm water you can always lower the temperature of your water to help. If you're unsure of how to lower the temperature check the user manual.
If you have existing heart or blood pressure conditions consult your doctor first. While it's known that hot tubs can have a positive effect on heart rate and blood pressure, always check with your doctor first if you have a history of issues with either. If your blood pressure is too low, it could be life-threatening.
Be wary of alcohol consumption. Alcohol use with hot tubs can prove to be dangerous because of the risk of dehydration and downing. Always practice safe drinking and know your limits. If you must drink alcohol while utilizing a hot tub, make sure you also stay hydrated with plenty of water.

What Brand Do I Buy?
While your first guess is to buy a Jacuzzi brand hot tub, there are many other manufacturers and brands to consider so I've compiled a list of a few top contenders for hot tub manufacturers. If you're looking at saving money, consider purchasing an inflatable hot tub if you're unsure how much you will use it.
Sundance Spas
Sundance Spas are known for their luxurious hot tub designs that remain affordable. These designs incorporate smart features and adjustable jets with a multitude of customization options. All of their tubs even connect with a SmartTub mobile app.
Their hot tubs use Fluidix Jets which are known for their capability to withstand longer periods of time without breaking down because they require fewer parts to operate.
Sundance Spas is actually owned by Jacuzzi. A Sundance Spa hot tub could land you a price tag of $7,999 on the low end and $16,000 on the high end.

Master Spas
Master Spas produces some durable and good valued models of hot tubs if you're looking for a tub in the median price range of the market.
They have four product lines in total:
Clarity
Twilight
Michael Phelps Legend Series (Yes, named after THE Michael Phelps)
Healthy Living
Their product lines are made in the United States and come with popular features like Bluetooth audio and WiFi connectivity. Master Spas actually uses a magnet type therapy along with hydrotherapy in their hot tubs. The magnet therapy is seen in the Bio-Magnetic seats that apply therapeutic methods to your pressure points in the neck and shoulder areas.
Cal Spas
Cal spas are known for having the most hot tub models, 51 to be exact, currently on the market under six different product lines.
If you're looking for a manufacturer that has multiple sizes, shapes, colors, and upgrades to choose from Cal Spas is definitely the way to go. You can choose from oval, square and triangle-shaped hot tubs. They also have UV-C and ozone options.
A popular feature of their hot tubs is the Fountain of Youth hydrotherapy system. This system increases oxygen in the water by producing an overabundant amount of tiny bubbles.