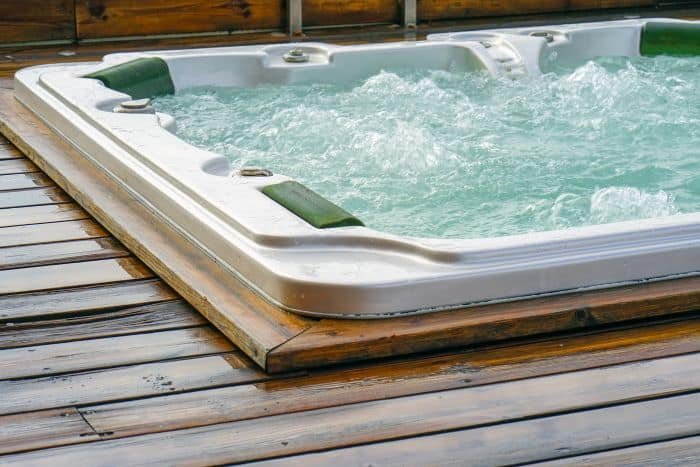 Hot tubs are a fun and relaxing addition to your home. But there are many things you need to consider when you add this to your home. One consideration is the temperature of your hot tub.
The ideal temperature of your hot tub can change depending on personal preference and who is using it. Temperatures will need to be cooler for those who are younger or elderly. The average temperature for many hot tub users is about 100 degrees Fahrenheit to 102 degrees Fahrenheit.
Temperatures can be dangerous for certain groups of people, especially depending on their age, and can cause more damage than relaxation. Here is everything you need to know about the ideal temperatures and caution when someone has certain conditions.
The Ideal Temperature
For the average hot tub user, the temperatures should be set between 100 and 102 degrees Fahrenheit. This is dependent on what you prefer. This temperature range is also approved by the US Consumer Product Safety Commission.
Most hot tubs are designed only to reach a temperature of 104 degrees Fahrenheit and can be set anywhere between 90 to 104 degrees. This is a safety measure, so the temperatures don't reach a heat level that burns the skin. At 120 degrees, you can start seeing serious burns around 10 minutes.
For Hot Climates
Temperatures should change during the season, but it is not a requirement. It is suggested that you should drop the water temperature a few degrees during the summer. If you have it too hot, you can cause heat exhaustion or a heat stroke. This is especially so if you relax in the hot tub during mid-day when the sun is out and directly shining on you.
For Cold Climates
Some people like to increase the heat during the winter when the temperatures can get below freezing. This isn't unsafe, but remember that you don't want to shock your body too much by the temperature difference. Make sure to have a towel or robe with you to wrap yourself when getting out of the hot tub, exposing yourself to the frigid air.
Start Low
If you are unsure what the ideal temperature is for you, always start low. You don't want to shock your body with the high heat. As you soak, increase the temperature gradually until you find the best heat level for you. Don't turn it up too quickly, or you could overheat yourself.
Temperature For Sensitive Groups
Many groups are sensitive to higher temperatures. You will want to consider them when you set your hot tub heat levels. These sensitive groups include these types of people:
Children
The elderly
Pregnant women
Other groups of people may need different temperatures that may have medical issues triggered by extreme temperatures. These people should already know what they can and cannot handle but always be ready.
Children
Children's internal thermometers are not quite as advanced as adults and are more likely to overheat when in hot temperatures. Considering this, if you have children or you know children will be using the hot tub, you may want to reduce the heat to 95 degrees Fahrenheit to protect them.
The Elderly
As you get older, your body doesn't regulate temperature, and you lose subcutaneous fat that protects the inside of your body from extreme temperature changes. It is better to reduce the temperatures so that they do not get harmed.
An easy way to prevent overheating or dehydration in an older adult is to have a water bottle within arm's reach to sip on. This will help prevent dehydration and keep the internal temperatures from getting overheated.
You also want to consider that if an older adult gets burned by the water, their healing process is not as quick as younger ones. These burns can be more harmful to them and may cause problems if not properly cared for.
Pregnant Women
Pregnant women should proceed with caution when getting into a hot tub. If you are pregnant, you should consult with your doctor to get approval. You should have the temperature set no higher than 101 degrees. Any hotter than that can cause problems for the fetus.
Signs Of Heat Exhaustion Or Heat Stroke
Always take the initiative and know the signs of heat exhaustion. This is especially true if anyone is in those sensitive groups. Here are some signs and symptoms you will want to look out for:
Headache
Dizziness
Nausea
Vomiting
Fainting
High blood pressure
Fast heart rate
Confusion
If you or someone else is feeling these symptoms, have them slowly get out of the hot tub. Make sure someone assists them. Heat exhaustion and stroke can cause lightheadedness, making it difficult to walk.
You should drink some cool water and place a cool washcloth on your forehead to bring down your temperature. Try not to give them something extremely cold like ice because this can make things worse. If your symptoms continue after an hour, it is best to seek medical attention.
Benefits Of A Hot Tub
Now that you know the ideal temperatures and signs and symptoms of a heat stroke or exhaustion, you can enjoy the benefits it has to offer as well. There are many it can give you, but here are the top benefits of using a hot tub:
Stress relief.
Helps with sore muscles.
Increases blood flow throughout your body.
Improves sleep.
Can provide pain relief for some conditions.
Can help lower blood pressure.
Can improve your insulin sensitivity.
Can burn some calories.
There are many other benefits you can get from soaking in the tub. You will find that the benefits can improve your health if you use the hot tub correctly.
Conclusion
The ideal temperature can change based on what you desire. You may be someone who likes hotter waters or someone who wants something that's not too hot. Whichever one you decide, remember to take into consideration any sensitive groups and those with preexisting conditions.
Once you've figured out the perfect temperature for everyone, you can enjoy yourself and your company. Don't forget to relax and enjoy the heat relaxing your stressed muscles. Be sure to checkout our other hot tub related articles you may find useful such as, how to move a hot tub, and the differences between a hot tub and a jacuzzi.