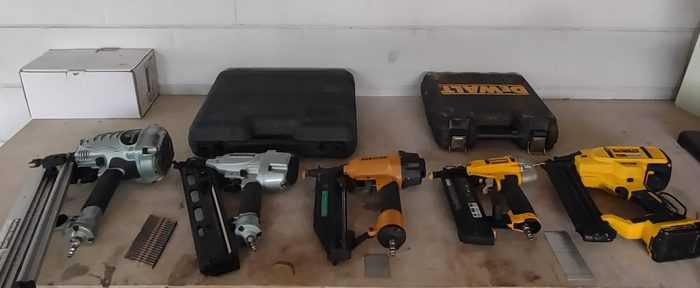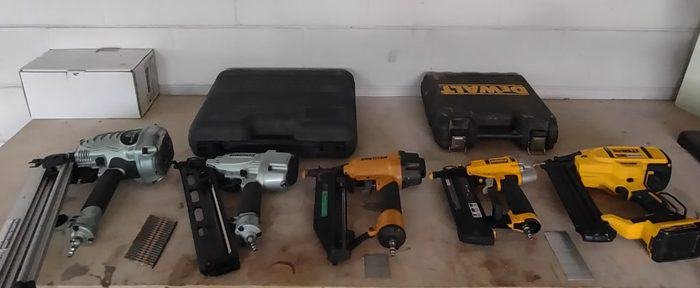 You've bought a new house and dreaming about your first of many DIY projects. I'm sure one if not several will include adhering two different materials. If so, a nail gun should be one of your first purchases. But, how do you know which nail gun to choose?
There are so many different types of nail guns on the market that you want to be sure to get the best one for you. A nail gun is not a cheap investment in tools. Depending on if it is powered by a battery or pneumatic air, each one can be $75 all the way up to $400.
How you choose a nail gun will be mostly determined by the type of projects you will be doing. We'll match common projects inside and outside your house with the nail gun most used for the intended purpose.
Interior Trim Projects
If you plan on installing new trim in your house you'll need a finish or brad nailer or both. Interior trim projects include the following
Door and Window Trim Molding
Baseboard Molding
Crown Molding
Cabinet Crown Molding
Wainscoting
Shiplap
Chair Rail
Most smaller trim piece projects can be installed with a brad nailer or nail gun that shoots 18 gauge nails. Since the trim isn't holding anything up or supporting anything, you can use a smaller nail. This also leaves a smaller hole in your trim piece to cover up.
If your trim is on the beefier side, then you might want to install it with a finish nail gun that uses 16 gauge nails. The 16 gauge nails are larger than the 18 gauge nails and has more holding power. If you're looking to only buy one nail gun, go with the 16 gauge finish nailer since it can handle it all.
If you have a second story or don't want to lug a compressor all around your house, spend some extra money to get a battery operated finish or brad nailer. I use the battery operated DeWalt nail gun in pic above all the time.
Large Interior Projects
Prehung Interior Doors
Replacing Stair Treads
Garage Shelving
Garage Workbench
For projects above, you need a little more holding power, which requires a lower gauge nail gun. A 15 gauge nail gun can handle the holding strength to hold a new door in place. As you can tell from pic above though, I hardly ever use this gun as it still looks brand new.
Exterior Projects
Fence
Deck
Patio Roof
Outdoor kitchen frame
Planters
Raised Garden Bed
The projects above use 2×4 or 2×6 material that needs a large nail to join securely together. These larger and longer framing nails are shot with a framing nail gun. Framing nails can be up to 3.5 inches long and .113 to .131 inch thick.
There are several different kinds of framing nail guns. A stick nail gun has a long "stick" that holds the nails. The nails can be held together by plastic or paper. They can also be different degrees, with the most common being 21 degree and 30 degree framing nail guns.
I believe the 21 degree is the most common and has more available models to purchase. Stick framing nail guns can shoot longer nails than the other type of framing gun, the coil framing nailer.
The coil framing nail gun can hold more nails, which would be useful in a fencing application or installing plywood to a patio roof.
I prefer the convenience of one exterior framing nail gun which is the 21 degree old hitachi (now metabo) framing nail gun. I have built all the projects above with it and it has never failed me.
Other Projects
If you plan on tackling even larger projects, like a new roof, then obviously you would need a roofing nail gun. Same if you want to replace your exterior siding, there's a specific siding nail gun. I'd advise against DIYing structural parts of your house since it could go very wrong, very fast. Not installing your roof or house siding properly could be catastrophic by letting water penetrate your house structure.
Conclusion
After owning many different houses, I accumulated the collection of nail guns above but it all started with a compressor and nail gun combo back in 2003. If I had to do it all over today, I'd forego the compressor and get a battery powered 16 or 18 gauge nail gun. For first time home owners and DIYers, the 16 or 18 gauge nail gun is perfect for the smaller projects to gain experience in house renovation.