Hot tubs are one of life's simple pleasures, but is it safe to stay in one all day? If you've never considered it, the answer may surprise you.
People should not stay in a heated hot tub for more than fifteen to thirty minutes at a time. Staying in a heated hot tub for extended periods can lead to hyperthermia and fainting, which can lead to drowning. Daily hot tub use is recommended for short periods to alleviate many conditions. 
Hot tubs can be great for everything from arthritis to menstrual cramps if they're used safely. Read on to learn more about how long you can stay in a hot tub and some of the benefits you can get from it.
How Long Can You Stay in a Hot Tub?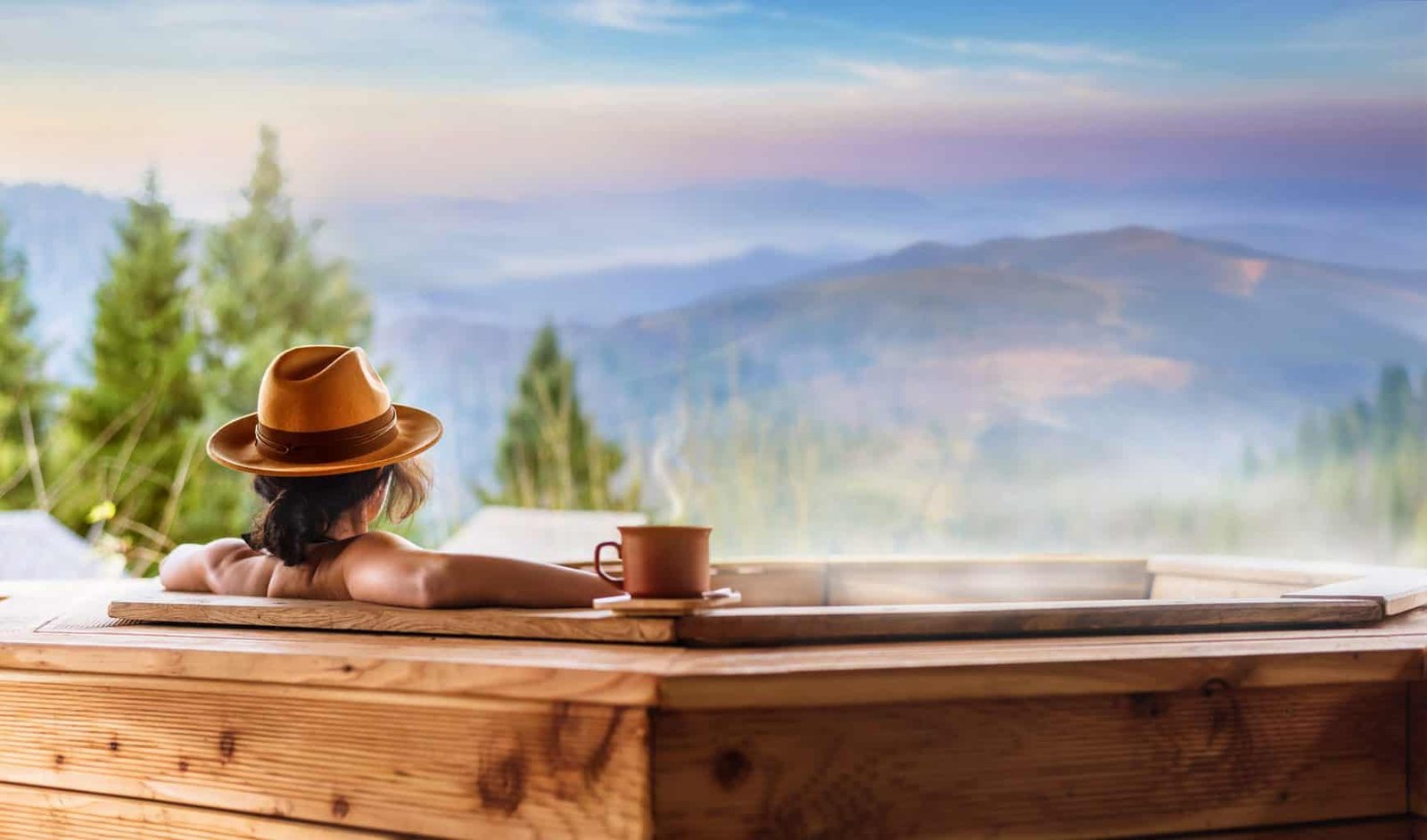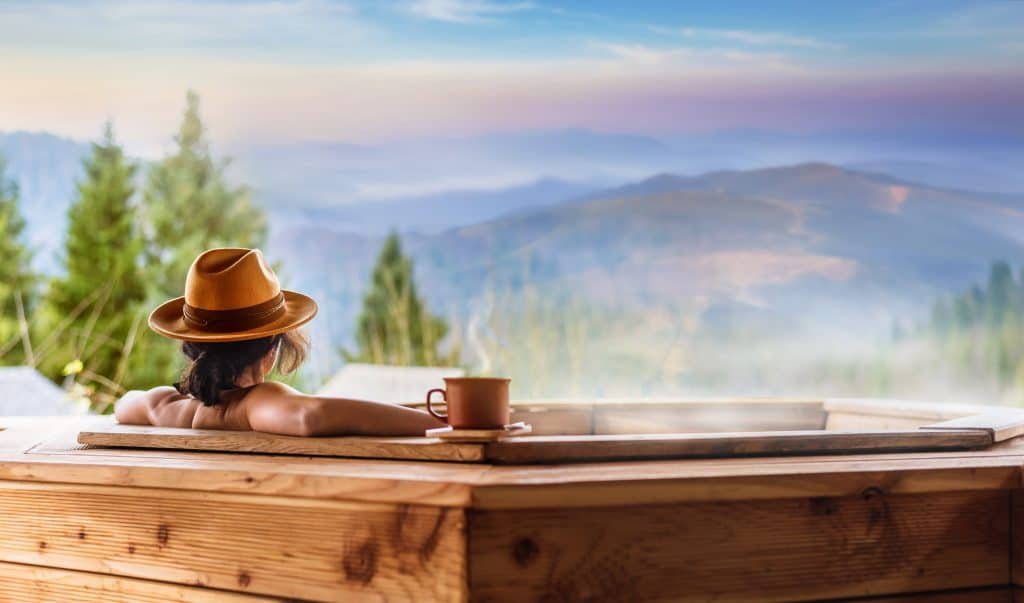 Because of the high temperatures involved, a person should only stay submerged in a hot tub for a quarter to a half hour. The average temperature of a hot tub is held at a hundred to a hundred and two degrees This is several degrees higher than a normal human body temperature, which holds at 98.6 degrees.
The danger of staying in high temperatures for long periods is an insidious one. Even if you feel okay at a slightly higher temperature, your body can gradually succumb to them. By the time you realize that you're feeling ill, it might be too late to save yourself from heatstroke or worse.
What Happens If You Stay in a Hot Tub Too Long?

If a person is exposed to high temperatures for excessive amounts of time, this can cause their core body temperature to rise above normal. This in turn can put a person at risk for hyperthermia, a medical condition where the body is too hot to function properly. Hyperthermia can lead to the following symptoms
Flushed skin
Excessive sweating
Muscle spasms
Muscle pains
Exhaustion
Headache
Lightheadedness
Nausea
Loss of consciousness/fainting
Rapid breathing
Fast, weak pulse

The main danger of succumbing to hyperthermia in a hot tub is loss of consciousness. If excess heat in a hot tub causes a person to faint, this in turn can cause them to drown in a hot tub.
Prolonged hot tub exposure can also stress the heart of people with heart conditions because it increases the heart rate. This can stress a heart that is already in poor condition from other diseases. This is why many doctors will recommend that those with a weak heart or a known heart condition should avoid hot tubs and saunas.
Can You Hot Tub Safely for Hours?

If it's dangerous to be exposed to high temperatures in a hot tub for long periods, then is there any way to safely spend all day in a hot tub? The answer is yes! The good news is that most hot tubs come with temperature controls that allow you to lower the temperature of the water.
Once the temperature of the hot tub is lowered to 98 degrees, it should still be warm enough to be comfortable for soaking but should be cool enough that the danger of heat exhaustion and hyperthermia is avoided.
A hot tub can also be left unheated. This gives it some of the refreshing qualities of a swimming pool while also giving the user access to bubbles, massaging jets, and other hot tub amenities.
Is It Safe to Hot Tub Daily?

While the amount of time spent in a heated hot tub should be restricted in any given session to a half-hour or less, it is perfectly safe to hot tub daily as part of a self-care ritual if you don't have medical conditions that prevent you from doing so. Here are some of the medical conditions which would prevent safe use of a hot tub:
Pregnancy: During pregnancy, a woman should avoid hot tubs entirely. Elevated temperatures in utero can lead to birth defects of the brain and spinal cord.

Psoriasis: The chlorine used to keep hot tubs clean can worsen medical skin disorders such as psoriasis and eczema by drying out the skin. People with skin conditions should generally avoid chlorinated pools and should stick to saltwater soaking.

Children: Children less than seven years old should be kept out of hot tubs, as they have less ability to regulate their body temperature. This makes them more susceptible to heat exhaustion than adults, especially in hot tubs that are kept at high temperatures (102-104F).

Heart conditions: People with heart conditions should avoid hot tubs or any activity which causes the heart rate to be artificially elevated for prolonged periods.

Skin injuries: Those with open wounds should avoid hot tub use since exposure to bacteria. Chemicals in the water can lead to further skin irritation and even secondary infections. People who have just been tattooed should also avoid submerging their bodies in a hot tub since this can cause risk of infection and also damage the tattoo itself.
Note: This is not a comprehensive list of all medical conditions barred from hot tub use. Please consult your physician before starting a hot tub regimen.
If a person is medically cleared to use a hot tub, there's nothing wrong with taking a daily soak in it if you keep your soaking session limited to thirty minutes or less. There are many benefits associated with daily hot tub use, such as the following:
Relieves stress
Relaxes muscles
Improves sleep
Reduces pain
Lowers blood pressure
Improves sensitivity to insulin
Burns calories
Hot water soaks are useful for holistically treating several kinds of ailments from diabetes to mental exhaustion. Cultures all over the world have long understood the advantages of a daily soak in a hot bath. Daily access to a hot tub can lead to a healthier body overall if the hot tub is used responsibly.
Can You Hot Tub Multiple Times a Day?

If you want to spend more than thirty minutes in a heated hot tub per day, the answer is to use the hot tub multiple times a day instead. This allows your body time to regulate its temperature and return to homeostasis without inducing hyperthermia.
When hot-tubbing multiple times a day, it's a good idea to separate these periods with several hours outside of the hot tub so that your body remains at a normal temperature throughout the majority of the day. Taking a soak in the hot tub in the morning and in the evening can ensure you have plenty of time to cool down while also doubling your hot tub time.
Tips for Getting the Most out of a Hot Tub

To stay in a hot tub for the maximum amount of time without feeling ill from hyperthermia, there are several steps you can take to make the hot tub safer more and more effective to use. Here are some tips for getting the most out of your hot tub:
Be sure to stay hydrated. When you're submerged in water, it's easy to forget that you're thirsty. Sitting in a hot tub can lead to dehydration. Drink plenty of water both before and after using a hot tub, especially if there are also alcoholic drinks involved in your hot tub leisure time.

Keep the temperatures on the low side. Even if you like hot temperatures in your hot tub, it is safer to use the hot tub at 100-102 degrees versus 104 degrees. This is especially true if you're hot-tubbing alone since high temperatures can cause fainting.

Wash your body when you're done. Bacteria in hot tubs can potentially lead to skin infections such as hot tub folliculitis. Along with keeping the hot tub itself clean, washing in the shower after soaking in a hot tub can help prevent skin infections. Avoid going from a hot tub into a cold shower, however. This can cause a dangerous spike in blood pressure.
Hot tubs are fun and safe as long as you use them correctly. While the above steps might seem overly cautious, they can potentially save you a lot of trouble.
Use Your Hot Tub Daily, But Keep Sessions Short

There's nothing wrong with using a hot tub every day, but hot tub owners need to keep the dangers of hyperthermia in mind before planning a half-day soak. Multiple short sessions are a much safer bet. With just a few adjustments to your hot tub ritual, you can get the most out of it without putting yourself at risk.