If you are thinking of investing in a hot tub or are staying somewhere with one, you may be wondering how long it will take to heat up. To get your hot tub to a comfortable temperature at the right time, you will need to do a little bit of planning.
Usually, a 110v hot tub will heat by one to two degrees per hour. Depending on the hot tub water's starting temperature, it can take anywhere from a couple of hours to over a day to reach ideal temperatures.
Hot tubs are great for relaxation and warming up when it is cold outside. Whether you are heating your hot tub for the first time with cool water or raising the temperature by a few degrees, you should know how long you will need to wait for the temperature to be comfortable. Keep reading to learn how to plan your hot tub heating time!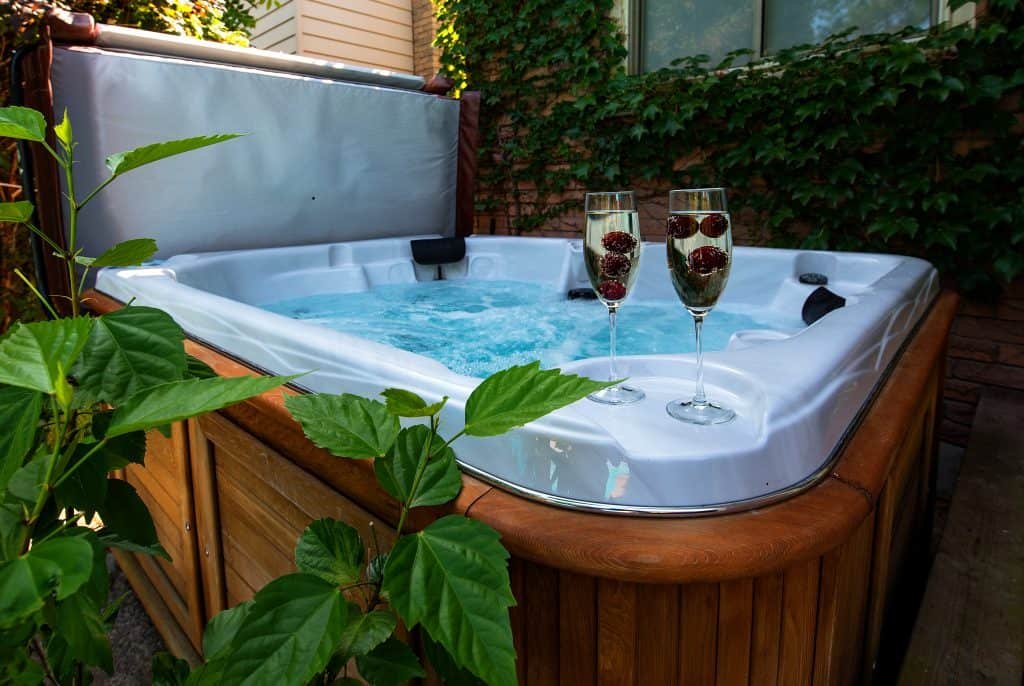 What Does Hot Tub Voltage Mean?
Hot tubs are usually either 110v or 220v. The voltage differences usually correlate with a different type of plug needed to connect the tub to power. A 110v hot tub can simply be plugged into a normal wall outlet. However, a 220v or above hot tub must be connected to power directly in the main circuit breaker box in your house.
A 110v hot tub is much easier to install and get running but will heat much more slowly than the more powerful but more complicated 220v hot tub.
How Long Does It Take To Heat Per Degree?
There are a lot of factors that can impact the speed at which your hot tub heats up. Consider the following factors when calculating how long it will take to heat your 110v hot tub:
For optimal heating speed and power efficiency, keep the hot tub lid on while heating
The hot tub will heat faster if it is warmer outside
Smaller hot tubs will heat faster than larger ones
Even considering these factors, a 110v hot tub will heat by one degree every 30 minutes to one hour. 220v hot tubs heat faster, at around one degree every 10 to 20 minutes. Be sure to checkout our article on the perfect hot tub temperature.
What Size Hot Tubs Are Supported by 110v?
The time it takes to heat a hot tub can vary depending on several factors, including the size of the hot tub. Usually, hot tubs are sized based on how many people it is designed to fit. The three categories of hot tub size are:
Small: Can fit 2-4 people
Medium: Can fit 5-6 people
Large: Can fit 7-or more people
110v hot tubs are generally only made for small and medium-size hot tubs. You will not see any large-sized hot tubs powered by a 110v connection, as it is too weak to heat the entire tub without overworking the power supply.
Heating Your Hot Tub For The First Time
When heating your hot tub for the first time, or for the first time each year, you will be raising the temperature from an average temperature, around 55 degrees, to around 102 degrees. A 110v hot tub will take one to two days to reach optimal temperatures from this starting point.
Keep in mind that outside temperatures can impact the starting temperature. If you are heating your hot tub in a warmer climate with a warmer starting temperature, it will take less time to heat the hot tub to a comfortable temperature. Likewise, it will take longer to heat the hot tub in freezing temperatures.
Tips to Keep Your Hot Tub Hot
Since it can take a long time to heat your hot tub from lower temperatures, we have compiled a few tips to help you maintain your hot tub temperatures with maximum efficiency.
Keep the Lid On And Secured When Not In Use
When buying a hot tub, it is important to get a high-quality lid that is insulating. A good lid will not only regulate the temperature inside your hot tub, but it will prevent water from evaporating as well.
When the hot tub is not in use, be sure to close and secure the lid. This will make sure that the temperature stays consistent. By securing the lid in the closed position as well, you also prevent any warmth or moisture from escaping by sealing everything shut.
Keep the Temperature High
You might think that you will save power by unplugging your hot tub and letting it cool down after every use if you do not use it daily. This method is fine if you are only planning to use the hot tub once per month or so. However, if you plan on using the hot tub any more frequently, it is best not to let this happen.
You will generally save more power by leaving the hot tub plugged in and set to a warm temperature like 95 degrees or above. Then, each time you want to use the hot tub, you can set it to a higher temperature a few hours beforehand, and it will be hot and ready for you.
In the long run, this conserves energy because you do not have to run the hot tub from cold to hot for tens of hours each time you wish to use it. The hot tub will simply run for a few minutes every few hours to keep the temperature around 95 or at whatever temperature you set it.
Pick a Good Location For Your Hot Tub
When selecting a place for your hot tub, it will be best to pick somewhere that is shielded from the wind. This will prevent the hot tub from losing heat while in use and help maintain a comfortable temperature.
You will also want to make sure the hot tub isn't under a roof or canopy edge that drips. Not only would it be uncomfortable to be dripped on while in the hot tub, but this can also damage the cover and impact the temperature of the hot tub.
Lastly, it would be ideal to position your hot tub in a location that gets southern exposure, especially in the winter, if you live in a place with cold temperatures. This positioning will help to melt snow off of the hot tub and keep the temperatures up.
Don't Let Your Water Freeze
Even if you don't plan to use your hot tub at all in the winter, you will need to keep the heat set to at least the lowest temperature if you live in an area with below-freezing temperatures.
The last thing you want is a hot tub that is full and completely frozen. This not only prevents you from using your hot tub until it melts but can seriously damage the electrical components of the tub. If this happens, you will not be able to simply turn on the heater to melt the ice, as the motor and jets will be frozen. Your only option will be to wait until the hot tub melts.
Not only do you want to avoid this so that you don't damage the hot tub, but you will also want to use the hot tub in the winter! It can be a magical experience to be sitting in a warm and comfortable hot tub while it is snowing. You won't want to miss an opportunity like that because of a frozen hot tub.
Wrapping Things Up
In general, 110v hot tubs heat by one to two degrees per hour. This can take a long time if you are starting with cold or lukewarm water. By following our tips and calculating how long it will take to heat your hot tub, you can plan everything perfectly so that your hot tub is the perfect temperature when you want to use it.
Be sure to follow our tips to heat and use your hot tub efficiently!