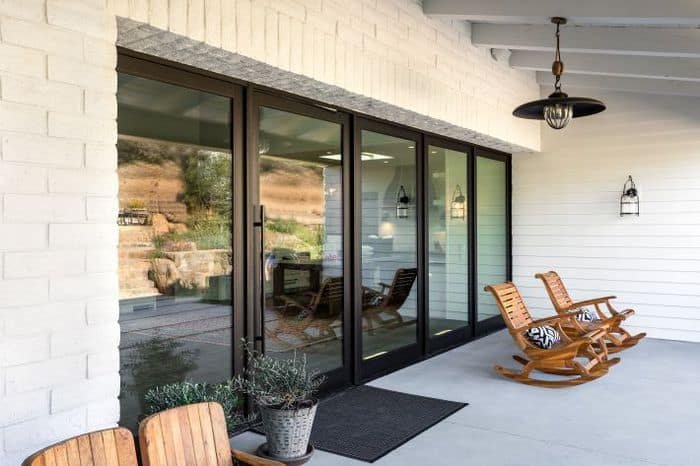 Patio door installation cost is what we are going to break down for you today(along with some other helpful tips)!
On average you'll pay anywhere between $1,300-$2,500 for standard patio doors and between $2,500-$5,500 for higher end doors.
The kitchen or family room usually has doors leading out to the backyard, which is the type of door that we are discussing today. A door with a large amount of glass in its frame provides a light and airy appearance, and has a wide range of designs. French doors that swing open, Patio doors that slide, or for even larger openings, folding doors that pivot and slide open. Swing doors take up more room than sliding doors but create a larger opening when the doors are open. Only one half of sliding doors open up to the outdoors.
Let's Cover Some Helpful Tips
Tip 1: Because patio doors are primarily made of glass, you'll want to choose the type with the greatest benefit and efficiency. With Low E glass, energy bills are lower all year round and UV fading is prevented. Glass that adds style and privacy allows natural light in while maintaining privacy. If you want to control the light and views, look for options such as internal blinds and grills.
Tip 2: Make sure the doorway that connects to your outdoor living area has a wide opening so you have easier access inside and out.
Tip 3: A patio door's material is equally important to the overall appearance of your home, as would be your house's siding style. Make sure your patio door complements the style and quality of your home. Solid wood or an elegant fiberglass door will work better in a home with cedar siding than a vinyl door which may look better in a brick or concrete house. Choosing a sliding patio door style, adding accessories, and selecting the glass gives you the most design options. A hinged or French door, which is essentially all glass, will match your front entry and garage doors better than a sliding patio door, which is primarily made of wood.
Tip 4: When choosing a material for your patio door, ideally you should choose one that is durable and easy to maintain, especially if it serves as the home's main entrance. There are three main options for door materials. Fiberglass, Steel and Solid Wood.
Fiberglass is the most durable and will not rot or rust, but is the most expensive. It has a realistic grain look that mimics wood without the worry of wood rot. Fiberglass won't rust like steel can at times making it the most durable door material.
Steel won't rot like wood but can rust if exposed to a lot of moisture and not properly painted regularly. It has a smooth texture rather than a wood grain and also has the lowest cost.
Solid wood makes a beautiful door but can rot at the bottom if exposed to a lot of moisture and isn't property sealed. Depending on the style and material used, wood can be less than steel for a simple pine half glass door or more expensive than fiberglass with a intricate design made out of mahogany.
Tip 5: Considering furniture placement and the placement of walls when choosing which opening method is best for space, swinging and French doors require more room to open. Space-efficient solutions like a stationary panel with a single swing door or sliding doors may be an option if there is a limited amount of room.
Ball Park Pricing
Standard French doors cost about $200-$900 at your local big box store (double doors that swing open in the center, described by windows with a grid of stiles running along the whole length), or $500-$1,300 with a special door retailer.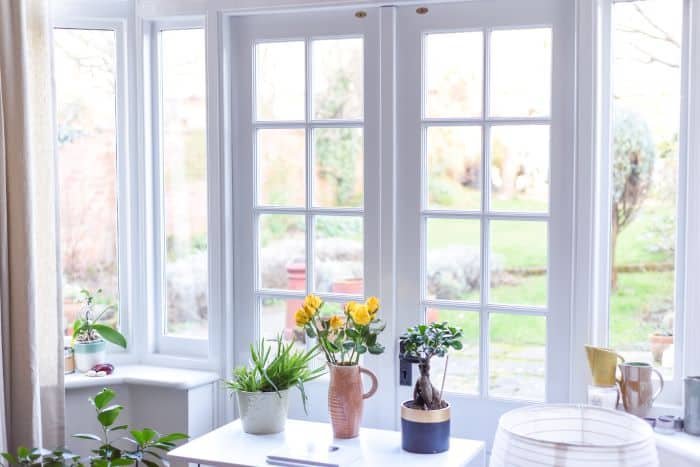 In the event that you lean toward more solid, upscale, or more energy-efficient French doors, expect to pay somewhere in the range of $900 and $2,900 or more. Depending on the material and style, these doors can go from $1,400 to $4,400 or more.
Sliding Patio doors fit for enduring powerful storm winds (sliding, french-style, or single-pivoted impact doors) can range between $1000-$2000.
If you have an opening of 8 ft or more and want a wide open feel, folding patio doors may be your best choice but the price is significantly more than the other types of patio doors. A sliding pivot door can start at $5000 and go up to $20,000+.
What If You Decide To Hire A Professional?
Look For A Well Established Business that's been in business many years and has knowledgeable installers. In Florida, all exterior door installations must be permitted and done by a licensed contractor.
This is to verify that the installation is done properly since it will be inspected by a local government official who will either sign off on the permit or tell the installer to fix anything that was done improperly. This can give you a peace of mind knowing that your door installation was done correctly.
Talk to people you know what have had doors installed and ask them if their contractor did a good job or check online for licensed contractors that have good reviews from previous customers.
Always chose three or more different companies to get a quote and ask for references from previous clients for each.
Ask the contractor if they offer a warranty on the installation in case anything happens afterwards. A poor installation can cause wood rot around the home frame and siding which can then cost a lot of money to fix.
How To Care For Your Patio Doors
If you keep up with your door maintenance regularly, you should never have to wiggle, pull, push or drag it across the track.
Sliding door tracks require more maintenance than a swing door. The tracks regularly fill with debris that has to be removed so the door will slide smoothly.
With a couple of household items and around 20 minutes, you can deal with the issue and ensure that the sliding door keeps moving smoothly. These are the steps to take.
Stage 1
Get rid of free trash on the track by using the hose connection on your vacuum. If the rollers are able to move as freely as possible, vacuuming the track on both the bottom and top of the door will be helpful.
Stage 2
Clean the track by wiping it down with a moist piece of material. Do not use wet material. The region should be allowed to completely dry and the fabric should be wrung out thoroughly.
Stage 3
This is a good opportunity to clean the glass while you wait for the track to dry. A glass cleaner can be used to clean the glass. While you're busy cleaning your vinyl patio doors, wipe down the handles and the edges to clean any dirty hand prints.
Last Step
The track and the rollers can be treated with a silicone spray for maximum effectiveness. You can also use the silicone spray for swing door handles if the handles become hard to twist. Also on the hinges if your door squeaks.
Now that your new doors are installed, may be you'd like to know how much a new concrete patio will cost to install or how to fix cracks in your current patio. If you already have a concrete patio, and want to get creative, learn how to stain or stencil your patio.