Having additional space at home is a good way to make sure that guests are comfortable during their stay.
It can also be a good way to help add additional income to the household as well by either renting the space or offering it as a temporary vacation housing like Airbnb.
There are a lot of potential options for guest housing including converting a shed or garage, purchasing a camper van or housing kit, and building a house outright in a backyard. 
Some may wonder why they should be adding a guest house versus only creating a single room dedicated to guests.
Having a separate guest space allows homeowners to feel at home while also providing a comfortable living space that accommodates guests separately.
Providing a private area away from the main home will allow the homeowner to not feel crowded or put out of their own home while a guest is visiting. The options come in a variety of shapes, sizes, and price points. 
Converting a Shed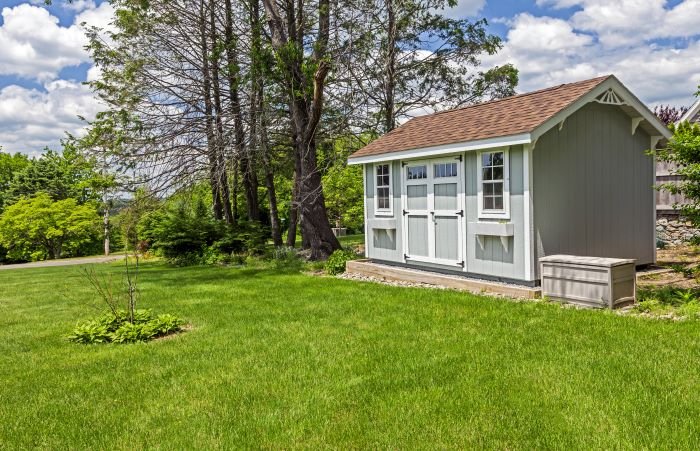 Converting a shed into a living space can be a fairly cost-efficient way to create a comfortable space for guests.
Sheds can come in a variety of sizes, and can also be one of the most affordable ways to provide private guest housing. One of the hardest parts in having a shed for guest housing is choosing the type of shed.
They can come in a variety of colors with different building styles. Taking into account how often guests would stay and how many guests would use it at once is important to consider before purchasing a shed. 
Choosing to turn a shed into a guest living space can be an affordable option.
The cost can range from around $6,000 to $21,000. It is also an easy option for getting the shed into the backyard. The cheapest option for a shed would be simply making a space that someone could sleep in at night.  
Other options include electricity and plumbing, which involve contractors. Hiring the right people for plumbing and electricity will not be the bulk of the costs, but will add a decent amount toward the budget for a project like this.
Insulation is also a very important thing to include in a shed to convert it to a guest home. It will help make the shed feel like a real room. If you need to know the best ways to heat a shed, we talk about the different options.
Converting a Garage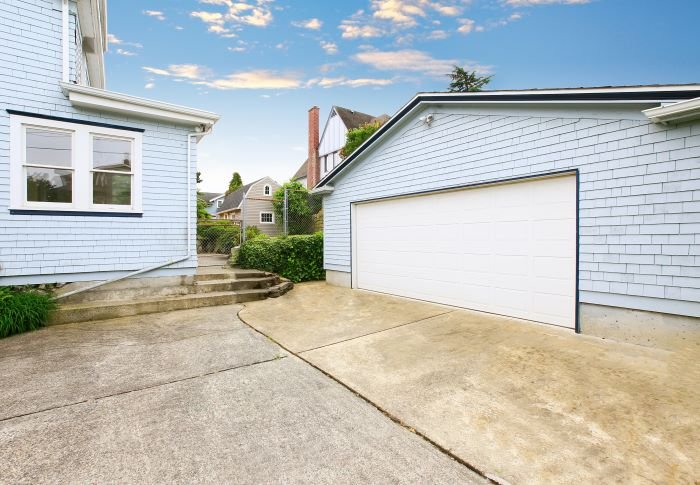 Converting a garage into a guest living space is also a perfect option. In some cases it can be around the same cost of converting a shed, but can also be more or less expensive in other cases.
The average cost runs between $6,000 and $19,000.
The cost in converting a garage depends on the size of the garage and the amount of professional help that will be needed.
Some important things will include adding insulation in the floor and walls. This will possibly raise the floor height in the garage depending on your floor material.
This option works well for people with multiple garages or for people who do not drive.
Converting a detached garage is the best option for turning the garage into a guest living space. 
It's also all up to the person choosing to convert the garage to decide how they want to handle the garage door and whether it will be part of the final conversion or will be turned into a wall with a regular door. 
Converting a garage is a lower cost option than creating a tiny house or building an addition because it already has walls and a foundation.
Using a Camper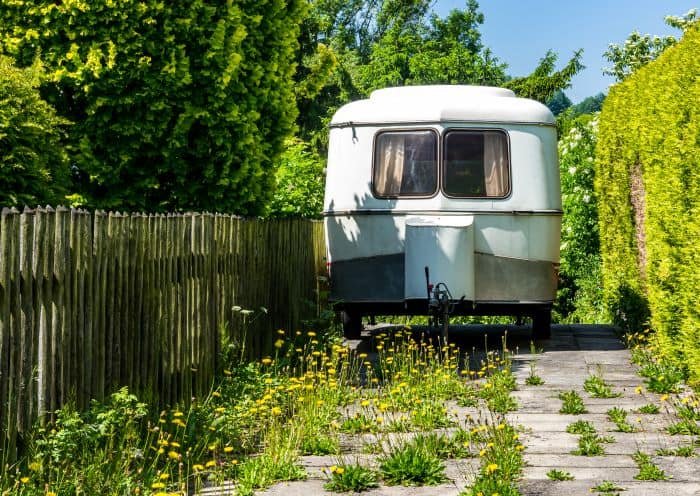 Using a camper van as a guest living space is one of the easiest options for guest living. A camper van already has everything needed to live.
A camper or RV won't provide the full amount of space that a guest may feel like they need to truly live in a RV or camper for an extended visit.
Having the guest in the main home often can be better for the guest. 
Majority of the work goes into choosing the right camper.
They come in a variety of sizes and prices.
A camper can range from $10,000 to $300,000. One thing to keep in mind in having a camper for a guest living space is power.
An RV or camper can use a lot of electricity and a home may not be able to truly power them. Once the camper is powered with the home a guest may notice that they are unable to turn on the air conditioning or something similar to that. 
Guest House Kits
Guest house kits are tiny houses that can be bought almost anywhere. These are easy ways to have a home addition set up in a backyard.
These kits can be around the same price as a shed as well. Most sites that sell pre-made house kits also mention installing the homes for an additional cost.
These kits can range from around $5,000 to $30,000 in some cases.Tiny houses are becoming increasingly popular over the years as a way to like minimally, which makes them perfect for guest living spaces.
These house kits can come with nearly everything needed. 
These house kits come in a variety of styles and sizes. Some look more like a wood cabin and others look like a small modern home. These house kits are marketed as several things. In addition to being a great guest living space, they work as a shed, storage space, craft space, or work space.
Building an ADU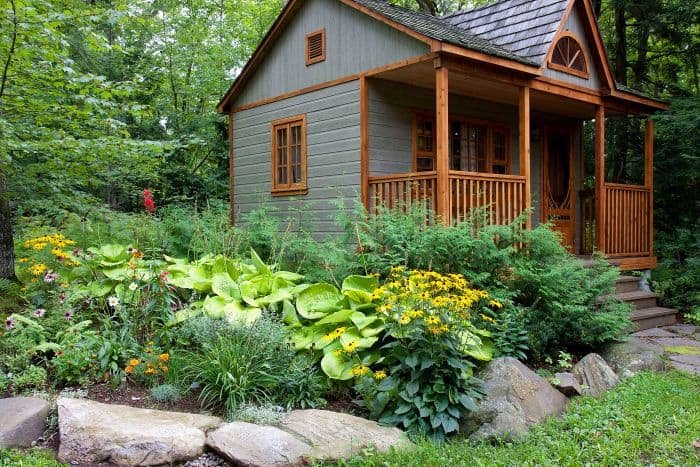 Another option for creating a guest living space is simply by going through the process of building a guest home.
More time and money can go into building an ADU, similar to building a full sized house. An accessory dwelling unit, ADU, is also called granny flats and can cost around $200 per square foot on the lower end of things.
The overall cost can range between $40,000 to $150,000. This can be similar to the cost of some other higher-end options for guest housing.
The average cost for creating an ADU is the most expensive of options, but guarantees an amazing space and accommodations for guests. 
Creating a guest living space in a backyard has many options for a homeowner to choose from. These options come in a large variety of styles and prices, but only the homeowner can know what is best for them and their guests. Be sure to check out our other article on backyard landscaping cost, as well a find out the cost for building your own fence.