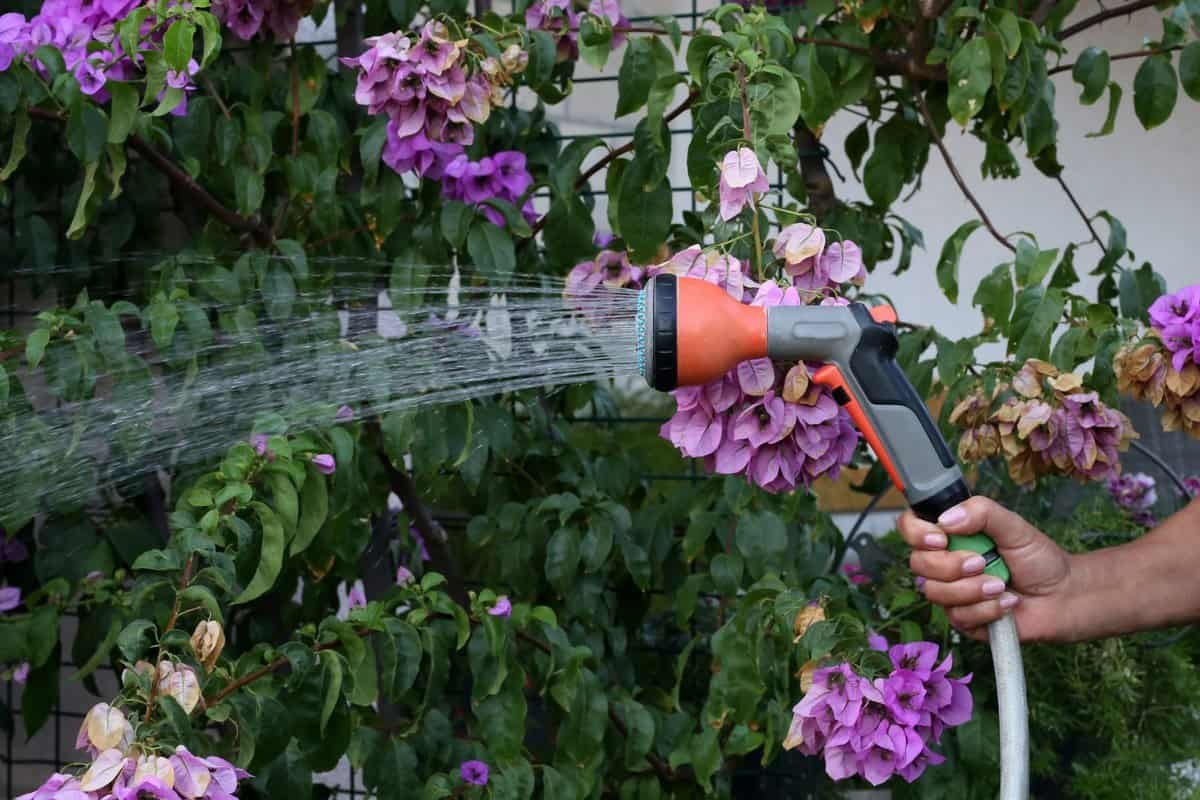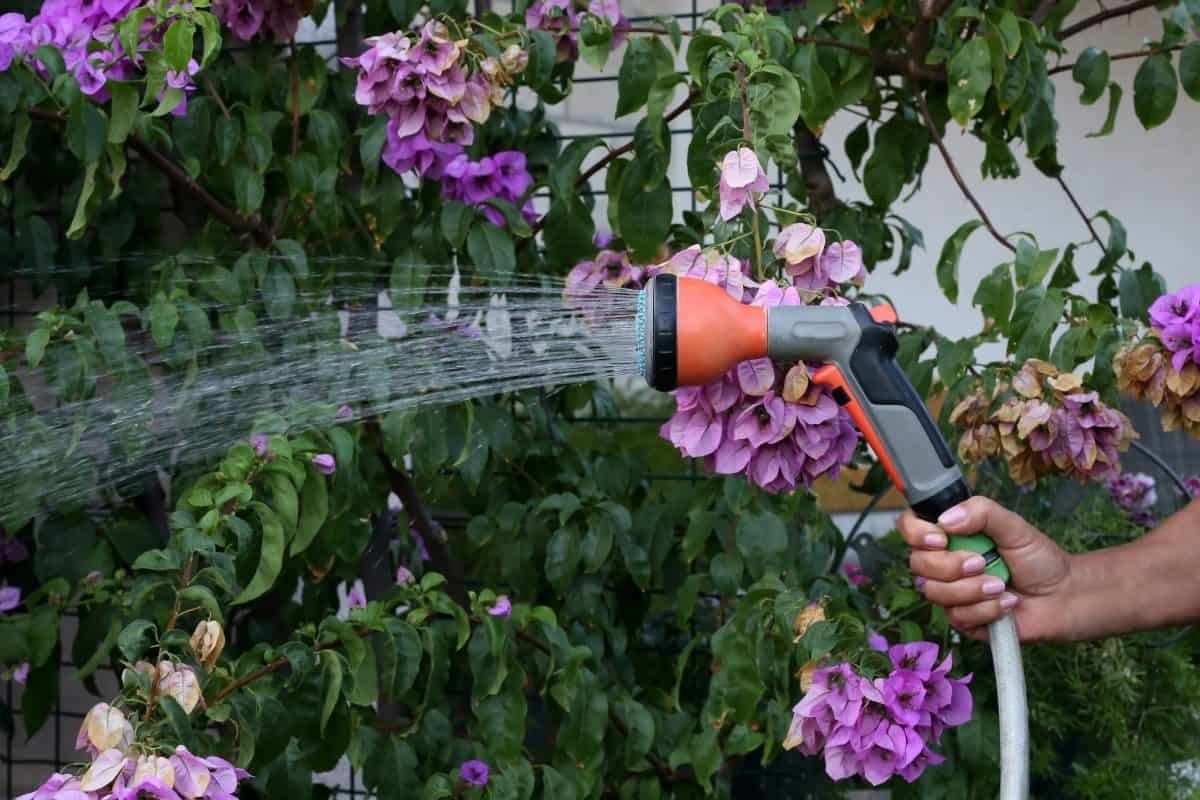 Are you ready to install new plants in your backyard but wondering how often you should water them? Before I plant anything in our backyard, I check three things. Is this plant right for my hardiness zone? How much sun the plant needs to plant in right location and how much water it needs.
Many times it's a trial and error when you're first starting out learning about plants. We give more detail on how to know how much water your outdoor plants should get below.
How Often Should You Water Outdoor Plants?
How often plants should be watered can actually depend on how long the plants have been planted and the weather.
Plants that have been well established should be watered either once or twice a week, enough to saturate up to 6 inches deep in the soil. Newer plants require more frequent watering.
Checking the soil every day can give you a good idea of whether or not the plants need to be watered.
Should You Water Your Outdoor Plants More Often?
There are some instances where your plants may need more water than recommended.
You may need to water the plants more often if:
The temperature is hot – Our hot Florida summer requires more water than our other seasons
The climate is dry – We don't have to worry about that as much here in Florida. Places out west in drought conditions will always be fighting this and hopefully you choose drought resistant plants.
The plants are going through a period of rapid growth. In Summertime, when the sun stays out longer, can cause plants to grow more and may require more water.
Now, let's see if you can overwater your outdoor plants.
Can You Overwater Outdoor Plants?
Now if you're wondering about watering your plants more often, make sure not to go overboard.
You can actually kill plants by overwatering them or if the soil retains too much water when the plants are watered.
Overwatering your plants can lead to a lot of issues in their growth. Keep reading to find out more.
What Happens If You Overwater Outdoor Plants?
When plants get overwatered, it can negatively affect them.
The following can happen:
The soil becomes waterlogged which then leads to the roots suffocating. The longer that the roots are unable to take in the oxygen the plant needs to survive, the plants will die.
Causes plants injury or stress. This can make the plants more susceptible to illness and pests, which will also kill your plants.
Now, let's see the signs of overwatered plants.
What Are Signs You Have Overwatered Outdoor Plants?
How do you know if you are overwatering your plants? This section will look at some of the biggest signs of overwatering plants so that you can quickly identify the problem and water the plants less.
Yellow/Mushy Leaves
Typically, the most common sign that plants are overwatered is that you will notice that the leaves are starting to turn yellow and/or are mushy.
You do have to look closely at the leaves when you start to notice them turn yellow, as this is also a sign that you aren't watering them enough. If they are dry and yellowing, this means that they are underwatered.
Wilted
You will also notice that the plants start to wilt if they are overwatered. You may think just because the top layer of soil is dry, that they need to be watered, but this isn't necessarily the case. The roots could be drowning in water, especially if there isn't proper drainage in the soil for your plants.
Clay is the worst soil for drainage, so you may need to add soil around your plant. The best soil for drainage is sandy soil. Though you may need to water more often since the water drains away so quickly.
Rotted Roots
As roots are left to soak in excess water, they can suffer from stress caused by being constantly wet. This stress makes them more susceptible to diseases that will cause its roots to rot.
As the roots become rotted, it won't be able to support the plant. Once they get to a point of rot, it's very hard to save the plant.
Stunted Growth
When plants get too much water, you will notice that the plant just stops growing and thriving. This is often caused by root rot.
When Is the Best Time to Water Outdoor Plants?
A common question that people have when it comes to watering their plants is whether or not there's a best time of day to water plants.
Plants do best when they are watered in the early morning hours, usually between 5 and 9 am. This ensures the following:
The foliage on the plants dry quickly, so that they are not susceptible to fungal growths.
The soil soaks up more water before it starts to evaporate, especially on those hot summer days.
If you water plants midday, the water will rapidly evaporate. This makes watering the plants less effective. Watering at night means that the water won't dry up as much and the plants may remain wet throughout the night. This can cause the plants to develop different diseases that can kill them.
Do's and Don'ts of Watering Outdoor Plants
There are some do's and don'ts that you should consider when watering plants, which will help ensure that your plants last for a longer time.
Here is a table outlining either:
| Dos | Don't |
| --- | --- |
| Make sure that you water your plants first thing in the morning as it is more effective. | Water the plants too often or not often enough. |
| Water your plants at soil level, directly at the base of the plant as this gives it right to the roots. | Rely on lawn sprinklers as they can get the leaves more often than the roots. |
| Regularly check soil moisture levels using a wooden dowel. | Rely on the rain; Sometimes it doesn't rain enough to make sure that plants are properly watered. |
| Water any plants in containers every day as they dry out more than plants in the garden. | |
Conclusion
Now you know everything about watering your outdoor plants, including when you should do it and some precautions. There are two main takeaways for knowing how often to water your plants.
First, make sure you have the right plants for your hardiness zone. Ex. Don't buy a tropical plant that requires lots of water and humidity in a desert location.
Second, know what type of soil you have. Ex. If you have a lot of clay in your area, know that you will need to add soil around your plant so water isn't trapped around the roots.
We installed a drip irrigation system to our flower beds and for our potted plants which has given us the most success with keeping plants alive. It's takes the stress out of remembering if you watered your plants and it's a more efficient way to watering your plants directly at the roots with less water usage.