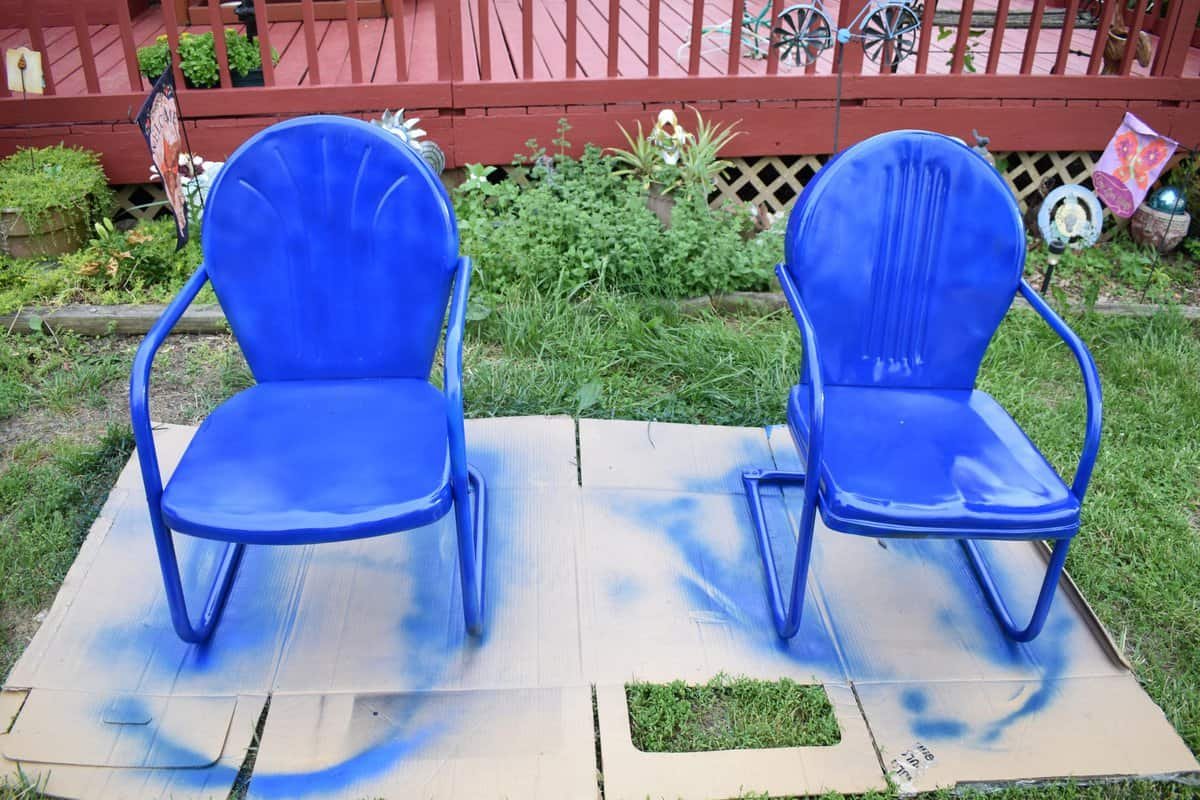 When the weather turns nice and you're spending more time outdoors, you may realize your patio furniture is in need of a fresh coat of paint.  Chipped, peeling, or rust spots are unattractive and can even allow your furniture to degrade further if left unrepaired. 
Knowing how to spray paint your furniture properly will prolong its life and give it a new look. Spray painting patio furniture isn't rocket science, but doing it correctly makes all the difference in the results. 
Read on for a how-to guide on freshening up your outdoor furniture with spray paint.
Spray Painting Patio Furniture is a Multi-Step Process
When your outdoor furniture is looking a bit worse for the wear, it's time to give it a new coat of paint.  Spray paint is the easiest way to apply an all-over, get down in the cracks, solid defense against the elements. It won't leave marks which painting with a brush will.
Spray painting furniture involves five easy steps:
Clean the furniture with soap and water.  For mildew and mold, use a bleach and water solution.
Rinse and dry with a lint-free cloth or leave in the sun for several hours
Paint with a "paint+primer" spray paint in a back-and-forth motion.
Apply several light coats and allow to dry for at least one hour.
You might be tempted to run out to the nearest home improvement store, grab a few cans of paint, and start spraying. That's one way to get it done fast; it's just not the best way to give your furniture a long-lasting paint refresh. A good paint job can last at least 3-4 years.
Furniture Types
Patio furniture can be made from a variety of materials. The most common include:
Wood such as teak, cedar, and eucalyptus
Metals like steel, iron, aluminum
Plastics such as synthetic resin wicker, polyethylene (PE), and its high-density cousin (HDPE)
All these materials can be spray painted but personally I would not spray paint any of my wood patio furniture. The natural wood color is the big reason you bought wood furniture. So keep your outdoor wood furniture clean and stain it as needed.
You'll need to read labels carefully to make sure you choose the right kind of paint for your furniture.  Regardless of material, you'll get the best results by following these steps.
Choose a Spray Paint
Many spray paints now come with primer added, noted on the can as "paint + primer."  Primer helps seal the surface, block stains from bleeding through, and gives paint something to stick to. 
It's applied to a surface before the actual paint.  With primer already in the paint, there is no need to apply a separate primer coat.
Some common finishes include:
Matte
Satin
Gloss
Textured
Metallic
Today's spray paint options offer an exciting array of traditional and cutting edge colors. From the usual black, white, or gray to teal, hot pink, or bright yellow, there's sure to be a color you like.
Wash the Furniture
For this first step, you'll need a bucket of warm, soapy water, a brush, and a bit of elbow grease.  Depending on the type of furniture you're working on and the amount of caked-on crud, the brush can range from soft to stiff bristles. 
Iron furniture, for example, can handle a stiff wire brush during the cleaning process.  Wood and plastic need something softer that won't scratch.
Use the brush to scrub off any dirt and debris. Be sure to get in all the corners and crevices and remove as much dirt and grime as possible. Paint won't stick well to a dirty surface.
For tougher grime like mold and mildew, mix up a bleach and water solution and spray it on the surface.  Scrub with a brush then rinse well. 
Tip: Test the bleach solution in an inconspicuous spot as it can discolor certain types of materials.
Once the furniture is clean, dry it with lint-free towels or allow it to air dry several hours.
Remove Flaky Paint
Loose, flaky paint will prevent the new coat of paint from sticking to the surface.  Once your furniture is clean, sand any areas of flaky paint with a stiff wire brush, sandpaper or an electric sander to remove the loose paint chips. 
Let the Spray Painting Begin
It's time to begin the transformation from "meh" to "wow" and with a few simple steps your outdoor furniture will look as good as new.   
Spread a drop cloth underneath the furniture you plan to spray paint. Make sure the drop cloth is big enough to cover several feet past the furniture.
Shake the can of spray paint for at least one minute after you hear the mixing ball start to rattle.  If your project will require multiple cans, go ahead and shake a few cans so you can keep painting when a can runs out. If it is a large area, shake the can after every few passes.
Remove the lid and any safety clip from the spray trigger.
Begin spraying in a smooth, back-and-forth motion.  Be sure to overlap each pass by a few inches.
Always hold the can the same distance from the furniture as you spray to ensure equal coverage.
Keep the can moving at all times to avoid applying too much paint to a certain spot.
You can apply two or more light coats within a few minutes of each other.  Once painting is complete, allow the furniture to dry for at least several hours before handling or moving.
Final Thoughts
Freshening up outdoor furniture with a new coat of paint is easy, giving your furniture a new look and improving its chances of resisting the elements for several years.