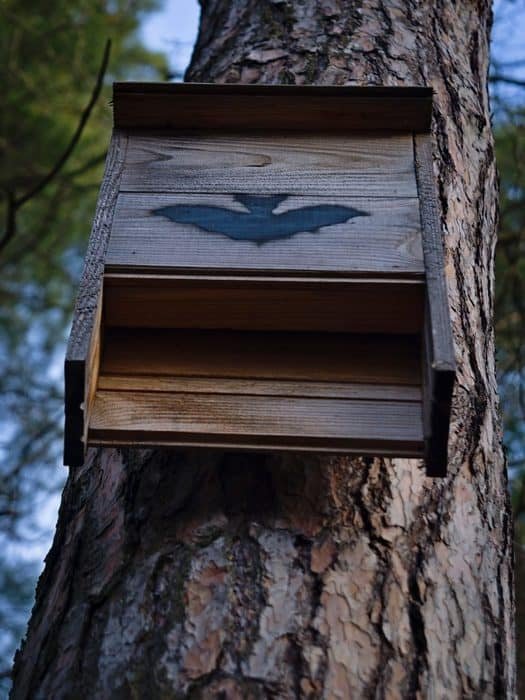 Nothing can be more annoying that having pesky insects infesting your backyard spaces. It makes it less appealing to enjoy the outdoors, and insects can destroy gardens and plants. If you are looking for a natural insect and pest deterrent, you might consider attracting bats to your backyard.
This article will break down all the necessary tools and tricks you might need to lure bats to your backyard. They'll rid you of your insect problem in no time!
Why are Bats Good for your Backyard?
Bats are essentially nature's version of pest and bug control. Got a mosquito problem? Bats are the answer! Bats snack on mosquitos, moths, gnats, mayflies, beetles, and wasps all night long! The North American brown bat, for example, can catch and eat up to 600 insects an hour! That is far more efficient than the store bough electronic bug zapper!
Another reason to call bats to your backyard is that their bat droppings (also called guano) can greatly enrich your garden soil! Guano is rich in nitrogen, which makes for a fabulous fertilizer. Additionally, bats are pollinators!
They are as skilled at moving pollen from flower to flower as your local bumblebees! Therefore, bats will help pollinate and rejuvenate your plants, flowers, fruits, and veggies!
How to Attract Bats to Your Backyard
There are many different tools and techniques you can use to entice bats to your garden, patio, and backyard area. The following are the most effective ways of inviting bats in your outdoor spaces!
Install a Bat House
The first most important element to add to your backyard that is sure to attract bats is a bat house. Bat houses best mimic the kinds of knocks, crannies and crevices found within dying trees where bats traditionally prefer to sleep and reside. A bat house provides a habitat for bats which is the first most important thing a bat needs to feel safe in a space.
Location is Key: the best place to situate a bat house is on the side of a building or pole, as opposed to amongst dense bush or trees. Make sure the bat house is up high, 15-20 feet, as bats will use sight to spot their new home.
Use Nontoxic Wood: If you are building a bat house yourself, be sure to you nontoxic wood like cedar or plywood.
Bats like Rough Surfaces: don't use super smooth plywood, use the rough surface as it makes it easier for the bats to climb in and out of the house by giving them something to grip onto.
Buy a Premade Bat House: If purchasing a premade bat house, be sure to get one that is BCI (Bat Conservation International) certified. This Outer Trails Bat House is the perfect size, texture, and comes put together with the three different chambers.
Keep Bat House Temperature: the temperature of your bat house needs to remain somewhere between 80-100 degrees in the summertime. To control the heat in your bat box you will need to place it somewhere strategic and paint it a specific color. The box should be located somewhere where it will receive at least six hours of sunlight a day, and the box should be painted a dark color like black or brown to hold more heat. Tape a thermometer on the side of the box to keep track of the temperature.
The Structure of a Bat House: a bat house must include three different chambers, rough or grooved surfaces for the bats to latch on to, passage holes, and vents on the side to allow air to move through the house. Additionally, your bat house will need some strong mounting brackets to attach to whatever structure you decide is best.
Size: bat houses should be around 2 feet tall and 1-2 feet wide, and around 3-6 inches deep. They should be hung above ground, 10-15 feet high at least.
Keep Dead Trees
Before you go hacking down your down trees, you might be interested to know that bats love dwelling in old trees. Bats make habitats in hollowed trees with loose bark because they are cozy, warm and provide gripping. Dead trees are excellent nesting spaces for bats, and if they already exist in your yard, they're free!
Of course, only keep dead trees if they are not any danger to people or property.
Invest in Night Blooming Flowers and Plants
Bats favorite food source is insects, though, there are some bats who enjoy fruits as well. However, night blooming plants and flowers help to attract bugs. Therefore, you want to plant as many of these kinds of flowers as possible, that way, the insects that are attracted at night (mosquitos, moths, etc.) are gobbled up by bats.
The bats, in turn, pollinate the plants, and will help your garden to be robust and plentiful during the day! Win-win! Try plants like water lily, jessamine, nicotiana, soapwort, sweet rocket, and cleome!
Have a Water Feature
Another element to add to your backyard that is sure to attract bats is a water feature. Bats love water features for two reasons: bugs congregate around water (especially mosquitos who breed in shallow water) and bats consume an insane amount of water each day.
The best bat habitat will have nearby water access. A bird bath or fountain will do the truck!
Lure Bats During the Spring and Summer
The best chance you'll have at attracting bats to your garden are in the spring and early summer months. If you place your bat box, night blooming flowers and water features out in the winter, you may miss the chance to attract the bats, as they'll have already found their winter habitats already.
In colder climates, like in the North East, bats roost in the summer to raise their young and then migrate elsewhere for the winter. So, if you want to attract bats, you'll want your bat house out in springtime so that bats can roost there during spawning months.
What are the Down Sides to Attracting Bats to your Backyard?
While bats may rid you of your insect problem and may help to pollinate and rejuvenate your backyard garden, there are some downsides to having bats hanging out near your home. Sometimes bats may choose to raise their young, not in the bat homes you've so kindly provided, but instead in your home.
Bats can cause structural damage inside the home and bat droppings (guano) are not safe for humans to be nearby. Guano can spread an illness called histoplasmosis which affects the lungs and is spread by breathing in the fungus that grows in guano.
Additionally, bats can be spreaders of rabies. This is not always true, but they can transmit the disease to you or your pets. Though they are not aggressive mammals, a bat bite can cause series health issues in humans.
Lastly, bats can ironically bring a different kind of bug into your, called bat bugs. Bat bugs are relatives of the bed bug. Unlike bed bugs, bat bugs don't like human blood, but they will eat it if it's all that's around. Typically, though, as their name indicates, bat bugs prefer to nibble on the blood of bats. Still, you don't want an infestation of bat bugs in your home.
The Key Take Away
Luring bats to your backyard may be the perfect solution to any bug problems you might be having, in addition to revitalizing your plants and flowers.
To avoid any unwanted bat problems, be sure to steer clear of bat droppings (guano) and check your attack and crawl spaces regularly to make sure bats have not taken residence in your actual home.
You can also learn how to attract butterflies to your backyard as well as attract hawks to your backyard. Both provide different benefits, but also beautiful too look at, just be careful with hawks. Also be sure to checkout how you can get rid of brown recluse spiders, if you're having a spider problem.