Butterflies always make everything more beautiful. One of the greatest pleasures that my backyard gives me is being able to look at these fluttering friends swarming all around. Best of all, it's pretty simple to do.
Attracting butterflies to your backyard is an easy and fun way to help the environment while enjoying their beauty. But you need more than just pollen if you want a garden full of magnificent monarchs and swallowtails. Read on for the steps that can help you to encourage butterflies to visit all season long.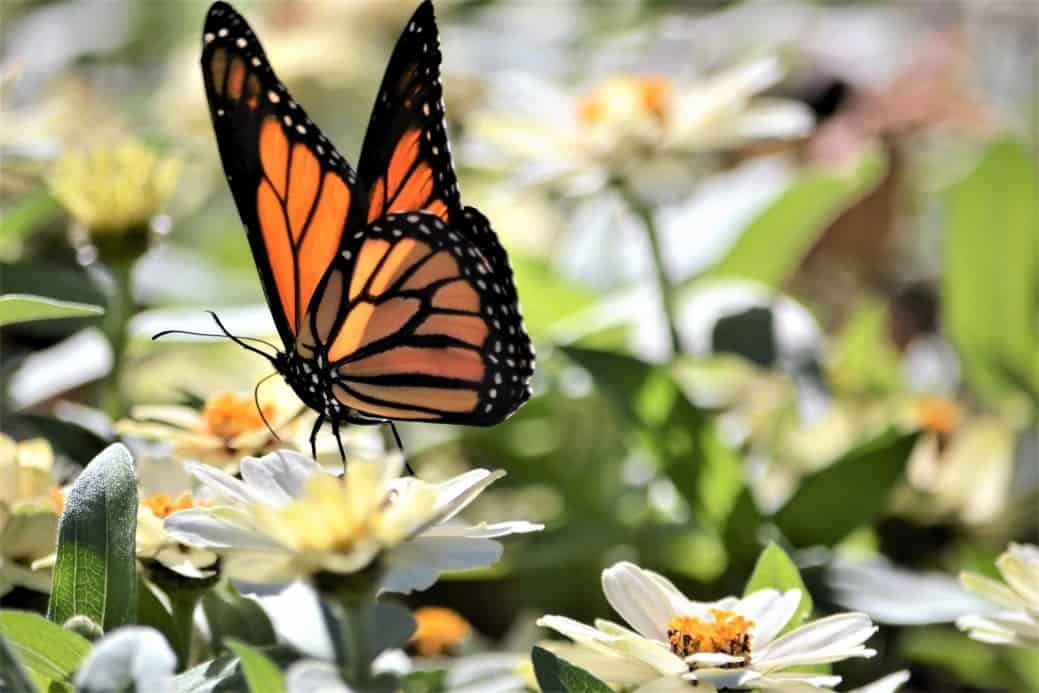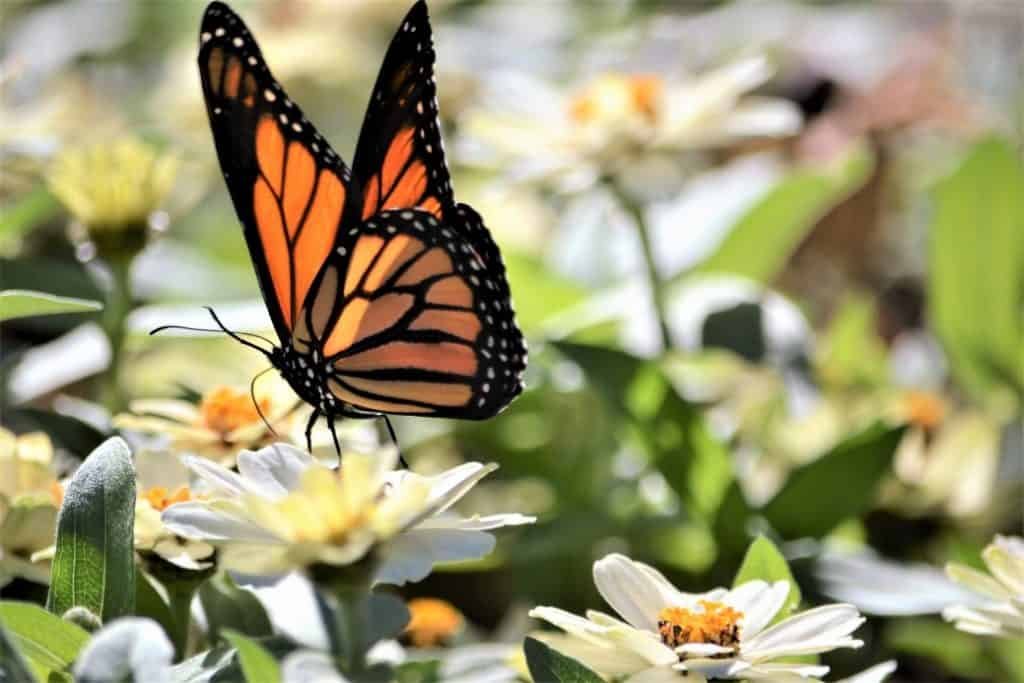 Pick the Perfect Butterfly Garden Spot
Butterflies worship the sun. To attract butterflies to your backyard, you need to choose a location with plenty of sunlight. You should pick the sunniest place in your yard for a good basking spot.
A site with bright sunlight and high-quality soil is always the best choice for luring butterflies.
Butterflies feed off nectar plants, which require rich soil and partial to full sunlight to grow. If your location has lots of sun for at least half of the day, you may need to consider adding rich topsoil or compost to improve its soil quality.
Flat stones placed in the sun can be excellent spaces for butterflies to bask in the sun and get some rest.
Choose Plants That Butterflies Like
Butterflies need native and host plants. Picking the right plants is important to attracting butterflies. You may need to do a little bit of research to find out what plants grow naturally in your geographic region.
Scouting your neighborhood to figure out what butterflies and plants are already there can be a way to have fun. You can also consider visiting a local nursery to get information about local plant sources in your area.
To attract butterflies to your backyard, you will need to plant both host and nectar plants so that they will stay longer. The good news is that most host plants double as nectar sources, and every flowering plant can produce nectar.
It's important that you try to plant the right kind of plants so that when one plant stops blooming, another one begins. We'll talk about different types of plants some more below.
Flower Color Is Important in Attracting Butterflies
The color of plants attracts butterflies to them since butterflies love bright, deep hues. When butterflies see these shades in your backyard, it draws them in as they know the nectar will be delicious for them to feed on.
It's important to consider the color and plant type when choosing the right kind of plants
Adult butterflies are attracted to yellow, red, pink, orange, and purple blossoms with short flower tubes that are flat-topped or clustered
Flowers with a colorful landing pad are a favorite for butterflies because they like to sit and feast
Plants like peonies, zinnias, and yarrow with long, lush, colorful blooms are irresistible to butterflies as they are attractive and easy to feed on. Consider adding them if you want to see many butterfly visitors.
Plant Native Plants in Your Backyard
Adult butterflies need native plants to feed on. But it's important to choose plants that naturally grow in your area. Butterflies depend on native flowering plants to reproduce and survive.
To survive, butterflies need the nectar from native plants both in the caterpillar and adult stages. Since adult butterflies mostly feed in the sun, plant your native flowering plants in areas with full sunlight from mid-morning to mid-afternoon.
Think Native
Butterflies need to have nectar throughout the adult phase of their lives
Native wildflowers like Echinacea, Aster, and Black-eyed Susan are common to most geographic areas and provide an excellent source of nectar for butterflies
Growing native plants makes your backyard easier to manage and is beneficial in attracting butterflies
Native plants grow easily in your area and attract pollinators to your backyard space.

Plant Host Plants in Your Backyard
To get butterflies to linger and stay longer in your backyard, plant host plants where they can lay their eggs. Adult butterflies seek out host plants to lay their eggs.
Butterflies love host plants like Milkweed, Pawpaw, Viburnum, and Dill. Planting host plants help to grow caterpillars and will make sure that you have adult butterflies in your backyard.
Host plants are essential to the butterfly's lifecycle and reproduction because caterpillars cannot travel far and need to use them as a food source. Using host plants as caterpillar food can increase the chances of attracting uncommon and unusual butterflies.
Consulting a good list of caterpillar hosting plants before planting them can save you time and effort.
Make Puddles for Your Butterflies
Butterflies need water to drink. Mostly, they get their water by drinking from mud puddles. Puddling on wet mud and sand is the main way that butterflies drink water and extract minerals.
Your backyard will need to have at least two puddling sites. You can make a puddling site by sinking a bucket or dish tub into the ground and filling it with sand.
Placing coarse sand in shallow dishes and pans works best. Just make sure to use your garden hose to wet the sand down each day to provide an excellent water source for your butterflies.
Add Wind Protection and Other Safeguards for Your Butterflies
Butterflies are lightweight creatures and can be susceptible to windy conditions. Adding wind protection can prevent them from using a lot of energy trying to fly in breezy areas.
Wind currents in your backyard can prevent butterflies from gathering nectar.
For breezy outdoor spaces, you will need to devise ways to protect them from the wind.
Plant your nectar and flowering sources where large shrubs, a fence, house, or tree lines buffer the wind so you can protect your butterflies from any prevailing winds.
Predator-Prey Considerations
In addition to protecting your butterflies from the wind, you need to consider the predator-prey relationships in your backyard.
Because birds prey on insects, place any birdbaths or bird feeders in an area separate from those frequented by butterflies
This will make it harder for birds to feast on a smorgasbord of caterpillars in your backyard.
Don't Use Insecticides or Pesticides
Chemical pesticides and insecticides often kill butterflies. Caterpillars need foliage to feed on, so you can expect to have plants with leaves that have holes.
Don't use materials such as diazinon, malathion, and Sevin, as they are marketed to kill caterpillars and other insects.
Even if the insecticide or pesticide says that it is benign, it can still be harmful to butterflies, especially while they are in the caterpillar stage.
If your backyard has plants that you don't want defoliated, consider planting some extra so that both you and the caterpillars have enough to share. Most butterfly caterpillars don't cause leaf damage associated with gypsy moths or bagworms.
To protect your butterflies, try to at least use non-toxic methods to take care of pests.
Provide Cover for Butterflies During the Winter
Butterflies are not just summer insects. During the Winter season, butterflies go into a state of diapause and hide out until warmer weather comes back.
You can provide winter shelter for butterflies in your backyard:
Don't bag all the fall leaves: Simply leaving some of your leaves as a shelter can serve as a hibernating place for caterpillars.
Stored firewood and brush piles: These also make excellent places for overwintering butterflies to shelter.
Build a butterfly barn.
Depending on the genus or family, butterflies may overwinter during their life stage. Swallowtails typically remain in the pupal stage tucked inside a chrysalis while tiger moths overwinter in the larval stage. Most butterflies survive in Winter by tucking themselves in a loose tree cavity or under loose bark.
Stagger Blooming Cycles
Ensuring that butterflies will visit and remain in your backyard all summer long and throughout the Winter requires that you have a succession of flowering nectar and host plants to keep them secure from spring through fall.
Conclusion
Attracting butterflies into your backyard is simple to do. By following these easy tips, you'll soon have a backyard full of a wide variety of winged beauties.
There are many more beautiful creatures you can attract, such as dragonflies. On the other end, if you need to get rid of certain bugs, be sure to checkout our articles to learn how you can get rid of nasty carpenter ants in your trees, and those annoying little flies.