There certainly is something special about the site of dragonflies buzzing around the yard on warm summer evenings. It can seem random when they appear, but they come out for a few simple reasons. When properly studied, these attractants can be replicated by dragonfly-lovers who would like to see more of the little buzzers around their yard.
Dragonflies are often found returning to mate at the waters of their birth, but there are a few ways to bring them around the yard for easy viewing. Someone that wants to attract dragonflies to their yard should identify what they want. Follow this easy-to-use guide for all of the tips that will make the presence of dragonflies a certainty this summer.
Create a Good Water Source
This is the best place one should start when trying to attract dragonflies to their yard. Dragonflies lay their eggs in water. Their whole existence depends on having easy access to ponds, lakes, rivers, and other bodies of water. In order to see them in their yard, a dragonfly-lover should find a way to provide the dragonflies with some water.
Dragonflies are typically found around water that offers them the following:
Access to an environment that they will feel comfortable laying their eggs in
Shade from the sun that also can protect them from predators
Fresh water is the most commonly utilized source by dragonflies
Dragonflies will lay their eggs in the shallows of the body of water that they decide to call home. It is important when building an attractive environment for dragonflies that one ensures that their needs are met. If the water lacks warm shallows, they might not stop to lay their eggs which means no dragonflies this summer for those doing the work.
It is imperative that dragonflies are not laying their eggs in a hazardous environment fraught with predators that will diminish chances for successful reproduction. Those who are putting in the effort to see dragonflies should consider what precautions they can take to reduce the chances of predators interfering with the flies' comings and goings.
The vast majority of dragonflies depend on bodies of fresh-water to lay their eggs. It is a good measure to regularly test the quality of water that a person intends on using to attract dragonflies. The water should be habitable for the dragonflies, or else, those doing all of the work to see them will be for nothing. Do the little things the right way.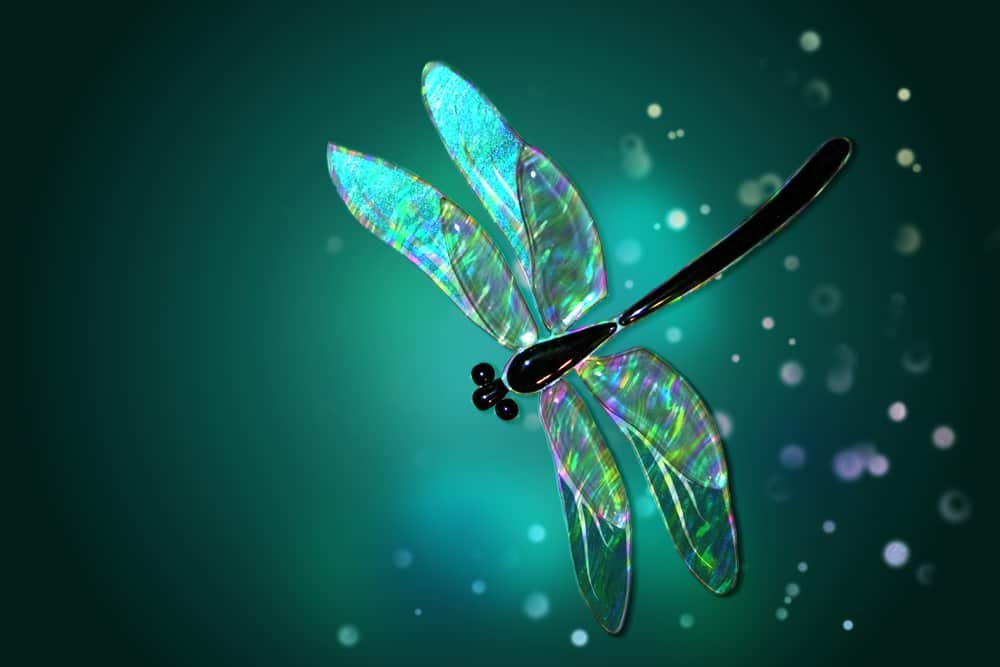 Avoid Stocking the Body of Water with Fish
The number one reason why people struggle to attract dragonflies to their pond is that they stock the body of water with fish. Fish will eat dragonflies with zeal and diminish any chances of seeing substantial numbers of dragonflies. If you are attempting to attract dragonflies to your pond or water source, ensure there are no predatory fish.
Stocking fish does not mean certain death, but fish certainly limit the chances for success. If a person wants to keep a pond stocked with fish and attract dragonflies as well, they might consider making a smaller auxiliary body of water that the fish cannot access. This will be the best of both worlds for those on the fence.
This way, they can have a fish pond as well as a separate pond solely for dragonflies to visit and lay eggs. These water sources will also offer a great deal of beauty and atmosphere to their environment.
Add Fountains to A Garden Setting
If you do not have a pond or in-ground water source, you can use fountains as well to attract dragonflies to your area. Dragonflies will enjoy the water in your fountain if it is the right temperature and comfort level for them.
The dragonflies will also keep pests away from the garden plants. If you do not want to use harmful or harsh pesticides in your garden, you can rely on the dragonflies buzzing around to keep the pests at bay. Dragonflies prey on many of the pesky bugs that can infest your garden plants.
Create a Comfortable Environment
Dragonflies lay their eggs in water that has good cover from predators. Plants, rocks, and man-made structures offer incredible cover and concealment for dragonfly eggs and hatched nymphs. Dragonflies will not look twice at a bare pond when they are deciding where to mate and lay their eggs. Dragonflies need cover and safety.
The best forms of cover to use will offer dragonflies and their spawn:
Protection from the elements like harsh winds and scorching rays of sun
Protection from predators both above and below the surface of the water
Concealment from predators that are on the prowl
The best cover to use for attracting dragonflies will always be plants. Lily pads are excellent sources of protection for dragonflies. They cover the surface of the water, which will attract dragonflies that are searching for a safe place to lay eggs. Cat-tails will keep dragonflies safe while they lay their eggs in the shallows of the body of water.
Rocks can also offer great cover for dragonflies. They will often hang out around rocks on the edge of bodies of water. Varying the sizes of the rocks and stacking them on each other will help create a safe environment that will shelter dragonflies, their eggs, and offspring from predators and the elements that could hinder their survival.
Dragonflies can be found buzzing around docks and walkways that are on or near bodies of water that is a suitable environment for laying eggs. These structures should not overwhelm the body of water that they are on or near. A small dock on a pond with lily pads, cat-tails, and rocks would be an incredible water source for dragonflies.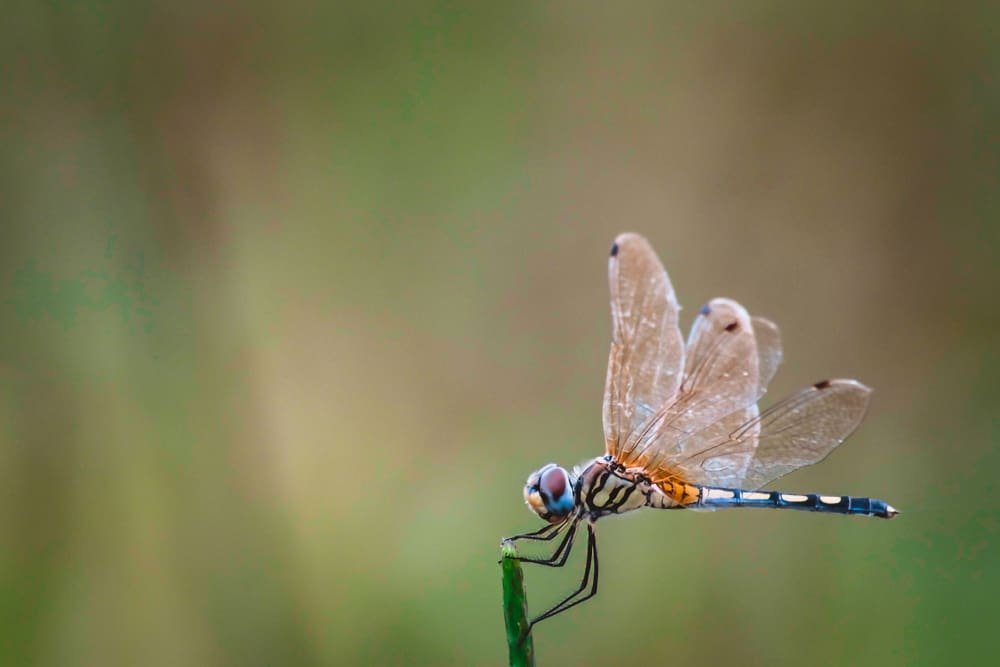 Create a Sustainable Food Source
A great strategy to employ when attempting to attract dragonflies is to help create a sustainable food source for them. Dragonflies eat tons of insects. As adults, they will consume their own body weight in various species of insects every day. This is a huge advantage to having dragonflies nearby. A person can keep a bug problem at bay.
The types of bugs that dragonflies love to eat include:
Mosquitoes that occupy and lay eggs in the same water
Moths that live near the body of water
Butterflies that are attracted to the nectar of flowers near the body of water
Bees that go from flower to flower near the dragonflies' environment
Flies that lay their eggs on rocks or structures around the body of water
Consider adding plants that are excellent food sources for the species that dragonflies love to eat. Bees are also on the menu for dragonflies, so even adding some nice flowers by the water source would be a terrific strategy to employ. Dragonflies are voracious eaters, so make sure that there is enough food on hand to feed them well!
Some people might have an existing problem with mosquitoes or other pests. Those who want to attract dragonflies should take advantage of this abundant food source. Dragonflies will consume these pests with gusto which will create a world of difference for those who are suffering from their infestation. Dragonflies are nature's exterminator.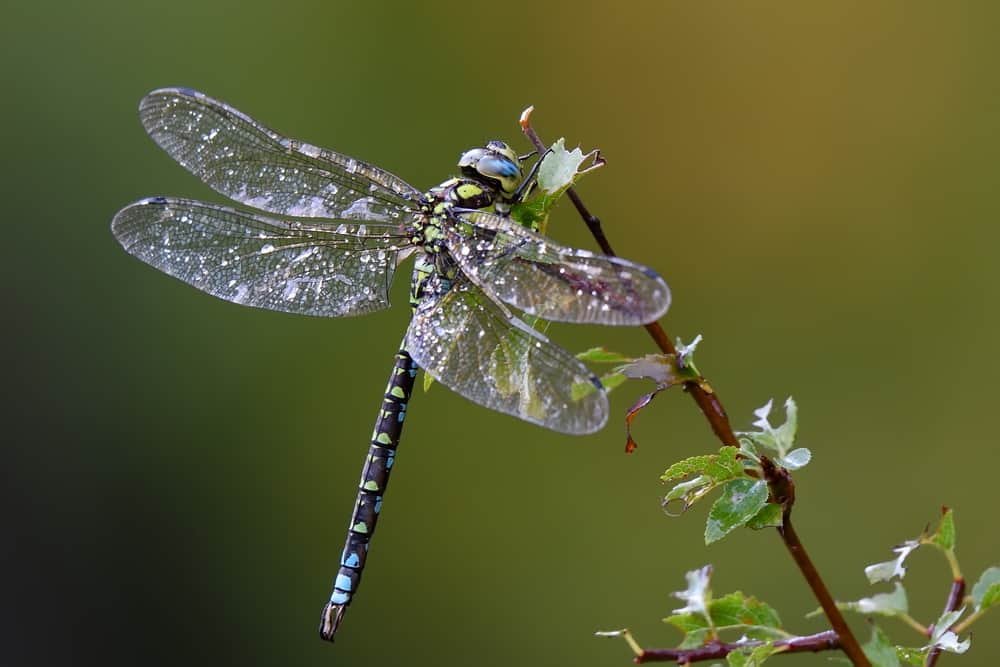 A person that is attempting to attract dragonflies to a body of water should take the time to do research on how to also attract good food sources as well. A person might already have a viable food source available that could save them loads of effort in the long run. A person that wants to attract dragonflies should find good ways to ring the dinner bell.