Many people find their composite deck get dirty and grimy. If you're looking for a way to clean your composite deck, this article will teach you how to do it in 8 easy steps!
You choose composite decking for it's longevity and lower maintenance requirements. Composite decks can last a long time, but only if they are maintained. Luckily, though composite maintenance is pretty easy.
Because of its synthetic material, composite decking requires a different cleaning process than other wooden decks. Keep reading to learn more about the cleaning process for composite decks, and how you can treat difficult stains.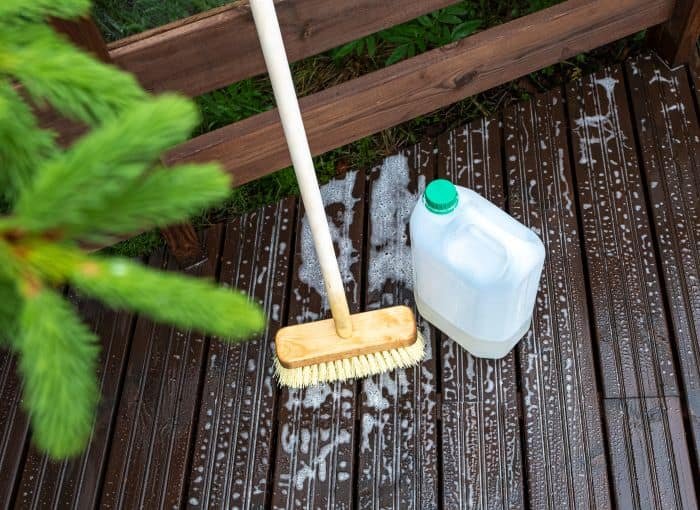 Clear the Deck of Obstructions
Before doing any cleaning, you'll want to make sure that you clear away the following:
Furniture
Plants
Any other obstructions
Not only will these get in your way, but they could potentially be damaged by a cleaning solution or pressure washing.
Move everything to a safe place where they will not be impacted by the cleaning process. Everything should be far enough away that it will not be affected by any runoff water that may occur as you clean. Store them in a place where they will be okay to sit for up to 24 hours while the deck is drying.
Sweep Away Dirt and Debris
After you remove your furniture, you will also need to get rid of any natural debris that has accumulated on your deck over time. This can include:
Leaves
Dirt
Food residue
Any other debris
Forgetting to clean the gaps in your deck will not only reduce the cleanliness of your final product but could also have long-lasting negative effects like mold and mildew developing beneath the deck as well as rotting your underneath joists from the moisture.
Rinse Off the Deck
Regardless of how dirty your deck is or what type of stains you are removing, the first step toward a spotless deck will be rinsing it off.
Spraying the entire surface of your deck with clean water to start will remove small surface-level debris. Do this before moving on to any deep cleaning. Be thorough as you spray, coating every board and corner with water.
Although you can use a pressure washer, you will need to be cautious with this option—pressure washers are very effective cleaners, but using them too close or with too much pressure may damage the synthetic material.  A garden hose and faucet water will often be enough for routine cleaning.
If you do decide to use a pressure washer, make sure the setting is no more than 1500 psi and keep the spray at least 8 inches away from the deck to avoid damage. If your deck manufacturer has specific recommendations for pressure washer settings, however, adhere to these instead.
Scrub the Stains
Stains on composite decking can be caused by many different things, but most can be addressed by using the following:
Water
Gentle soap
A bristle brush
Spot treat the stained area or test your soap out first on an area of the deck that is not visible to check for any adverse effects on the decking.
If the stain is caused by mold, it is possible to treat this with a vinegar mixture. You can eliminate the stain by doing the following:
Add two parts vinegar to one part water.
Apply this mixture directly to the stain.
Sprinkle the affected area with baking soda.
Let the baking soda and vinegar mixture soak for 20 minutes.
Scrub away the stain with your bristle brush, and then rinse using clean, untreated water.
If you notice rust stains on your deck, these can usually be treated with standard liquid dish soap. To do this:
Add half a cup of soap to a bucket of warm water.
Dip your brush in this solution, and then scrub at the affected area until the stain fades.
Rinse the area with water.
Repeat this process until the stain disappears.
With the right ingredients and some elbow grease, stains should soon fade away completely.
Prepare Your Cleaning Solution
After you've removed any obvious stains, it is time to do a general cleaning of the deck.
Always remember that applying chemical treatments to synthetic decking can permanently damage the material. When choosing a cleaner, it is best to stick to the recommendations of your decking manufacturer or use a simple mixture of standard dish soap and water.
Never use products that contain bleach or acetone, as they can cause fading or lasting damage to the synthetic decking.
If you do use a composite deck cleaner, choose something that is oxygenated. This will clean the pores of your deck and not just the surface. Additionally, be sure to follow the instructions given by the product manufacturer and your decking manufacturer closely.
Apply Cleaner
The cleaner should be applied evenly across the boards of the deck. If you're using a standard garden hose, you can use a soft bristle brush or long-handled brush to scrub every board.
Although you should have cleared the gaps of debris, do make sure to target the spaces between boards during this process to eliminate difficult grime.
If you are applying soap using a pressure washer, spray along the grain to avoid any scratching or marks that may be caused by crossing boards. Again, remember to keep your distance and not exceed the recommended pressure setting of 1,500 psi or as stated by your deck manufacturer.
If you are using a composite cleaner, you might need to leave the cleaner to soak on the boards for a certain amount of time.
Pay attention to the recommended time window on the product—going under time may not result in a satisfactory level of cleanliness, and going over could potentially cause fading or other damage.
Once you've applied your cleaner and scrubbed away grime, it's time to rinse your deck. Rinse all the boards thoroughly with plain water until all the soap and any leftover grime have washed away.
Address Mold, Mildew, and Scratches
If you have a mold or mildew problem on your composite deck, you could take preventative measures after your deck dries to make future cleanings easier. Sometimes this can be as easy as making sure any outdoor plants have pots for standing water or trimming back bushes that are nearby.
You should also make sure there is adequate ventilation underneath your deck space—typically at least 6 inches. If your mold problem was especially severe, consider applying a moisture barrier that is approved by your decking manufacturer.
If you notice scratches on your decking, you can choose to wait and see if they fade naturally of take the approach below.
If you want to address them immediately, use a heat gun to soften the decking in the affected area and then smooth out the scratches with a wire brush, going along the grain. If a scratch is extremely deep, you may need to replace the entire affected board.
Let the Deck Dry
Now that your deck is clean and sparkling, the final step is to let it dry fully. Do not attempt to put furniture or other objects back on the deck until the surface has dried, as this could lead to mold and mildew.
If you are sealing your deck or applying any other treatments, you will also want to wait until the deck is no longer wet. A good rule of thumb is to wait a full 24 hours before using your deck or taking any further steps.
Conclusion
For first-time deck owners, the prospect of cleaning composite decking can be intimidating. But with the right materials, some work, and a little bit of time, you'll soon be back to enjoying your deck.
While you have your cleaning products out, it's a good time to clean your cushions on your outdoor furniture as well.
And if you're having a party, which is why you're cleaning everything, it's a good time to clean up after you doggies to make your yard more welcoming for guests. We also teach you how to clean fire glass for your fire pit, so it's sparkling as well for guests to enjoy.