Vinyl fencing is a great alternative to a wooden fence and cheaper than an iron one. Whereas wooden fences can warp and crack by the weather, or be eaten by termites, vinyl fences do not have any of these problems.
Vinyl fencing is not only weather resistant, but it also does not have the porous nature of wood either, which can lead to infestation or damage from moisture.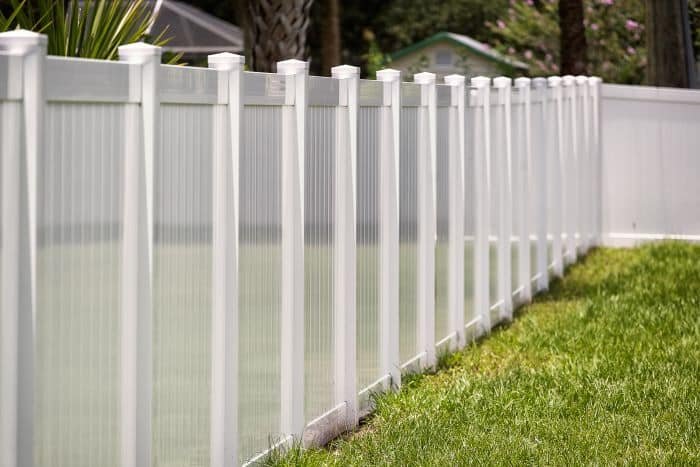 These fences, although durable, are subject to stains or algae growth. It is very easy to get these fences dirty, however they are easy to clean. A vinyl fence will last a long time with regular cleaning.
Luckily, you have a few options—you can either do it by hand or you can employ the help of a tool called a pressure washer.
Keep reading to find out the steps for cleaning your vinyl fence and what equipment you will need to get started. 
Use a Pressure Washer
This is a fairly simple method and the most efficient way to clean a vinyl fence. You can find a pressure washer at any hardware store, as it is a pretty basic tool you can find.
Here's our review on the Ryobi electric power washer you may enjoy if you're interested in purchasing one yourself.
It will quickly become one of your favorites once you realize how easy it is to clean your vinyl fence with one of these. 
Also, make sure the type of soap you have is specific for a pressure washer. Using a different type of cleaner in your pressure washer will corrode it and cause it not to work.
A deck and fence cleaner, such as Simple green, is a great choice. You could try another type of soap but ultimately this is the best option you can find when it comes to cleaning your vinyl fence.
Wet and Prep the Pressure Washer
As always, you will want to rinse your fence first with a garden hose. This is important because it essentially gets the fence ready to be pressure washed by loosening up the stains or whatever is plaguing your fence.
Do not apply the pressure washer just yet, simply use the nozzle from the garden hose to get the fence wet at first before you apply the pressure washer to it. 
The pressure washer is going to have something called a siphon tube. This is going to fill the washer with the cleaner so that you can get started on your fence.
The pressure washer does exactly what you think it does – utilizes a significant amount of pressure to wash away stains, markings, and debris.
Make sure you stand a healthy distance away, at least 18 inches way, to avoid damaging your fence. Use a wider fan nozzle to start with until you feel comfortable.
Use Soap and Brush Away Stains
By using a specific soap formula you can get any and all stains out without hiring a third party to do it. For this method, you are going to spray the soap onto the same area you just rinsed off with your regular garden hose.
The pressure washer is going to potentially cause a little kickback, so be sure to stand farther away from fence until you're used to the pressure.
Spray the soap onto the fence a few times in a back-and-forth motion until you feel as though the stains or markings are loosening up
If needed, use a soft bristle brush to work on tough stains. The pressure washer should have made it easy to brush away at this point, again going in a back-and-forth motion to wipe away the stains in no time.
If for whatever reason the stains are not coming out just repeat the soap application process again and try it again until you start making progress. 
Let the Soap Sink in and Clean out Pressure Washer
To get the most out of your pressure washer, don't get into a rush.
For stains, you will want to let the soap sink into the fence for about five minutes
Let it settle into the fence. This will break up stains and other things that are making your fence look bad
Wait five minutes and then start washing again
Don't let the leftover soap sit in your pressure washer if there is any still in there. This can cause buildup over time, thus ruining your pressure washer. Try to only put enough soap that you think you will use in one setting.
When I have leftover cleaner in my pressure washer, I'll go clean my stepping stones or find other spots around the house to clean until its gone.
Stubborn Stains That's Won't Come Off
If you've gone over the fence with the pressure washer and soft bristle brush and you still have stains, you might want to contact a professional.
They may have a tool or knowledge that you do not. It is perfectly fine to ask someone for help. 
Cleaning a Vinyl Fence by Hand
Cleaning your fence by hand is also a great option if you either do not own a pressure washer or you do not wish to use any type of equipment in fear of damaging your vinyl fence.
By using your hands you are sure to be delicate in your cleaning process and take steps to ensure that nothing goes wrong with your fence. 
These steps are similar to what you would do if using a pressure washer but obviously will take more time. It may or may not be effective for stubborn stains on your fence.
However, this is perfect for smaller stains or if there is only one small section to clean off without having to buy any new equipment.
Prepare And Apply
First, grab a pair of rubber gloves to avoid damaging your hands. This will keep them safe from any harsh chemicals. You will need a bucket, one and a half cups of deck/fence cleaner, and two gallons of water.
Mix this together and you are ready to get to work. Wet down the fence with a garden hose before applying the soap.
Start dipping a soft bristled brush into this mixture and apply it to the fence as you would if you were using a pressure washer.
The only difference in this scenario is that you are using your hands and mixing the soap and water yourself. This mixture will help break up stains as well, just let it settle for a bit and begin scrubbing away.
Rinse And Repeat
Now that you are done scrubbing the stains or other messes away with your brush you can grab your regular household garden hose and begin rinsing away the soap to see how your vinyl fence looks. 
Use a nozzle on your garden hose rather than letting the water run freely from the hose. This is a waste of water.
You do not need a ton of pressure here, just enough to break up the mess
If your fence does not look the way you want it to just go ahead and repeat the process until it does.
For smaller messes this should work like a charm. It should not take too much effort and you should have a beautiful-looking fence. If you come across a spot or stain you can't remove, call a professional that has experience with cleaning vinyl fences.